(D. Clarke Evans/Getty Images)
Luis Scola got free for 19 points and 17 rebounds as the Rockets turned away the Spurs.

(Rocky Widner/Getty Images)
Whatever Reggie Evans told his teammates must have worked, as Philly rolled past Sacramento.

(Layne Murdoch/Getty Images)
Stephen Jackson had 22 points, 10 rebounds and five assists , but the Warriors still fell to the Hornets.
Rockets Launch Into Southwest Division Lead

SAN ANTONIO -- Call it a case of role reversal.
Yao Ming, normally the Rockets' low-post weapon, stood out high. Luis Scola, normally the Rockets' high-post option, was at the basket down low. And twice in the last half-minute, the two connected for Scola layups that gave Houston a crucial 87-85 win over the Spurs.
Asked how often this season that combo had happened, Rockets coach Rick Adelman had a quick answer: "Twice."
But those two times happened on arguably the two biggest possessions of Houston's season: once with 29 seconds left to give Houston the lead, and then after a Tony Parker layup to put the Spurs ahead by a point, an encore performance with 11 seconds left. Each time a high screen-and-roll with Aaron Brooks led to Yao getting the ball at the foul line, and while making a shooting motion he noticed Scola at the last minute and delivered it for an easy deuce.
"I saw both men running to me," Yao said, "and I see Luis running to the basket and a small behind him. The second one, when I caught it, I saw him at the last second. I was going to shoot, had the ball up over my head."
And that rare reversal of roles put the Rockets in position for a second switcheroo: The win put them atop the Southwest Division with 10 games left to play, a half-game ahead of San Antonio. It also moved Houston's record to 16-4 in the 20 games since Tracy McGrady left to undergo microfracture knee surgery.
Houston's win evened the season series at 2-2 in an intrastate rivalry played at playoff intensity, particularly when Bruce Bowen came in to guard Ron Artest in the second half. The two immediately went at it with manic fervor -- probably to the detriment of the Rockets' offense -- but it undoubtedly raised the already high pitch of this game to another level. A strong traveling group of Rockets fans -- making themselves known during the "rockets' red glare" portion of the national anthem -- also took the fever inside the AT&T Center up a notch, and portended great things if these teams meet again in the playoffs.
"We've played these guys the same way three games," Adelman said. "We found a way the last three minutes."
That they did was largely because of Scola, who was clearly the star of the game with 19 points, 17 rebounds, four assists and three steals: his 11th double-double since the All-Star break.
He pumped his fist and ran up court after grabbing the last of his 17 boards and being fouled with Houston up a point and 0.3 seconds left -- perhaps with an added dose of glee since the Spurs held his rights for years and never brought him in, eventually trading him to Houston in the summer of 2007.
That produced one final bit of drama: Scola missed the first free throw before making the second accidentally. He was trying to miss on purpose in order to run the clock out.
The Spurs called timeout and inbounded to Matt Bonner, who was wide-open at the 3-point line and fired a shot off the back rim. The buzzer didn't go off until well after the shot left his hand, and no officials made a wave-off motion. It was irrelevant once it missed, but it didn't stop Dikembe Mutombo and Ron Artest from screaming at the home timekeepers. Artest joked in the locker room afterward that the buzzer still hadn't gone off.
There also appeared to be some confusion on Houston's end as to what San Antonio could legally do. The Rockets had Yao Ming standing at the rim not guarding anyone, and while Artest said one of the officials told him the Spurs could shoot if they got off quickly, Battier said the opposite.
"I asked Dick Bavetta, 'What, legally, can they do?'" Shane Battier said. "And he said he told me the only legal thing they could do is tip the ball at the rim ... we would have all locked arms and protested at center court [if the shot had gone in and counted] and we wouldn't have left until they credited us with a win."
There was no need, however, as instead the Rockets celebrated a milestone victory that has them in position for an unlikely division title -- even with their top playmaker sidelined by knee surgery and their best reserve, Carl Landry, at home nursing a gunshot wound.
"There's been so much malaise, with all the injuries we've had, lineup shuffles, trades," Battier said. "I don't think too many people thought we'd be here today."
Meanwhile, the Spurs mourned a lost opportunity to all but wrap up the division race. A win would have put them three up in the loss column and given them the season tiebreaker over the Rockets. The Spurs seemed in command of the division race three weeks ago but are now 6-7 in their past 13 games.
"We made three defensive errors down the stretch and that cost us," said Spurs coach Gregg Popovich, whose team struggled to generate offense after charging out to an early 10-point lead, largely due to injuries to two of their stars.
Tim Duncan, limited by a quad injury, scored 23 points but shot just 8-for-22, mostly on jumpers from the foul-line area. He didn't score a point in the fourth quarter and lost a crucial jump ball to the normally floor-bound Battier. Meanwhile, Manu Ginobili remains sidelined with an ankle injury, though he reportedly picked up the intensity at practice this week.
With Duncan not his usual self and Ginobili out, the Spurs again became overly reliant on Parker, a common theme of late. And while he delivered 22 points and 12 assists, he needed 24 shots to do it and committed five turnovers.
"I thought our point guards did a good job on him defensively," Adelman said. "In the last game he got four or five back cuts on us, tonight he got one early and didn't get any more after that."
Adelman was upset with one defensive error by his own team -- he stomped in frustration after Yao came out too high on a pick-and-roll and gave Parker an easy path to the basket for a layup to put San Antonio ahead 85-84 with 20 seconds left -- one of five lead changes in the final two minutes.
In fact, talking to the Rockets afterward, you didn't get the sense that they felt they were anywhere near their ceiling.
For one, there is Artest's still-grating habit of trying to do too much offensively, especially when challenged by superior defenders such as Bowen.
"Our players have to understand that they can't put it all on their shoulders," Adelman said. "That's what's so great about San Antonio -- they have Tony Parker and Tim Duncan, but they have other guys waiting too. You don't have to score a basket to be playmaker.
"[Artest] gets really aggressive and wants to take over the game. And sometimes you take it over to make them react. We're still trying to find the best ways to get him open and get him shots. He shoots it very well coming off picks and we have to find ways to get him in those situations."
Additionally, both Adelman and the players lamented their inability to get the offense clicking when the Spurs started fronting Yao in the second half -- particularly during a 13-point third quarter.
"They picked their pressure up and fronted Yao and we didn't respond very well, and that's what you're going to face in the playoffs." Adelman said.
But the unlikely combo of Yao-to-Scola bailed them out at the end and left the fans in the Alamo City dejected. As a result the Rockets, despite their injuries, find themselves in the unlikely position of having the inside track for the West's second seed.
John Hollinger writes for ESPN Insider. To e-mail him, click here.
Dimes past: March 9 | 10 | 11 | 12 | 13 | 14-15 | 16 | 17 | 18 | 19 | 20 | 21-22
Straddling the Fence: Kobe Or LeBron?

By Chris Sheridan | ESPN.com
Perplexed myself by the elusive answer to the very question I was asking, I approached LeBron James for his counsel Sunday, seeking guidance for who is going to end up No. 1 and No. 2 on my Most Valuable Player ballot when I submit it to the NBA office on the day after the regular season ends.
The question: In this particular two-man race (and yes, Dwyane Wade, it is a two-man race, as I'll explain later), what should go down as UDF -- the Ultimate Deciding Factor?
If you're going to choose Kobe Bryant over LeBron, or if you're going to vote The King ahead of The Mamba, what single thing is going to tip the balance one way or the other? Better record? Better stats? Better job given the relative merits of each of their supporting casts? What they did head-to-head? Which guy's team would be worse off if you took that particular player off it?
The UDF tends to change from year to year, and I've been covering the league long enough to remember the discussion back in 1996-97 when the UDF seemed to be "Isn't it time that Karl Malone won this award?" -- an argument whose validity was ultimately undermined by what happened between him and Michael Jordan in the Finals.
To read the entire Sheridan column, click here.
By Maurice Brooks
ESPN.com

SUNDAY'S BEST
Dwyane Wade, Heat
: He showed the Pistons why he is not only an MVP candidate but also a contender for Defensive Player of the Year by notching two of his four blocked shots in the final 22 seconds.
---

SUNDAY'S WORST
Yi Jianlian, Nets
: The starting forward struggled with his shot again, missing 7 of 8 from the field on the way to a four-point effort in a loss to the Cavaliers.
---
QUOTE OF THE NIGHT
"Considering our salaries, he should be getting me something. We'll see. You only turn 25 once; it's a milestone."
-- Toronto center Pops Mensah-Bonsu on what he is getting teammate Chris Bosh for his birthday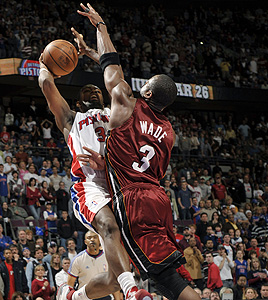 Allen Einstein/Getty Images
The versatile Dwyane Wade became just the fifth player in NBA history with 2,000 points, 500 assists, and 150 steals in a single season.
Dream Finals: Kobe vs. LeBron

Danny (Cleveland):
Imagine you are David Stern, what matchup do you dream about more, Lakers vs. Celtics or Kobe vs. Lebron?
J.A. Adande: Kobe vs. LeBron. You can tell just by the comments in this chat (and you've only seen 1/10th of them) that it inspires passionate arguments. Lakers-Celtics was good last year because it brought back a lot of nostalgic older fans (like me). But LeBron vs. Kobe is about today, the younger fans, and the future. A producer at ESPN made a good point: They had kids working on old highlights who weren't even born for the 1984 Finals with Celts-Lakers. Time for today's generation to have a rivalry it can call its own.
For the full Adande chat, click here.
Positive News For the Wizards
By John Hollinger
ESPN.com

Finally some good news for Wizards fans: In this interview, owner Abe Pollin doesn't rule out paying luxury tax next season -- which is essential if Washington hopes to contend.
As I wrote yesterday, the Wizards have a lot of interesting pieces if Gilbert Arenas comes back and is any kind of facsimile of the player he was three years ago, especially since they'll be getting a top-five pick in this year's draft. But much of that depends on Pollin's willingness to pay the tax, because if he won't, the team will be forced to conduct a fire sale of assets this summer.
While we're talking about the Wizards, my spies tell me that Ed Tapscott is unlikely to be back as head coach, and that Mavs assistant Dwane Casey is near the top of the list of likely targets.
To see the three other Insider Gems, click here.
Kings Finish 1-29 Against East
By Elias Sports Bureau

The Kings completed their interconference schedule for the season by being routed by the Sixers in Sacramento on Sunday. Disregarding the strike-shortened season in 1999, Sacramento's 1-29 mark against the East was the worst interconference record ever posted by an NBA team in one season, breaking the previous mark for futility set by the Clippers in 1986-87 (1-21). The Kings, whose only victory against an Eastern Conference team came on Friday night in New York, are the first team in NBA history to complete a non-strike season without winning a home game against a team from the rival conference.