(Fernando Medina/Getty Images)
Dwight Howard had 24 points and 21 rebounds Wednesday -- his eighth 20-20 game of the season.

(AP Photo/John Amis)
Guard Tony Parker (42 points, 10 dimes) was unguardable in the Spurs' 102-92 win in Atlanta.

(AP Photo/Brian Lawdermilk)
Melo gets a hand from Chris Andersen, who missed Denver's only FT (23-for-24) in a win over N.O.

(David Liam Kyle/NBAE via Getty Images)
Big Z, Mo Williams and Anderson Varejao celebrate a 3-pointer by Delonte West in a win over N.J.

(Nathaniel S. Butler/NBAE via Getty Images)
Former D-League denizen Mike Taylor dropped 35 points on the Knicks in the Clips' 140-135 OT win.

(AP Photo/Tom Strattman)
Udonis Haslem puzzles over the Heat's 90-88 loss to the Pacers, their 17th straight L in Indy.
Howard's Rejection Helps Magic Turn Away Celtics

ORLANDO, Fla. -- When the Magic needed rescuing, Superman rode in to save the day.
Orlando's once-16-point lead had shrunk to a single point and Boston's Paul Pierce was driving the right side of the lane for a potential game-winning layup with 4.9 seconds left when Dwight Howard flew in from the weak side, reached over Pierce with his right arm and flicked away the ball to preserve the Magic's lead, which turned into an 84-82 win over Boston.
The block capped a 24-point, 21-rebound performance from Howard that gave the Magic the inside track on the second seed in the Eastern Conference over Boston. The Magic also clinched their second straight division title with the win and Atlanta's loss to San Antonio.
"Dwight was unbelievable," Magic coach Stan Van Gundy said. "Dwight was incredible on the glass and incredible defensively. I thought he was tremendous."
In fairness, Boston fans will point out that Pierce absorbed some contact on the play and it just as easily could have sent him to the line for potential game-winning free throws.
"The way the game was being called, I wasn't fouled," Pierce said. "I should have just taken the short jumper. Dwight made a great play on the ball."
Indeed, it might have been a foul at TD Banknorth Garden, but at Amway Arena, it was a block and a win for the Magic. The victory put Orlando a game ahead of Boston in the loss column with 11 games left to play in the battle for the second seed in the East.
The defending champs now face the daunting possibility of having to win three straight series without home-court advantage in order to retain their title -- and it might be the least of their concerns at the moment.
"Our guys don't care," coach Doc Rivers said. "We want to get healthy. And when we get healthy, we're willing to lace them up against anybody."
Foremost among his worries is the health of forward Kevin Garnett, who played only 17 minutes -- as per the Celtics' plan -- but looked decidedly unimpressive in doing so. He finished with four points and was particularly ineffective in the third quarter, when he didn't attempt a shot while the Magic opened up a 16-point lead; for the game, he had a plus/minus of minus-10.
Rivers seemed to suggest Garnett might have to sit out some more before he can return and be the player he was before hurting his knee Feb. 19 against Utah. It's hard to imagine the Celtics beating Orlando -- or any other contender -- without him in the mix, as they are just 10-8 since his injury.
"The tough part is getting rhythm because the guys aren't getting healthy," Rivers said. "We're going to try to figure out a way of doing both over this next week and a half, and honestly, we don't have a game plan for that right now."
Unfortunately, Boston's injury woes go deeper. With key subs Tony Allen and Leon Powe still sidelined, Boston got another underwhelming performance from midseason pickups Mikki Moore and Stephon Marbury. Moore had two points and four fouls, including a major error when he fouled Rashard Lewis on a 3-pointer and gave the struggling Orlando offense three free points in the fourth quarter -- the Magic had scored only 10 points in the previous 10 minutes.
Meanwhile, Marbury should be called Farbury, given how vast the distance seems between his play now and the player he was a few years ago. He went 0-for-2 with two turnovers; his totals as a Celtic are 28.8 percent shooting from the floor and more turnovers (21) than field goals (17).
The game was a carbon copy of the previous meeting between the teams March 8, when Orlando nearly blew a 22-point edge in Boston before winning 86-79. Howard sealed the earlier game with a spectacular defensive play, closing out hard to bother a Ray Allen 3-point attempt that would have given Boston the lead; on Wednesday, he made a similar play on Pierce's desperation 3-point attempt at the buzzer.
Garnett didn't play in that game, either, so Orlando knows its hairbreadth victories aren't necessarily a great portent for the postseason.
"It gave us confidence, but at the same time, Kevin Garnett only played 15 minutes," Lewis said. "We know he's going to play [all game] in the playoffs."
Orlando also had to lament its offensive meltdown after opening a 16-point gap in the third quarter. Despite his monstrous performance, Howard didn't score in the fourth quarter while the Magic's offense went down the tubes -- Orlando had only 13 points in the final frame until Hedo Turkoglu was intentionally fouled at the end. Turkoglu did the bulk of the shooting, and perhaps he shouldn't have -- he finished 3-for-18 from the floor.
Afterward, the Magic players stressed that their ball movement and pace waned considerably down the stretch -- a mistake they can't afford to make against a defensive side as good as Boston.
"The last 18 minutes, we really slowed down," Van Gundy said. "They got into us, got into our bodies. I didn't think our ball movement was good, and we struggled to score."
So while the nail-biting fashion in which they won and the absence of Garnett in crunch time don't exactly inspire confidence in Orlando's ability to defeat Boston in a playoff series, the fact is this win goes a long way toward getting the Magic in position to make the conference finals.
They probably will have home-court advantage in the second round thanks to Wednesday's win, and there's no guarantee the wounded Celtics would be back at full strength by the time they would meet in the second round.
If it goes down that way, mark down this date, because it would make Howard's block the play of the year for the Magic ... and perhaps the one that clinches him defensive player of the year honors.
John Hollinger writes for ESPN Insider. To e-mail him, click here.
Dimes past: March 10 | 11 | 12 | 13 | 14-15 | 16 | 17 | 18 | 19 | 20 | 21-22 | 23 | 24 | 25
Source: Thomas Looking For Job With Clippers

By Chris Sheridan | ESPN.com
NEW YORK -- Isiah Thomas is actively seeking work again, and he spoke several weeks ago with Los Angeles Clippers owner Donald Sterling in a meeting arranged by current coach/general manager Mike Dunleavy, ESPN.com learned Wednesday.
Several NBA sources confirmed the February meeting between the former president and general manager of the New York Knicks, adding that there were follow-up discussions between Thomas and other high-ranking club officials -- but also stressing that no job has been offered.
Sterling is said to be considering adding another executive to the Los Angeles front office to alleviate some of Dunleavy's responsibilities in his dual role as coach and general manager. Former Lakers and Grizzlies general manager Jerry West was linked to a possible Clippers front office job before he publicly disavowed any interest.
To read the entire Sheridan report, click here.
Another 2,000 Points For LeBron

By Elias Sports Bureau
LeBron James reached the 2,000-point mark for the fifth straight season in Cleveland's 98-87 victory over New Jersey on Wednesday. The last NBA player to record at least five consecutive 2,000-point seasons was Karl Malone, who did it a record 11 straight seasons beginning with the 1987-88 season. But the last player with five or more consecutive 2,000-point seasons this early in his pro career was Kareem Abdul-Jabbar, who did it in his first five seasons in the NBA (1969-70 to 1973-74). James is in his sixth pro season.
By Maurice Brooks
ESPN.com

WEDNESDAY'S BEST
Tony Parker, Spurs
: Manu Ginobili (1-for-7, 2 points) struggled in his return and Tim Duncan was given the night off to rest, but the Spurs still beat the Hawks thanks to Parker's game-high 42 points and 10 assists.
---

WEDNESDAY'S WORST
Dwyane Wade, Heat
: Even D-Wade is capable of having a bad night. The league's leading scorer misfired on 19 of his 24 attempts from the floor in Miami's two-point loss to the Pacers.
---
QUOTE OF THE NIGHT
"Disgusted. Angry. Disappointed."
-- Bobcats guard Raymond Felton after Charlotte blew a 20-point lead in a 95-93 loss to the Wizards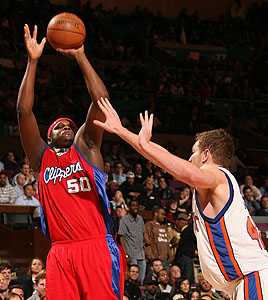 Nathaniel S. Butler/Getty Images
Zach Randolph fired off 33 points to lead the Clippers to a 140-135 overtime win against his former team, the Knicks. "I don't know why they traded me," Randolph said. "I didn't understand it, but it's a business, you know. I feel like I'm one of the best power forwards, underrated power forwards in the league."
Bobcats Chasing Bulls, Pistons
By John Hollinger
ESPN.com

Tuesday's win by Chicago over Detroit makes official what had been brewing for a while: The Bobcats' best chance of making the postseason is now by catching the Pistons, not the Bulls. Though Detroit still holds a one-game lead over Chicago, the Bulls' remaining schedule is so easy that, at worst, they should break even over the final 10 games
Meanwhile, Detroit is riddled by injuries and still has some difficult games left on its slate, including a home game against Charlotte on April 5 where the Bobs can make up one of the three games (four, essentially, since they'll lose the tiebreaker) that separate them. It won't be easy, but if the Pistons slump and go 4-8 down the stretch while Charlotte goes 8-4 -- neither of which seems impossible -- then the Bobcats are in.
And file away this one positive for Charlotte: Their season-ending road game in Orlando may not mean much for the Magic, turning a fairly certain defeat into a probable win.
To see the four other Insider Gems, click here.
Agent Zero Should Suit Up

John Hollinger talks about what could be a historic season for LeBron James and why it makes sense for the Wizards' Gilbert Arenas to return.
NBA Today