(Sam Forencich/NBAE/Getty Images )
Greg Oden came off the bench to score eight points and block three shots for the Blazers.

(Sam Forencich/NBAE/Getty Images )
Jermaine O'Neal scored 12 points on 5-for-10 shooting from the field in Miami's loss to Chicago.

(Allen Einstein/NBAE/Getty Images )
Kobe Bryant and the Lakers are just one game behind the Cavaliers for the league's best record.
On-the-Job Training For Blazers' Oden

PORTLAND -- The thing about a No. 1 overall pick is he's supposed to be a sure thing. At this point, Greg Oden is still more of a question than a solution, one of many uncertainties as this group of Portland Trail Blazers prepares for its maiden playoff voyage.
Oden is eager to help, but he doesn't always know how. It's like watching a baby deer struggle to stand on its own feet. The Rose Garden fans still greet him warmly when he checks in, explode with pent-up cheers when he makes a good play. Still with only 51 games to his career, the "what if?" outweighs what's happened.
For example, the Trail Blazers put up 129 points in a blowout victory over Phoenix on Thursday night, and Oden wasn't one of the six Portland players to score in double-figures. So imagine how much damage the Blazers could inflict if Oden turned into a double-double machine, if he contributed more than the eight points and one rebound he did in this outing.
For now it's still flashes. Backing in for a dunk, spinning for a hook, elevating to block a shot, leaving the rest up to the mind's ability to project.
"I know he can do it," said Brandon Roy, the Blazers' team leader. "We're just kind of waiting for him to realize what he can do. Things he was doing out there tonight, I've seen that the first time I played with him. I'm like, 'This dude can dominate a game.'"
"Can" -- a word of possibility. Kind of like "if." With Oden, the most familiar usage is "if he can stay healthy." He lost an entire season to injury after he was drafted, and 21 games so far this season. His body hasn't allowed him to have an extensive body of work. We don't know how good he can be, we don't even know where he will be. Portland coach Nate McMillan is debating whether to return him to the starting lineup. Joel Przybilla can provide the same things as Oden at this stage -- defense and rebounding -- and with more regularity. On Thursday, he even gave some back talk to Shaquille O'Neal.
Ten games until the playoffs, so there's not much time to experiment. McMillan isn't quite as overprotective of his center these days, and some of the people who provide the cocoon around Oden seem to want to push the ignition switch themselves.
Every time I'm back at ESPN headquarters, I see a blown-up ESPN The Magazine cover with Oden proclaiming his wish of acquiring 15 championship rings. These days his hopes are much more modest.
"I'm just trying to get it back," he said. "When it feels good, it feels good."
With scant information to follow in the box scores, the new thing in Portland was to gauge Oden's mood, turning every utterance and facial gesture into a Facebook status update.
"I hear it each day," Oden said. "If I'm not smiling, if I don't have the biggest grin on my face, then it's like I'm always down. Everyone else has days when they don't want to smile, when you just want to come in and be regular.
"I'm perfectly fine. I can be fine and not smile. I'm just enjoying life, enjoying the season, I'm happy we're playing good and we're making the playoffs."
McMillan was asked about Oden's demeanor a couple of different ways before the Blazers played Phoenix, and all he could go with was he liked what he saw from Oden in the most recent game against Philadelphia (an overtime loss at home on Monday).
"He had a bounce," McMillan said.
That earned Oden some minutes in crunch time. The Blazers gave him the ball in the final minute against the Sixers with the score tied. He seemed as surprised as anyone else. So he tried a hook shot in the lane but missed. Philadelphia didn't score, the Blazers got the ball back and called timeout, and Oden hung his head, then looked up to the rafters, as if he were wondering how he could have let his team down. He got another chance when Steve Blake drove and dished Oden the ball for a go-ahead dunk. That's when he showed some of the emotion Roy wants to see.
"The thing I'm happy about is he's starting to smile," Roy said. "Last game, he was pumping up the crowd after a dunk. I'm like, OK, now he's starting to enjoy it. At first, he was out there kind of like, 'Man, I've got to be here.' Now it's 'OK, I'm happy to be here.' If he plays with that kind of attitude, he's a beast."
While McMillan can gush about things Oden does right, he also slips in, "We need to see more."
So it still feels like it's just the beginning.
"Tonight, I'm watching, I'm like, we got two legitimate centers we can throw at people," Roy said. "I think that can really wear on people. It's not a matter if Joel starts or Greg, you guys have got to both play as hard as you can while you're out there and put that pressure on them. And I think Greg's comfortable with coming off the bench. If that's where he feels comfortable right now, that's where we should keep it. And we can continue to build on that. He's playing great basketball."
If Oden feels so much pressure during the regular season, how will he respond to the intensity of the playoffs? No one can say. Roy is the leader of this team, and he has no idea what to expect from himself once the postseason rolls around.
The Blazers aren't to the point they can make demands on Oden. All they can do is submit requests.
"He's strong, he's athletic," Roy said. "We just want him to go out there and have fun."
J.A. Adande is an ESPN.com senior writer and the author of "The Best Los Angeles Sports Arguments." Click here to e-mail J.A.
Dimes past: March 11 | 12 | 13 | 14-15 | 16 | 17 | 18 | 19 | 20 | 21-22 | 23 | 24 | 25 | 26
Magic's Howard Ready For the Pistons

By Chris Broussard | ESPN The Magazine
If there's an easy road to the NBA Finals, Dwight Howard doesn't want it. The Orlando Magic superstar wants the path of most resistance.
So bring on the Pistons.
Howard doesn't want to see Chicago, Philadelphia or Miami in the first round of the playoffs. He wants Detroit, which has won eight of nine games in eliminating the Magic from the playoffs the past two years.
"Hopefully, we play Detroit again,'' Howard said earlier this week. "That'll be good for us because we have to get over that mental hump. Those guys have beaten us two years in a row and they've left a bad taste in our mouths. So hopefully this year, it'll be different.''
If the season ended today, Howard would not get his wish. After defeating Boston on Wednesday night, the Magic (53-18) took over second place in the Eastern Conference standings. Detroit (34-37) is currently seeded eighth, which means a date with top-seeded Cleveland.
But while the Pistons are 19 games behind Orlando, racked with injuries to Rip Hamilton, Rasheed Wallace and Allen Iverson, and struggling just to reach the postseason, they have continued to frustrate the Magic. Orlando is 0-3 against Detroit despite having beaten the Lakers, Spurs and Celtics twice each this season.
"I don't know what it is about the Pistons, but every year they seem to have our number,'' said Howard, who has averaged 22 points and 15 rebounds against Detroit this season. "So to grow mentally, we have to step up to the challenge and beat those guys.''
Detroit's mastery of the Magic predates Howard. In 2003, a year before Orlando drafted Howard out of high school, the Pistons rallied from a 3-1 deficit to stun a Magic team that featured Tracy McGrady.
The series was most known for McGrady's infamous foot-in-mouth moment when, prior to Game 5, he stated how good it was to "finally be in the second round.'' Of course, Detroit won the next three games.
Chris Broussard is a senior writer at ESPN The Magazine.
Lakers Finally Get A Win In Detroit

By Elias Sports Bureau
The Lakers won in Detroit for the first time since 2002, ending a streak of six straight regular-season losses at The Palace. (They were also 0-3 in NBA Finals games there over that stretch.) In the last 15 years, Los Angeles lost six or more consecutive regular-season road games against only one other Eastern Conference opponent: Philadelphia, dropping seven in a row from 2001 to 2007. During that losing streak, the Lakers did win three straight Finals games in Philadelphia (in 2001), following the first of their seven straight regular-season losses.
By Maurice Brooks
ESPN.com

THURSDAY'S BEST
John Salmons, Bulls
: He scored 13 of his 27 points in the third quarter when Chicago pulled away from Miami for a 106-87 win. The Bulls, who have won six of seven, moved past the Pistons for seventh in the East.
---

THURSDAY'S WORST
Matt Barnes, Suns
: His shooting slump continues. He went 1-for-8 (two points) from the field in a 129-109 loss to the Blazers and is just 14-for-46 from the field in his last five games.
---
QUOTE OF THE NIGHT
"It feels good to finally walk out of here with a win."
-- Lakers guard Kobe Bryant after Los Angeles ended its nine-game losing streak in Detroit
T-Mobile Shot Of The Night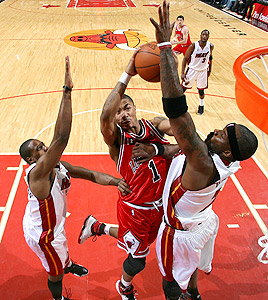 Gary Dineen/Getty Images
Derrick Rose, the leading candidate for Rookie of the Year, tallied nine points, seven assists and five rebounds in 30 minutes off the bench against Miami. He missed Chicago's previous game with a sprained right wrist.
Northwest Favorites: Nuggets
By John Hollinger
ESPN.com

Let's not ignore Denver's win in New Orleans on Wednesday, even though it came against a depleted Hornets roster that was missing Tyson Chandler and Peja Stojakovic. While the Nuggets still have a few difficult games remaining on their slate (including Thursday's tilt in Dallas and visits to Portland and the Lakers), they also have six games that shape up as virtually automatic wins (home against the Clippers, Oklahoma City, Golden State, New York and Sacramento; at Minnesota).
Even if the Nuggets win only those six games the rest of the way, they'll finish with 52 wins, which is why they still project as the most likely team to win the Northwest Division (52.6 percent) despite their uninspiring play of late. The only way the Nuggets won't win the division, basically, is if either Portland or Utah gets very hot, or if the Nuggets lose one of those six games that I've pegged as wins.
To see the four other Insider Gems, click here.
By J.A. Adande
ESPN.com

PORTLAND -- There are a lot of unknowns in Grant Hill's world right now. Will the Phoenix Suns be playing beyond their final regular-season game on April 15? If not, will that be the last game in a Suns uniform for Hill, a free agent this summer?
The one certainty is that Hill, 36, intends to play next season.
"Definitely," Hill said. "Definitely. I've still got a little left."
Hill and Matt Barnes are the only two free-agents-to-be among the Suns' regulars, but there's always the chance that the salary concerns that moved Shaquille O'Neal and Amare Stoudemire to the trading block this season could lead to a roster makeover. Hill just wants to be a part of the finished product.
"I think a lot's going to depend on what the team's going to do," said Hill, who is averaging 11 points and five rebounds per game. "Everybody could be back or everybody could be gone.
"I'd like to be here. I'd like to stay. Every indication is, I think, the feeling is the same. We'll have to see what the plan is."
Hill has played in 70 games in back-to-back seasons, after not hitting the 70-game mark since 1999-2000, and wants to keep going.
"I'm playing," Hill said. "If it's going to be at the Central Florida YMCA, I want to be playing somewhere."