Andrew D. Bernstein/Getty Contributor
Pick Your Own: The Future Of Playoff Formats?

This is the only fantasy basketball I'm playing all season. So please indulge me.
Please join me in imagining how the first round of next month's playoffs would look if the NBA suddenly adopted the new D-League format which allows division winners to pick their first-round opponents.
Please join me because it might not be as far-fetched as it sounds.
Switching to this format at the big league level would undeniably be one of the most radical playoff changes in the history of American sport. It's one thing to try it in the D-League, in which first-round matchups are a one-game series … and no team possesses any significant home-court advantage … and the stakes are so modest. In the NBA? It would be as aggressive as anything commissioner David Stern has ever tried.
Yet Stern told ESPN.com on Friday -- without making any promises or pinpointing any sort of timetable, since there isn't one yet -- that the league's competition committee would eventually decide whether to formally consider such a system in the NBA … after the way it functions in the D-League can be studied.
It is a thoroughly intriguing idea once you get past the initial shock. The regular season would certainly mean more if we went to a pick-your-opponent scheme because division titles would mean more, compared to the present setup, in which divisional races are fairly pointless. You could argue that playoff-bound teams outside the top four in each conference would have less to play for late in the season without any formal seedings to clinch, but there would also no longer be any incentive for teams to try to tank their way into a more favorable first-round matchup based on standard seedings, as we sometimes see.
Best of all?
The various permutations involved in trying to forecast which teams might chose whom would pump some needed intrigue into an 82-game season that is often slammed for being too long. The disrespect factor -- inflicted upon teams sitting 5 through 8 that get hand-picked by a higher seed which basically just told the world it wants to play that team -- pumps in even more intrigue. Furthermore, the actual process of finalizing first-round matchups would finally give the NBA its own version of the college game's Selection Sunday. Which certainly couldn't hurt.
So let's get started with our own study. Let's bounce it around and see what the first round would look like in each conference if the top-seeded division winner picked first, followed by the second-seeded division winner and then the third-seeded division winner, with the next-highest seed landing the leftover team that hasn't been selected.
Here's how we'd expect the brackets to develop, with the order of selection based on Saturday morning's standings and with the Nos. 1 and 4 seeds placed in one half and the Nos. 2 and 3 seeds placed in the other half for the second round and beyond:
EASTERN CONFERENCE
No. 1-seeded Cleveland picks … Philadelphia
Why would the Cavs willingly choose to play the surging team that, even without Elton Brand, has a real shot at finishing with the East's No. 5 seed? The Sixers will soon have an opportunity to prove us wrong, with Cleveland visiting Philly on April 10, but this would actually be an ideal Round 1 matchup for LeBron James' gang. Cleveland's D is designed to keep the ball out of the paint, shrink the floor and force the opposition to hoist contested 3-pointers. Which is the last thing Philly wants to do. The Cavs would also choke off the Sixers' running game, which is what the Sixers rely on to offset their woeful perimeter shooting. Can't see how the Sixers would cope.
No. 2-seeded Orlando picks … Chicago
The world knows the Magic, no matter what they say, want no part of a playoff reunion with Detroit after the teams' past few playoff encounters, even when the Pistons' injury list and body language make you think they'll be lucky just to make the playoffs. Rest assured that Orlando likewise has no interest in seeing Dwyane Wade so early in a duel for the Florida state title, since Wade's potential for havoc-wreaking could only be enhanced by Erik Spoelstra's supreme knowledge of the way Stan Van Gundy operates.
It would have to be the Bulls, irrespective of how strongly Chicago is finishing the season. Orlando might play at a pace that suits the Bulls, but you have to believe that the Magic would be prepared to take their chances with the rookie point guard (Derrick Rose) and the rookie coach (Vinny Del Negro) … and the team that, while dangerous at home, has no answer inside for Dwight Howard beyond Brad Miller.
No. 3-seeded Boston picks … Miami
This would be an unenviable call. But for all the Pistons' presumed problems, they still have a ton of experience, proven big men and an unfriendly building. If Detroit can arrest its recent free fall and scrape into the postseason, as one Eastern Conference maven put it: "That's no regular seventh- or eighth-place team, no matter what issues you think they have." Miami, meanwhile, has the double whammy of Wade and the distractions of South Beach to throw at any playoff foe … but that might be all the Heat have. Given Miami's glaring lack of down-low weaponry and the draining load Wade is asked to shoulder, Boston would be obligated to do what no team wants to do -- offend Wade -- by choosing the Heat. The Celts are too experienced to get sucked into the off-court guilty pleasures of Miami's nightlife, and too big not to advance.
No. 4-seeded Atlanta would then be left with Detroit
WESTERN CONFERENCE
No. 1-seeded Los Angeles Lakers pick … Dallas
The first-round matchup the Lakers would get from today's standings is the one they'd want. With a long string of regular-season successes building up a tangible mental edge over the Mavs, lots of length (Pau Gasol, Lamar Odom and perhaps even Andrew Bynum as a weakside helper if he's healed in time) to throw at Dirk Nowitzki and Dallas' own fragile state due to Josh Howard's season-long injury woes, L.A. couldn't ask for safer passage into Round 2. The only potential tension we'd see here would stem from the first-ever verbal volleys in the playoffs lobbed between Phil Jackson and Mark Cuban.
No. 2-seeded San Antonio picks … Portland
This would be the hardest call of them all for the six teams hypothetically making selections, since the Spurs would be forced to choose between Portland, New Orleans and Utah. I'm guessing they'd actually rather play the Tracy McGrady-less Rockets in Round 1 -- with the inexperienced Aaron Brooks at the point and the pick-and-roll-vulnerable Yao Ming -- than any of those other three teams. Only the Blazers' inexperience would appeal to San Antonio, with Portland lacking in any sort of playoff know-how but also possessing a blossoming closer in Brandon Roy, no shortage of depth and athletes and a certifiable home-court advantage.
The only variable that could conceivably change the Spurs' thinking if faced with these options would be Tyson Chandler's stubborn ankle injury. If the Spurs knew for sure the Hornets wouldn't have Chandler, on top of longstanding depth issues and an over-reliance on Chris Paul, New Orleans would be the friendlier choice, reluctant as San Antonio would be to give Paul & Co. any more motivation than they'd already have after losing a Game 7 to the Spurs at their place last spring.
No. 4-seeded Denver picks … New Orleans
The Nuggets awoke Saturday as the West's No. 4 team but would have the right to select its first-round foe over Houston as the Northwest Division champs. And Denver's choice is simple if Dallas and Portland are off the board. George Karl and Carmelo Anthony don't want to see the wily Spurs in Round 1 again after losing to them twice already in the first round. They wouldn't want to see the physical Jazz so early either, since disciplined opposition is not what Denver wants to see … and Utah is almost as disciplined as San Antonio. In its current vulnerable state and with a shortage of dependable size just like Denver, New Orleans would give the Nuggets their best shot of reaching the second round for the first time since 1994.
No. 3-seeded Houston thus lands the Round 1 foe it hopes to avoid in real life: Utah
Marc Stein is the senior NBA writer for ESPN.com. To e-mail him, click here.
Dimes past: March 13 | 14-15 | 16 | 17 | 18 | 19 | 20 | 21-22 | 22 | 23 | 24 | 25 | 26 | 27

It's nothing that the Cavaliers don't already expect, but one plugged-in source stressed again this week that Cleveland's Anderson Varejao remains determined to opt out of his contract this summer. That's in spite of growing pessimism about how much teams will be willing to spend this offseason on free agents, which has pretty much anyone with an opt-out clause in their contract questioning the wisdom of exercising it.
At this early juncture, Detroit and Oklahoma City are widely projected to be the only teams that will not only have decent salary-cap space this offseason but also the willingness to use it on free agents or to take on salary via trades. Initial indications, furthermore, suggest that the impact moves leading into the 2009-10 season are more likely to take the form of trades -- with so many teams expected to make proven players with long-term contracts available, such as New Jersey with Vince Carter and New Orleans with Tyson Chandler -- as opposed to outright signings.
Varejao, though, would appear to be way too valuable to the Cavs to worry about a limited market. Especially when the Cavs' No. 1 priority -- even bigger than winning this season's championship, although it's all intertwined -- is securing LeBron James' long-term commitment to the franchise, either in the summer of 2010 or in the unlikely event that deepening fears about the global economic crisis convince James to sign an extension with his hometown team this summer.
Varejao is due to earn $6.2 million next season in the final year of a three-year, $17.4 million contract extended via offer sheet by Charlotte in December 2007, which was matched by Cleveland when the Brazilian forward was a restricted free agent. Less than two years later, Varejao arguably might have more reason to expect a palatable new contract in free agency than the guy presumed to be the league's No. 1 potential opt-out free agent in July: Carlos Boozer.
Boozer would have to forfeit next season's $12.7 million to become a free agent on July 1, and would also have to be sure the Pistons are ready to bid big for him after his third injury-riddled season in Utah. Varejao isn't likely to face as much uncertainty, even if the Cavs are the only team bidding for him.
---
Have to recant one thing from our ode to Antonio McDyess in the last Weekend Dime about what a rare bargain he's been in Detroit's increasingly endangered season.
The Pistons did not regain their Larry Bird signing rights to McDyess when he rejoined them a month after the early-November trade that sent him to Denver with Chauncey Billups for Allen Iverson. McDyess lost them when he agreed to a buyout with the Nuggets, before agreeing to re-sign in Detroit for a prorated share of the league's veteran minimum when he was eligible to get a two-year deal from Detroit starting at $1.9 million.
The Pistons, then, will indeed have to cut into some of their projected salary-cap space this summer if they want to bring McDyess back, after Dice forfeited nearly $9 million in remaining salary in his November buyout.
(Chalk it up as the umpteenth salary-cap stumble we've made over the past 15 years, no matter how hard we try to never fumble on cap matters. A proverbial cyberspace hat tip to David Lord of DallasBasketball.com for catching the gaffe.)
Yet McDyess -- who admits he has fears "every day" about the Pistons missing the playoffs -- remains convinced that he can recoup a good chunk of the money he's sacrificed with his increasingly resilient play at 34 even if something unexpectedly denies him a new deal in Detroit. Or even if the leaguewide economic crunch makes free-agent bucks scarce in July.
"I feel like I can," McDyess said.

Five questions with Warriors guard Jamal Crawford:
Q: You obviously saw a lot of crazy stuff during your time with the Knicks, but has this season been as wild as it looks from the outside, with the trade to Golden State and now being in and out of the lineup?
A: It's been a season of adjustment, that's for sure. But you can only worry about the certain things that you can control. … In New York, I had been there through all the bad times, roughest period in franchise history. So when things started turning around, I wanted to be there as well. But I understood the financial situation. I wasn't bitter or anything.
I was just more shocked that [the trade] happened … because my name was never out there like that. I heard everybody else's name, but I thought I was a really good fit in Coach [Mike] D'Antoni's system. He was actually pretty upset that I left, but things happen for a reason.
I know everyone's talking about the opt-out [in my contract] now and the economy, but I'll focus on that when the season's over.
Q: Isn't it hard not to think about the future when it comes out that your coach [Don Nelson] tells you that the team is going to try to trade you after the season?
A: Not really. You can ask any of my teammates I've played with or any coaches. I've done everything they've asked of me. I've been a great teammate. I'm not worried about my reputation on the court. Everything has a way of working itself out.
Q: This has been portrayed in some stories as a threat: Either opt out or we'll trade you. Is that an accurate portrayal of your conversation with Nellie?
A: Honestly, I wasn't the one who put that conversation out there, and I don't really want to be the one to get into that part of it. … He's a future Hall of Fame coach, and I would never question anything he's doing. If he sees a vision for the team or sees a vision for the way things are going to go, I'm not going to be one to question it. I'm just going to say "OK" and be ready when my number's called.
Q: You did some blogging for Newsday when you played for the Knicks. Gilbert [Arenas] said this week that he's retired from blogging, but what about you?
A: I haven't done it since New York, but I loved it. [The reaction from fans] was usually more good stuff than bad stuff, but even the bad stuff, I used it as motivation. I think the fans appreciated it because I answered every direct question they had. It was a direct dialogue. I understand fans are passionate. They want to be able to voice their opinion. You can speak directly to them and they can speak directly to you. It's a really good outlet. You can be on a plane ride and write up a whole blog entry. In the future, for sure.
Q: I went back and read one of your old blog entries where you talked about how you know you have "this label" that "I don't want" because you've never been on a playoff team. Do you feel like you've been tagged with that label unfairly?
A: The label doesn't bother me as much as the fact that I've never actually played in the playoffs and on that stage. I think it would be so much fun to get there and that the best would come out of me. But I know I'll get there one day and I won't take it for granted when I do. I'll appreciate it that much more.
If I had been on more winning teams, I would be a lot more of a household name or whatever. I know that comes with winning. And it should. I totally agree with that.

Toronto ex Sam Mitchell, according to NBA coaching sources, is indeed likely to emerge as the top candidate in Minnesota -- where he was beloved as a player by Wolves owner Glen Taylor -- if Kevin McHale decides not to return as coach.
Taylor has said he expects McHale to return to the Wolves' bench next season.
---

There have been no firm indications yet about the Raptors' willingness to entertain trade offers for
Chris Bosh
this offseason, but plugged-in sources say it's a lock that the Warriors will try again to make a Bosh pitch at the next opportunity after the Raptors rebuffed every inquiry (including Golden State's) for the lefty Olympian before the Feb. 19 trading deadline.
Chicago is another team considered a certain Bosh bidder should the Raps decide it's easier to start over, rather than try again to assemble a team successful enough next season to convince Bosh to stay in Canada as opposed to leaving as a free agent in the summer of 2010.
---

The growing sense in Dallas is that there are only two threats to the Mavericks' hopes of re-signing
Jason Kidd
this summer.
1. Kobe Bryant convincing big-guard-loving Phil Jackson and the Lakers to make a run at his dear friend Kidd with L.A.'s midlevel exception.
2. LeBron James convincing the Cavs to make a run at his dear friend Kidd with their midlevel exception.
Having just turned 36 and facing an unavoidable pay cut from this season's $21.4 million, Kidd hasn't dropped a single hint about leaving the team that originally drafted him in 1994, focusing instead on trying to make sure the injury-plagued Mavs reach the postseason, preferably as nothing lower than the West's No. 7 seed.
Dallas certainly needs to keep Kidd after the goods it surrendered to New Jersey in February 2008 to get him -- Devin Harris and an unprotected first-round pick in 2010 -- but serious interest from either L.A. or Cleveland could be a real threat.
Least's Revenge? Not Quite

We made the claim in Monday's Power Rankings that the race for No. 8 in the Western Conference was far more compelling than the corresponding Eastern Conference version, even though the gap between No. 8 and No. 9 is smaller in the East.
Then the Charlotte Bobcats confirmed it for us, blowing a 20-point lead at lowly Washington on Wednesday night to become the first Southeast Division team to lose a game to the Wiz all season. The Bobs thus entered Friday's play with a three-game deficit behind Chicago and Detroit … and with a road-heavy schedule from here.
So …
The only comparisons with the West which favor the East, entering the final 20 days of the regular season, are as follows:
1. The East is still clinging to a 220-206 record in head-to-head games against Western Conference opposition as of Friday morning, with 24 more interconference games to go, capped by Atlanta at Memphis on the last night (April 15) of the regular season. And holding on would indeed represent a newsworthy breakthrough, since the West has posted the better head-to-head record for each of the past nine seasons, with its smallest advantage coming in the 1999-2000 season, when it was 34 games over .500 at 227-193, good for a winning percentage of .540.
2. The East has eight teams (Cleveland, Orlando, Boston, Atlanta, Miami, Philadelphia, Chicago and Charlotte) with records of .500 or better against the West this season, compared to just four teams (Boston, Detroit, Cleveland and Philadelphia) last season.
However …
A closer inspection of those numbers suggests that this season's supposed revenge of the Leastern Conference is going to wind up looking marginal and circumstantial. The jump in quality at the top of the East is undeniable, with three of the four teams bound for 60 wins -- Cleveland, Orlando and Boston -- on that side of the conference divide. But it's still a conference in which a few title-contending teams are asked to mask the mediocrity of 10 or so others, given that No. 1 and No. 2 above wouldn't have been possible without the unusually large amount of West pushovers behind No. 9 Phoenix.
Warriors, Thunder, Timberwolves, Clippers, Grizzlies and Kings. Those six teams are a combined 45-124 against the East. It's not like the West's top nine teams haven't fattened up with all those bottom-feeders around, either, but the huge drop-off from the Suns to the Sad Six -- combined with the gaudy interconference records posted by the Cavs (23-4), Magic (21-7) and Celts (20-9) -- explains how the East has finally halted its decade-long drought.
The good news? It would appear that the long-suffering East will not end up tying the unwanted league record for most sub-.500 playoff teams in a single season, barring an unforeseen collapse by Philadelphia or Miami. It will avoid the list as long as the Nos. 7 and 8 seeds -- Chicago and Detroit entering the weekend -- are the East's only playoff teams with losing records:
Most Sub-.500 Playoff Teams In A Single Conference (NBA history)
Season
Conference
1996-97
West (Clippers, Wolves, Suns)
1991-92
East (Pacers, Nets, Heat)
1985-86
East (Nets, Bullets, Bulls)
1985-86
West (Blazers, Kings, Spurs)
1984-85
East (Bullets, Bulls, Cavaliers)
1966-67
West (Hawks, Lakers, Bulls)
Stein Line footnote: You read right. A whopping six of the 16 playoff teams in 1985-86 had losing records, including Michael Jordan's Bulls at 30-52; in that season he played just 18 games before dazzling in the playoffs against Boston. That was just the third year of the NBA's expansion to a 16-team playoff format. Imagine what kind of pummeling the league would have taken if it had to weather the waves of sports-talk debate we have today.

Is there anything Houston can do during what's left of the regular season to change the way we think about the Rockets as a playoff team? The conclusion reached by Marc Stein in his weekly visit with Galloway & Company on ESPN Radio in Dallas (103.3 FM) is probably not, even if the Rockets -- with Ron Artest flourishing alongside Yao Ming and a bevy of quality contributors headlined by Shane Battier, Luis Scola and Aaron Brooks -- manage to snag the West's No. 2 seed from San Antonio. Especially when the problematic prospect of a third straight Utah-Houston hookup in the first round looms as a real possibility.
• Listen to the interview


"Even though Orlando [doesn't] want to see us, how much can you really beat a team? Eventually they say, 'Hey, enough is enough.' I feel they're more dangerous than anyone we could play. You can only beat a team so much before the tables turn."
Pistons forward Antonio McDyess, refusing to regurgitate the one shred of positivity that shell-shocked Detroit fans have been clinging to for weeks, which is the widely held assumption that this nightmare season can be saved (at least somewhat) by a first-round matchup with the Magic.
Detroit has ousted Orlando from the playoffs for two seasons running. The Pistons are likewise 3-0 against Orlando this season, in spite of all the injuries and tumult that have followed the trade of Chauncey Billups for Allen Iverson just a week into the season. All of this assumes, of course, that the Pistons don't slip all the way out of the playoffs after losing Rip Hamilton (groin), Rasheed Wallace (calf), Iverson (back) … and six of their past seven games.
The Magic's Dwight Howard, meanwhile, made the claim earlier this week that he's actually hoping to see the Pistons in the first round because "every year they seem to have our number." He's been openly discussing how Chauncey's old team still represents a "mental hump" that Orlando has to "get over."
Our question, then: Do you believe Dice or Dwight?
Do you think Dice has reason to fear an Orlando reprisal? Or that a Detroit-Orlando rematch would really be "good for us" as Dwight claims?
Us neither.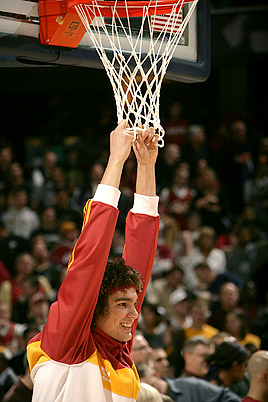 Photo by David Liam Kyle/NBAE via Getty
Cleveland's Anderson Varejao is among the few potential free agents this summer whose payday prospects appear good in spite of the brutal economy. (See Box 2.)

Has Chicago's John Salmons surpassed Orlando's Rafer Alston as the league's most influential trade-deadline acquisition? Will Allen Iverson play again this season in Detroit? And why do the choreographed pregame routines we're seeing from LeBron James and Shaquille O'Neal get total Stein Line endorsement? Click to hear the latest edition of ESPN's NBA Today podcast with host Jason Smith for all the answers.
Listen to the podcast