(AP Photo/Lance Murphey)
Chris Paul (29 points, 16 assists) and the Hornets couldn't drive past the Suns, falling 105-100.

(Glenn James/NBAE via Getty Images)
Dirk Nowitzki (31 points) and the Mavs clinched the final West playoff berth, topping Utah 130-101.

(Brian Babineau/NBAE via Getty Images)
Rajon Rondo (31-9-5) helped the Celtics win their fourth straight, topping the Nets 106-104.

(AP Photo/Jim Prisching)
Josh Smith and Luc Richard Mbah a Moute fight for a rebound during Atlanta's 113-105 win.

(D. Clarke Evans/NBAE via Getty Images)
Brandon Roy (26 points) helped Portland move into a three-way tie for third with a 95-83 win over SA.

(AP Photo/Michael Conroy)
In a battle of twins, Joey Graham (14 points) and Toronto beat Indy's Stephen Graham (8 points).
West Playoffs: Avoiding The Lakers As Long As Possible

The most misleading score Wednesday night was Phoenix 105, New Orleans 100. The Suns were actually losers, because Dallas' win over Utah officially eliminated them from the playoffs. And the Hornets were winners, because any scenario that puts them farther from the Lakers in the Western Conference playoffs bracket counts as a good thing.
New Orleans would be better off in its current spot, sixth, or even in seventh than moving up to fifth. That way, the Hornets would not have to face the Lakers until the Western Conference finals. Their biggest concern right now is that they spent so much energy chasing the Southwest Division title, they won't have anything left for the playoffs, even if they're bolstered by the returns of Tyson Chandler and James Posey. The Hornets have lost three of their past four games and still have a home-and-home set with Dallas plus trips to Houston and San Antonio.
They had dreams of the No. 3 seed, but at the moment, the sixth spot doesn't look so bad. It would bring a first-round matchup with the San Antonio Spurs, who look even more vulnerable than we thought they would. We knew they would be missing Manu Ginobili. Now it appears they might not have Tim Duncan -- at least the Tim Duncan we've seen in the past.
Since March 17, Duncan has sat out three games to rest and posted single-digit scoring nights against Cleveland and Portland. He's gone from the foundation of the Spurs' offense to an afterthought at times. His knees don't appear up to the task of carrying a team through the playoffs. On Wednesday night, the microphone picked up coach Gregg Popovich pulling Duncan from the game against Portland and telling him, "Can't do it. You can hardly move on that. I don't want a hero; I want a healthy guy." He might not get either.
The Portland Trail Blazers took over the game Wednesday, exposing the Spurs' lack of depth without Ginobili, and the Blazers might have learned a little something about themselves in the process. In putting down the Spurs 95-83, they picked up only their second road victory against a Western Conference playoff team. At least it will be a fresh memory as they head into the postseason.
And if they get the Houston Rockets in the first round, they'll have Joel Przybilla and Greg Oden to throw at Yao Ming. If they can knock off Houston, they will face the Lakers. That's a good thing. This Blazers postseason is all about gaining experience, so they might as well learn from the best.
And the best is about to get better with the return of Andrew Bynum. He's expected to step on the court Thursday night against Denver. Lakers general manager Mitch Kupchak said Bynum might play only four- or five-minute stretches at first until he regains his conditioning. But Kupchak hopes his mere presence will be enough to give the lethargic Lakers a lift, perhaps get them to play some inspired ball and gain momentum going into the playoffs.
It's never enough in Lakerland, where the 60-victory mark wasn't enough to quell dissatisfaction with some just-enough-to-win performances, most notably a victory over the Clippers on Sunday night that was much closer than it needed to be.
But while the Lakers are working on details like their dismount, the rest of the West is trying to put together an entire routine. There are details to be hammered out, but ultimately it comes down to this: who's going to face the Lakers, and when.
J.A. Adande is an ESPN.com senior writer and the author of "The Best Los Angeles Sports Arguments." Click here to e-mail J.A.
Dimes past: March 23 | 24 | 25 | 26 | 27 | 28-29 | 30 | 31 | April 1 | 2 | 3 | 4-5 | 6 | 8
Night Of Two Joey Crawfords As Pistons Crush Knicks

By Chris Sheridan | ESPN.com
NEW YORK -- We always endeavor to tell you something you didn't know in this space, so we'll spare you too much chapter and verse about the obvious -- how the Detroit Pistons are going to be a heckuva postseason puzzle for somebody in the East to solve.
You knew that already.
Yes, despite all the trials and tribulations they've endured throughout this season of tumult, the Pistons maintain a certain status and pedigree that isn't going to be taken from them easily once the playoffs begin later this month and they draw the Cavs, Magic or Celtics.
Much of the core of players who took the team to six consecutive Eastern Conference finals remains, Allen Iverson is permanently in their rearview mirror and the coaching staff is back to sticking with what has worked for this team for years rather than trying to adjust on the fly to create the proper scoring opportunities for the piece -- Iverson -- who never quite fit.
But again, you knew much of that already, and the threat that the Pistons pose when clicking on all cylinders was there for all to behold Wednesday night as Detroit scored the first 10 points of the game and cruised past the New York Knicks 113-86.
"This team here is such an experienced bunch, and once you get into the playoffs, that is going to take precedence over a young team like Orlando. They have a lot of talent, but they don't have a lot of playoff experience. But [Rasheed Wallace] and everyone else I've watched on this team, they take their game to a whole different level in the playoffs," Kwame Brown said. "They just have a confidence level; even when things have been going bad, they've been reiterating, 'Just get us into the playoffs and let's see what happens. Right now, let's just win these games, make sure we're in, and then anything can happen in the playoffs.'"
This victory moved Detroit into a tie with Chicago (38-40) for seventh place in the East, and the key remaining game for the Pistons is Monday, at home, against the Bulls. Win it, and they are all but assured of winning a tiebreaker over Chicago (based on a better conference record) that could vault them into the seventh seed and allow them to avoid the Cleveland Cavaliers, who have defeated them in three of four meetings this season.
But again, that all is fairly obvious, and it's the type of talk we'll be hitting on a lot harder a week from now when the regular season is over and we know where the Pistons will be traveling to open their first-round series.
And so, as promised, we'll devote the rest of this column to coverage of something we've never seen before. (The rule of thumb about covering thousands of games is this: If you've never seen it before, it's probably worth writing about.)
It looked like a rare smile, rather than the customary smirk, crept across referee Joey Crawford's face with 10:50 left in the fourth quarter when Joe Crawford checked in for the Knicks and made his NBA debut.
"That your son?" a reporter on press row jokingly asked Crawford the ref.
"I've always wanted to call a tech on my son," Crawford joked back.
Instead, Crawford the ref was an enabler in helping Crawford the player get on the scoreboard for the first time as a pro, blowing a late whistle and sending Crawford to the line after he was hammered by Jason Maxiell on a drive to the basket with 4:06 left.
But Crawford the player (a rookie from Kentucky who was cut by the Lakers in training camp) also fired up a pair of airballs from 3-point range, earning a surprisingly vocal chorus of boos and whistles (the latter a sign of how many foreign tourists were in attendance), the likes of which hadn't been heard since Larry Hughes put on a Knicks uniform a month and a half ago and promptly started missing shots in bunches.
But those boos and whistles fell on deaf ears for Crawford the player, who insisted afterward that he hadn't heard them.
Crawford also happened to mention that his friends and teammates call him "Joey," which makes his use of the name "Joe" as his professional moniker somewhat curious, no?
And along those lines, we'll add this curiosity: Only eight or nine minutes after the game ended, Crawford the referee already was on his way out of the building, breezing past the Pistons' locker room, then the Knicks' locker room (where Crawford the player was still inside), before joining the masses streaming into Penn Station (which sits beneath Madison Square Garden) to catch their trains home.
And if Crawford was rushing off to catch a train to his home in Philly (this was the consensus best-educated guess of the assembled media members who witnessed the hasty departure) and had the urge to strike up a discussion with his seatmate, there were two topics that would have made good conversation pieces: the fact that the Pistons aren't going to be the easiest team to meet up with in the first round, and how there once came a night when the NBA had enough room for two Joey Crawfords to share the court.
Point Guard Battle: Nash's Suns Top Paul's Hornets

By Elias Sports Bureau
Steve Nash had 24 points and 13 assists while Chris Paul had 29 points and 16 assists as Phoenix beat New Orleans 105-100 on Wednesday night. This was the first NBA game in more than two years in which two players had at least 24 points and 13 assists. It last happened March 23, 2007, in Oakland -- Baron Davis for the Warriors (34 points, 15 assists) and Gilbert Arenas for the Wizards (29 points, 13 assists).
By Maurice Brooks
ESPN.com

WEDNESDAY'S BEST
Carmelo Anthony, Nuggets
: He had 31 points, five rebounds and five assists as the Nuggets extended their win streak to eight with a 10-point win over the Thunder. Denver now is a franchise-best 27 games over .500 and in position to lock up the Northwest Division and the No. 2 seed in the West.
---

WEDNESDAY'S WORST
New York Knicks
: They fell behind by 17 after one quarter, trailed by 24 at halftime and never were competitive in a 113-86 home loss to the Pistons. The win moved Detroit into a tie with Chicago for seventh in the East.
---
QUOTE OF THE NIGHT
"We won at one of the toughest teams in the league, in April, and they needed a win. So we got to use it if we want it to be something special."
-- Guard Brandon Roy on Portland's win over San Antonio, which moved the two teams into a three-way tie with Houston for the West's third-best record.
Pacers Not Going Away Quietly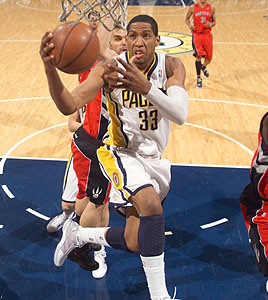 Ron Hoskins/NBAE/Getty
Danny Granger (29 points) and the Pacers kept their slim playoff hopes alive by blowing out the Raptors 130-101. It was Indiana's largest point total and biggest margin of victory this season.
By John Hollinger
ESPN.com

It turns out Chicago's game against Oklahoma City on March 18 was something of a landmark, as Tyrus Thomas didn't block a shot in that game. It's the only time since Jan. 14 that has happened, a span of 39 games, and Thomas showed us on Tuesday why it happens so rarely.
Chicago's high-flying forward got faked off his feet by New York's Quentin Richardson as the Knicks were trying to tie the game with a 3-pointer in the final seconds. Richardson took a shuffle step to the side, calmly lined up his shot and fired, only to see Thomas reappear out of nowhere and reject his delivery. For Thomas, it was an amazing recovery and his fourth block of the night. The play was a bit of a metaphor for his season and served as another step in his development into a prime defensive force. In 56 games as a starter, he has averaged more than two blocks a game, and his offense has become respectable after a brutal November.
Thomas' U-turn corresponds to the Bulls' rise in the standings as well, though they certainly got a jump start with the acquisitions of John Salmons and Brad Miller at the trade deadline. I'm not quite ready to call them a "tough out" or the dreaded "team nobody wants to play," but Chicago's 15-10 mark since the All-Star break warrants mentioning.
To see the four other Insider Gems, click here.
Spurs' Big Fundamental Worry
By Henry Abbott
TrueHoop

Manu Ginobili is out. The days of cruising to the Western Conference Finals are out. And the Spurs have come well and truly back to the pack in the playoff race.
But if I were a Spurs fan, none of that would bother me nearly as much as what the ESPN microphones caught Gregg Popovich saying to Tim Duncan during Wednesday night's loss to the Blazers.
The Spurs were down seven points at home, with 7:07 remaining. It was a very winnable game, but San Antonio would need its best player.
Popovich was having none of it.
Reports were that Duncan had said he was feeling very good, which is why he was playing at all -- he had been sitting out the second night of back-to-backs to rest his ailing knees.
To read the entire TrueHoop blog, click here.