AP Photo/Mark Duncan

The final weekend of the regular season has arrived. Ditto for the year-end award ballots from the league office.
Awards Watch
For more stats and info on all of these races, check out Maurice Brooks' NBA
Awards Watch.
So let's proceed with the season's final Weekend Dime, which allows us to do what the Basketball Hall of Fame refuses to do by printing our ballots and explaining how and why we arrived at all of our choices.
Consider this your third and final (and fully transparent) trimester report of 2008-09, with the ballots officially due back to the league by 3 p.m. Thursday. Voters are asked to list their top three choices in each category except for the MVP award, which asks for a 1-5 ballot:

MOST VALUABLE PLAYER
LeBron James, Cleveland Cavaliers

We tried.
All the recent hoopla devoted to Dwyane Wade's emphatic comeback from a 15-win season of woe was an earnest attempt by the NBA press to create some legit MVP suspense.
But we failed.
This is actually not going to be an MVP race for the ages. The only suspense in this race, after we saw a field so deep last season that LeBron James couldn't do better than finish fourth, is figuring out how to cram six or seven worthy names into the four spots on the ballot below LBJ.
Let's be real, people. James might not be a unanimous pick by this season's 123 voters, but it'll be close. And rightfully so after he's put a team that won 45 games in 2007-08 on pace to win 66, entering Friday's play, with more of an all-around game than he's ever displayed before. Better defense, better free-throw shooting, better leadership.
The offseason arrival of Mo Williams and coach Mike Brown's willingness to address his own shortcomings (by hiring John Kuester as a virtual offensive coordinator) are undeniable factors, too, but James is the clear-cut trigger man for Cleveland's staggering 20-game improvement in the standings. Knowing how us media know-it-alls feel about the team-success component -- and when you hear that James is about to join Kevin Garnett (2002-03), Scottie Pippen (1994-95) and Dave Cowens (1977-78) as the only players in the game's modern history (since 1973-74) to lead their team in total points, rebounds, assists, blocks and steals -- you can understand the urge to call this a non-race.
The only negative we can conjure is Cleveland's 2-6 record against the Lakers, Magic and Celtics, but that's not sufficient to help any of James' nearest pursuers, even though Bryant, Wade and Orlando's Dwight Howard -- whose consistent exclusion from the season's MVP discussion is something real to howl about -- -- aren't exactly doing bad work. James' big advantage, besides what the standings indicate, is that he has less top-shelf help than any other title-contending team's franchise player. As Hall of Fame writer Mark Heisler so nicely put it recently in the Los Angeles Times: James has "more help than Chris Paul and Dwyane Wade -- but not too much, like Bryant and Dwight Howard."
The agony here, as hinted above, is the shame we feel at not finding room for Paul in our top five after he nearly beat out Bryant for the trophy last season. But Denver's rise to No. 2 in the West -- when no one believed that was possible even after Chauncey Billups got there a week into the season and instantly stabilized a team that hasn't been this good since its ABA days -- sneaked Billups into the No. 5 slot. We truly agonized over this because CP3 is better this season than he was last season and is essentially being punished (I agree: I suck) by all of the Hornets' injuries. (Which means we can't even think about making room for Tony Parker, Brandon Roy or Paul Pierce.)
The Lakers' Kobe-fueled runaway success in the West and the damage Howard does at both ends for another team bound for 60 wins bumped Wade down to No. 4, which is bound to enrage Heat lovers given how across-the-box-score spectacular he's been.
At least we got no protest from D-Wade when we told him last week that LeBron had our vote … and that it wasn't really close.
"My vote is for LeBron," Wade said. "I think he's having an unbelievable year and his team is No. 1 in the NBA. So you can't really argue about it."
STEIN'S BALLOT
1. James
2. Bryant
3. Howard
4. Wade
5. Billups
October prediction: LeBron James


COACH OF THE YEAR

Stan Van Gundy, Orlando

I know you're sick of hearing it, but I swear: COY voting gets harder every year.
Seriously. Let's comb through the (mine)field.
There were six coaches I would classify as finalists for the three spots on my actual ballot: Orlando's Stan Van Gundy, Cleveland's Brown, Miami rookie Erik Spoelstra and the inseparable West triumvirate of Denver's George Karl, Portland's Nate McMillan and Houston's Rick Adelman.
Charlotte's Larry Brown, having made the Bobcats credible for the first time, almost qualified, too, although that achievement doesn't quite match the sight of Spoelstra getting one reborn superstar and an otherwise skeletal roster to the playoffs.
You also had a long list of proven (and generally underappreciated) coaches who kept their teams winning through countless injuries: Boston's Doc Rivers, San Antonio's Gregg Popovich, New Orleans' Byron Scott and Utah's Jerry Sloan.
And you've surely noticed that we haven't even mentioned the coach whose team had 63 wins and a 10½-game lead on the rest of the West entering the weekend: Phil Jackson.
In the end?
I'm going with Van Gundy.
It helps his cause that I'm serious when I say that I don't quite know how to choose between Karl, McMillan and Adelman, but the clincher is Orlando's lack of a playoff-tested leader. Van Gundy has to be the Magic's mood-setter because, even with four All-Star-caliber players at his disposal -- Howard, Rashard Lewis, Hedo Turkoglu and Jameer Nelson -- none of them is known as a forceful show-the-way sage. And Nelson, you'll recall, was lost for the season in early February.
And still Orlando managed to keep itself in the same stratosphere as the Cavs, Lakers and Celtics week after week.
There are more than a few negative forces Van Gundy has to deal with, whether it's the challenge of maintaining Orlando's elite status with
Rafer Alston
taking Nelson's place at midseason … or the fallout from Shaquille O'Neal's withering attack that branded the coach a "master of panic" … or the loud skepticism about Orlando's playoff chances (thanks to its well-chronicled struggles against Detroit and heavy reliance on the 3-point shot) that never goes away. Through the regular season -- at least until Friday night's damaging home loss to New York that likely locks Orlando into the East's No. 3 seed -- Van Gundy hadn't allowed the Magic to succumb to any of that.
We noticed.
STEIN'S BALLOT
1. Van Gundy
2. Karl
3. Adelman
October prediction: Rick Adelman

ROOKIE OF THE YEAR

Derrick Rose, Chicago Bulls


You wish you could hand out multiple ROY trophies because the Class of 2008 was so unexpectedly deep. We're so grateful because that doesn't happen very often anymore.
The landscape here, though, looks a lot like the MVP situation.
Similarity No. 1: Lots of us media types have been trying to convince ourselves all season that this race is closer than it really was.
Similarity No. 2: A three-slot ballot is a problem because that doesn't leave nearly enough room for all the qualified candidates underneath our winner, starting with O.J. Mayo, Russell Westbrook, Brook Lopez, Kevin Love and Eric Gordon … and with several more under-the-radar rooks who've made you look.
Just to name one handful: Rudy Fernandez, D.J. Augustin, Anthony Morrow, Anthony Randolph, Marreese Speights and Marc Gasol. And another half dozen: Courtney Lee, Jason Thompson, Mario Chalmers, Michael Beasley, Nicolas Batum and that Greg Oden kid.
Derrick Rose, though, stands out even as we comb through all that surprising depth. Playing the hardest position to learn and shouldering the biggest expectations/responsibility in the field as a No. 1 overall pick asked to start at point guard from Day 1, Rose has been fairly steady throughout the roller-coaster season in Chicago, averaging 16.6 points on 47.2 percent shooting to go with 6.2 assists per game as the Bulls suddenly find themselves surging into the playoffs.
Of the league's top six rooks, only Rose has been in a start-to-finish playoff campaign, which gives his statistical production added weight because the games have been more meaningful.
I sense that I'll be in the minority putting Mayo at No. 2, since I keep reading and hearing that his stats (18.3 points and 38 minutes per game) are empty numbers because the Grizzlies are so bad. Yet rarely do I hear Mayo get any credit for the way he refused to give into obvious fatigue as the season dragged on and how he's handled himself in a tough situation with an overmatched group barely older than the team John Calipari just left behind. So he's getting some from us.
The last spot came down to Westbrook and Lopez, who looks like an absolute steal as a No. 10 pick, having exceeding all rookie-season expectations. Yet he finished fourth on my ballot because, for all of Lopez's shot-blocking prowess and underrated offense, I wanted to see better rebounding than one board every four minutes on a team that really needs rebounders.
Harsh? Maybe. Especially when Lopez showed enough to suggest that he's a long-term answer to fill one of two most critical positions on the floor for the Nets.
But Westbrook might have surprised us even more than Lopez did with his versatility, productivity and that ridiculous athleticism. His wow factor was a little bit higher. So he sneaks into the No. 3 spot. Barely.
STEIN'S BALLOT
1. Rose
2. Mayo
3. Westbrook
October prediction: Greg Oden

Marc Stein is the senior NBA writer for ESPN.com. To e-mail him, click here.
Dimes past: March 24 | 25 | 26 | 27 | 28-29 | 30 | 31 | April 1 | 2 | 3 | 4-5 | 6 | 8 | 9 | 10

SIXTH MAN AWARD
Jason Terry, Dallas Mavericks

Manu Ginobili's ankle woes in South Texas clinched it, but Jason Terry has been the league's best sixth man all season thanks to the best regular season of his career … apart from the eight games Terry was forced to miss in February because of a fractured left hand. Although Dallas is finally starting to get decent contributions from the likes of Brandon Bass and James Singleton, Terry was a one-man bench for much of the season, bailing out the desperate North Texans repeatedly and playing with a padded glove on the hand because he knew Dallas had no shot to make it to the playoffs without him for any extended period.
And while New York's Nate Robinson has been the league's most combustible reserve in the second half of the season, with eight 30-point games, there are at least two more sixth men I have to put ahead of Krypto-Nate (thanks in part to the Knicks' dramatic fade out of playoff contention) and the other lesser-known contenders in the mix (Portland's Travis Outlaw and Atlanta's Flip Murray).
Lamar Odom's willingness to accept a reserve role in a contract year -- which isn't exactly automatic, as Detroit learned with Allen Iverson -- is what initially got people so excited about the Lakers' bench earlier in the season and outweighs his seemingly pedestrian statistical production (11.3 ppg and 8.3 rpg) on this scorecard. Odom is indeed eligible for sixth-man consideration with only 32 starts and is back on the bench now to make it dangerous again after a successful stint filling in for Andrew Bynum, which should hush the recent panic in Lakerland about the increasingly unreliable subs.
Denver, meanwhile, actually has two contenders here, with the ever-flammable J.R. Smith and the resurgent Chris Andersen for his underpublicized D. I'm going with Smith for the last spot on my ballot, but it's an interesting either/or given the Nuggets' relative lack of size, which makes Andersen's resurrection so critical for them.
STEIN'S BALLOT
1. Terry
2. Odom
3. Smith
October prediction: Andrei Kirilenko

DEFENSIVE PLAYER OF THE YEAR
Dwight Howard, Orlando Magic

Injuries are an undeniable factor in this category, too, hampering not just Boston's inimitable Kevin Garnett but also San Antonio's Tim Duncan, who ranks as the dean of interior anchors in the West.
However …
Make sure you give Howard his due. He'll go down as just the fifth player in league history -- since the league started tracking swats and steals in 1973-74 -- to lead the league in rebounding (13.9 per game) and blocked shots (2.9). And that has sparked a teamwide improvement on D that had Orlando tied with Boston for first in the league's defensive-efficiency standings (allowing 101.7 points every 100 possessions) entering Friday's play, even though Howard is surrounded by a mostly score-first crew.
Garnett still has to be on our list, despite missing 22 games, because he did play in 57 and because the defending champs are unmatched at that end when the ultimate team defender is on the floor. As Paul Pierce likes to say: "Kevin is basically everything for our defense."
You have to believe that James, Bryant and Wade will all get votes here as well -- especially Wade now that he's becoming a shot-blocker (No. 16 in the league) on top of everything else he does at a mere 6-foot-4 -- because all three of those MVP types are playing more D than ever before. But I'd argue that they belong in a category of their own, since they understandably have to float in and out of lockdown mode given the loads they carry offensively. Best two-way player in the league? Sounds like we'll be having another good LeBron-Kobe-Dwyane debate sooner rather than later.
Instead we wind up with two Rockets bidding for the No. 2 spot, which I would split between Shane Battier and Ron Artest if the league allowed ties. Since split votes aren't allowed, Battier's versatile and guile (two of KG's hallmarks, too) win out. This time.
STEIN'S BALLOT

1. Howard
2. Battier
3. Garnett
October prediction:
Kevin Garnett

MOST IMPROVED PLAYER
Devin Harris, New Jersey Nets

The angst and frustration that the MIP usually generates isn't torturing us for once. Harris and Danny Granger made this perennially painful job fairly easy this time by making the jump from the ranks of the mere solid to All-Star status.
Throw in the progress from Utah's Paul Millsap -- so significant that you can do a week's worth of talk shows in Salt Lake City focusing on nothing more than the Millsap-or-Carlos Boozer conundrum -- and you have a rapid-fire top three.
I know, I know. This isn't our first season-end ballot column, so I'm fully aware that you'll be e-mailing your protests about the guys who didn't even make this list of secondary MIP contenders: David Lee, Rajon Rondo, Nene, Roger Mason, Thaddeus Young, Charlie Villanueva, Andrea Bargnani, Luis Scola and Orlando's Nelson, who made the same All-Star leap Harris and Granger did before suffering a separated shoulder in February.
But it was going to be hard for anyone to top Harris on this ballot, even if the Nets ultimately missed the playoffs by some distance. I feel as though I owe Harris my MIP pick as a hat tip for the step he's made, since he has quickly shown us more in New Jersey sooner than even his most fervent backers in Dallas imagined.
As we said way back in December, New Jersey's decision to rewrite its offense to make him the No. 1 option -- and the freedom that Harris and Vince Carter have to take all the shots -- didn't automatically put Harris into All-Star contention. Harris had to justify all that with his first extended run of top-shelf consistency in the pros.
So …
You've undoubtedly noticed that the hysteria about how much Mark Cuban and his Mavs must miss Harris has gradually died down, with Kidd and the Mavs starting to click late in the season. But Harris went into the weekend averaging nearly 22 points and seven assists, putting him up there with LeBron, D-Wade and CP3 as the league's only players in that stratosphere. That kind of step can't be ignored, especially when Harris' numbers in his first 25 games in Jersey after the trade last season were almost identical to his usual Mavs numbers.
(Reminder: As stated in our second trimester report, Kevin Durant wasn't going to be eligible for our real-life MIP vote, no matter how much damage he did, since noticeable improvement in Season 2 is exactly what a player of his stature is supposed to give us. OK?)
STEIN'S BALLOT
1. Harris
2. Millsap
3. Granger
October prediction: Rajon Rondo

"Sounds like a pop star."
Mavericks owner Mark Cuban, responding to word from a German reporter that ALBA Berlin -- the richest club in Dirk Nowitzki's homeland -- has made no secret of its desire to sign Nowitzki as soon as he's ready to leave the NBA.
Nowitzki has said that he likes the idea of playing again in his homeland someday as opposed to one of the stronger European leagues, but he says so in a years-away kind of way. Although it might seem like he's been in Dallas for ages, after 11 seasons with the team that acquired him on draft night in 1999, Nowitzki only turns 31 in June.
"Whatever Dirk wants to do when he's 50," Cuban said, "is up to him."
The reporter from Germany's Sport Bild nonetheless asked Cuban if he's getting closer to a major teardown of the Mavs, starting with the trading of Nowitzki, after two straight first-round exits. Cuban insisted: "Dirk will be saying auf Wiedersehen to me before I say auf Wiedersehen to him."

Five questions with Heat center Jermaine O'Neal:
Q: Are things finally settling down after getting traded twice in less than a year?
A: It's definitely been a crazy year, starting off with finally getting traded from Indiana to Toronto. I had a great time there, great organization. Bryan Colangelo is unbelievable. Things just didn't go the way that we thought they would go.
I knew that [trade to Miami was coming] for a while. Me and Bryan Colangelo have been almost best friends, so I knew it was coming the whole time. Basically he tried to make some things work for the team to make a run for it, but myself, [Chris] Bosh and [Jose] Calderon … obviously we didn't get off to a great start. Then your team has to try to figure out how to make the best out of it.
It's been a long year, but I feel comfortable in this situation [in Miami] now. … Some people look at trades as devastating, but Indiana was a situation where I knew that the run was over two years ago. So it wasn't like I was shocked that I was traded. It basically was a mutual agreement that it was time the run was over.
Q: Why was the run so short in Toronto?
A: The Toronto organization was great to me and even the city was unbelievable. The affection I've gotten, you would have thought that I played there for the last 13 years. I would have thought that I would have gotten off to a better start … obviously things went wrong from the start.
I think Bryan's thought process, with the way it was going, was to put himself in a great position to sign Bosh next [summer] and also bring some free agents in. We both came to the conclusion that the best move was to make that move to Miami.
I think he cared so much about me as a person. It was a strange situation, because our relationship went so much further than any management person that I've ever been involved with, even Donnie Walsh. And people know how close me and Donnie [were]. … That's rare. That's rare when you have that type of relationship.
We talked on the phone a lot, text messaged a lot. So I felt bad for him that it didn't really work. And I think he felt bad for me that it didn't work … It didn't work that way for the both of us. Miami was calling and I knew Miami was one of the teams interested in me even before I went to Toronto.
Q: Are you paying attention to the things people are saying about how much you have left and what you can and can't do any more?
A: No. You take any player and you give 'em a knee injury … ask Kevin Garnett right now how he feels. You take any player's livelihood, which is his knee, and put any injury to it … it's going to be a process. And it's been one hell of a process for me.
But I've finally gotten to the point where I feel like I'm over the hump with the knee situation. I think for people to really understand what I've been through, playing hurt [for Indiana], coming back and forth and knowing that our team's in a tough situation for so many different reasons as far as on-the-court and off-the-court stuff, and you're trying to be a bright spot for the team and you're sacrificing your health almost to the detriment of your career ... it was a very difficult situation to be in.
I tore my meniscus twice [in Indiana] before I had surgery. So it was difficult. But I don't care what people say about whatever. I know what I can do and that's really what it is. You've got to get back totally healthy and go from there.
I've had long talks with Coach Riley. He's seen a lot of [big men] and he has so much belief in what I can do. And that means a lot, too.
Q: You still call him Coach?
A: Still Coach. I still ask him, "What do you see, Coach, what do you see?" I talk to Coach Spoelstra and his staff, too. But I still ask him. A guy with his pedigree and his background, he's seen them all, he's coached them all. So when he gives his views of what you should be doing, that's very, very important to me.
Q: So do you second-guess yourself now for playing hurt?
A: Yeah. Especially the way things ended [in Indiana]. If it would have ended a different way, then I would have been a little bit happier about it. I look at some of the things that were said about me when I left Indiana, they kind of have people thinking a certain way about me, that I gave up on the team. And I didn't give up on the team.
But obviously my relationship with Larry [Bird] was a tough one. And I don't feel like they really … knowing what they knew and it being documented what they knew about my knee and my knee situation and why I was in and out of the lineup, I didn't really feel like they had my back. When Donnie left, I knew my support left from the front office.
I kind of beat myself up a lot about that, about not getting surgery when it first happened [in the 2006-07 season]. … The organization didn't really stand behind me. There's a lot of great people in that organization and a lot of great people in that city, but they didn't do the things that I felt like they should have. And that's how I knew my time was over.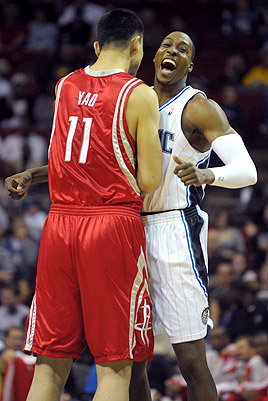 AP Photo/Phelan M. Ebenhack
Dwight Howard can smile at his own D since he's about to become just the fifth player in league history to lead the league in rebounds and blocked shots in the same season, putting him atop this ballot for Defensive Player of the Year. (See Box 2.)

Jermaine O'Neal
will be back in the All-Star Game again before he retires.
So says Jermaine O'Neal.
You probably surmised that our conversation with the Miami center, up in Box 4, was the season's longest one-on-one visit in the Weekend Dime. Except that it actually went longer than what you saw there.
Once he got going, O'Neal volunteered some bold talk about the future and what he can do next season and beyond after being hampered by knee trouble for the past two-plus seasons. He's due to earn $23 million in 2009-10 in the final year of his contract.
"I think making the All-Star team five times, All-NBA, stuff like that … it's good but it's not quite enough," O'Neal said. "It's important to really make one last run in the next three to four years, because that's all I want to play. I've done very, very well business-wise. The game of basketball has been very, very good to me. But I'm looking to making a major, major push to really get back to that level.
"If you ask me if I'm going to be an All-Star again in the next three or four years, I can guarantee you I will."
O'Neal was 17 when Portland drafted him out of high school in 1996. He turns 31 in October and last played in the 2007 All-Star Game in Las Vegas.
In 25 games since the Heat acquired him in a trade for Shawn Marion and Marcus Banks on Feb. 13, O'Neal is averaging 13.2 points and 5.3 rebounds in 30.5 minutes per game. But both he and coach Erik Spoelstra insist that O'Neal will fare better next season with a full training camp and more low-post material worked back into the Heat's offense after they were basically center-less for the season's first 50-odd games.
"Obviously there's a lot of players that can't do what they could they could do six, seven years ago," O'Neal said. "There's very few in this league outside of Kobe [whose games don't drop off]. … Big guys normally slow down from the wear and tear.
"It's hard on you, but I'm in a great, great place mentally. I'm doing the world's best job. I've got a great family. My wife and kids are very, very supportive. And that all makes it easier to really kind of take your time and get back to what you can do.
"The last two summers have been rehab years. Almost the last three summers. This will be the first summer where it's all about basketball. It's all about getting better. No [waiting] period. No 'don't touch the court until July.' None of that. I had to get over the hump physically, but more than anything, mentally I'm over the hump."
---
One of the foremost Allen Iverson experts I know, having read last week's look at the limited free-agent market Iverson is likely looking at this summer, checked in to warn against believing the notion that A.I. might really retire at 34 if he can't find a palatable offer.
His theory is that, with all the time between now and the start of free agency on July 1, Iverson will eventually come to grips with the realities of a limited market in a bad economy. He contends there's "virtually no chance" Iverson won't decide to play on.
Which is only one man's opinion, of course, but one I consider an informed opinion for you to digest.
---
Something we know for sure: Detroit's team demeanor has clearly picked up since Iverson met with Pistons president Joe Dumars and agreed to a mutual parting for the rest of the season after telling the world that he'd rather retire than come off the bench.
The Pistons have to know, though, that more changes are likely coming this offseason unless they can KO one of the East powers in the first round.
"We know," veteran forward Antonio McDyess said. "We don't talk about [the future], but we definitely know.
"We might joke around a time or two and say, 'Hey, I guess I won't be here next year.' That's just a joke, but we know that's a big question. Who is our next [veteran to go]?"
But here's another question: What happens if the Pistons do spring an upset? There's still some faint hope for Detroit to get up to No. 6 and force a first-round showdown with an Orlando team everyone knows is dreading that matchup.

The best piece of player-movement gossip gleaned on my recent trip to Sacramento for Vlade Divac's jersey retirement involves one of Vlade's favorite ex-teammates.
Plugged-in sources say that making a run at bringing Turkoglu back to Sactown -- given Orlando's well-chronicled concerns about re-signing last season's NBA Most Improved Player award recipient and staying under the luxury tax -- holds definite appeal to the Kings.
But going ahead with a legit bid for Turkoglu all depends on whether Sacramento decides it can afford to spend this summer.
It remains to be seen if the increasingly cost-conscious Maloof Brothers, who authorized a flurry of payroll-slashing deals before the Feb. 19 trade deadline, are prepared to use their projected $7-plus million in salary-cap space to assemble a long-term offer to the 30-year-old.
Turkoglu is expected to opt out of the final year of his current contract with the Magic, worth $7.4 million next season, to become a free agent July 1. He signed a six-year deal with Orlando in 2004 worth $39 million but is regarded as a much more mature and dangerous player than he was when he left Sacramento in the summer of 2003 in a three-team deal that landed Brad Miller with the Kings and sent Turkoglu to San Antonio.
Players adept at running Pete Carril's Princeton offense -- with Carril back on Sacramento's bench and expected to retain a role of prominence with the Kings whether or not they rehire Eddie Jordan as their next full-time coach -- are sure to interest the Kings going forward. Although he acknowledges that Sacramento's young big men are raw, Carril has said that Spencer Hawes and Jason Thompson have the potential to develop into a tandem resembling the Divac-Chris Webber duo if they keep progressing.
Which should make it even easier to understand why trying to bring the popular Turkoglu back has been discussed.
---
We also hit up Kings guard Bobby Jackson, another one of Vlade's ex-teammates, for his view on the team's struggles to secure a new arena deal and the prospect of the franchise relocating to Anaheim, Seattle, etc.
"I plan on being here," Jackson said. "I plan on coaching when I'm done, hopefully. … But it's tough, it's not like the old days."
Asked if he's worried about the Kings moving, Jackson said: "Of course. We've probably got the oldest arena in the league. Everybody has new arenas. If we don't get a new arena, you can't be anything but forced to leave.
"But this city has been good to the Kings and the Kings have been good to the city. So I don't see why we can't get something worked out. I know there's a recession right now and nobody wants to spend money. That's what it all boils down to. But I just don't see this franchise going anywhere.
"Well … it can. But it wouldn't make sense with all the time [the Kings have] invested in here to go anywhere else."

How bleak is the free-agent marketplace likely to be for Allen Iverson this summer? And is there any chance that we'll see Shaquille O'Neal in Dallas next season working for his Twitter buddy Mark Cuban? With Ryen Russillo sitting in for host Colin Cowherd, Marc Stein joins The Herd to examine the possibilities.
• Listen to the interview


You are by now conditioned to expect the Los Angeles Lakers to make it back to the NBA Finals, but you'd also like to believe that the Lakers will find themselves in at least one tough series before they get there. The gap, though, only seems to be growing between the Lakers and the rest of the West ... especially after L.A. welcomed back Andrew Bynum just days after their foremost conference rivals in San Antonio lost Manu Ginobili for the remainder of the season. And that has Marc Stein lamenting the likely lack of suspense in our playoff-viewing futures in his weekly visit with Jason Smith on ESPN's NBA Today podcast.
Listen to the podcast