Fernando Medina/NBAE via Getty Images
Can The Cavs Tie The '85-86 Celtics' Record At Home?
I always felt that if you could win 30 home games in the NBA, you were going to have a great season. But to win 40? That's off the charts. However, I think the Cavs will do it this season. Of course, if they can pull it off, they'll match the 1985-86
Boston Celtics
for the best home record in NBA history. I coached the
Portland Trail Blazers
team that gave those Celtics their only home loss that season.
NBA on ABC Schedule


• Mavs at Hornets, 1 ET (ABC)
• Celtics at Cavs, 3:30 ET (ABC)
We had an OK team, not a great team. We had lost badly at Atlanta on that road trip, and Kiki Vandeweghe was hobbling, so I sent him home to rehab. I think that turned out to be an important factor in that win in Boston. Kiki was a very good offensive player, but with him out, I used
Jerome Kersey
more off the bench. Jerome ran past Larry Bird and anyone else who guarded him that night. He and
Steve Colter
, another reserve, both outquicked their matchups in that game. We could really run. We played a very strong, up-tempo game, and the Celtics never really responded. As I recall, near the end of the third quarter we opened up a lead, and the game was over. I think another factor was that the Celtics took us lightly that night in early December. I don't think Cleveland, with the record at hand, will do that this season. The Cavs have only Boston and Philadelphia left on their home schedule. Boston will be without
Kevin Garnett
and
Leon Powe
, whom I don't think you should forget. Without Boston at full strength, I think Cleveland will win that game. Philadelphia has been very erratic lately and has not been playing very well. And the Cavs want this record. Plus, they could be playing for home-court advantage throughout the playoffs. The home-court advantages for both teams are strong. Boston was always a tough place to play. The old Garden had the dead spots on the parquet floor, the overheated dressing rooms with the ice-cold showers. All those old stories are true. But the Celtics had great teams, too. I don't think these Cavs are in that class, but they win, and you have to credit that to
LeBron James
, who on many occasions just wills that team to win. And I think they have a very partisan, vocal home-court following. But this level of success is surprising. I've spoken to some of the players about it, and no one really expected this type of season. They hoped to be better with the additions and subtractions to their roster. The additions of
Mo Williams
and
Delonte West
are well documented, but I don't think people talk enough about the subtractions and how they've helped this team. The Cavs are without
Drew Gooden
,
Damon Jones
and
Larry Hughes
, but there is a camaraderie among these players that wasn't there last season. Cavs head coach Mike Brown says he has never had a group like this. The players say the same thing. This is a very, very tight-knit group. There is a great rapport between the players and the coaching staff, and I give Brown a lot of credit for that. He has relinquished some authority while still maintaining his place as the decision-maker. If you watch the Cavs' games, you'll notice Brown's assistants will take over a time-out huddle. Michael Malone will talk on defense with them or John Kuester will diagram plays. On those occasions Brown sits back and watches. It clearly seems to be working. I asked West what was different about this team. He has been with three teams in the league in his career: Boston, Seattle and Cleveland. He said he was never with a team when a coach asked his opinion about a play or how to defend somebody. The players share a great feeling. They spend a lot of time together and go out together all the time. They have a great practice facility that serves three meals a day when they are home. So the single guys start going there, and pretty soon they all go. Even on days when they don't practice, the players still come into the facility and hang out. That type of togetherness is seldom the case with NBA teams. When you have that, you have something rare.
Legendary coach and Hall of Famer Dr. Jack Ramsay serves as lead game analyst for the NBA on ESPN Radio.
Dimes past: March 25 | 26 | 27 | 28-29 | 30 | 31 | April 1 | 2 | 3 | 4-5 | 6 | 8 | 9 | 10 | 11-12

By Zach Lowe | TrueHoop Network
I think we all know the Celtics' chances of winning a championship begin and end with the muscle that runs behind Kevin Garnett's right knee.
The signs there seem positive, as he'll likely practice Monday, along with Leon Powe.
Tony Allen
is playing again. And
Stephon Marbury
, even with a hideous offensive rating (92), field goal percentage (32 percent) and free-throw rate (nonexistent), seems to be settling into his role as
Eddie House
's personal waiter off the bench. As for House, he's answered all the questions.
Glen Davis
and Powe have answered most of them. So all of a sudden, the Celtics have what might be termed a "good problem": At least 11 guys appear to be guaranteed some sort of postseason playing time (all of the above and
Mikki Moore
; I'm still assuming
Brian Scalabrine
won't see much time, if any). Distributing postseason minutes to 11 guys is a challenge, and it won't happen without someone -- at least one person -- having his minutes cut substantially. I spent some quality time with all 26 game flows from last year's playoffs at the invaluable
PopcornMachine
and found one obvious conclusion: The days of five subs' being on the floor together end when the playoffs start -- or at least they did last year. In 19 of the 26 playoff games last season, the Celtics had at least one member of the Big Three on the floor for all 48 minutes. The exceptions were the ends of seven blowouts -- Games 1, 2, 5 and 7 of the Eastern Conference quarterfinals against Atlanta; Game 3 of the conference semifinals at Cleveland; Game 4 of the conference finals at Detroit; and the last 4 minutes, 2 seconds of Game 6 of the NBA Finals against Los Angeles. So if last season is any indication, we've seen the last of the all-bench lineups in meaningful minutes. (though I wouldn't be shocked if Celtics coach Doc Rivers were to fiddle with an all-bench group once or twice in the first round). During the postseason, the typical C's "bench" lineup featured
Paul Pierce
or
Ray Allen
, House or
Sam Cassell
, Powe or Davis,
James Posey
and
P.J. Brown.
And Rivers timed it so that Pierce or Ray Allen was out there for every second with the bench. The second quarter of Game 2 of the conference finals against Detroit was a perfect example. Pierce played the first 2 minutes, 34 seconds of the quarter with House, Brown, Posey and Powe. Rivers replaced Pierce with Allen, who played just 45 seconds before picking up two fouls. Rather than rest Pierce for the length he'd planned and risk having five subs in the game, Rivers sent Pierce -- and KG -- back onto the floor. The Celtics rarely went small because they really had only two "small" rotation players (
Rajon Rondo
and whichever of the House/Cassell tandem Rivers preferred on that day), and Rivers rarely played them together. All of this meant a substantial contraction in minutes for the backups:
2007-08 Bench Minutes
Player
Regular-season mins.
Playoff mins.
Playoff games
Glen Davis
13.6
8.0
17
Leon Powe
14.4
11.7
23
Tony Allen
18.3
4.3
15
Eddie House
19.0
7.8
21
(Brown played 13.6 minutes per game, Posey about 22 and Cassell about 12.5 in 21 games.) So what does Doc do this year? I'm assuming House has earned his 15-20 minutes a game, and I suspect that Tony Allen, if he's ready, is going to play at least 12-15 minutes in close games. He's the only wing-type defender on the second unit, and his ability to attack the rim and draw fouls is an important weapon off the bench. It sounds as though Marbury has earned his way into the guard rotation, and we know Powe and Davis will get minutes (if Powe is healthy). Moore has been up and down in Boston (his game log is
here
), but he's played well in three of his past four games, his offensive rating is up to 119 with the C's and he's basically been a wash in raw plus/minus. (The offense scores 2.5 fewer points per 100 possessions with him on the floor, and the defense gives up about six more, but in fairness, he's out there mostly with backups.) My best guess is that all six of these guys will see meaningful playing time in the postseason, and probably in some lineup combinations we haven't seen much of yet. Rivers will be able to play matchups, mix starters and bench players, and use small lineups more often than we saw last season. A few of these guys won't play as many minutes, but how Rivers uses those minutes will be critical.
To read more from Lowe, check out the TrueHoop Network blog, "Celtics Hub."
Who Would You Rather Guard: Kobe or LeBron?

ESPN NBA analyst Jalen Rose joined Erik Kuselias on "Tirico & Van Pelt" to discuss his thoughts on the playoffs.
Kuselias:
You're a 6-8 guard, Jalen. On your best day, would you rather check LeBron or check Kobe?
Rose:
Wow. That's picking your poison. I'd probably rather check LeBron. And the reason why is because LeBron, as a young player -- picture that: LeBron still has room to grow -- he doesn't post up yet and he hasn't consistently knocked down his 3-point shot. And they don't move him around as much. So he's not as hard to find. He has the basketball. He's a freight train in the open floor. But in the half court, you try to play his perimeter shot, and if he's knocking it down, you're in trouble. When
Kobe Bryant
pulls up in the parking lot at the arena, he's in his range. Because of that, you have to be on him at all times. And he understands how to seize the moment, he makes his 3-point shots and he consistently makes free throws, as well.
Listen to the rest of the conversation here

.
Can Anyone Stop The Lakers?

Marc Stein joined Jason Smith on Friday's NBA Today podcast to discuss Andrew Bynum's return, Shaq to Dallas rumors and whether there are any challengers for the Lakers out West.
Jason Smith:
Are the Lakers susceptible to a hot team if Andrew Bynum's not right?
Marc Stein:
I honestly felt all season that San Antonio was the only team that could beat them in a series, whether we're talking Bynum's there or not. The thing that really hurts for San Antonio is their role players around the Big Three is the best setup they've ever had in so long. With what
Roger Mason
has done, the progress
Matt Bonner
has made,
George Hill
the rookie and Bowen has had a reduced role, but I always anticipate that would change in the playoffs, and he's a nice little wrinkle to have on the bench. But they're obviously not going to have Manu now. And even if they did, Duncan looked so good earlier in the season, but now he's just laboring, with braces on his knee. People close to the situation keep remarking about how Duncan is talking about his injuries, which he never has done in the past. So that means he's obviously in pain. He's just not going to be healthy for the rest of the season. With San Antonio in the state that it's in, there's no one I can see taking down L.A. Portland is playing fantastic; they're finishing the season on an absolute high. They have a great home-court advantage, they have
Brandon Roy
and they've given the Lakers problems in Portland. But all of that is in the regular season. And I'm one of those guys who believes experience is huge in the playoffs. It's been proven, and young, inexperienced teams don't win. When those Blazers get on the big stage for the first time and find themselves in a series with the Lakers in the second round of the conference finals, it's going to be a whole new level. •
Listen to the rest of the podcast.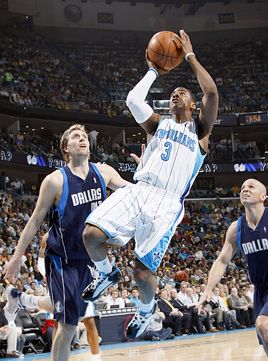 Layne Murdoch/NBAE via Getty Images
After losing four of their past five, Chris Paul and the Hornets are in jeopardy of falling into eighth place in the West. A win against Dallas on Sunday could help avoid a first-round matchup with the Lakers.
Chatting With John Hollinger
By John Hollinger
ESPN.com

Travis, Fairfax VA:
Could either the Jazz or the Mavs give the Lakers ANY trouble? And, has Ginobili's injury taken all drama from the Western Conf. Playoffs?
John Hollinger:
Let's not overstate things. Blazers, Nuggets, Jazz and Rockets all are good enough to make some noise if they bring their A-games, so I think the West remains very interesting. As far as Round 1 goes, Utah doesn't match up well against L.A. and neither does Dallas, so I think the Lakers are safe there. The team they probably don't want to play is New Orleans, who could give them some problems if
Tyson Chandler
and James Posey are healthy.
---
Yatin (LA):
Am I crazy for thinking the Hornets stand really good chances against either the Nuggets or Spurs in the 1st round? All the 2-day breaks should certainly help CP3 and D-West play 40+ minutes so their subpar subs can stay where they belong, on the bench.
Hollinger:
Spurs, sure. Nuggets, not so much. For starters, gotta have Chandler and Posey back if you want to do anything, because otherwise the frontcourt is totally overmatched. Unfortunately, odds are that San Antonio falls to the 5-slot and you're stuck facing Houston or Portland.
---
Tim (Boston, MA):
Do you see any 7-8 seeds taking their first round opponents to 7 games ala the '08 Hawks or the '07 Warriors?
Hollinger:
I see a couple of intriguing possibilities, actually -- I think a Denver-Utah first-round series would be fantastic, and as I mentioned above, I think Chicago can make Boston sweat. Another one I might add to the list, with a big asterisk, is that if the Hornets fall to No. 8, and if they get Chandler and Posey back before Game 1, they've given the Lakers a lot of problems the past two years. •
Read the rest of Hollinger's chat

Rockets guard
Aaron Brooks
joins Jason Smith to discuss the team's success with T-Mac, the importance of winning the Southwest Division and playing with
Ron Artest
and his "ridiculous" shot attempts.