(Photo by Jesse D. Garrabrant/NBAE via Getty Images)
Paul Pierce lost this tip to Samuel Dalembert, but led Boston with his 7-for-9 3-point shooting.

(AP Photo/Gregory Smith)
Heat guard Dwyane Wade sits with Jermaine O'Neal and Jamaal Magloire during Atlanta's 81-79 win.

(Photo by Andrew D. Bernstein/NBAE via Getty Images)
Lakers center Andrew Bynum dropped 22 points on Paul Millsap and the Jazz in a 125-112 win.
Time To Bring Back The Celtics-Sixers Rivalry

Nothing against the Philadelphia 76ers, but it's great that they lost to the Boston Celtics Tuesday night. Sometimes you need to sacrifice for the greater good, even if it means you bust while the rest of the blackjack table wins. Gotta keep the proper sequence of cards. Thanks to Boston's 100-98 victory, the first round of the playoffs is looking a lot more interesting.
Why stop all that retro stuff the Celtics had going? They played the Detroit Pistons and Los Angeles Lakers in their final two playoff series last year, so they might as well complete their run of 1980s rivals and face the 76ers in the first round this season.
Tuesday night's game helped. It keeps the 76ers in seventh place in the Eastern Conference, headed toward a matchup with the No. 2 Celtics. And it served as a reminder of why we liked this rivalry back in the 80s.
This was contentious, especially for a game that only had standings value for Philadelphia. The Celtics had every reason to take the night off, especially since this wasn't a fair fight for them without Kevin Garnett (still not back from that knee injury) and Ray Allen (suspended one game for elbowing Anderson Varejao where it matters most). But they were ornery, picking up five technical fouls on the night. And they were passionate; during one timeout Paul Pierce gave his teammates the verbal equivalent of what Allen did to Varejao. They deserved it after a sloppy first half in which they paid little attention to half-court or transition defense; at one point Philadelphia center Samuel Dalembert beat every Celtic down the court for a dunk.
Pierce didn't just talk it, he did it, making 7 of 9 3-pointers on his way to a game-high 31 points.
The fact that the Celtics came back from an 11-point deficit to prevail, even without two-thirds of their Big Three, indicates that this wouldn't be a lengthy series if Garnett comes back in his old form for the playoffs. In the second half they successfully turned this game into a half-court battle, playing to their strength and Philadelphia's weakness. Both teams like defense, but in different ways. The 76ers use it to create fast-break opportunities off turnovers or blocked shots. The Celtics seem as if they'd prefer to squeeze an opponent into a 24-second clock violation, as if they're enthralled by the challenge of it.
But even if we know the outcome, the series will still be worth watching. It's good that they seem to be developing a little animosity. They seemed annoyed with each other, the dislike even extending to Mikki Moore tangling with Theo Ratliff as they ran down the floor. For star power and drama it might not match the time Larry Bird and Dr. J went at each other's throats, but it's a start.
It's a rivalry so good it has its own Wikipedia page. It dates back to the Bill Russell-Wilt Chamberlain days, then was re-ignited when they faced each other in the playoffs four times in a six-year stretch at the start of the 1980s. They loathed each other so much that they once got into three fights in an exhibition game.
The Sixers have been celebrating the old days this season, wearing the jersey style Moses Malone wore when he was in Philly, and returning to the Spectrum for one last game. Might as well complete the theme and play the Celtics again.
J.A. Adande is an ESPN.com senior writer and the author of "The Best Los Angeles Sports Arguments." Click here to e-mail J.A.
Dimes past: March 28-29 | 30 | 31 | April 1 | 2 | 3 | 4-5 | 6 | 8 | 9 | 10 | 11-12 | 13 | 14
Raptors Waited Too Long To Start Clicking

By John Hollinger | ESPN.com
OK, file this under "too little, too late," perhaps, but the Raptors are 8-4 in their past 12 games, including a road win in Orlando when the Magic had all their players, and Chris Bosh has snapped out of a bad midseason funk to close the season strong. That includes Monday night's game-winning 3 against Washington, and he has now led the team in both scoring and rebounding in nine of its past dozen contests.
None of this, perhaps, is ultimately meaningful, except that the Raptors might be more inclined to bring back the same bunch next season, including head coach Jay Triano and free agent-to-be Shawn Marion. With Jose Calderon now past a hamstring injury that had rendered him among the league's most flammable defenders, and Andrea Bargnani finally showing some of the promise that had made him a top overall pick, the Raps are finally looking like the 45-win team everyone thought they'd be at the start of the season.
Whether they can do that over an 82-game schedule is very much up in the air, of course. But after an unremittingly depressing first four months of the season, it's nice to see them closing on a positive note.
• To see the other four Insider gems, click here.
Garnett's Health A Big Concern For Celtics

By Zach Lowe | TrueHoop Network
Forgive Boston fans if we approach the playoffs paranoid about a scenario in which we get pumped upon Kevin Garnett's return to the starting lineup only to have it become immediately obvious that he is not near 100 percent.
Since Feb. 19, when KG left a game against Utah, the prognosis regarding the strained muscle behind his right knee has changed so many times we don't know what to think. We just want to see for ourselves.
Garnett returned March 20 and played four games, but on March 30, as Danny Ainge spoke with reporters, the Celtics had just held Garnett out of two consecutive games.
Still, there hadn't been "a setback" in KG's recovery, Ainge said, according to the Boston Herald. "Not at all."
The next day the team announced that KG would miss most of the regular season, possibly returning for the final few games. Paul Pierce told The Boston Globe that "Kevin at 75 percent is just as good as anybody in the league." Kendrick Perkins told the paper the fact that KG hadn't recovered yet was "scary," but that he'd take a Garnett playing at 60 or 70 percent in the postseason.
Sixty or 70 percent? This sounded serious. Since then, the Celtics have said Garnett would play one or two games before the playoffs, then said he'd play one of the last two, then finally shut him down when they clinched the second seed, a move that made total sense. (Though, distressingly, Celtics head coach Doc Rivers told the Boston Herald the team wasn't sure if KG would have been able to play Tuesday against the 76ers had the game mattered).
You can't really blame the team for any of this. A posterior knee strain is a wear and tear injury, one with an unpredictable recovery time that can lengthen if a player comes back too soon, according to Donald Rose, an orthopedic surgeon, professor at New York University and onetime team surgeon for the 76ers.
So we won't know what to expect from KG until we see him out there. We do know the Celtics can't win the title again unless Garnett can play something resembling his normal defense. Boston's defense gives up an ultra-stingy 99 points per 100 possessions with KG on the floor, and a still-good-but-not-great 105 points per 100 possessions without him, according to 82games.com.
So we'll all have our fingers crossed Saturday. It's not a stretch to say the season is in the balance.
To read more, check out the TrueHoop Network blog, Celtics Hub.
By Maurice Brooks
ESPN.com

TUESDAY'S BEST
Paul Pierce, Celtics
: The Truth made sure Boston didn't lose to its potential first-round playoff opponent by scoring 31 points as the Celtics -- without Kevin Garnett and Ray Allen -- edged the Sixers on the road.
---

TUESDAY'S WORST
Daequan Cook, Heat
: With most of Miami's key players in street clothes for this game against the Hawks, Cook failed to take advantage of the extra shot attempts, going 3-for-12 from the floor, including 1-for-7 from distance.
---
QUOTE OF THE NIGHT
"I'm committed to growing something here, and strongly believe that over time, we'll put a team on the floor that everyone at FIU can be proud of."
-- Former Knicks coach and president Isiah Thomas after he was named head coach at Florida International
T-Mobile Shot of the Night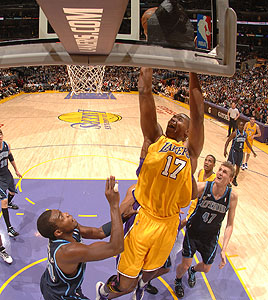 Andrew D. Bernstein/NBAE/Getty Images
Andrew Bynum looked completely healthy, scoring 22 points on 8-for-13 shooting from the field as the Lakers closed out their regular season with a 125-112 win against the Jazz.

Frank Dale and Joe Mead get the final Awards Watch from Maurice Brooks. Who will be the MVP? Rookie of the Year? Coach of the Year?
NBA Today
Reserves Get A Chance To Star
By Elias Sports Bureau

With nothing to play for, it was training camp in April at Atlanta, where the Hawks topped the Heat 81-79. Five Hawks players set season highs in minutes played: Mario West (39), Solomon Jones (30), Othello Hunter (23), Thomas Gardner (22) and Speedy Claxton (7). Dorell Wright of the Heat also set a season high in minutes (24).