AP Photo/Mark Duncan
LeBron James sinks a 41-footer and seems to take it in stride during Cleveland's Game 1 win.

(Photo by Ronald Martinez/Getty Images)
Mavs reserve Jose Juan Barea (13 points) helped drive Dallas to a 105-97 win over San Antonio.

(AP Photo/Elise Amendola)
C's guard Rajon Rondo and Bulls guard Derrick Rose (36 points) both stood out in Chicago's win.

(Photo by Sam Forencich/NBAE via Getty Images)
Don't be a baby! Carl Landry and Yao Ming appear to be enjoying the Rockets' rout of Portland.

(Photo by Jonathan Ferrey/Getty Images)
Blazers guard Brandon Roy collects himself after suffering a blow to the head during the loss.
LeBron Taking His Game Even Higher

CLEVELAND -- The voice on the radio was booming, coming at its listening audience with full force, imploring fans to enjoy this. To cast aside all fears of the dreaded 2010, to put aside all doubt that the locals can go all the way, and to simply enjoy what they are witnessing at this very moment.

The voice belonged to a Cleveland broadcaster, and he was addressing fans of the Cavaliers. But as I watched LeBron James rip the not-so-Bad Boys of Detroit to shreds 102-84 on Saturday afternoon, I realized that the words I heard on my drive from the airport to "The Q" apply to all us basketball fans:

Let's do ourselves a favor and enjoy this.

What we are watching is historic. He is not just a perennial All-Star, not merely the greatest player of his era, not even the next Kobe.

LeBron James is better than all that.

Once he starts winning rings, which could be in two months or so, he'll replace Bird as the best small forward. If he and Kobe meet in the dream Finals and the Cavaliers win, he'll forever be listed ahead of Mamba in the rankings of all-time greats. (Why? Because Kobe has the much better supporting cast, what with Pau Gasol, Andrew Bynum, Lamar Odom and history's winningest coach not named Red Auerbach.)

And for as much as we hear about the great Oscar Robertson's triple-double season of 1961-62, LeBron's current numbers dwarf the Big O's when adjusted for pace of play. Back when Oscar got his 3D, teams averaged 118 points and 71 rebounds per game. Today, they average just 99 points and 41 boards.

Back in March, when ESPN's brainiacs in the Stats & Information department compared LeBron's stats to Oscar's, they told me LeBron would average 40 points, nearly 15 rebounds and 9.6 assists in the up-tempo, shot-happy game of 1961-62. Oscar, on the other hand, would average 21.7 points, 8.4 assists and 6 rebounds today.

But that's not the scary thing. This is: LeBron's getting better.

We've all seen several LeBron masterpieces. And although his 48-point performance against these same (well, sort of) Detroit Pistons in the 2007 playoffs has to go down as his all-time tour de force, what he did Saturday in Game 1 of this first-round series was about as good as it gets.

Still just 24 years old, he was so poised, so cool, so collected in dismantling Rasheed and Rip and Tay that it was ridiculous. He played 40 minutes, 52 seconds, scored 38 points on 13-of-20 shooting, grabbed eight rebounds, handled the ball enough to give out a game-high seven assists and never committed a turnover. Not one.

He let the Pistons know from jump street that their dreams of pulling off a Buster Douglas-type upset were folly by scoring 12 points in the first quarter, including a couple of dunks that had Sheed all but cowering beneath the basket.

In the second quarter, he pulled down a defensive rebound, pushed the ball up the court (you know he plays point about 60 percent of the time) and threw a left-handed, Stockton-esque pass off the bounce that found a streaking Joe Smith for an easy dunk.

Seven minutes later, he hit Zydrunas Ilgauskas in the post, cut toward the basket and caught Z's alley-oop pass at the rim for a sweet finger roll. Then, on the very next possession, he hit a 41-footer off the glass to beat the buzzer to end the half.

After the first two quarters, LeBron had 22 points, more than any other player scored the entire game.

"It's kind of scary to say this when talking about LeBron," teammate Daniel Gibson said. "But this is the time of year when the best players take it to another level."

Another level? You mean there's one beyond what we've been seeing?

Actually, we witnessed some next-level stuff Saturday. In the past, critics had wondered when LeBron would start playing the type of defense we all knew he was capable of. Of course, he has done it this season and garnered some NBA Defensive Player of the Year consideration.

Now, some are saying LeBron should post up more. At 6-foot-8, 270 pounds, with the quickness and speed of a point guard, he would be unstoppable. Last week, I asked him about his becoming a beast on the block one day.

"Sometimes being in the post gets boring," LeBron said with a laugh. "I know it can be easy, but it gets boring down there. I like being on the perimeter shaking and baking it, getting to the cup. It gets boring down there in the post sometimes. That's why sometimes I don't go down there, but every now and then, you'll see me down there."

We saw him down there a few times Saturday, and it did indeed look boring, as in, "This is so easy, it's boring me to death." Heck, it looked as though LeBron was playing against his 4-year-old son, Lil' LeBron.

Once, he posted up poor Arron Afflalo, who actually looks burly next to most players, backed him down into the paint and scored on a short jumper. Another time, he posted Walter Herrmann, who also cuts an imposing figure next to most hoopers, on the opposite block before sinking a turnaround J. Whenever the Pistons sent double-teams, LeBron picked them apart with passes that led to buckets.

But most of the time, he was out there "shaking and baking it." Obviously, that worked, too.

But what will happen when he finds just the right mix of perimeter and post? I mean, he's already on the cusp of winning a title without another elite star by his side. Even though he's neck-and-neck with Kobe for the best player in the game, I'd say he's only about 85-90 percent of the player he can be.

That's why all of us, not just Cavaliers fans, need to heed the words of the voice on the radio in Cleveland and watch closely and enjoy every time LeBron steps on the court. Because we may soon see something we've never seen before -- or at least not before or since the 1990s.

Chris Broussard is a senior writer at ESPN The Magazine.
Jackson On A (Screen) Roll Again

By Shelley Smith | ESPN
LOS ANGELES -- Andrew Bynum's knee brace looks like the Ferrari of knee braces, painted shiny metallic purple and yellow. Yet it is awkward and doesn't allow him to rotate, which affects quick jumps and turns. He said wearing the brace is "just something I have to deal with for a little while" and feels grateful he was able to come back from his injury in time for the playoffs.
"I'm lucky the injury wasn't as bad as everybody had thought," he said. "I'm able to play with the brace. That's an even trade, I'd say."
On Friday, he practiced at full speed with everyone else on the squad. It had been some time since Phil Jackson had his full complement of players on the court. Derek Fisher, Pau Gasol and Kobe Bryant had two days off this week, which they said was really important as they begin what is sure to be a grueling playoff grind.
Gasol said he feels really good mentally and physically, even though he played in the Olympics during the summer and took on extra minutes when Bynum went down with injury.
Meanwhile, Jackson fired the first salvo of sorts at the referees, criticizing the way they generally do not call moving screens. "This game has provided a lot of latitude for screen rolls because of the amount of screen rolls these referees see," Jackson said.
He basically accused the Jazz of being the biggest illegal screen roll culprits.
"Guys are moving on screens," he said. "Take for example [the] game we played at the end of the season [against Utah]. There must have been seven or 10 offensive fouls not called. That's the type of thing that's going on, whereas you couldn't do [that] four or five years ago. On a high screen roll, now guys can take two steps. You weren't allowed to move once you planted [back then], and you had to have your feet down to set a pick, so some of that evolved as [the] game has evolved. That's because screen rolls have become so prolific."
And because Deron Williams is so good at penetrating screen rolls and pushing his team in transition, Kobe Bryant says his teammates must all help him defend Williams in such situations. He added that the key to getting over the hump is simple: "Defensive rebounds. That's it."
Bryant hosted the team for dinner Thursday night at a Manhattan Beach restaurant but was a no-show at Lamar Odom's charity fundraiser Friday night in Hollywood.
Odom's charity is named after his late mother, Cathy, who died from cancer. He is trying to raise awareness for bone-marrow testing, specifically for Jasmina Amina, a young New York girl who is in danger of dying from leukemia and needs a bone-marrow transplant.
By Andrew Ayres
ESPN.com

SATURDAY'S BEST
Derrick Rose, Bulls
: Doing something MJ never did (beating Boston in the playoffs), Rose dropped 36 points and 11 assists on the Celtics in a Game 1 upset that just made this series very interesting.
Saturday's best, Part 2: The Rockets were pretty much perfect, from Yao Ming's stellar shooting to Aaron Brooks' superb 27-point night. Not to mention former coach Jeff Van Gundy's Karnak-like prediction (so far) that the Rockets would dominate the Trail Blazers.
---

SATURDAY'S WORST
Ray Allen, Celtics
: It was a shame about Ray. Missed 11 of 12 shots, including all six 3-point tries in the loss to Chicago. Truth is, the last shot that really landed was his unfortunate swipe at Anderson Varejao last week.
---
QUOTE OF THE NIGHT
"Kevin is gone. And he ain't coming back. The guys in the uniform have to play."
-- Celtics coach Doc Rivers on Kevin Garnett, his injured star who won't be walking through that door, apparently.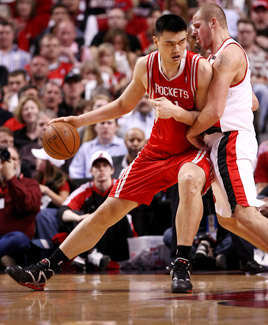 (Photo by Jonathan Ferrey/Getty Images)
Yao Ming (9-for-9 FG, 6-for-6 FT) could not be stopped by Joel Przybilla or anyone else in Houston's 108-81 rout of Portland in Game 1.
By Timothy Varner | TrueHoop Network

Which stat is more persuasive? The pessimist knows that 78.8 percent of teams that win Game 1 of a best-of-seven NBA playoff series go on to win the series. But the optimist is a smart kid, too. He'll tell you the Spurs lost Game 1 of their first-round matchups in 2003, 2005 and 2007. Both kids know San Antonio went on to win a championship in each of those years.
If the playoffs are about adjustments, Rick Carlisle deserves the game ball for Game 1. To start the second half, Carlisle benched Antoine Wright in favor of J.J. Barea. Barea finished the game with 13 points and a game-high plus/minus of plus-17. During a crucial five-minute stretch in the fourth quarter, Barea assisted or scored on 12 of 16 Dallas points. And those other four points? They were Erick Dampier tips off missed J.J. Barea layups. Barea's penetration won the game for the Mavericks.
Now Gregg Popovich must adjust. If those aforementioned Game 1 losses tell us anything, it's that Popovich is not one to lose his cool. Between now and Game 2, Popovich must figure out a way to slow Dallas' dribble drive. It will be an odd year if Tim Duncan gets bounced from the playoffs after only one round.
Timothy Varner's work can be found on the TrueHoop network's Spurs blog, 48 Minutes of Hell
Parker's Driving Difference

By ESPN Stats & Information
After being extremely effective attacking the basket in the first quarter, Spurs guard Tony Parker was less effective as the game went on. Especially with the drive-and-kick. His penetrating drives produced 10 points for his teammates and 12 for himself in the first half. The second half was much different, though, as he scored four points and his teammates zero.
Tony Parker, Game 1
1st Half
2nd Half
Penetrations
18
12
Assists
4
0
Parker FG
6-9
2-4
Parker pts
12
4
Teammates FG
4-7
0-0
Teammates Pts
10
0
Turnovers
1
2
By Elias Sports Bureau

The Cavaliers played Pistons basketball, committing only four turnovers in their 102-84 victory over Detroit. This is the 39th season in which the NBA has compiled team turnovers. Until Saturday's game, only the Pistons had turned the ball over fewer than five times in a playoff game: three versus the Magic (2008 Eastern Conference semis), four versus the Spurs (2005 Finals) and four versus the Celtics (1991 Eastern Conference semis).
By Kevin Arnovitz
TrueHoop

The Chicago Bulls did a lot of things right Saturday afternoon in Boston en route to a 105-103 overtime win. They controlled the tempo on the Celtics' home floor and mauled the league's second-best rebounding team on the glass. But it's impossible to consider any single facet of the game without focusing on Derrick Rose. Chicago's rookie point guard tied Kareem Abdul-Jabbar's record for most points in a playoff debut with 36.
Rose's game displays a seamless combination of spontaneity and purpose. He's perfectly capable of free-forming at any moment -- even off a made bucket. He's also a master orchestrator who controls the half-court game from the point. Rose shredded the Celtics' defense Saturday in a variety of ways.