(Photo by Gary Bassing/NBAE via Getty Images)
76ers guard Andre Iguodala shoots the game-winning shot that completed a 100-98 win over Orlando.

(AP Photo/Mark J. Terrill)
Jazz guard Kyle Korver, right, fouls Lakers forward Trevor Ariza (21 points). The Lakers won 113-100.

(Photo by Doug Benc/Getty Images)
Udonis Haslem and Dwyane Wade find it hard to watch the Heat score just seven points in the fourth.

(AP Photo/Jack Dempsey)
Hornets guard Chris Paul sits after colliding with Carmelo Anthony during Denver's 113-84 win.
Marshall Comes Up Big As Sixers Run Down Magic

ORLANDO -- The last time Donyell Marshall played in a game this important in Florida, he missed two free throws that would have put his team ahead in the final seconds and he ended up being a part of a shocking loss. The team he played for was the Connecticut Huskies, they lost to the Florida Gators in the Sweet 16 in Miami, and the year was 1994.
Fifteen years later, he got another chance to be a difference-maker against a Sunshine State team, and this time he played the hero. Marshall hit 3-of-4 3-pointers in just 11 minutes -- all in the fourth quarter -- the last to tie the score with 38 seconds left in the game.
While Andre Iguodala hit the last shot for the win, it was Marshall and a few of his friends from the bench who helped pull off the shocking win for Philadelphia.
The Magic dominated the middle two quarters, outscoring Philly by 16 points. Because the Sixers decided to mostly stay home on the normally terrific Magic shooters (they tied for the league lead in 3-pointers made per game with 10), Dwight Howard had his way inside. He was too much to handle for any one Sixers defender.
The Magic also had success with high and side ball-screen and handoff action, specifically with rookie Courtney Lee, who was athletic enough to finish over the Sixers' big men. Howard finished with 31 points (career playoff high) on 13 shots, but made only two field goals in the fourth quarter, and Lee had 18 points, but did not score in the final quarter.
That last quarter, which the Sixers won 35-19, will be one that keeps Stan Van Gundy up for a few days. Rather than attack the middle -- where there was more space for Orlando's finishers, and where they could force Philly's defenders either to stay home or to help and leave their man not just wide open but also an easy pass away -- the Magic ran a steady diet of left-side, two-man action. It was a lot of Hedo Turkoglu and Howard pick-and-roll, with Turk going left baseline and Howard diving middle.
But the Sixers did not just bring in Marshall in that last quarter, they added defenders Royal Ivey and Theo Ratliff, and that proved to be just as important.
When Hedo went baseline, he had little space to operate (the baseline acts as a defender) and the Sixers' alert defenders clogged the lane versus Howard. But the men they left were not easily passed to because of where the ball was. Consequently, the Magic had their worst quarter of the game.
Momentum always plays a big role in playoff games, and this is another area that will bother Van Gundy. Late in the third quarter, Howard had to go to the locker room because he had been hit in both eyes by an inadvertent slap. The Magic led 79-61 at that point, with 58 seconds to go in the third, and were in total control. Rafer Alston was the only Magic starter on the floor, and it was clear that the Magic coach hoped to have his reserves hold onto at least a double digit cushion for as long as possible, and perhaps not have to play his starters anymore.
Philly scored the last four points of the quarter, Hedo replaced Alston as the only starter on the court for the Magic, and by the time Howard, Lee and Lewis all returned, with just under seven minutes to play, the Magic led by only six. It was anyone's game at that point.
So the game momentum swung the Sixers' way, and now they have the series momentum. But in truth, the Magic can look at just how strangely they lost this game and not panic. Philly made 7-of-12 3-pointers (outscoring the Magic by six on 3s despite taking six fewer shots), with Marshall doing more than he had done in month.
But they must deal with Marshall from here on, as Orlando clearly struggled with defensive assignments when he was on the floor. Losing an 18-point lead in the last 13 minutes of a game is something Van Gundy's teams just don't do, and they built that lead without shooting well from deep. But the Sixers can take heart from the fact that they came back for a huge win despite making just 11-of-20 free throws.
So both teams will expect to have a good chance at taking Game 2. What can we expect? Well, Philly got huge contributions from their two old big men, and Orlando's highlight of the night came off a one-legged dunk from their old point guard, Anthony Johnson (which was such a surprise that Van Gundy had to hockey-check his reserves back to the bench to avoid getting a technical). So, you tell me.
David Thorpe is an NBA analyst for Scouts Inc. and the executive director of the Pro Training Center in Clearwater, Fla., where he oversees the player development program for more than 40 NBA, European and D-League players. Those players include Kevin Martin, Rob Kurz, Luol Deng, Courtney Lee and Tyrus Thomas. To e-mail him, click here.
Lakers Open Looking Stronger Than Jazz

By J.A. Adande | ESPN.com
LOS ANGELES -- The moment that symbolized the utter futility of what the Utah Jazz are trying to do against the Los Angeles Lakers came in the final minute of the game, when Utah's Matt Harpring, hustling until the very end, crashed into the pricey courtside seats at Staples Center in pursuit of a loose ball. Only there was no one in the chairs. The entire row of Hollywood and music-biz types had already cleared out, with the Lakers' eventual 113-100 victory already secured.
It might be asking too much of anyone to stick around for this series in its entirety, if it's not going to get any more contested than the opener. The Lakers led 62-40 at halftime, and the closest it got after that was nine points in the fourth quarter.
The Lakers were more accurate, deeper and, of course, playing at home, the greatest disadvantage of all for the Jazz. And to a man, the Lakers didn't feel as if they gave it their best shot.
In some cases they didn't even take the shots. Kobe Bryant threw more passes than Peyton Manning in the first quarter. The other four starters plus backup guard Shannon Brown each took at least one shot before Kobe tried a jumper with four minutes to go. Bryant finally engaged for a stretch in the second quarter, toying with Kyle Korver and C.J. Miles, then shaking his head and making "he can't guard me" faces at Kanye West sitting courtside.
"That's my man," Bryant said. "I'm a huge fan."
On that note, here are the themes of the game, with cues from Kanye West song titles.
"Glory" -- When the Lakers traded Vladimir Radmanovic to the Charlotte Bobcats, it was simply a cost-saving measure. The only "name" they got back was Adam Morrison, famous from his days at Gonzaga, whose only significant NBA moment was going third in the 2006 NBA draft. Shannon Brown was considered a throw-in to make the salaries match. Yet here Brown was, the first Laker off the bench, coming in after starting guard Derek Fisher picked up his second personal foul 2½ minutes into the game.
And there was Bryant, not hesitating to go to Brown. "He's in the gym early, he's working on his shot," Bryant said. "When I see that it makes it even easier for me to trust him in a game situation."
Brown hit a 3-pointer off Bryant's pass -- and two more. He was effective on defense, as well, and had a plus-minus of plus-20. Even before Jordan Farmar suffered a foot injury that he has carried into the playoffs, Brown had moved his way past Farmar into the backup point guard role and is getting more run with the first-line players.
"I'm getting very comfortable," Brown said. "You practice and you go out there with Kobe, [Lamar Odom] and Pau [Gasol], that know what's going on, it makes it easy for you to know what's going on."
"Stronger" -- There was a bigger crowd of reporters around Brown than Andrew Bynum after the game, which was almost enough to make you forget this had been Bynum's first playoff start. It wasn't a great debut, with seven points and three rebounds in only 20 minutes restricted by what Bynum called "lame" fouls. Wearing the knee brace that will be a part of his uniform through the playoffs, Bynum appeared to lumber up and down the court at times.
"I think it's just the brace," Bynum said. "That's really what it is. I have to play in it for the time being. Some days it aches a little bit more than others."
To read the entire Adande column, click here.
Billups Comes Up Big In Playoff Opener

By Jeremy Wagner | TrueHoop Network
When he introduced Chauncey Billups earlier this season, George Karl proclaimed, "Our next step has been to win in the playoffs, and anybody who has been in the Eastern Conference championships six years in a row knows how to win in the playoffs."
On a night when the Nuggets clearly came out tight to start the game, Billups showed them how to win. He was the only Nugget unfazed by the pressure. During the first quarter, Billups shot 5-for-6 while the rest of the Denver players were 2-for-12.
As the game wore on, Billups' play allowed the other Nuggets to relax, and that led to an offensive barrage, including a 21-0 second-half run that blew the game open.
More important than the baskets he made was his vocal leadership. Billups was constantly communicating with his teammates on the court, giving encouragement and instruction. He was teaching this perennial playoff flop how to win.
While most of the attention will be on Billups' brilliant offensive performance, the Nuggets' incredible defense should not be overlooked. Chris Paul was "held" to his season averages and Kenyon Martin absolutely dominated David West, who shot 4-for-16 and struggled to get an open look. Billups' shot will come and go, but if the Nuggets can continue to play defense like that, the rest of the West better take notice.
Jeremy Wagner's work can be found on the TrueHoop Network's Nuggets blog, Roundball Mining Company
Balanced Effort Carries Hawks Past Heat

By Elias Sports Bureau
The Hawks got double-digit scoring from all five of their starters in their 90-64 victory over the Heat. It was the third time in Atlanta's last eight playoff games (dating back to last year's series against the Celtics) that Marvin Williams, Josh Smith, Joe Johnson, Al Horford and Mike Bibby each scored at least 10 points. Prior to last postseason, the Hawks didn't produce double-digit scoring from all five of their starters in a playoff game since 1999 (Steve Smith, Dikembe Mutombo, Grant Long, Tyrone Corbin and Mookie Blaylock).
• The 76ers pulled out a two-point win at Orlando after trailing the Magic by as many as 18 points. No team had overcome such a large deficit to win its playoff opener since 2001, when the Pacers beat the Sixers in Philadelphia, 79-78, after trailing by 18 points.
By Maurice Brooks
ESPN.com

SUNDAY'S BEST
Chauncey Billups, Nuggets
: He was brought in to help Denver win in the postseason. So far, so good. He drained eight 3-pointers on the way to 36 points and added eight assists as the Nuggets routed the Hornets.
---

SUNDAY'S WORST
Dwyane Wade, Heat
: It is a good thing the MVP votes were turned in last week, as D-Wade was held 11 points below his season average and turned the ball over eight times in a 26-point loss to the Hawks.
---
QUOTE OF THE NIGHT
"They kept knocking on the door and we just never let them in."
-- Guard Kobe Bryant after the Lakers held off the hard-charging Jazz for a 13-point victory
Smith Helps Hawks Fly High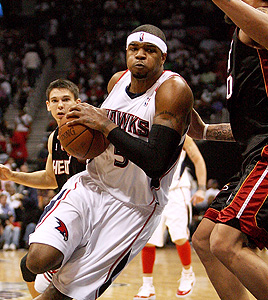 (Photo by Doug Benc/Getty Images)
The Hawks were able to blow past the Heat thanks to the all-around play of forward Josh Smith, who collected 23 points and 10 boards.
Wade Can't Solve The Hawks

By John Hollinger
ESPN.com
ATLANTA -- Hawks coach Mike Woodson pointedly told the pregame media scrum that his club was playing the Miami Heat, not Dwyane Wade.
But throughout their matchups this season, it's been the Hawks' ability to shut down Wade that has proven the difference. Sunday's 90-64 rout in Game 1 was no exception. The Hawks harassed the league's leading scorer into eight turnovers, denied him a single field-goal attempt in the first 10 minutes of the third quarter, and held him to 19 points overall, keying the surprisingly easy romp to open their best-of-seven series.
Most importantly, perhaps, they kept him off the line. Wade had more 3-point attempts (six) than free throws (four), continuing a theme from the regular season: In four meetings against Atlanta, Wade has just 22 free throws; he averaged nearly 10 a game against the rest of the league.
Once again, Wade was either shooting jumpers or trying to finish over the long arms of Josh Smith and Al Horford. He still had his moments, of course -- most notably a sick right-handed reverse jam along the baseline in the first quarter. But with little help around him, Miami needs much more than just occasional brilliance from its superstar; as if to prove this point, the Heat scored only seven points in the fourth quarter with him on the bench.
Heat coach Erik Spoelstra blamed his team's lack of energy and pace, saying the Heat were getting to their spots too slow. One particular third-quarter possession seemed to underscore this, when Miami blew half the shot clock setting up a play and ended up with a 24-second violation.
But in any win this one-sided, a great many factors contribute. For instance, Miami's frontcourt was obliterated by the Hawks' duo of Horford and Smith, with Smith in particular playing one of his most complete games of the season (23 points, 10 rebounds, three steals).
Miami's Jermaine O'Neal, picked up at midseason to provide some added post scoring, was particularly invisible -- he had only five points and two rebounds and committed three turnovers.
Meanwhile, the 3-pointers that are supposed to help provide the spacing for Wade didn't fall. Miami shot 4-of-23 from downtown, and the more the Heat misfired the more the Hawks packed it in on defense.
Obviously, Spoelstra will have to make some major adjustments before Wednesday's Game 2. No matter what he does, it seems the Heat have a tall task on their hands in a matchup that has proved troublesome for Miami all season.
Wade said the Heat would stay in their hotel rooms during the two off days rather than enjoy Atlanta's celebrated nightlife, but you can't blame them for wanting to drown their sorrows after this one. Unless they can get their top scorer untracked and even out a mismatch in the frontcourt, a series that looked so competitive on paper may be over more quickly than we had expected.
Why The Jazz Came Up Empty
By Kevin Arnovitz
TrueHoop

LOS ANGELES -- Defending Kobe Bryant presents no good choices, but Utah's decision to double-team -- sometimes even triple-team Bryant -- left them vulnerable to open looks beyond the arc. "That's what great players do," Utah coach Jerry Sloan said. "They put a lot of pressure on you."
The Jazz surrendered 6.5 made 3-pointers per game in the regular season, but gave up five alone in the first quarter Sunday, including two each to Trevor Ariza and Shannon Brown. "The shooters were just standing around having a field day," Utah point guard Deron Williams said. "We've got to do a better job rotating and make them put it on the floor a little bit."
If Utah is going to have a fighting chance, their wings can't afford to miss wide-open shots on the perimeter. The Jazz got some nice looks in the first half off Williams' dribble-drive penetration, but it was Clang City for both Ronnie Brewer and C.J. Miles, who went a combined 4-for-16 from the floor. "Some of them were pretty good shots," Sloan said. "But [the Lakers] know who they're guarding. There's a reason guys are open out there."
Williams finished the game with 17 assists, but he was never able to find the kind of open space he needs in the half court to score. Credit the Lakers' pressure, quickness and ability to use their length to close those driving lanes, but a lot of Williams' difficulties had to do with the absence of Mehmet Okur. With the sharpshooting center in street clothes due to a hamstring injury, Utah's spacing suffered.
"Anytime you don't have Mehmet out there, it hurts you," Williams said. "People have to respect him. It makes it easier on everybody else."
The Jazz had no answer for Pau Gasol on the defensive end. Paul Millsap's rugged, physical defense can do the job on most power forwards, but Gasol's length and footwork in the post had Millsap and other Jazz frontcourt defenders in knots all afternoon, particularly since so much of Utah's attention was focused on Bryant (according to ESPN's Stats and Information Group, Kobe accounted for more than 40 percent of his team's points -- from his scoring/assists/points off free throws from his passes).
"We kind of forgot about [Gasol]," Millsap said. "He took advantage of that and attacked us in that area."