(Photo by Brian Babineau/NBAE via Getty Images)
Two days after shooting 1-for-12, Ray Allen celebrates after hitting the game-winning shot.

(Photo by Brian Babineau/NBAE via Getty Images)
In a duel of UConn alums, Ray Allen (30 points) and Ben Gordon (42 points) put on an exhibition.

(Photo by Gary Bassing/NBAE via Getty Images)
Injured Boston forward Kevin Garnett offers a few points to teammate Paul Pierce during Game 2.

D. Clarke Evans/Getty Images
Tony Parker's 38 points and eight assists helped the Spurs even the series with the Mavericks.

D. Clarke Evans/Getty Images
Tony Parker and Tim Duncan showed in Game 2 that the Spurs remain formidable.

(AP Photo/Eric Gay)
Dirk Nowitzki had a 3-for-14 shooting night in the Mavs' 105-84 loss to the Spurs in Game 2.
Rondo, His Head Cleared, Does It All

BOSTON -- Let's pause for a moment before getting to the shot that Ray Allen hit to win the game, the redemption it brought him, the elation it produced, the disaster it averted.

First, let's take a closer look at how Allen got the ball in his hands, because there's a story inside that story that turned out to be a major subplot to the story line of the game -- the astounding individual performance put on by Rajon Rondo, who fought through a sprained ankle and had a triple-double of 19 points, 16 assists and 12 rebounds to lead Boston past Chicago 118-115 Monday night to even their first-round playoff series at one game apiece.

The game-winning 3-pointer by Allen came with two seconds remaining after Rondo, with Derrick Rose playing far off him, turned to his right and fired a two-handed chest pass that hit Allen's hands waist-high.

If you've ever seen a coach demonstrate the proper procedure for throwing a two-handed chest pass, you'll appreciate the technique and precision behind this one. The palms of both hands flicked outward simultaneously, the ball snapped loose and traveled with a considerable amount of zip, and one of the league's best pure shooters buried the last of his 30 points to cap an iron-willed performance that helped make up for his 1-for-12 atrocity in Boston's Game 1 loss.

So, you ask, what was so special about that pass? If it was textbook, why make a big deal out of it?

Because it was a simple play, as simple and fundamentally executed as they come.

And it came at the end of a night in which Boston coach Doc Rivers decided early on that making things easy rather than complicated for Rondo was going to pay dividends.

The way Rivers explained it, Rondo was in his ear before the game asking question after question about every conceivable facet of the game, so many questions -- "they were all great questions" -- that Rivers stopped himself in his tracks and summoned Rondo back after answering the last one, believing he had just done his point guard a disservice.

Wait a minute, Rivers said to himself, I'm complicating things here when I needn't be.

Yes, Rondo's questions were all appropriate ones coming from a dedicated student of the game (Rivers listed some examples: "What can I do defensively? Offensively? Am I dribbling too much? Am I not getting the ball to Paul [Pierce]? Are we not posting enough?"), but there comes a point when the brain is doing too much work and the body not enough, and Rivers wanted to make sure Rondo's yin and yang were in balance.

"He was asking all these questions about what he needed to do, and I told him a bunch of stuff. And then when he left, I got to thinking: 'That's too many questions,'" Rivers recounted.

"And so when I walked back in the locker room I said to him, 'Look, you have the keys to the team, just go out and play. And stop asking me questions,' and I thought the first seven minutes of that ballgame were the best seven minutes I had ever seen him play."

But Rondo's great play didn't end there, though he went through a dry spell after reaching his triple-double prior to the midpoint of the third quarter. The Bulls had refused to yield throughout the course of the evening, answering and silencing each of Boston's runs, and they still weren't yielding as Ben Gordon (42 points) was raining down one absurd, impossible jumper after another.

Chicago was ahead 111-108 with 1:47 left before Rondo performed the finale of his magic act. A 22-foot jumper over Joakim Noah flying at him with 1:01 left gave Boston a 113-112 lead before Gordon answered with yet another ridiculously difficult jumper to put the Bulls back ahead by one. Rondo tried to answer and missed, but he grabbed his own rebound (he had seven of 'em, as did Kendrick Perkins, to help account for a 21-8 edge on the offensive boards -- and 32-12 advantage in second-chance points -- that Rivers said were the keys to the game.)

Rondo's offensive rebound was dished out to Allen, whose fifth 3-pointer put Boston up 115-113. Gordon beat two defenders going to his left and buried another jumper to tie it, scoring the last of his 42 points and setting up the Rondo-Allen heroics on the final play.

"As Rondo goes, we go," said Pierce. Rivers described Pierce as "tentative" in accounting for 18 points on 8-of-19 shooting, but Boston's star was bailed out by the work of two of other starters, Perkins (16 points, 12 rebounds) and Glen Davis (26 points, nine rebounds).

Rivers again got very, very little from his bench (no Celtics reserve had a positive plus-minus for the second straight game, with Mikki Moore a minus-15 and Stephon Marbury a minus-17) and had to shorten his rotation even further when Leon Powe went out with a sprained knee that Rivers feared was fairly seriously injured.

Rivers has had to turn a team that was once led by the Big Three (in hindsight, it doesn't seem quite fair that Rondo has been excluded from that threesome given all he's accomplished the past two seasons) into a team that basically amounts to a Big Five -- all of them starters -- and the defending champs will remain in serious jeopardy if they're going to keep needing career nights out of guys to get past a No. 7 seed.

Then again, these Bulls were playing as well as anybody in the East except Cleveland over the last few weeks of the regular season. They've managed to dictate the pace of the series, and they are defending the basket with zeal (14 blocks Monday). Plus, they're the league's fifth-best team when it comes to scoring points in the fourth quarter -- a pretty nifty résumé line for a team with the league's 16th-best record.

Games 3 and 4 are in Chicago on Thursday night and Sunday afternoon.

"I think our best is yet to come in this series," Pierce said, uttering a comment that Celtics Nation can only hope is true.

Because the champs are already being pushed hard by a team that shows no fear of them, and now they have to prove they can be as good away from the New Garden as they are inside it -- something they failed to accomplish last postseason until the playoffs were more than a month old.

We've got quite a series here, but we're also one miss or make away from this thing being 2-0 in either team's favor. If we're lucky, we'll continue to see overtimes and buzzer-beaters, triple-doubles, breakouts by rookies like the one Derrick Rose had Saturday, insane shots (think Gordon) and clutch shots (think Allen, at least in Game 2, anyway).

If not, we'll at least have the memory of two terrific tilts in Boston that started the Celtics' quest for Banner No. 18.

Chris Sheridan covers the NBA for ESPN Insider. To e-mail Sheridan, click here.
The Secret Behind Ariza's Improved Outside Touch

By Shelley Smith | ESPN
LOS ANGELES -- He comes to the gym early for practice and always slips out just as the media is let in when it's over, not because he's shy -- far from it -- but because Craig Hodges says he doesn't want to be the focus of what all the players he coaches are accomplishing.
"They do all the work," he explains, "I just try to guide them."
Hodges is a former sharpshooter who helped lead the Chicago Bulls to two NBA titles in the early 1990s and is the man that Lakers forward Trevor Ariza credits for his transition from being an injured athlete with no confidence in his jump shot, to the player who on Sunday had a playoff-high 21 points on 8-for-10 shooting, including 3-for-4 from the 3-point line in the Lakers 113-100 victory over the Jazz.
"He helped me a whole lot when I was hurt," Ariza said Monday. "We did a lot of work before practice, after practice, before games when I couldn't play at all -- he helped me a lot."
Back in the day, Hodges was one of the best outside shooters in the league, joining Larry Bird as the only players in history (so far) to win three NBA 3-point shooting contests. After the Bulls won the title in 1992, Hodges wore a dashiki to the White House and gave President Bush a letter complaining about the treatment of minorities and the poor. Not long after that, Hodges was cut from the Bulls and never got another tryout with another team, and he believes to this day that he was blackballed from the league for stirring things up, something commissioner David Stern denies.
His former coach, Phil Jackson, quietly hired him as a special assistant in 2005 and Hodges began working with perimeter players who say they appreciate his work ethic and attention to mental detail.
"He taught me to take the shots when they're there," Ariza said, "and not freezing up and going to the basket, which is what I was used to doing. He got me doing something that was uncomfortable to me, taking the shot when it was there, and now it's comfortable for me."
A year ago, Ariza was struggling to recover from a broken foot and saw just 10 minutes in the Western Conference finals and 35 minutes against Boston in the Finals, scoring a total of 13 points. At the time, Hodges thought Ariza would be the Lakers' secret weapon in the Finals, but Ariza was still experiencing foot pain and admits he didn't believe in his jumper. Visualization and repetition are aspects of the game they've worked hard on this season.
"I think the biggest thing we did was get up shots," Hodges said. "So many guys have been slashers so often, they don't get up shots and never see the ball go in, which is important in building your confidence, knowing you can do it, rather than slash and drive to the basket."
Hodges said he has taught Ariza and other Lakers perimeter players a formula he honed from growing up playing hoops in the projects of Chicago.
"We didn't have nets, or if we did they were metal," he said. "So we had rims, and when it would get to be twilight, you could only make out a line. So I worked on putting my ball over that line. I tell them now, pick a spot two inches inside the target [the basket] and then raise your target six inches. Worked for me."
Hodges has preached the philosophy of "holding your finish," which means making sure you hold your follow-through as nice and high as when you launch the shot: "Your arm should be in the same position when you go up as when you come down. Your arm should not have moved."
"I think about that all the time," Ariza said.
Like Hodges, Ariza is always the first player shooting pregame and in practice, and Hodges often challenges him to shooting contests.
"We pick five spots, and you've got to make five in a row before you move," Hodges said. "And I don't miss a lot of shots. And it makes him have to make them, too."
Ariza says he wins more than loses, but admits that Hodges still has it as a shooter.
"He's still real good, he still doesn't miss," he said. "If you beat him, you know you're doing something right."
By Maurice Brooks
ESPN.com

MONDAY'S BEST
Rajon Rondo, Celtics
: The only thing that could slow down Rondo on Monday was an injured ankle. He did a little bit of everything, finishing with 19 points, 16 assists, 12 rebounds and five steals to help the Celtics tie the series.
---

MONDAY'S WORST
Dirk Nowitzki, Mavericks
: Dallas isn't going to win too many games against San Antonio when Dirk shoots 3-for-14 from the floor and finishes with just 14 points.
---
QUOTE OF THE NIGHT
"We were exchanging jabs there, and I don't mean shots. I mean he caught me with an elbow, I got him right back with an elbow. It was ... competitive."
-- Celtics guard Ray Allen on his physical matchup against Bulls guard Ben Gordon
Not In Our House ... Again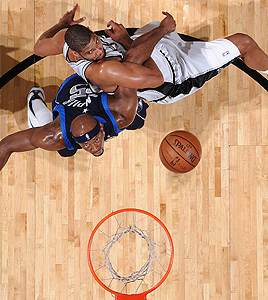 (Photo by Ronald Martinez/Getty Images)
Tim Duncan and the Spurs wrestled Game 2 away from the Mavs. Duncan had 13 points, 11 rebounds, five assists and three blocks and Tony Parker scored 38 for San Antonio.
By Elias Sports Bureau

Ray Allen scored only four points in 39 minutes in Boston's Game 1 loss to the Bulls, but he had a team-high 30 points in the Celtics' Game 2 victory. In the last 50 playoff years, the only other NBA player to score 30 or more points in one game after scoring fewer than five points while playing over 35 minutes in his previous game was Scottie Pippen for Houston against the Lakers in 1999 (three points in 37 minutes on May 11, 37 points on May 13).
By Graydon Gordian | TrueHoop Network

In the wake of the Spurs' 105-84 win over the Mavericks on Monday night, Tony Parker's 38-point performance will dominate the headlines. The fact that he combined with Tim Duncan for 51 points and it wasn't enough to defeat the Mavericks in Game 1 was a stark reminder of Manu Ginobili's absence.
Parker took that reminder to heart: He scored 15 of the Spurs first 20 points and never took his foot off the pedal. But if you are looking to identify the true reason the Spurs won Game 2, fix your gaze on the other end of the floor.
After giving up 60 points in the second half of Game 1, the Spurs gave up just 38 in Game 2. The Spurs lost the rebounding battle by four in the opener and managed to collect a mere 23 defensive rebounds. On Monday night, the Spurs dominated the glass, hauling down 35 defensive boards and outrebounding Dallas by 16.
Rather than let the pesky J.J. Barea run wild on his second unit, Spurs' coach Gregg Popovich sent Bruce Bowen to slow down the diminutive Maverick. Barea had four points on 2-for-8 shooting.
The relentless aggression Parker showed on the offensive end will win the speedy Frenchman his fair share of attention. But make no mistake: The Spurs have always won playoff games because they get stops. Their postseason success will wax and wane with the level of intensity they show on the defensive end of the court.
Graydon Gordian's work can be found on the TrueHoop network's Spurs blog, 48 Minutes of Hell
By John Hollinger
ESPN.com

The most durable myth in sports right now centers on the strength of the West relative to the East. I've had countless people -- league people -- tell me that the Lakers should be favored in a hypothetical Finals against Cleveland because they played in a tougher conference.
There are many reasons to pick L.A. in such a series, but that isn't one of them. The East won more games than the West did head-to-head this year and was stronger both at the top and the bottom. The West was superior No. 4 through No. 9, but that doesn't make up for the 20 automatic wins lying at the bottom of the conference in the form of Minnesota, Golden State, Oklahoma City, Sacramento, Memphis and the Clippers -- none of them won 30 games.
The Lakers went 22-1 against those teams, and their awfulness also helps explain how the Cavs went 26-2 against the non-Lakers portion of the West. Even if you still want to play the conference strength card, consider that Cleveland actually had a better record than L.A. did against both Eastern teams and Western teams, respectively.
None of which makes the Cavs impervious to L.A. in the Finals; it should be the type of series that comes down to just a few key plays. But of all the reasons to potentially pick L.A., the relative strength of the conference is about the least valid.
To see the four other Insider Gems, click here.
By Henry Abbott
TrueHoop

Last week I wrote about a study showing that what seems to be hot shooting, what we all assume to be one of the most important aspects of the game, is apparently seldom real.
Then you have to ask ... did anybody see Ben Gordon shooting tonight?
It was a thriller in Boston, full of all kinds of fun stuff, like the Bulls not having a timeout to try to send the game into overtime, Derrick Rose missing a healthy chunk of the first half with two fouls before finishing the game without getting another, and a Boston lineup (Paul Pierce with Eddie House, Stephon Marbury, Mikki Moore and Leon Powe) that reminded me a lot of the bad old pre-Garnett days of the Celtics.
And in the end that wily veteran Ray Allen nailed the game-winner, despite Gordon's best efforts to torch the Celtics and some research.
In a nutshell, the study said that players have their field goal percentages over a certain period of time. Just like a flipped coin will often have streaks of four or five "heads" in a row, so would a 50 percent shooter. It doesn't mean they're hot. It just means they miss some and make some, and sometimes those misses and makes come in groups.