(Photo by Noah Graham/NBAE via Getty Images)
Dwyane Wade throws the ball to recording artist T.I. after time expired in Game 2 of Miami's win.

Doug Benc/Getty Images
Spirit the Hawk ruffled a few feathers by hanging around too long during Game 2 in Atlanta.

(AP Photo/Jack Dempsey
Nuggets big man Chris Andersen ruffled a few feathers, too, when the Birdman flew in Game 2.

Photo by Garrett W. Ellwood/NBAE via Getty Images
Nuggets point guard Chauncey Billups has yet to commit a turnover in two playoff wins over NO.

(Photo by Sam Greenwood/Getty Images)
Magic forward Rashard Lewis had a hold on Andre Iguodala (20 points) in Orlando's Game 2 win.
Practice Makes Perfect As Heat Topple Hawks

ATLANTA -- Three hours before game time, there was just one player in the arena. It was Miami's Dwyane Wade, and he was shooting one jumper after another with assistant coach David Fizdale.

There was a reason for this -- he knew the Hawks had kept him out of the paint in Game 1, and he wanted to be ready in case the same thing happened in Game 2. And as it turns out, his hard work was richly rewarded.

"I came in early, shot the ball, got the kinks out," said Wade. "I got a feel for the rim the last couple of days in practice, so I felt it coming."

"It," in this case, was a surprising long-distance deluge. Atlanta's game plan worked to perfection -- Wade had only one basket inside 15 feet, a shockingly low number for perhaps the league's best penetrator, and attempted just six free throws.

Unfortunately for the Hawks, Wade beat them anyway. He nailed six 3-pointers and four other long twos, including a 30-foot banked dagger at the shot clock buzzer with 2:36 left to put Miami up by 10, as the Heat scored a 108-93 win that evened their best-of-seven series at a game apiece.

"I was trying to get it to the rim so we could get an offensive rebound," said Wade of that desperation heave, admitting he didn't call bank. "Just like everyone in the building, I ain't gonna tell a story: I was shocked too."

He was so jacked up by the make, in fact, that he turned to the broadcast table and said "This is where amazing happens."

Wade finished with 33 points, and his performance from downtown was only part of his Superman effort. He also played point guard for long stretches and took the assignment of defending Atlanta's Joe Johnson for much of the game after James Jones proved lacking in the opener. Johnson finished with only 16 points, along with no assists and four turnovers.

"What's going to be required in this series is for our best defensive player to play the majority of the minutes on their best offensive player," said Heat coach Erik Spoelstra, foreshadowing that this arrangement will likely continue.

"He's had an incredible defensive year; it's the best defensive year he's had with the Miami Heat, and he's been committed to that the entire year. He'd been defending the other team's best player and making winning plays -- blocking shots, stealing the ball and doing all of that."

Since defensive specialist, point guard and 3-point ace weren't enough hats, Wade also took a turn as the team's motivator. A pregame talk with retired Heat star Alonzo Mourning got him pumped up, and he set the tone in the locker room beforehand by shushing some chatty teammates and getting them to focus on the game plan.

"Right before I left the hotel [he] met with me and talked with me about leadership, and [the Heat's 2006 championship], and a lot of things. Before the game I heard too much chatter, and it was time to focus on what we had to do to win a ballgame. For him to leave the golf course and fly to Atlanta just to meet with me made me feel good."

"In the film sessions the last two days, he was extremely focused," said Spoelstra. "We had a long video session on Monday; nobody really enjoys that, but if your captain sets the tone, everybody falls into line."

Wade's six 3s were part of an avalanche of Miami triples that buried Atlanta's defense. The Heat finished 15-of-26 from downtown, with Daequan Cook also burying six, while the frontcourt contributed far more than in the opener: Jermaine O'Neal awoke from the dead to add 19 points and four blocked shots, Udonis Haslem hit two key jumpers to keep Atlanta at bay while Wade sat with five fouls, and Michael Beasley was solid with 12 points, seven boards and three assists in 22 minutes.

Perhaps his teammates were chastened by the lengthy practices on the off days, as Spoelstra channeled his inner Pat Riley. Between film study and practice, the Heat spent nearly five hours on Monday and nearly four on Tuesday, and the extended sessions apparently helped Miami regain its focus after its brutal outing on Sunday.

As for the Hawks, they actually accomplished many of the same things they did in the opener: Atlanta earned 30 free throws, got 25 fast-break points, had a major edge on the offensive boards (13 to 6) and again kept Wade out of the paint.

"A lot of those were 3s based on us doubling some of their low-post players," said Hawks coach Mike Woodson. "And some of our rotations were a little sloppy tonight, in terms of how we built out to the shooters."

If there's one sequence Woodson could have back, it would probably be the end of the first half when Wade scored 13 straight points -- seven at the expense of Flip Murray, who rarely sees duty as a defensive specialist. But with aces Marvin Williams and Mo Evans both on the bench, Murray took a turn -- and Wade victimized him for three straight jumpers off the dribble.

Finally, if you think Wade's shooting performance was a fluke, just humor me and store this thought. Wade hadn't made more than five triples in a game all season until the season's final week. In his past three games, however, he's made six 3s twice -- the other time was in his last regular-season game when he scored 55 points against the Knicks.

As a result, the Heat head back to Miami with the series tied. And the Hawks can only wonder if their exquisite game plan will be laid to waste by Wade's sudden shooting prowess.

John Hollinger writes for ESPN Insider. To e-mail him, click here.
Watching Atlanta-Miami Like A Hawk

By Henry Abbott | TrueHoop Network
There we are, with 9:44 left in the first quarter, and Spirit the Hawk -- an actual live Hawk in the habit of swooping from the rafters during introductions -- landed on the basket support, but well away from play.
A little weird, perhaps, but not without novelty value.
Then with 9:17 left, just after Josh Smith had poked the ball out of bounds, play was briefly stopped as Spirit swooped around, freaking everybody out. Some fans ducked, needlessly, as he is a very precise bird and was easily a dozen feet above their heads. This time, he came to rest on top a remote-control TV camera mounted atop the shot clock, as you can see above.
NBA referees might stop a game for a bald eagle or an osprey. But this was a Harris Hawk. Game on.
Spirit stayed put for one play. But after James Jones drained a 3, and the action moved to the other end, Spirit moved the length of the court to take a closer look.
And that's when the trouble really started, with 8:48 left in the quarter. Referee Danny Crawford wanted to be tossing up a jump ball, but instead was suddenly faced with players worrying over a real live hawk perched directly on the backboard -- a high-arcing baseline jumper might well brush his beak.
Crawford must be a dad, because he did what any reasonable dad would do -- tried to look like he was dealing with it. He approached the bird somewhat gingerly, making eye contact all the way. Then, to ensure the safety of all, he somewhat vigorously slapped the ball with his own hand. Once. And then again. All the while, he studied the hawk for a reaction. I can only imagine he was testing -- to determine character. Was it a stable bird -- or one that would attack after, say, a ball-slapping?
To read the entire TrueHoop blog, click here.
A Magical Night For Orlando's Lee

By Elias Sports Bureau
Courtney Lee scored a team-high 24 points in the Magic's Game 2 win over Philadelphia on Wednesday night. Lee became the first rookie to lead his team in scoring in a playoff game against the 76ers since Magic Johnson scored 42 points in the series-clinching Game 6 of the 1980 NBA Finals.
By Maurice Brooks
ESPN.com

WEDNESDAY'S BEST
Chauncey Billups, Nuggets
: In two games -- both Denver wins -- he has 67 points, 12 assists and no turnovers to lead the Nuggets to their first 2-0 series lead since 1985.
---

WEDNESDAY'S WORST
Samuel Dalembert, Sixers
: Philadelphia knew it was going to lose the starting center matchup against Dwight Howard, but this is ridiculous. Dalembert had just two points and no rebounds.
---
QUOTE OF THE NIGHT
"I was telling you all that I didn't care, but I did. You really do want this award. There was a lot of talent out there that I had to go against."
-- Bulls guard Derrick Rose, who was named Rookie of the Year on Wednesday
• See Wednesday's daily leaders
Lee Making His Mark For Magic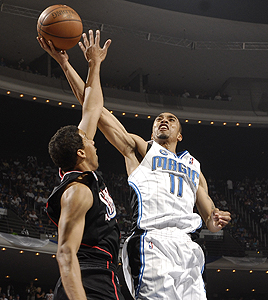 (Photo by Fernando Medina)
Chicago's Derrick Rose isn't the only rookie starring in the playoffs. Courtney Lee followed up his 18-point postseason debut on Sunday by scoring 24 (on 10-for-17 shooting from the field) as Orlando held off Philadelphia, 96-87.
By Jeremy Wagner | TrueHoop Network

Much of the talk between Games 1 and 2 focused on how the Hornets needed to have someone other than Chris Paul and David West produce on offense. On Wednesday night, Peja Stojakovic and Rasual Butler were both hitting shots from behind the arc, combining to make 8-of-10 3s, but the Hornets never seemed to recognize that fact by feeding them the ball.
New Orleans kept forcing the ball to West who, despite finishing the game having shot 9-for-20, suffered through a 1-for-12 shooting stretch during which the Nuggets took control of the contest.
Instead of praying West could get it going, the Hornets should have been exploiting the way Denver was focusing on Paul to swing the ball to their hot 3-point shooters.
The story for Denver, even with another ridiculous performance by Chauncey Billups, has to be the all-around play of Carmelo Anthony. Melo has struggled in postseasons past due to his desire to force his offense against double-teams. After five years of slamming his head against the wall he finally decided to look for a doorway. On Wednesday, he punished the Hornets for doubling him by finding open teammates to the tune of a career playoff-high nine assists.
The series now shifts to New Orleans, and two Denver losses there can certainly knock the Nuggets off their pedestal. However, this Nuggets team is showing a newfound focus that has not been seen in the Mile High City from their basketball team in decades.
Jeremy Wagner's work can be found on the TrueHoop Network's Nuggets' blog, Roundball Mining Company
By John Hollinger
ESPN.com

News that Mike D'Antoni may coach the U.S. national team in 2010 and 2012 is not exactly unexpected. He's been heavily involved in the program for years, and Mike Krzyzewski seemed to view his appointment as a three-year assignment when he joined up in 2006.
My only misgiving about hiring D'Antoni is that I think college coaches are better suited to coaching the national team. Not because they're better coaches -- by and large, they aren't -- but they simply have more time. In Athens in 2004, Larry Brown was already burnt out from a run to the NBA Finals and had virtually no rest, let alone preparation, before taking on the world's best in the Olympics. We all saw how that worked out.
Meanwhile, Coach K could show up rested and ready after a season that had been over for several months. Another college coach (say, Rick Pitino), would have a similar advantage. As an added bonus, they'd also be more steeped in the one-and-done cauldron of the elimination rounds, thanks to the similar format of the NCAA tournament.
To see the four other Insider Gems, click here.

Hall of Famer Charles Barkley thinks that the Bulls vs. the Celtics is a toss-up, and we've never seen a guy as big, strong and as fast as LeBron James in the NBA.
The Herd with Colin Cowherd