(Photo by Otto Greule Jr/Getty Images)
Carlos Boozer had 23 points and 22 rebounds to set the tone for the Jazz in their Game 3 victory.

Glenn James/NBAE via Getty Images
Jason Terry and the Mavericks are flying high after holding the Spurs to just 67 points in Game 3.

(Jonathan Daniel/Getty Images)
After getting blown out at home by the Celtics on Thursday, it is time for the Bulls to regroup.
Tale Of Two Cities: Jazz Nip Lakers At Home

SALT LAKE CITY -- There's home and then there's the comfort zone, the first a matter of location and the second a matter of style and circumstance. The Utah Jazz found themselves back in both Thursday night and as a result can still be considered among the living in these NBA playoffs, trailing the Lakers 2-1 in their first-round series instead of the mortality-inducing 3-0.

It wasn't just that the fans at Energy Solutions Arena cranked out the usual high decibel levels. The Jazz kept the Lakers from the hardwood ballet they enjoyed the first two games, lowered the tempo, turned it into a matter of execution down the stretch. That's familiar territory for this franchise, and when it was all on the line, they went with the good old pick-and-roll call, trusting in their point guard, resulting in a John Stocktonian game-winning jumper by Deron Williams with 2.2 seconds remaining.

"Same play we've always run for 20 years," Utah Coach Jerry Sloan said. "Just different people."

They also had big numbers from the power forward, as Carlos Boozer scored 23 points and tied Karl Malone's franchise playoff record with 22 rebounds. Boozer helped Williams finish it off, scoring six points in the final 90 seconds after the reserves led the way back from a 13-point deficit in the third quarter.

The Jazz fans nearly had a replay of a scene they've seen before -- a transcendent guard in a road jersey hitting a shot to win it -- but Kobe Bryant's 3-pointer glanced off the right side of the rim as the buzzer sounded, and the scoreboard remained at 88-86, Utah.

The fact that each team needed only two digits was the first sign things were going right for the Jazz.

"This is more our type of game," Williams said. "Grind-it-out, defense type of game."

The Lakers scored 39 points at halftime, after scoring 41 in the first quarter of Game 2. Instead of the Lakers' big men having their way with the Jazz, Pau Gasol converted only 4 of 10 free throws and Andrew Bynum managed only four points in seven foul-restricted minutes. Bryant, content to be the facilitator throughout much of the first two games, couldn't turn it on in this one, shooting 5 for 24.

Lamar Odom was by far the most effective Laker, finishing with 21 points and 14 rebounds, playing so well that he was in the lineup at the start of the third quarter, replacing Bynum. But the Lakers run so few plays for him. Bryant kept signaling for "solo", the Lakers' low-post isolation play for the center, and watched Gasol go to work. So Odom just got his points where he could, off cuts, rebounds and transition plays and even a mishandled pass for a teammate that wound up in his hands.

Predictably, the Lakers' secondary players couldn't continue their strong play on the road, with Trevor Ariza missing open threes in the fourth quarter, and Derek Fisher, Luke Walton, Shannon Brown and Sasha Vujacic combining for 14 points.

Utah's reserves enjoyed a much-needed boost, playing at home, with Kyle Korver finding his shooting touch and hitting two critical jumpers in the fourth quarter, and Matt Harpring scoring eight final-quarter points. There was unsung hero Ronnie Brewer's defense on Bryant, aided by a Utah scheme that sent help at every turn.

The Lakers feel this one escaped them, that they had every opportunity to lower the Jazz halfway into the grave but let them escape. They know they have to improve they have to do a better job on the boards after getting outrebounded 55-40. They figure they'll get a better shooting night from Bryant in Game 4 Saturday. And they figure to get more from Bynum, who might or might not return to the starting lineup.

"We'll see what it's like," Phil Jackson said with a wry smile.

But Utah feels it can play much better as well. Maybe they'll see Mehmet Okur, who has yet to play in the series because of a hamstring injury. Williams wasn't 100 percent himself, his leg appearing stiff after tangling with Boozer on defense, and his confidence noticeably missing as he attempted only six shots (making two) before the game-winner.

The one thing they have to keep the same is the resolve they showed in Game 3.

"In the huddle, I'm just saying 'Let's win,'" Boozer said. "Do whatever it takes to win. Leave it out there. Let's scrap, let's be physical, leave it on the court, see what happens. We did and we won."

Back home. Back to their old ways. Back in the win column. And, for now, back in the series.

J.A. Adande is an ESPN.com senior writer and the author of "The Best Los Angeles Sports Arguments." Click here to e-mail J.A.
Welcome To The Playoffs, Paul

By Wayne Drehs | ESPN.com
CHICAGO -- Sound the trumpets. It took three games, a flight to Chicago and a lot of questions about how much he had left to give, but Paul Pierce finally showed up for the 2009 NBA playoffs Thursday night. And building on Pierce's 6-for-6 first-quarter start, his Boston Celtics cruised to a 107-86 win over the Chicago Bulls in Game 3 of their first-round series.
Oh sure, the captain was in Boston for Games 1 and 2, but he made just 16 of 40 shots while turning the ball over a total of eight times. There was talk that he was old. That his body was growing tired. And that he was lost in a postseason funk after hearing the news that Kevin Garnett would likely be out for the entire postseason.
Nonsense.
You know what was wrong with Paul Pierce in Game 1 and 2? Something that could be improved easily with the extra day of preparation before Game 3: the Celtics' spacing.
"We have been working a day and a half on creating space for him so he could see double-teams when they came and he could be more aggressive," Boston coach Doc Rivers said after Thursday's victory. "He needed more space and we did that tonight."
The end result saw Pierce, the reigning NBA Finals MVP, revert to last year's postseason form by scoring 24 points in 28 minutes. The barrage started from the opening tip, with Pierce opening the game on a layup and then hitting first-quarter jump shots of 24, 15, 16, 18 and 13 feet to give Boston a 23-12 lead it would never relinquish. The Celtics are now up 2-1 in the series, with Game 4 in Chicago on Sunday (ABC, 1 p.m. ET).
Pierce missed only one shot in the first quarter, scoring 13 points in eight minutes. He likely would have scored more had he not picked up his second foul with four minutes left in the quarter.
"I thought he set the tone for us," Rivers said. "I thought he came out extremely aggressive and attacked early. He played the perfect decoy but was aggressive at the same time. I thought it was beautiful how he played."
The key for Pierce was attacking the Bulls with his midrange game, working his way around Chicago's guards but not getting so deep inside that he would have to deal with shot-blockers Joakim Noah and Tyrus Thomas.
But it wasn't just the Celtics' spacing that improved. So did the approach of their captain.
"In Game 1 and 2, I was hesitant, a bit indecisive," said Pierce. "But I'm getting comfortable with what they're trying to do with me as far as trapping and when I get in the lane.
"Tonight, I tried to go a little bit faster when I got the ball. In the first two games I was holding the ball a lot longer. Tonight I tried to attack."
The strategy worked. After seeming sluggish in the first two games, Pierce looked like the player who led the Celtics to the title last season, slicing through double-teams and breaking down the Bulls' defense to quickly eliminate any talk of the Celtics being old or overmatched in this series.
"He's pretty much the most confident guy in the league," Boston guard Rajon Rondo said. "No matter how he played the first two games, he's going to bring it regardless. You don't have to worry about Paul. We knew he was going to show up."
Wayne Drehs is a senior writer for ESPN.com. He can be reached at wayne.drehs@espn3.com. Follow Wayne on Twitter @ ESPNWayneDrehs.
Bulls Come Out Flat, Get Run Over By Celtics

By Wayne Drehs | ESPN.com
CHICAGO -- "Whatever the reason is, I don't know," Ben Gordon added. "We just didn't play well."
But this was more than not playing well. This was more than a lack of rebounding or execution. It was a colossal breakdown in every single facet of the game. The Celtics didn't just beat Chicago on Thursday night; they annihilated the Bulls from the opening tip until the final horn.
Forget the talk that it is only one game. Forget the argument that, at the end of the day, Game 3 counts the same as Games 1 and 2 did in Boston and a virtual must-win Game 4 will here Sunday afternoon. Championship teams don't fall behind by 34 at home in the postseason.
Whether these two steams wanted to admit it afterward or not, this was a statement game. This was the defending NBA champion letting the basketball world know all that talk about a Chicago upset can stop. All the anointing of Derrick Rose as the second coming and Ben Gordon as the unstoppable assassin, put that to rest as well. The Bulls' response? A simply nodding of the head.
And to think, some 72 hours earlier, everyone thought this was going to be a series. Everyone spoke of the Bulls being young and athletic. Rose couldn't be stopped. Gordon couldn't miss. Tyrus Thomas and Joakim Noah had grown up before our very eyes, blocking shots on what seemed like every other Celtics possession. The Bulls were the future. The Celtics were the past.
Now all that looks premature, perhaps foolish. Now we remember that if Pierce makes a free throw in Game 1, this series is 3-0 Boston. Now we remember if Derrick Rose doesn't go off for 36 in Game 1, this series is 3-0 Boston.
As it is, the Celtics lead this series 2-1. But after Thursday night, it feels like this is over. Things were that ugly. The Bulls turned the ball over 22 times and shot 37.5 percent from the field and 63 percent from the free-throw line. There were passes that never touched a hand, shots that never touched the rim. There were fast break layups given up after a free throw.
"We didn't do anything right offensively. We didn't do anything right defensively," Gordon said afterward. "We didn't rebound, we didn't share the basketball. We simply didn't do anything right."
Chicago trailed by seven after six minutes and never got any closer, trailing by 11 after one, 22 after two and 25 after three. And the Celtics refused to lay off the gas, pushing the lead to 34 midway through the fourth quarter before the end of the Bulls' bench helped close the final margin to three touchdowns.
Tyrus Thomas managed to get a personal foul and a technical foul on the same play. And the T came after he pushed his boyhood buddy Glen "Big Baby" Davis.
Even the typically stoic Rose lost his cool, at one point slapping his hands together and yelling in frustration after breaking down the Celtics' defense and delivering a no-look pass to Noah that the center fumbled out of bounds.
Seemingly every time you looked up, there was another Chicago turnover on one end and another Boston layup or 3-pointer on the other.
You know it's not a good night when, midway through the third quarter, you turn to Tim Thomas to find some sort of production. You know it's not good when Aaron Gray, Lindsey Hunter and Linton Johnson are in the game with eight minutes left in the fourth quarter. And you know it's even worse when 12th man Anthony Roberson outscores two of your starters and is one point away from equaling the output of your rookie-of-the-year point guard.
Perhaps the fan in the front row behind the media tables said it best when he pointed out that an injured Kevin Garnett helped his team more than all three of the Bulls' post players helped Chicago.
"You know," the fan said. "With those menacing glares."
How bad did it get? A team that seemingly everyone in the city believed in 24 hours earlier was booed in the second quarter, at halftime, in the third quarter and again after the game.
The Bulls, of course, insist this is not over. They say they have two days to regroup, figure out what went wrong and fix it. Prior to Thursday night's game, Del Negro explained that the thing that makes postseason basketball different from the regular season is familiarity. Once a team figures out an opponent, it has to make adjustments.
To read Drehs' entire column, click here.
By Maurice Brooks
ESPN.com

THURSDAY'S BEST
Carlos Boozer, Jazz
: He powered his way inside for 23 points and tied a franchise record by pulling down 22 rebounds to help Utah rally for the win.
---

THURSDAY'S WORST
Tim Duncan, Spurs
: He scored a career playoff-low four points on 2-for-9 shooting and grabbed just two rebounds in 16 forgettable minutes as San Antonio was roughed up in Dallas.
---
QUOTE OF THE NIGHT
"Have some mercy, will ya? It's bad enough I had to watch this. Now you're going to make me look at the stat sheet?"
--Spurs coach Gregg Popovich at the postgame news conference after San Antonio's 21-point loss
• See Thursday's daily leaders
Rondo's All-Around Skills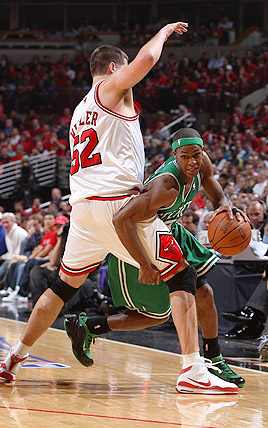 (Photo by Gary Dineen/NBAE/Getty)
If Chicago is going to upset Boston, it must come up with a solution to the problem that is Rajon Rondo. The Celtics' point guard had 20 points, 11 boards, six assists and five steals.
By Marc Stein | ESPN.com

DALLAS -- The San Antonio Spurs have been fretting about the truncated turnaround between Game 3 and Game 4 since they were handed the itinerary for this playoff reunion with their old friends from Dallas.
Let's just say that problem has been solved.
That problem has been replaced by fresh fretting about the short-handed Spurs' ability to refuel mentally and resurrect their confidence by Saturday afternoon, such was the manner of a Game 3 scorching from the Mavericks so severe and unexpected that Gregg Popovich pulled his starters with 7:42 to play in the third quarter.
You read right: Third quarter.
"They kicked our [butts] every which way but loose," Pop said after Thursday night's 88-67 beatdown, which marks the first time San Antonio has ever failed to score 70 in a playoff game.
So ...
Duncan will be more rested for Game 4 than he ever imagined after picking up two quick fouls in the first quarter and finishing with four points and two rebounds in just 15 minutes and 30 seconds of court time. Those are across-the-board lifetime playoff lows for Timmy, as you undoubtedly surmised.
Yet Duncan was also the first in black and silver to volunteer the word "awful" after seeing the Spurs -- even with Manu Ginobili in a suit and even with Duncan himself clearly laboring on his creaky knees -- look so lifeless and punchless after a huge win in Game 2 ... and after two days off ... and after drawing Dallas in Round 1 gave them pretty much the most favorable travel setup they could have hoped for.
The Mavs, meanwhile, undeniably oozed defensive energy like we almost never see from this team. Rick Carlisle moved J.J. Barea into the starting lineup, Jason Kidd volunteered to take the first shift guarding Tony Parker after Parker's 38-point eruption in Game 2 and Erick Dampier and Josh Howard played with a ferocity that would likely lead you to think differently about the Mavs if it happened consistently
The result? Without a single scoring threat aside from Parker -- whom the Mavs corralled as well as they ever have without ever coming close to making good on Dampier's vow to flatten the Frenchman on a drive -- San Antonio managed just 30 points in the first half. It would have been 28 if George Hill hadn't sunk a floater at the second-quarter buzzer.
Then Popovich decided to get an early jump on Game 4 preparations when that 46-30 halftime deficit quickly ballooned to 62-36, pulling Duncan, Parker, Roger Mason and Matt Bonner to join the already seated Michael Finley in one of the earliest playoff punts ever witnessed.
"Puts us on the bench and lets us sit there and simmer," Duncan said, still not quite believing it.
Dallas' lead ultimately reached an unsightly 80-44 against the Spurs' helpless reserves before the visitors finally passed the dreaded 54-point barrier on Fabricio Oberto's layup with 5:02 to play, ensuring that the Spurs wouldn't challenge the 96-54 humbling Utah absorbed from Michael Jordan's Chicago Bulls in Game 3 of the 1998 NBA Finals that stands as the most inept offensive performance of all time in the postseason.
That sort of minutiae, though, is hardly what worries the Spurs. Their greatest privately held fear coming into this series, more than anything contained on a schedule, was the gnawing suspicion that they were only going as far as Parker could carry them given Ginobili's absence and Duncan's limitations. That premise is getting harder to dispute as you watch Duncan move so gingerly on defensive closeouts or when he's retreating in transition or just trying to maneuver down low.
It also has to hurt that the Mavericks really didn't change much about their schemes in ushering Parker to a mere 12 points on 5-for-14 shooting. With nine of his 13 points in the opening quarter, Barea actually tormented Roger Mason more than he wore out Parker as a starter. The real change was the belief and aggression Dallas played with.
It started with Kidd telling Carlisle that, even at 36 and after enduring countless cracks about how much he's lost defensively, he wanted to start on Parker. "I did," Kidd said, smiling as he readied to throw a lighthearted jab at himself. "What did we have to lose after 38 points?"
Not much, apparently. Kidd hung in there nicely against Parker and got the Mavs humming in the open floor when they began to string together stops. Then Dampier and Howard (17 points, eight boards) combined for two emphatic weak-side rejections on Parker drives with the sort of shot-blocking intent Dallas rarely shows us. Parker, for the record, didn't see a shot blocked in either of the first two games.
Throw in a tidy 20 points in 26 minutes from the previously shackled Dirk Nowitzki -- who still didn't get many open looks thanks to San Antonio's fronting and double-teaming but finally began to pump and fake his way into some shooting space from his favorite mid-range spots -- and Dallas had what must rank as its most one-sided playoff win since that 116-76 toasting of Houston in Game 7 of the first round in 2005.
You then had Dallas making some new, humble promises about what will happen next, as multiple Mavs vowed not to do what they did after Game 1 -- and what San Antonio appears to have done after Game 2 -- by folding when they found it difficult to score and/or letting up.
"They've seen it all," Mavs guard Jason Terry said. "They've been through every kind of series. They're not going to get deterred."
Said Nowitzki: "You know they're going to be ready, bro."
The fretting Popovich, after what he's seen through a roller-coaster three games, wishes he could be so sure.
"That's a great question," Pop said when someone asked if Thursday's outcome was as worrisome as it looked or just an everything-went-wrong deal.
"It's a little bit of both. You can't ignore how you got your butt kicked."
Marc Stein is the senior NBA writer for ESPN.com. To e-mail him, click here.
Can The Hornets Stop Billups?
By John Hollinger
ESPN.com

After two games, your runaway leader in playoff PER is Denver's Chauncey Billups. He's 12-of-15 on 3-pointers and 19-of-19 from the line as the Nuggets have opened with two surprisingly lopsided wins over the Hornets; he has also scored 67 points without committing a single turnover.
To see the four other Insider Gems, click here.
After A Defeat, Remain Calm

Chris Broussard thinks Miami and Portland have proven that you can't overreact to one game in the postseason.
AllNight