(AP Photo/David J. Phillip)
Shane Battier (16 points) became an offensive factor, while Brandon Roy's production dipped.

(Jeff Zelevansky/Getty Images)
Everybody wanted to celebrate with Thaddeus Young after Young's game-winning shot beat Orlando.

(Jeff Zelevansky/Getty Images)
Sixers guard Andre Miller (24-9-7) kept his eye on the ball along with Mickael Pietrus of the Magic.

(Gregory Shamus/Getty Images)
LeBron James and Anderson Varejao were feeling jolly en route to a 3-0 series lead on Detroit.
Rockets Would Not Be Moved In Game 3

Coming into their first-round series, Rockets-Blazers shaped up as a battle between the immovable object and the indomitable force: Portland's slow-paced, highly efficient attack ranked second in offensive efficiency, while the Rockets' smothering D finished fourth on that side of the ball.
Score one for the immovable object. So far, the Rockets' defense has owned the matchup, and Houston has a 2-1 series lead as a result after beating the Blazers 86-83 on Friday. For the second time in three games, the offensive lowlights for the Blazers were numerous: Portland didn't hit double figures until 1:13 remained in the first quarter, managed only 30 points in the paint and earned but 10 free throws.
The only reason the carnage wasn't worse was a final, desperate 3-point shooting barrage, when Rudy Fernandez, LaMarcus Aldridge and Steve Blake all hit from downtown in the final 30 seconds to put a last scare into Houston. That rally failed only after a rushed 3 by Blake missed everything, and after Aaron Brooks rebounded his own missed free throw with 2.7 seconds left and ran out the clock.
Friday's result mirrored Game 1's offensive struggles for the Blazers, when they were clocked by the Rockets 108-81 to surrender home-court advantage; that game featured only 16 Portland free throws and just a single Blazers 3-pointer. And even in a 107-103 Game 2 victory, the Blazers had only 12 assists; Houston succeeded turning them into a one-on-one team, but they just happened to make all their shots that night.
Reasons for the Rockets' defensive dominance aren't hard to find. For starters, Brandon Roy has been able to create reasonably well for himself (82 points in 3 games) but has done absolutely zip for this teammates: He has only five assists in the three games after averaging over five a game in the regular season.
Behind Roy, it only gets worse. Second option Aldridge played one very good game and two invisible ones, including tonight when he needed 44 minutes to compile modest totals of 13 points and seven boards. Meanwhile, third banana Travis Outlaw has been a basket case: He has shot mostly jumpers and mostly missed them, shooting 2-for-10 on Friday to drop to 9-for-30 on the series. He has earned only six foul shots in the three games and has yet to make a 3-pointer.
The one really interesting part is that we have yet to see much of Blazer coach Nate McMillan's favorite tactic: going small. With Yao Ming in the opposing lineup, Portland has been understandably reluctant to guard him with undersized players.
Yet at this point, he might need to damn the torpedoes and give it a whirl. Right now the Rockets can crowd the paint with Yao in the middle, because he doesn't have to respect the threat of Joel Przybilla or Greg Oden shooting jump shots. As a result, Roy has company any time he turns the corner.
But that all changes if McMillan goes small, and he has had success with it over the past two years. On a per-minute basis, one of Portland's most effective lineups this season has been playing Aldridge at center and Outlaw at power forward, with Roy, Blake and Fernandez on the perimeter.
That look has five shooters, so the Rockets have to stay honest; when Portland uses it and sets up Roy out high with the ball, opponents must pick the poison of allowing Roy to drive to the hoop or giving up a high-quality look from one of Portland's other shooters. Fernandez in particular was the one Blazer who proved deadly tonight, nailing five triples and scoring 17 points on just nine shots to keep them in the game.
Yet Portland seems so hung up on stopping Yao that it hasn't figured out how to attack him. The Blazers played in front of and behind him in the early going, essentially conceding a series of wide-open jumpers to forward Luis Scola and Carl Landry (29 points combined) before tightening their D in the second half.
But at the offensive end, Yao has been allowed to play free safety with impunity, utterly disregarding Przybilla and Oden while waiting for Roy to come off the turn on screen-and-rolls. He's controlling the glass, too: The Blazers were the league's best offensive rebounding team in the regular season, but retrieved only nine of their 41 misses Friday; for the series, they've grabbed just 24.2 percent of their misses.
That's yet another reason to go small: The bigs aren't getting the offensive boards anyway, and that's been their main offensive contribution all season. It might not prove a cure-all for a Blazer offense that has been able to find few cracks in Houston's rock-solid D, but if the Blazers can't find something that works offensively, their offseason will begin much earlier than expected.
John Hollinger writes for ESPN Insider. To e-mail him, click here.
Magic Missing Effective Turkoglu

By Tim Legler | ESPN
PHILADELPHIA -- What were the Orlando Magic missing in the 96-94 Game 3 loss here Friday to the Philadelphia 76ers, a key factor that had helped them to a 59-win season?
Try the real Hedo Turkoglu.
The Magic's sweet-shooting forward just doesn't seem to have it. We asked about the status of his previously injured ankle before the game, but the Magic downplayed the idea that it was a problem. But you could see it on a number of plays in going to the rim that he's not getting the lift you need to finish strongly. He had many fruitless drives to the basket when Orlando needed one, going 2-for-12 from the field along with five turnovers.
So where do the Magic go from here, down 2-1 to the young, athletic Sixers?
I expect Orlando to come back strong in Game 4. The first home game for the lower seed is usually one in which the home team rides the crowd energy and gets a win. The second one is when the visitors can often come in and restore order.
Orlando has yet to have a complete team performance in this series, and that's what I expect to see in Game 4. The Magic are due. It might mean Mickael Pietrus getting more minutes in place of Turkoglu. And the Magic really have to make Philly move on defense, avoiding the trap of standing around when Howard has it down low.
The Magic got plenty in Game 3 from Howard, who had a monster game (36 points, 11 rebounds) and even hit two clutch free throws that tied the game 94-all. Shortly thereafter, that's when we saw Thaddeus Young bring the great finish for Philadelphia. It looked like Howard had fouled him, but Young made a great spin back with the left hand for the winning hoop.
For Philadelphia, I liked the fact they continued to drive to the hoop. Andre Iguodala (29 points) hit some jumpers, but other than that, it seemed everything else was in the paint. Andre Miller led the way in attacking, not settling for jumpers and keeping up the pressure on the Magic.
ESPN analyst Tim Legler is a regular Daily Dime contributor
King Of Mic Steps Up On Court

By Chris Broussard | ESPN The Magazine
AUBURN HILLS, Mich. -- On the mic, they call him "Joe Beast," because he flows with the type of East Coast swag they love in the birthplace of hip-hop (at least that's what he told me).
But Joe Smith was also a monster on the court Friday at The Palace, and the Cleveland Cavaliers needed every bit of animal he had in him.
On a night when the Cavs' complacency and Detroit's heart combined to create a surprisingly competitive contest, "Joe Beast" turned in his most productive postseason performance in years, recording 19 points and 10 rebounds in 19 minutes to help Cleveland to a 79-68 victory in Game 3.
Smith's impact was lost on no one, and afterward coach Mike Brown gathered his team in the locker room and gave props to his 33-year-old reserve.
"I said in front of the team, 'Way to go, old man,"' Brown said. "And the players jumped on me right away and reminded me that he's not an old man, he's 'Joe Beast."'
We're not joking about this "Joe Beast" stuff. In a league full of wannabe emcees, Smith is the real thing. In December, he released a disc entitled "The Beginning," and his hip-hop ode to the Cavs, "One Goal," has become the club's playoff anthem this spring. The song blared through The Q's sound system as the players warmed up before the first two games of this series.
To read Broussard's entire column, click here.
By Andrew Ayres
ESPN.com

FRIDAY'S BEST
Joe Smith, Cavs:
This year's leading candidate to replicate P.J. Brown's postseason success of a year ago had 19 points and 10 rebounds in 19 minutes, giving a Cleveland team the lift it needed in Game 3.
---

FRIDAY'S WORST
Travis Outlaw, Blazers:
This award could easily go to anyone on Cleveland under 6-5, but since the Cavs won, they're off the hook. That leaves Outlaw, whose 2-for-11 shooting performance did not help matters in an 86-83 loss to Houston.
---
QUOTE OF THE NIGHT
"This is killing me. I can't even lie."
-- Pistons guard Rip Hamilton on the downward spiral of the Pistons' fortunes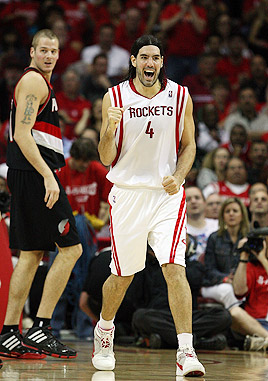 (Photo by Ronald Martinez/Getty Images)
Luis Scola had a team-high 19 points in the 86-83 win over the Blazers.
Delaney Not Pulled Back In
By J.A. Adande | ESPN.com

Bob Delaney, a 20-year NBA official, will not work any playoff games while recovering from a right Achilles tendon injury he suffered in the final week of the regular season.
Delaney said in an e-mail that he will rehabilitate the tendon for the next 10 to 12 weeks, which will keep him out of postseason action this year.
According to his bio on the National Basketball Referees Association Web site, Delaney has worked 120 playoff games during his career, including seven NBA Finals games. He officiated Game 2 of the NBA Finals last season.
Delaney has long been one of the more recognizable officials in the league, and his profile was raised last year with the release of his book "Covert", which detailed his work as an undercover operative infiltrating the Mafia.
By John Hollinger
ESPN.com

For the past week, everyone has lauded the point guard battle between Rajon Rondo and Derrick Rose. But as Rondo continues to pile massive numbers on the Bulls (he's averaging 22.7 points and 9.7 assists on 50 percent shooting through three games), few are talking about what has been glaringly obvious: Rose, at this point in his career, is an awful defender.
The Bulls allowed 7.8 points more per 48 minutes with Rose on the court this season, a disturbingly awful performance. In fact, this was why coach Vinny Del Negro was benching him in fourth quarters and going with Kirk Hinrich down the stretch in some games.
Although Rose's size and quickness should eventually make him a good defender, he gets hung up in picks way too easily and needs to play with much more intensity at that end. Inexperience is also an issue, as it is for nearly every rookie. And against Boston, guarding Rondo is really the only place for him to hide. Rose's other two options on the perimeter would be to defend Paul Pierce and Ray Allen, who were Boston's two highest scorers in the regular season.
If the Bulls are to get back into the series, Rose has to figure out a way to stay in front of Rondo, else Del Negro will have to make the unpopular decision to yank him for Hinrich. Defense at the point of attack is killing the Bulls, and Rose has been the main reason.
To see the four other Insider Gems, click here.

TNT's Mike Fratello shares his thoughts on the opening round of the NBA playoffs, including the latest on Celtics-Bulls.
Tirico & Van Pelt