(Photo by Chris Graythen/Getty Images)
James Posey and Chris Paul witness the Hornets' 121-63 loss to Denver, which now leads 3-1.

Noah Graham/NBAE via Getty Images
The Lakers players were in the pregame spotlight, while coach Phil Jackson was cast in shadow.

AP Photo/Chris Carlson
Lakers forward Lamar Odom gives Andrei Kirilenko more contact than he probably wanted.

(AP Photo/Wilfredo Lee)
After falling to the floor, Heat guard Dwyane Wade lies under the basket, accompanied by a mop.
In 58-Point Blowout, Hornets Hit Bottom

First, let's give credit where credit is due. These are not your father's Denver Nuggets, not with Chauncey Billups setting the tone in the locker room and defensive stalwarts like Dahntay Jones and Kenyon Martin adding some substance to all that style, and they took care of business again Monday night.
Denver looks for all the world like a legitimate conference finalist, especially if Carmelo Anthony has overcome his season-long shooting slump and can keep cooking like he did Monday night (26 points, seven assists). They're deep, they're talented, and they have just enough quality size to play with the big boys.
Now that we've got that out of the way ... I'm sorry, but the New Orleans Hornets' performance was one of the most pathetic efforts I've ever seen, and the fact that it came in a home playoff game with a chance to even the series just makes it more shameful. The Hornets' 121-63 loss to Denver tied for the most lopsided in NBA history, and it was humiliating from the get-go.
On Denver's second possession of the game, David West left Kenyon Martin to double-team Nene, then stood there with his teammates and watched as Martin caught a pass near the 3-point line, dribbled down the middle of the lane and tomahawk dunked.
Nice D.
And things got worse from there.
Two minutes later, Rasual Butler handled the ball in the backcourt against Chauncey Billups -- no, we don't why -- and was picked clean. Billups missed the shot but Jones got the rebound and put it in because Chris Paul jogged back while Jones blew past him. Paul wouldn't score until his team was down by 13 and finished with his worst night as a pro: four points, six assists and six turnovers.
And so it went. Denver scored 88 points in the first three quarters; instead of being "on a string," as coaches like to say, the Hornets' defenders were on codeine.
Some of the breakdowns were flat-out embarrassing, and if we're going to name names, West was particularly awful -- there was the play later in the first quarter where West met Billups on a switch, kindly stepped to the side and allowed him by for an easy layup; the one where he and Peja Stojakovic botched a switch for an Anthony dunk; the one where he left Nene wide open under the basket and James Posey screamed at him after another dunk; and the one where he could have taken a charge on Dahntay Jones' baseline drive but decided it wasn't worth the trouble and conceded a layup.
That wasn't a comprehensive list, mind you -- those are just my notes from the first quarter. It ended with Denver up 36-15 and degenerated from there, as the Nuggets ripped off an 11-0 run to start the third quarter and go up by 32, and a 6-0 run to close the quarter, putting them up by 38 and sending little-used subs on both sides scurrying to the scorer's table. Just to extend the embarrassment, the Hornets' scrubs then gave up a 23-2 run to Denver's scrubs, providing a perfect coda to a season where New Orleans' lack of depth has been a killer.
The Hornets couldn't even lose with class, confusing physical, playoff basketball with just getting angry and hitting people. Tyson Chandler seemed more focused on taking out Nene than defending him -- twice he swung elbows at him while defending the post; adding insult to noninjury, both times Nene made the shot anyway. Rasual Butler picked up a technical foul after Anthony Carter had the temerity to foul him on a breakaway, Posey contributed his de rigueur after-the-whistle foul for another tech, and Paul got an early T after taking exception to a legal Kenyon Martin screen.
"It was the worst we've played since I've been here," Hornets coach Byron Scott said, making a dramatic understatement (and using the word "played" very loosely).
Unfortunately, Game 5 will be held in Denver on Wednesday anyway. If this were a fight, it would have been stopped already. The Nuggets have defeated New Orleans by 58, 29 and 15 in this series; I'm going to go out on a limb here and say they're the better team and will close it out.
In fairness to the Hornets, I should point out that they have been dealing with some physical ailments. Paul (knee), West (back), Chandler (ankle), Stojakovic (ankle) and Posey (knee and shoulder) all were playing with injuries of one kind or another. That doesn't excuse their effort, but it does help explain why they've seemed so overmatched.
Nonetheless, if his starters can't be bothered to try, Scott might try to use the Hornets' final game -- which Game 5 certainly will be -- to send a message by playing some different faces. That is, if Monday's mail-in hasn't affected his own job security in the Big Easy.
Regardless of how the Hornets decide to proceed, Monday night's result removes any doubt that there will be some changes in Nawlins this offseason. The Hornets aren't in a great economic position to begin with, and they certainly aren't going to be willing to pay the luxury tax to get their doors blown off in the first round of the playoffs.
We'll know more on Thursday, when the Hornets' front office begins its offseason. For the players, however, it apparently began three days earlier -- some time before the tip-off of Game 5.
John Hollinger writes for ESPN Insider. To e-mail him, click here.
Playoff Dimes past: April 19 | 20 | 21 | 22 | 23 | 24 | 25 | 26 | 27
Lakers Quiet Jazz To Advance To Round 2

By J.A. Adande | ESPN.com
LOS ANGELES -- Appearances count out here, so you'll have to forgive the lack of joy after the Lakers dispatched the Utah Jazz in Game 5 with an effort that was sufficient to advance past the first round, but didn't have the appearance of a championship preview.
Even though each of the Lakers' four victories came by double digits, one coach graded their performance a C+, and the evaluation of another Lakers staffer consisted of a simple "Yeccch."
This series didn't feel like the playoffs. It was more like a screen test, intriguing only when speculating how this effort would fare in a Finals matchup with Cleveland. You could just hear frustrated movie directors yelling, "Cut! OK, this time show me serious, like someone showed up to repossess your car."
To read the entire Adande column, click here.
Random Observations From Jazz-Lakers

By Kevin Arnovitz | TrueHoop Network
• LOS ANGELES -- During the timeout at the 3:15 mark of the fourth quarter, with the Lakers' lead shaved from 21 to only six in a span of only 5:20, Staples Center was deadly quiet. The only people standing in the building were ushers. A Jazz lineup of Ronnie Price, Ronnie Brewer, Kyle Korver, Paul Millsap and Mehmet Okur had staged the comeback, scoring on 10 consecutive possessions. Price brought the ball across half court, then over to the sideline for a Utah timeout -- an interesting choice by coach Jerry Sloan. Getting Deron Williams on the floor for the final stretch had to be a priority, but isn't there cause to stick with the makeshift unit that put together the best five minutes of basketball Utah has played in weeks? Sloan opted to split the difference. He put Williams back into the game, but kept Price -- who'd played a total of two minutes in the first four games of the series -- on the floor. Why did he stick with Price? "I've never seen a guy play that hard in my life in that situation," Sloan said, before drawing a lofty comparison. "[Price] set seven or eight screens while he was on the floor where he nailed a guy. That's how you play basketball. John Stockton used to do it for years." Unfortunately for Sloan, the Jazz got only a pair of free throws over the next six possessions, and faded in the game's final moments.
• At first blush, the indefinite loss of Luke Walton to a sprained left ankle might not seem like more than a speed bump for the Lakers. In four playoff games against Utah, Walton averaged only 12 minutes and hasn't logged more than 24 minutes in any one game since March 9. But with starting small forward Trevor Ariza nursing a sprained ankle of his own, Walton's absence complicated matters. "It really does set us back a little bit," Lakers head coach Phil Jackson said prior to tipoff Monday night. Ariza appeared to be fine Monday night -- 12 points, seven rebounds, four dimes and a couple of blocks in 28 minutes, including a vicious swat of a Williams layup attempt in the first quarter. Ariza would've claimed the bulk of the minutes at the 3 -- ankle sprains or no ankle sprains -- but a healthy Walton offers Jackson a set of skills that would be indispensable in a second-round matchup with a certain defensive-minded team from Texas that can grind an opponent's offense to a standstill. Walton's ability to keep the ball moving may not have been missed Monday night, but the Lakers could use it as they move forward, something Portland is learning the hard way. If worse comes to worst at the 3 spot? "Both Kobe and Lamar are capable of playing that position," Jackson said.
• After watching the Jazz twice during the first week of the season, I swooned: "[F]or those still mourning the death of systematic beauty in Phoenix, spend some time watching Utah this season. They're running some beautiful stuff. Though [the Jazz] have the capacity to build a dominant two-man game with a healthy [Deron] Williams and Carlos Boozer on the block, Jerry Sloan prefers a more expansive offense that relies more on space than on pure matchups. Without Williams, they display an uncanny efficiency. When he returns, they could be downright lethal." So what happened to that Jazz offense that was tops in the league in 2007-08? In short, teams like the Lakers used their length and quickness to close that space against a slower Jazz team. Utah still finished eighth in offensive efficiency this season, but never found the rhythm that punished defenses last season with perfect cuts, precise timing and fluid movement. The cuts were a little less sharp, the timing just a bit off and the movement more stagnant.
• As Ross Siler noted on Sunday, Paul Millsap earned the NBA minimum salary of $797,581 in 2008-09, but he stands to make a lot more as a restricted free agent this summer. Millsap's final quarter of the season in Game 5 should be the top bullet point on his résumé. After three forgettable quarters, Millsap was the catalyst during Utah's fourth-quarter stand, at one point scoring 11 consecutive points on six possessions. He did it the way he'd been doing it all season, scrapping inside against guys much bigger than him, controlling the glass, creating space for himself and any teammate who needed it. Whether Millsap ends up in Utah next season depends a great deal on what starting power forward Carlos Boozer plans to do. If Boozer opts out of the final year of his contract with the Jazz and goes elsewhere, Millsap might get the promotion he deserves. Can the Jazz afford to have a starting lineup that includes an undersized power forward and a perimeter-oriented center? That's a different matter entirely.
By Maurice Brooks
ESPN.com

MONDAY'S BEST
Denver Nuggets:
They put together one of the best playoff performances ever, holding the Hornets to franchise playoff lows for points (63), field goals made (17), field goals attempted (54) and assists (10).
---

MONDAY'S WORST
New Orleans Hornets:
Playing at home, the Hornets scored just 24 points after intermission, matched the NBA playoff record for most lopsided loss and now trail the Nuggets 3-1 in the series.
---
QUOTE OF THE NIGHT
"Understand that while it was embarrassing and they beat us pretty bad, it still was only one game."
-- Hornets guard Chris Paul after New Orleans was routed by Denver
Back To The Drawing Board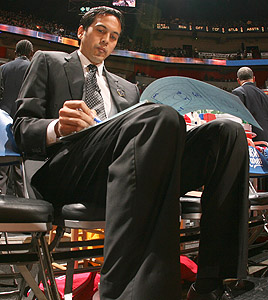 (Victor Baldizon/NBAE/Getty Images)
After losing by 10 at home to the Hawks, Miami coach Erik Spoelstra and the Heat have to come up with a new plan before Game 5.
Hawks Rebound Against Heat
By Stephen A. Smith | ESPN.com

MIAMI -- They missed one shot after another. They surrendered two straight four-point plays, forfeiting their momentum. They displayed their inexperience. But when it was finally over, after the Miami Heat had pushed, prodded and used everything but the temptation of South Beach to distract the youngsters from Atlanta, the Hawks still departed flying high, having escaped with an 81-71 win at Miami's AmericanAirlines Arena in Game 4 of this first-round playoff series to reclaim home-court advantage.
"We got the job done," Hawks guard Joe Johnson said. "We came here to get one and we got it. I know it's hard for people to believe. Hell, it might be hard for us to believe. But we did it. Finally."
Now the series is tied 2-2, with Game 5 at Atlanta's Philips Arena on Wednesday night. And if Johnson seems a little too pleased, maybe it's actually appropriate for him to sound that way, as this was the first road playoff win for the Hawks since 1997.
"I was there," Hawks media relations director Arthur Triche laughed afterward. "I'm telling you this because I'm the only individual in this locker room who can say that."
Savor the levity.
You've earned it when you've held Wade to 9-for-26 shooting (22 points). You've earned some boisterous moments when the streaky Heat are limited to 4-of-16 shooting from beyond the arc and 37.7 percent shooting for the game.
Atlanta's bench outscored Miami's bench 25-2. With starting guards Johnson and Mike Bibby distributing the ball, six players finished with double-figure scoring. Reserve center Zaza Pachulia took care of business inside with 12 points and 18 rebounds as the Hawks outrebounded the Heat 40-33.
"We came out with more intensity, ready to play," said Hawks forward Josh Smith, who scored 13 after being dared into trying some ill-advised jump shots. "We didn't do that in Game 3 and that was our problem. We came out focused, determined to right the wrongs we committed, and we did that pretty much for most of the game."
To read Smith's entire column, click here.
By Elias Sports Bureau

Mike Bibby scored a team-high 15 points in Atlanta's 81-71 win at Miami on Monday night. It's the first time in the Hawks' history that they won a playoff game in which none of their players scored more than 15 points. And it's the only NBA playoff game in the last five seasons in which the victor's leading scorer had 15 or fewer points.
It's Only Going To Get Worse
By Niall Doherty | TrueHoop Network

About this time a year ago, the Hornets lost a disappointing Game 7 at home against the San Antonio Spurs. I sat alone in New Orleans Arena for about 20 minutes after the final buzzer, looking back on a magical season that was, sad that the joy ride had come to an end.
Monday night I saw the Hornets play what was probably their last home game of the season. Game 4 against the Nuggets, down 2-1, pretty much a must-win ballgame ... and the Hornets failed epically. They trailed by 21 points after the first quarter, by 22 at the half, and by 38 at the end of the third. There would be no staying late and reflecting in isolation this year -- I left the building before the final frame was under way.
I checked the final score when I got home: 121-63. The worst loss in franchise history, and tied for the worst loss in NBA playoff history.
I don't see the Hornets winning Wednesday's Game 5 in Denver. The Nuggets are by far the better team in this series. The Hornets are too banged up, too badly coached, too shallow benched. And with an aging roster and several crippling contracts, it will probably get worse for New Orleans before it gets better.
Niall Doherty's work can be found on the TrueHoop Network's Hornets' blog, Hornets247.com