(Photo by Brian Babineau/NBAE via Getty Images)
Thanks to Paul Pierce's late-game heroics, the defending champs have a 3-2 series lead on the Bulls.

Fernando Medina/NBAE via Getty Images
The Sixers came out fired up, but couldn't make enough plays down the stretch to beat Orlando.

Sam Forencich/NBAE via Getty Images
Thanks to 25 big points from Brandon Roy, the Blazers were able to get by the Rockets in Game 5.

(D. Clarke Evans/NBAE via Getty Images)
After winning Game 5, the Mavericks advanced out of the first round for the first time since 2006.
Just Like Old Times For Celtics' Pierce
BOSTON -- Injured forward Kevin Garnett was on the bench in street clothes. Ray Allen was nearby in warm-ups and done for the night with six fouls. The Big Three was down to just the one that Boston Celtics fans have been accustomed to seeing over the past 11 seasons.
And just as Paul Pierce has done so many times for Boston, he came through with a scoring barrage when the C's needed it most during a crucial 106-104 overtime victory over the Chicago Bulls in Game 5 of this wild best-of-seven, first-round series. The 2008 NBA Finals MVP scored 15 of his 26 points in the fourth quarter and OT to spark the Celtics, and has now put his team in position to knock off the pesky seventh-seeded Bulls with a win in Game 6 on Thursday.
"It was phenomenal. Sweet spot. In-between game," Celtics coach Doc Rivers said about Pierce's performance.
"Obviously, Paul, the shots he made down the stretch were huge. He got to his spots."
Until he got cooking, Pierce had been stymied by the Bulls for most of the series. With Luol Deng out with an injury, John Salmons had smothered the Celtics star while the Bulls' big men had closed down Pierce's driving lanes. Salmons had been able to contest Pierce's shots, most memorably when he snuffed Pierce's potential game-tying jumper in the second overtime of Game 4.
Pierce had entered Game 5 averaging a team-best 23.5 points in the series, but he had made only 43 percent of his shots from the field and attempted only 20 free throws while turning over the ball 15 times. Only an early scoring outburst in Game 3 had been vintage Pierce.
The Bulls continued to keep Pierce in check through the first three quarters of Game 5. He had just 11 points on 5-of-13 shooting, including 1-of-5 from 3-point range, no attempted free throws and a turnover, when Boston trailed 70-66. From there, the Bulls quickly took an 11-point lead as Pierce remained quiet.
"They had guys clogging up the lane a lot," Pierce said. "They have guys reaching. Maybe I can do a better job of trying to get to the line, get my rhythm going and maybe that can get me going. But maybe better late than never."
With Garnett sidelined, Pierce has had the challenge of making up for KG's offensive production. That was compounded in Game 5 when Allen surprisingly fouled out with 5:27 remaining in the fourth quarter.
It was a familiar spot for Pierce. Before this version of Boston's Big Three came into existence in the summer of 2007, Pierce took the big shots -- in fact, as many shots as he wanted. With Garnett out and Allen sitting on the bench Tuesday, Pierce had to revert to his old shoot-first approach just to give the champs hope of getting out of the first round.
Fortunately for the Celtics, Pierce said he hasn't been discouraged by his shooting struggles.
"I missed a couple wide-open 3s that I had, missed a couple layups," Pierce said. "I never got down over the shots I missed because I thought a lot of them were good shots.
"I just knew before long they would fall. I thought when Ray fouled out it was time for me to really step up."
Pierce's layup with 1:13 remaining in the fourth quarter tied the game at 91. Then, with the Bulls ahead 93-91, he nailed a clutch 15-foot jumper to tie the game again and send it to overtime.
He stayed hot in overtime. His consecutive step-back, midrange jumpers over Salmons pushed Boston ahead 104-101. And with Game 5 tied in the final seconds of OT, the Celtics' captain added another big shot to his résumé, nailing a 19-foot pull-up jumper with 3.4 seconds left to give the Celtics the lead for good.
"I just thought I didn't over-penetrate tonight," Pierce said. "I took my time. I got some space off the dribble. I got into my sweet spot and got the shot."
After the game, Salmons sounded like a lot of other players who have tried to stifle Pierce's midrange prowess.
"I was just trying to keep him in front of me and contest the jump shot," Salmons said. "That's what I've been trying to do the whole series. Be even with him. Try to stay in front of him.
"He hit some shots. He hit three contested shots."
This is the first playoff series in NBA history to have three games decided in overtime, and it appears destined to be the most memorable first-round series ever. It's had almost too many story lines to mention, starting with the saga of Garnett's injury and the emergence of two great young point guards in Rajon Rondo and Derrick Rose, and along the way there has been incredible shot-making by Allen and Chicago's Ben Gordon, among others.
On Tuesday, Pierce ensured that he will be remembered, too, with what might be two more exciting chapters still to come.
Marc J. Spears is a regular contributor to ESPN and covers the NBA and the Boston Celtics for The Boston Globe.
Playoff Dimes past: April 19 | 20 | 21 | 22 | 23 | 24 | 25 | 26 | 27 | 28
Blazers Growing Up In the Playoffs

By J.A. Adande | ESPN.com
For the Portland Trail Blazers, these playoffs are about education, not coronation. In the fifth game of this group's inaugural postseason voyage, the Blazers showed they learned from their mistakes. That makes this series a success even if they do lose, which the odds still say they will.
At least the Blazer bought themselves additional time by winning Game 5, 88-77. They'll head to Houston with a chance to extend the series and bring it home for Game 7, and maybe learn a little more in the process.
During Games 3 and 4 in Houston, the Blazers didn't understand the value of each possession in the postseason. They didn't know just how important it is to protect the ball, to be patient enough for the best possible shot, to chase down every rebound like those women running after bridal gowns at Filene's Basement.
In the fourth quarter of Game 4, the Trail Blazers had six turnovers and watched the Rockets grab six offensive rebounds. It wasn't the same story in money time Tuesday night. After turnovers on the first two possessions of the fourth, Portland didn't lose the ball again. And Houston had only one chance at a second-chance point, getting an offensive rebound on the final possession of the game.
On offense, Portland took good shots, even the ones it missed. The Blazers were more aggressive going to the basket, or found the open man when they forced a rotation. They remained poised even after losing their 11-point lead in the third quarter, and it was the Rockets who looked immature.
"I'm disappointed in the way we played in the fourth quarter," Houston coach Rick Adelman said at the postgame news conference. "They made the plays they had to. Got the offensive boards they needed to. Offensively, we've got to have more patience. We can't come down and play at a frenzied pace."
The Rockets tried to go to Yao Ming, but couldn't establish him. Then they reverted to Aaron Brooks and Ron Artest, who tried to make plays by themselves.
Portland coach Nate McMillan swapped Rudy Fernandez for Nicolas Batum at the start of the third quarter, to the delight of every blog commenter in Portland.
"I just felt like we needed to get some more movement," McMillan said. "Artest and [Shane] Battier were switching off. I wanted to keep the pressure on their defense, make them guard five guys out there on the floor."
Fernandez didn't do much with his extra playing time, making only one 3-pointer and shooting 2-for-7 overall. But Portland's two biggest stars came through, with 25 points apiece for LaMarcus Aldridge and Brandon Roy (who received an IV before the game after feeling ill at the morning shootaround). Portland still doesn't have a low-post option and couldn't even successfully exploit Houston's small lineup when the Rockets had Chuck Hayes defending Greg Oden.
But Roy is masterful at creating shot for both himself and others, and the open men knocked down jumpers and Steve Blake was back in aggressive mode. As a result, the Blazers are still alive.
"I've never questioned this team's heart," McMillan said.
The only question was its inexperience, which diminishes with each game.
J.A. Adande is an ESPN.com senior writer and the author of "The Best Los Angeles Sports Arguments." Click here to e-mail J.A.
Spurs Eliminated But Not Extinct

By Marc Stein | ESPN.com
They ignored us when we branded them boring. They shrugged when we treated the point guard's wife as their first and only celebrity. They tuned us out year after year, over and over, especially when we locked in on the back-to-back championships that repeatedly eluded them.
So surely you can't expect the San Antonio Spurs to listen to us now.
They won't and they shouldn't.
They know what you're thinking, but the Spurs who matter most won't hear any of it because it really isn't true. Tuesday's night's humbling 106-93 loss to the Dallas Mavericks might have defied the infallibility they're supposed to have in odd years and most certainly saddled Tim Duncan with the maiden first-round defeat he's ever endured while in uniform, but we are warning you now.
Don't buy into all that end-of-an-era stuff, no matter how many times you hear and read it this week and beyond.
Not unless you can somehow prove that the Spurs will fail to reload -- which would be a real first -- either this summer or the next.
As foreign and unsettling as all this must feel to them -- two seasons in a row without a title, constant fretting about Duncan's age and so much mystery bubbling around in Manu Ginobili's ankles -- the Spurs do have some hope to go with the uncertainty. Remember: Tony Parker and Duncan are not on the same doomed track as John Stockton and Karl Malone, drafted just one year apart. Parker is the Spurs' best player now ... at a mere 26. Duncan would certainly work as a second or third option as his mid-30s beckon. Starting over with Parker, Duncan and coach Gregg Popovich, as the only three Spurs with contracts that are guaranteed beyond next season, doesn't sound so bad. Does it?
As one rival executive in the Western Conference said over the phone Tuesday night as he watched the Mavs finish off this series with more depth than anyone (including the Mavericks) knew the Mavs had: "The demise of the Spurs has been greatly exaggerated. They need an athlete or two. They need to get a little younger. But I have a feeling they'll be back."
Marc Stein is the senior NBA writer for ESPN.com. To e-mail him, click here.
By Maurice Brooks
ESPN.com

TUESDAY'S BEST
Paul Pierce, Celtics:
Two members of the Big Three were on the sidelines, but Pierce made sure that the Celtics took a 3-2 series lead by tying the game with a jumper at the end of regulation and draining three more jumpers during the final moments of the extra period.
---

TUESDAY'S WORST
Sixers' bench:
Lou Williams (0-for-2 in 16 scoreless minutes) and the rest of the Philadelphia reserves combined to score a total of six points.
---
QUOTE OF THE NIGHT
"They had more firepower than us. They played better than us. However you want to put it, obviously they were the better team this year. That's all you can say."
-- Spurs big man Tim Duncan after San Antonio was eliminated from the playoffs by Dallas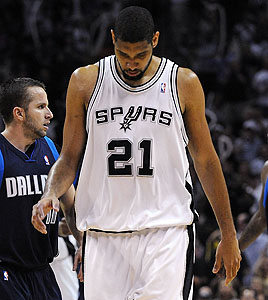 (Ronald Martinez/Getty Images)
Despite 30 points from Tim Duncan, the Spurs were eliminated in the opening round of the playoffs for the first time since 2000.
Lots Of Collisions In Orlando
By John Hollinger | ESPN.com

Three violent collisions shaped the outcome of Orlando's 91-78 win over Philadelphia, a win that put the Magic up 3-2 in their best-of-seven series heading into Thursday's Game 6. And all three may have repercussions 48 hours from now in Philly.
The first was the elbow that Dwight Howard landed in the face of Sam Dalembert in the game's opening minutes, in an unusual fit of malice for Orlando's normally even-keeled center. The officials decided to give him a technical foul, rather than an ejection, and he went on to dominate the rest of the night with 24 points and 24 rebounds.
The play could still be a huge factor in Game 6, however, as league VP of violence Stu Jackson is sure to take a look at it and determine whether Howard's elbow was a suspension-worthy offense. My gut instinct is that the league would happily give the likes of Marcin Gortat a one-game ban for such a shot but would be reticent to do the same to Howard this late in a playoff series. (Click here to get Henry Abbott's take on Howard's elbow.)
The second violent collision came just moments later, when Howard went up for a blocked shot and, as he came down, swung his arm down at the same time and landed it with full force on teammate Courtney Lee's head. Lee was down on the court for nearly a minute -- a veritable power play for the Sixers -- before the Magic noticed and called timeout; he was helped off the floor and didn't return.
His replacements, J.J. Redick and Mickael Pietrus, were a whole lot less productive than Lee had been. They combined to shoot 2-of-9 from the floor in 59 minutes, helping Philly stay in the game despite its own struggles at the offensive end -- one that included a bagel from high-scoring reserve Louis Williams.
Lee's status for Game 6 is still up in the air -- on TV they said he didn't have a concussion, but I find that hard to believe given the nature of the play, how long he was down and the fact he didn't come back. Obviously, medical professionals more qualified than I am will check him out for the next two days, but if Lee can't go, the Magic will need to get much more out of Pietrus and Redick -- especially if Howard is forced to sit out, too.
And the third violent collision? That was the Sixers' 3-point shooters colliding with reality. Philly was last in 3-point shooting in the regular season but hit 42 percent during the first four games of the playoffs, helping it forge a 2-2 tie. That was a fluke, of course, and Tuesday it was back to reality: The Sixers shot just 4-of-18 from beyond the arc while laboring to 39 points in each half.
Though their backs are against the wall, there's no reason to expect Philly to shoot much better on Thursday. Thus, their best hope for extending the series to a Game 7 rematch back in Orlando is that one of those first two collisions results in a weakened Magic squad taking the floor for Game 6.
John Hollinger writes for ESPN Insider. To e-mail him, click here.
Who Is Next For The Lakers?
By Kurt Helin | TrueHoop Network

Not everything was pretty about how the Lakers beat the Jazz -- unless you enjoy giving up leads just to live dangerously -- but in the end just about everybody on the planet said the Lakers in five, and the Lakers won in five. They looked dominant at times doing it, and the bench was alternately fantastic and frustrating.
But the Jazz are gone. Who's got next?
The Rockets have big matchup advantages in their series with Portland that they are exploiting better than I thought they would. The Blazers have nobody who can slow Yao, forcing a lot of double-teams that is opening things up for others on offense. On defense, the Blazers are a jump-shooting team, and with Battier and Artest the Rockets have some quality perimeter defenders.
We'll get into more of an X's and O's breakdown against the Lakers later, but Zephid has laid out the case quite well (and I agree with him) that the Lakers' easier path is through Houston.
To read the entire Forum Blue and Gold blog, click here.
Wilt, Russell and ... Kendrick
By Elias Sports Bureau

Kendrick Perkins placed his name in august company with an odd accomplishment, if you can call it that, in the Celtics' 106-104 overtime win over the Bulls. Perkins played 48 minutes without committing a personal foul. The only other starting centers to do that in an NBA playoff game were Wilt Chamberlain (five times) and Bill Russell (twice).
• Dwight Howard scored 24 points to go with his 24 rebounds in the Magic's 91-78 win over the 76ers. Howard's was the first 24/24 playoff game in six years -- since Tim Duncan recorded 34 points and 24 rebounds against the Mavericks.