Doug Benc/Getty Images
Dick Bavetta steps between Dwyane Wade and Atlanta's Solomon Jones after Wade was fouled.

Scott Cunningham/NBAE via Getty Images
Hawks center Al Horford injures his ankle after grabbing a rebound against Dwyane Wade.

Garrett W. Ellwood/NBAE via Getty Images
Nuggets guard J.R. Smith gets the call against a fallen Chris Paul of the Hornets during Game 5.
Injuries And Hard Fouls Dominate Hawks' Win In Game 5

ATLANTA -- For two days, the Heat tried and tried to loosen up Dwyane Wade's ailing back, and after halftime it kicked in. When Wade finally had enough freedom to do his usual assortment of tricks, he exploded for 17 points in the third quarter as Miami scored on its first eight possessions of the half.
One little problem: The Heat were down by 23 points at the time, and the Hawks were well on their way to a 106-91 win in Wednesday's Game 5 that gives them a 3-2 lead in the best-of-seven series. The Heat will try to fight off elimination in Game 6 in Miami on Friday.
Throughout the first half, Wade's back paralyzed him, with the most emblematic play coming on a loose ball early in the second quarter. Normally the type of ball he routinely chases down and turns into a bucket, Wade stood nailed to the floor near half court while Josh Smith chased it down, dribbled around his back to get past him, and then threw a nifty no-look bounce pass to a cutting Maurice Evans for a dunk.
"I was tight," Wade said after the game, oddly attired in a trench coat on an 80-degree day. "But you gotta keep going, trying to get it loose. Hopefully, next game it will be better from the start."
Wade had only one field goal in the first half, part of which he spent in the locker room after smacking the back of his head on the hardwood and staying down on the court through most of a timeout.
"I'm not a doctor, but I banged it pretty good," Wade said. "They just wanted to take me back and make sure I was OK."
Wade's back was an issue on defense, too -- instead of locking up Joe Johnson as he'd done in Games 2 and 3, he spent the first half hiding out in the corner on Evans. Not that it worked. Atlanta scored 39 points on 81 percent shooting in the second quarter, Flip Murray (23 points) made his first six shots by destroying Mario Chalmers on post-ups, and the Hawks earned 41 free throws overall while committing just four turnovers.
"This is the first time that they really carved us up offensively," Heat coach Erik Spoelstra said. "We just couldn't get enough stops to get back in the game."
However, the Hawks' Smith may have provided some added motivation for the Heat by trying (and missing) a between-the-legs dunk on a fourth-quarter breakaway. Wade said his team was "very insulted" by it.
"They turned it into a pickup game, really trying to embarrass us at the end," Spoelstra said. "[But] they pretty much pounded us in every way you can. They scored 12 straight baskets in the second quarter, so we can say what we want, but they did a number on us."
"I spoke to [Smith], and we'll keep it in-house" said Hawks coach Mike Woodson, who has had many such discussions with the mercurial forward over the past five seasons.
Additionally, the Hawks may have suffered a huge blow at the end of the first half. Atlanta's Al Horford sprained his right ankle on a hard foul by James Jones and didn't return; his status is obviously in doubt for Game 6 and, if necessary, Game 7. The quick turnaround times coming up for the Hawks won't help. In addition to the Friday rematch, Atlanta will play on Sunday at 1 p.m. ET in either a seventh game of this series or an opening game of Round 2 against Cleveland.
"We'll determine Al's [status] after he goes home and sleeps and see how it feels when he gets back here tomorrow morning," Woodson said.
The foul by Jones was one of several that figure to keep Stu Jackson, the NBA's executive vice president of basketball operations (the "VP of Violence"), busy Thursday in a series that has grown increasingly physical. While none appeared suspension-worthy, as many as five could result in lightened wallets: Jones' foul on Horford, Solomon Jones' wrap-up of Wade on a drive to the hoop (resulting in a confrontation that saw four technical fouls assessed), Wade's flagrant foul on a breakaway by Evans, Zaza Pachulia tagging O'Neal's mug with a sharp elbow on a third-quarter layup, and O'Neal responding by going through Pachulia's face to get to the ball moments later.
"He got his bell rung and his neck is extremely sore," Spoelstra said of O'Neal. But neither side seemed upset by the physicality.
"That's playoff basketball, that's how it's gonna be every night," Johnson said. "You definitely want to protect yourself going to the basket. Guys are giving hard fouls."
Johnson certainly knows a thing or two about that. His takedown by Jerry Stackhouse four years ago knocked him out of the Western Conference finals when he was a Phoenix Sun.
While we wait for any rulings to come down and ponder the wisdom of Smith attempting a between-the-legs dunk with more than four minutes remaining in a playoff game, the team trainers will become key players in what is rapidly become a war of attrition. Already each side is without its starting small forward, and now Horford's ankle and Wade's back will take center stage heading into Game 6.
Regardless, the Hawks are one game away from reaching the second round of the playoffs for the first time in a decade. And if the Heat can't find a way to loosen up Wade's back sooner than halftime on Friday, they'll have an entire summer to let him heal.
John Hollinger writes for ESPN Insider. To e-mail him, click here.
Playoff Dimes past: April 19 | 20 | 21 | 22 | 23 | 24 | 25 | 26 | 27 | 28 | 29
What Is Next For the Hornets?

By Marc Stein | ESPN.com
You could probably pump out 58 questions about the suddenly uncertain future of the New Orleans Hornets after watching last season's Western Conference darlings last for a mere five games in these playoffs.
Yet we've decided to cap it at five after the banged-up Hornets hung in for a half Wednesday night before the brutish Denver Nuggets pulled away for 107-86 spanking that, combined with Monday's utter destruction, brought a humbling end to New Orleans' season.
The most pressing question:
What must Chris Paul be thinking?
That's the same question you wanted to ask Paul in February after the Hornets tried to trade away Tyson Chandler in a deal mostly motivated by finances. Except that you undoubtedly wanted to ask it even louder after the Nuggets manhandled New Orleans in this first-round rout.
Unfortunately, no one in the interview room in Denver on Wednesday night saw fit to ask Paul -- with the max contract extension he signed last summer due to kick in next season -- for his reaction to the Hornets' early exit or the housecleaning around him many anticipate in response.
The reality, though, is that Paul is highly unlikely to blast Hornets owner George Shinn in public for wanting to cut costs. Those who know Paul best insist that, even privately, it's not his habit to throw ultimatums at management. It appears, then, that the 23-year-old will give management a chance to convince him that it has a plan to restore New Orleans to the mix of teams contending for the West title, difficult as it is at the moment to picture such a plan.
Things could always change, but Paul declined an opportunity to voice any concern when we caught up to him late in the regular season. Asked specifically if he still sees his long-term future with the Hornets after the near-trade of Chandler, Paul said: "Most definitely."
Yet it's been an undeniably rough season in spite of Paul's sparkling regular-season production. For all the claims that San Antonio's window of contention has closed, it looks as though these Hornets, as currently constructed, already missed out on their best opportunity to go far in the playoffs when they routed the Spurs three times in last season's second round before losing a Game 7 at home.
It's worth noting, furthermore, that Paul was hurting in this Denver series more than he ever let on. On top of dealing with the Nuggets' physical defense, Paul banged his knee in a Game 3 collision with Anthony Carter and apparently needed pain medication over the weekend to keep playing. Not that he ever discussed that publicly, either.
To read the entire Stein column, click here.
Wade Gets Off To A Slow Start

By Elias Sports Bureau
Dwyane Wade didn't make his first field goal until the 21st minute of the Heat's 106-91 loss at Atlanta. That was the furthest into a postseason game that Wade ever played before hitting a field goal. In fact, he failed to make a field goal in the first quarter of only four of 58 previous playoff games.
By Maurice Brooks
ESPN.com

WEDNESDAY'S BEST
Carmelo Anthony, Nuggets
: After losing in the first round of the playoffs five straight seasons, Anthony has finally won a playoff series. He scored 34 points as Denver took care of New Orleans.
---

WEDNESDAY'S WORST
New Orleans Hornets
: They barely put up a fight in falling to the Nuggets 4-1 in their first-round series, losing by an average of 37.5 points in Denver's four wins.
---
QUOTE OF THE NIGHT
"Chauncey is the best thing that happened to Denver. The mindset that he's given this team right now is something that will fuel them in the next round."
-- Hornets guard Chris Paul on Chauncey Billups, who was traded from Detroit to Denver early in the season
• See Wednesday's daily leaders
Giving Miami Extra Motivation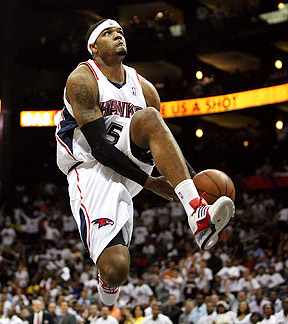 (Photo by Doug Benc)
If the Heat, who will be facing elimination in Game 6 on Friday night, need something else to fire them up, they can point to Josh Smith's between-the-legs dunk attempt.
Nuggets Finish Off Hornets
By Jeremy Wagner | TrueHoop Network

The Denver Nuggets have made NBA history. Never before has a team defeated an opponent by 58 points in the playoffs and gone on to win the series. It must be more difficult than it sounds; just ask the 1955-56 Minneapolis Lakers.
The Hornets kept the game close for three quarters Wednesday and proved they had not given up on the series, but it was just a matter of time before Denver made a run to take control.
Hornets castaway J.R. Smith proved to be the catalyst as he nailed back-to-back, tape-measure 3s to put Denver up 11 with 2:32 left in the third.
Among the many great storylines for Denver -- reaching the second round for the first time in 15 seasons, Chauncey Billups' arrival and his play in the first two playoff games, and its vastly improved defense -- the biggest story is Carmelo Anthony finally learning how to win in the postseason.
After allowing defenses to take him out of the game year after year, he is now changing games with his passing ability -- 5.2 assists per game for the series. He repeatedly forced his way into the lane to earn good shots instead of settling for contested jumpers.
Anthony's defense also has improved markedly in this series, and his all-around game is making the Nuggets dangerous.
I expect a tremendous second-round series between Denver and Dallas; both teams are playing their best basketball of the season, but the way the Nuggets are performing, they have to be the favorites to make it to the Western Conference Finals.
Jeremy Wagner's work can be found on the TrueHoop Network's Nuggets' blog, Roundball Mining Company
Should The Blazers Start Rudy?
By John Hollinger
ESPN.com

One big tactical change for the Blazers on Tuesday was having Rudy Fernandez start the second half in place of Nicolas Batum. Batum has done virtually nothing this series and played only six minutes on Tuesday.
The obvious next question is whether Fernandez should start Game 6, but Blazers coach Nate McMillan may line up the same way for the first six minutes just to keep Brandon Roy out of early foul trouble. Right now, Batum guards Ron Artest to start games, with Roy checking Battier. But when Fernandez checks in, he has to take Battier and Roy moves onto Artest. (And no, Fernandez can't guard Artest. It's a colossal physical mismatch.)
The other alternative would be to start Travis Outlaw and put him on Artest right away. But that might send Outlaw to the pine right when he's been most useful in this series by playing as a backup 4 against the likes of Carl Landry and Chuck Hayes
To see the four other Insider Gems, click here.

TNT's Kenny Smith wants consistent officiating, but referees want the players to decide the game 99 percent of the time.
The Herd with Colin Cowherd