Doug Pensinger/Getty Images
Melo did a little bit of everything, posting five rebounds, four assists, two steals and two blocks.

Scott Cunningham/NBAE/Getty Images
With Joe Johnson's shooting, Atlanta made it out of the first round for the first time since 1999.

Jesse D. Garrabrant/NBAE/Getty Images
Dirk Nowitzki knocked down his first six shots before cooling off from the field against Denver.
Anthony, Nuggets Dance To Win Against Mavs

DENVER -- Chances are good that before Sunday, you had never seen Carmelo Anthony follow up a back-breaking home run from the 3-point line by prancing away in his own rendition of Sam Cassell's famed testicle dance.
Chances are even better that you had never seen Anthony flat on his back and pumping his fists madly ... after taking a charge.
Yet those were two of the standout scenes on a pretty historic Sunday at the Pepsi Center, where Anthony found himself in the fourth quarter of a second-round playoff game for the first time.
He owned it, too.
Anthony's Denver Nuggets had been carried to that point by the unlikely trio of Nene, Chris Andersen and Anthony Carter, on an afternoon when Chauncey Billups -- having been proclaimed during pregame introductions as "the new No. 7" in this town by none other than John Elway -- was largely corralled. But they still needed someone to make sure the physicality that so ruffled the Dallas Mavericks in this Game 1 would not be wasted.
So, Melo promptly rumbled for 14 of his 23 points in crunch time, after managing just two baskets and four fouls through three quarters, ensuring Denver would pull away for a comfortable 109-95 victory. Which, in turn, made it tough for the excitable George Karl to stifle his glee.
Just one game in Round 2? Try telling the coach who raved about the "All-Star-type performance" he got from Carter, gushed about the "incredible" amount of defensive territory covered by Andersen and Carter, and then wove his way to Anthony's day.
Asked what he liked best about it, Karl trotted out one of his George-isms, saying: "His teamness."
"Foul trouble didn't bother him, it didn't freak him out, it didn't lead him to a dark side that we had to worry about," Karl continued.
You can't help but wonder how smart it was for Karl to let himself sound so surprised by that, but you also can't dispute the point. Through those first three quarters, Melo was as frustrated as any Maverick that had been roughed-up by Denver's depth. So you had to be impressed by Melo's response, finally working his way into the game after he and Billups got so much impressive help.
Nene scored 18 of his 24 points in the first half and formed an imposing front-line tandem with Andersen, who emerged as Denver's best counter to Dirk Nowitzki with 11 points, six boards and six memorable blocks. Carter, meanwhile, tossed in 12 points on wholly unexpected 6-for-8 shooting, which kept Billups rooted to the bench as a spectator not far from Elway's courtside seat for the first six-plus minutes of the final period.
The Mavericks' 20 turnovers against Denver's active hands -- eight alone in the fatal fourth -- combined with the Nuggets' 36-13 edge in free throws attempted and a freshly sprained ankle for Dallas X factor Josh Howard were equally key for the hosts.
But in the foreground of the big picture was Anthony, whose offensive flurry finally gave Denver some separation after the Mavs -- for all their troubles dealing with Denver's athleticism, length and aggression -- were somehow still within 86-82 with 10:03 to play.
Getting to the second round for the first time in six tries was a major step for the 24-year-old. Buying into Karl's explanation with 2:58 to go in the third quarter, when Anthony reluctantly subbed out after drawing his fourth foul, might have been another.
"I was in the heat of just getting it going," Anthony said. "[But] we talked it out."
Expounding on possible reasons for Anthony's growing acceptance of such situations, after he was suspended for a game earlier in the season for refusing to come out, Karl said, "Is it Chauncey? Is it [the] gold medal [Anthony won in Beijing]? Is it the coaching staff? I don't care, but he's doing a great job."
The only quarrel here is that Game 1 of his maiden voyage into Round 2 seems a bit too soon for Anthony or anyone else to be uncorking the Cassell dance, no matter how geeked Melo was with the dozen points he strung together that helped Denver stretch that 86-82 lead to 106-89.
Agreed?
We zipped a postgame message to Cassell, one of Melo's mentors from back home in Maryland, in search of clarification.
"Too early for all that," Cassell confirmed via text. "But he's from Baltimore, so it's OK."
Marc Stein is the senior NBA writer for ESPN.com. To e-mail him, click here.
Playoff Dimes past: April 21 | 22 | 23 | 24 | 25 | 26 | 27 | 28 | 29 | 30 | May 1 | 2 | 3
Hawks Handle Heat To Advance To Second Round

By John Hollinger | ESPN.com
ATLANTA -- Joe Johnson took a pass in the corner from Mike Bibby, splashed in his third straight 3-pointer, and then -- in a rare display of emotion from the Hawks' taciturn star -- pumped his fist and let out a roar.
His slump was over. And so was this series.
Atlanta's All-Star guard shot 39.1 percent in the first six games, but he shook off an 0-for-5 first quarter to hit three straight 3s in the second. That sparked a 15-4 second-quarter run, which -- stop me if you've heard this before -- gave the Hawks a double-digit lead they would not relinquish the rest of the night. Atlanta won Game 7, 91-78, as the least competitive seven-game series in NBA history ended with yet another rout.
The Hawks led by as many as 29 in the fourth quarter, and the series didn't have a lead change after the first quarter in any of the seven games. This one essentially ended after Johnson's 3-point explosion -- which included one shot from several feet beyond the arc with Dwyane Wade right in his face.
"I think I was just more aggressive," Johnson said. "I haven't shot a 3 that deep in quite some time. I just said, 'Forget it,' and launched it. I was able to make it and kind of get into a little rhythm."
That little rhythm produced 27 points on 6-of-8 3-point shooting, and it exposed one of the underlying truths of this series: If Atlanta's All-Star could match Miami's All-Star shot for shot, as he finally did Sunday, there was no way Wade's supporting cast could lift him past Johnson's.
Wade wasn't bad, with 31 points of his own, but he needed 25 shots to get them. He outscored the rest of his starting lineup, which mustered just 26 points; the bench did little as well until a burst of cosmetic scoring late in the fourth quarter, long after Wade and Johnson had both checked out of the game.
To see the full story, click here.
Blogging From Lakers Practice

By Shelley Smith | ESPN
LOS ANGELES -- Lamar Odom sat perfectly still. A man was holding a razor to his throat. He barely could move his lips as he pleaded for his life.
OK, he wasn't pleading for his life. He was talking about the impending matchup with the Houston Rockets in Round 2 of the NBA playoffs, and the man holding the razor was the fabulously named barber, Chuck Taylor, who had been summoned Saturday to the Los Angeles Lakers' practice facility for, well, barber duties.
"This is going to be a tough series," Odom said, his lips eerily pursed. "They've got things you can't teach. They like to play together, and they've got pride. And that's dangerous."
And that's what concerns him most as the Lakers prepare for Game 1 on Monday night -- not Yao Ming, whom Odom believes is 7-foot-7.
"Seven-six, 7-7, same thing," Odom said. "He's tall."
Nor the highly anticipated matchup between Ron Artest and Kobe Bryant, who was so tight-lipped with reporters Saturday you might have thought someone had a razor to his throat.
"I don't think Kobe has anything to prove, especially offensively," Odom said. "Ron is great at working off intimidation."
The intimidation he spoke of was the recent proclamation Artest made, calling Portland's Brandon Roy "the best player I've ever played against." Meaning better than Cleveland's LeBron James and better than Bryant. And he repeated it when asked specifically.
And that likely was what caused Bryant to issue so many one- and two-word answers Saturday.
"It's fun," was all Bryant would say about Artest's comments and the growing rivalry.
Odom grew up playing against Artest in AAU ball in New York, so he has seen firsthand how Artest has developed into what Odom called "probably the best perimeter one-on-one defensive player in the NBA."
Artest likely will share duties on Bryant with Shane Battier, who guarded Bryant almost exclusively until the two teams met in March, when Artest made the switch and proceeded to guard Bryant by constantly being in his face with his notorious mouth, which only propelled Bryant to one of his best games of the season.
"I think they're playing a tit-for-tat game," Odom said. "But Kobe is the best."
And that's what the Lakers will count on if Andrew Bynum can't handle Yao, with Odom likely to come off the bench in relief.
The Lakers won all four games against Houston during the regular season. In two of those games, they were without the injured Bynum, and in one, they were without Odom, who was suspended. But they know the playoffs are an entirely different brand of basketball and don't expect the regular-season results to have any effect on what Odom believes the Rockets have that you can't teach: that pride thing.
Shelley Smith is an ESPN bureau reporter based in Los Angeles
Nuggets' Andersen vs. Mavs' Nowitzki

By Kevin Arnovitz | TrueHoop
It's unknown when the trope "matchup nightmare" first entered the basketball lexicon, but I imagine it happened at some point between Magic Johnson's rookie season and the emergence of Kevin Garnett and Dirk Nowitzki.
Nowitzki's versatility makes him a nearly impossible cover. Normally, the primary defensive function of a power forward is to push his guy off the block. Nowitzki, though, neutralizes a good post defender because he actually prefers to hang out at the elbow, where he's one of the best 18-foot jump shooters in the game. When the defender steps out, the taller Nowitzki can shoot his high-arching turnaround shot over most power forwards, or, if he's so inclined, he can put the ball on the deck and drive to the hole. Nowitzki might not be the quickest 4 to the basket, but his defenders have to crowd him because he's such a deadly shooter. If Nowitzki can get that first step, it's a foot race between him and the weak side help. Dirk will win most of those battles because he's a strong and deceptively quick finisher.
To read the entire blog, click here.
By Maurice Brooks
ESPN.com

SUNDAY'S BEST
Joe Johnson, Hawks: After Johnson was held to less than 20 points in five of six playoff games against the Heat, Game 7 looked like it would be more of the same. He missed his first five shots before catching fire from deep on his way to 27 points.
---

SUNDAY'S WORST
Jason Kidd, Mavericks
: The future Hall of Famer turned the ball over just three times in Dallas' first-round series against the Spurs but made eight turnovers in Game 1 against the Nuggets.
---
QUOTE OF THE NIGHT
"When Joe is hitting 40-foot 3s, it's one of those nights."
-- Heat guard Dwyane Wade on Joe Johnson, who went 6-for-8 from deep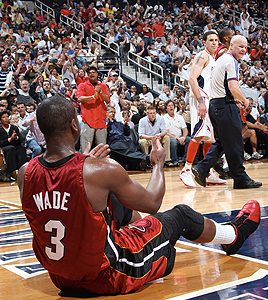 Scott Cunningham/NBAE/Getty
Dwyane Wade and the Heat were knocked down and out by the Hawks in Game 7, bringing Wade's memorable season to a close.
Johnson Shoots Hawks To Win
By Bret LaGree | TrueHoop Network

When he started the game by missing his first five field goal attempts, it would have been difficult to predict that Joe Johnson would end up dominating Game 7, making 10 of his next 13 shots (including 6 of 7 3-pointers), earning four assists, turning the ball over just once, and tallying five steals while also defending Dwyane Wade about as well as one can whenever he got the opportunity.
Miami again did a good job of using Atlanta's defensive philosophy of switching every screen to get Wade matched up with Mike Bibby or Josh Smith as often as possible but Wade failed to make Atlanta pay sufficiently. It's somewhat unfair to characterize Wade's nine trips to the line in Game 7 as "only" nine trips but Miami needed more than that (and probably fewer than 16 jump shots) from Wade to win this game as Udonis Haslem and Michael Beasley were the only Heat players other than Wade to make more than one field goal Sunday.
Even though the Hawks played just seven guys during the competitive portion of the game and Maurice Evans was a non-factor in his 21 minutes of action, Johnson had far more help than Wade, perhaps most significantly from Al Horford. Horford was without his full complement of athleticism (3 of his 6 missed shots were blocked, he got to only three rebounds) but his presence and intelligence solidified the Hawks' defense and improved both the team's ball movement and spacing on the offensive end. The Hawks were +15 during the 32:25 Horford was on the court and -2 during the 15:35 he was off the court.
Bret LaGree's work can be found on the TrueHoop Network's Hawks blog, Hoopinion.
By Marc Stein
ESPN.com

DENVER -- The most widely accepted formula for upsetting the Denver Nuggets in this second-round series demands that the Dallas Mavericks win one of the first two games on the road.
It's not just a goal for the Mavs. It's a must.
It's a must because the Nuggets are oozing confidence and momentum these days. They're great front-runners.
The Nuggets faced almost no duress against New Orleans in Round 1 and fueled up their swagger reserves Sunday with a fourth-quarter combo of Carmelo Anthony's offense and stifling, turnover-forcing D to pull away from the Mavs and record their fifth double-digit victory of the postseason. At 5-1, including that infamous 58-point humiliation of the Hornets, Denver sports an average victory margin in the playoffs of 22.5 points.
Dallas is desperate to steal one of the first two games to put the Nuggets under some unfamiliar early pressure, which theoretically could trigger their volatile side. Yet that'll require improvement in numerous areas Tuesday night when the series resumes, after the Nuggets responded to Dirk Nowitzki's 6-for-6 start by constantly switching long defenders against him (most notably Chris Andersen) and making him work for every ounce of his 28 points and 10 boards.
That might have been tougher if Denver had had more Mavs to fret about -- especially since the Nuggets' defense typically suffers when their offense starts slow -- but Nowitzki had precious little help outside of Jason Kidd's outside shooting. First-half ankle injuries suffered by Erick Dampier and Josh Howard noticeably hampered the mobility of both players, with Dampier particularly helpless inside against the hyperactive Nene.
Howard, for the record, now has a sprained right ankle to go with a left ankle that is likely to require offseason surgery. The Mavs also suffered the indignity of watching Jason Terry, their newly minted Sixth Man Award winner, make less noise than three Denver subs: Andersen, Anthony Carter and Sixth Man Award runner-up J.R. Smith, who had 15 points and six assists in repeatedly punishing the visitors with his penetration.
Worst of all, Dallas looked increasingly shaken by the Nuggets' physical approach once its early nine-point lead was erased, lowlighted by eight turnovers in the fourth quarter alone. While Denver was piling up a whopping 15 steals and 11 blocks as a team, Kidd wound up with an uncharacteristic eight turnovers after just three in the entire San Antonio series, offsetting 6-for-10 shooting that reminded you how calm and steely Kidd historically has been on the road.
Asked about the Mavs' 20 turnovers, which cost them 25 points, Nowitzki said, "When you're out there playing ... it felt like 30."
Said Mavs coach Rick Carlisle: "When the game gets frantic, in their building, it favors them."
Carlisle also had a lot to say about the disparity at the line, wondering aloud -- more than once -- about Denver's 36 free throws compared to Dallas' 13. "It's hard for me to believe," Carlisle said, "that we committed 29 fouls and they committed 19."
He went on to suggest that the Mavs will ask the league to pay closer mind to Denver's active hands "if there's a complaint to be made." On this evidence, though, Dallas will need more than tighter reffing to find the road win it needs to have any shot at winning this series.
I'd expect Antoine Wright to be restored to the starting lineup in Game 2 in place of Jose Juan Barea, whose size wasn't a factor against San Antonio but who likely will continue to be exploited by Denver. But it appears that Dallas, no longer dealing with a team so Tony Parker-centric, will have to have Howard and Terry flanking Nowitzki with big games to have any shot of winning at the Pepsi Center.
Denver sports a 14-game win streak at home and hasn't lost there since March 11.
"It is what it is ... I'm not going to sit here and complain about anything," Nowitzki said of Denver's handsy approach, which included a technical foul-inducing bump on the baseline from Kenyon Martin and one sequence of smothering from Andersen that led to an indescribably off-target airball.
"They had like 30 fast-break points [29 to four, officially], and a lot of those were off turnovers," Nowitzki continued. "Hopefully we do a lot better in the second game taking care of the ball."