Nathaniel S. Butler/NBAE via Getty Images
Before playing Atlanta, LeBron James credits the Cleveland crowd for helping him earn the MVP.

Jeff Gross/Getty Images
LeBron James dons his MVP shoes after accepting the award, then drops 34 on the Hawks.

Photo by Doug Pensinger/Getty Images
Seems like the Nuggets were making a concerted effort to prevent Antoine Wright from scoring here.
Another Cavaliers Game, Another Easy Victory

CLEVELAND -- I'm getting bored.
Seriously, J.A. Adande gets Ron Artest and Yao Ming stunning the Lakers. Marc Stein gets the Denver Nuggets morphing into a bona fide contender right before our eyes. Chris Sheridan gets the Celtics in what has the early signs of another slugfest of a series.
Playoff schedule
WEST FIRST ROUND
WEST SEMIFINALS
Denver 2, Dallas 0
Game 3: Sat., 5 ET, DAL Houston 1, Los Angeles 0
Game 2: Wed., 10:30 ET, LAL

EAST FIRST ROUND


EAST SEMIFINALS
Orlando 1, Boston 0
Game 2: Wed., 8 ET, BOS

Cleveland 1, Atlanta 0
Game 2: Thu., 8 ET, CLE
Me?
I'm at The Q watching yet another Cavaliers demolition.
Don't get me wrong. The fan in me is enjoying Cleveland's march through the East.
After all, my family moved to Cleveland when I was a junior in high school. I went to nearby Oberlin College, then worked at both The Cleveland Plain Dealer and The Akron Beacon Journal. My first big break in this business came when I got an out-of-nowhere promotion from prep reporter to Cavs beat writer at The Beacon Journal back in 1995. Heck, my twin daughters were born at The Cleveland Clinic.
So I'm digging the Cavaliers' renaissance.
But can a brother get a little drama? I mean, these games are becoming as predictable as Ricky Hatton.
The most suspenseful moments come before the contest even begins, when I'm on the edge of my seat, waiting to see if LeBron and Co. perform any new skits, handshakes or group hugs during the player introductions.
Tuesday's 99-72 rout of Atlanta was the fifth Cavs playoff game I've covered and not once has their opponent come within single digits of them.
Their games have become more like clinics, like interactive seminars on the art of team basketball, rugged defense, spacing the floor, unity and fun. The Pistons and now the Hawks are just props in the demonstration.
I know what you're saying. "What do you expect? They're not exactly facing league juggernauts.'' But don't sleep on Detroit and Atlanta.
Detroit might've made some noise had it gotten defending champ Boston or Orlando in the first round. And these Hawks that the Cavs just treated like some locals in an And1 Mixtape are better than the Atlanta crew that took the Celtics to seven games in the first round last season.
I actually thought I might be in for a doozy Tuesday when Atlanta showed some gangsta tendencies before the game. Refusing to partake in the lovefest that was LeBron's MVP presentation, they hustled off to the locker room just before David Stern gave LeBron his hardware. It seemed hard-core, like "Yo, we ain't here to honor no King James.''
Bracing myself for a battle, I thought, "Uh-oh, the Hawks came to play!''
And they probably did. But it just doesn't matter. The Cavaliers are in a groove that would make Earth, Wind and Fire envious.
In fact, even when they were rusty in the first half, they were several steps ahead of Atlanta. After eight days off, the Cavs needed 24 minutes to work out the kinks.
Well, all but one of them did.
James was fired up from the start. A jovial guy to begin with, LeBron is clearly hyped, and even touched, about being named MVP. You could see that he was a bit choked up when the 20,562 -- more than half of them wearing black "Wit -- MVP -- Ness" shirts -- stood and serenaded him with cheers when Stern handed him the award.
"These fans are the ones that have seen me grow from an 18-year-old kid to, honestly, a 24-year-old man,'' he said. "It was definitely an emotional time."
Sensing that his teammates might be a bit sluggish after the long layoff, LeBron set the tone early, driving from the left wing for a two-handed dunk on the first possession of the game and racking up 16 of his 34 points, five of his 10 rebounds and two of his four steals in the first quarter.
The Cavs pushed the lead from four to 11 at the start of the second quarter with LeBron on the bench, but then allowed Atlanta to charge within five points at halftime. You could see Cleveland wasn't itself, mainly because the Hawks were shooting 56 percent from the floor. Still, even though the Cavs had made only 43 percent of their shots, they were up.
When they finally shook the rust off in the third quarter, it was a wrap. Clamping down on Mike Bibby and Josh Smith, they held the Hawks to 9 of 30 shooting (30 percent) in the second half in pushing the margin to 16 by the end of the third.
"In the first half, guys had to get into the swing of things,'' said Mo Williams, who followed James with 21 points, his fifth game of 20 or more points in five contests with Atlanta this season. "The playoffs are a whole nother level, and no matter how much you practice, you can't duplicate a playoff game. I was waiting for my second wind the whole first half."
But that's the point. A Cavs team that wasn't even right for half the game was still well in control of Atlanta.
I told Williams that the Cavs' games -- at least from a competitiveness standpoint -- were getting boring. He laughed and said the politically correct thing.
"Oh, there's going to be some close calls in this series," he said. "They're going to have guys have big games. Somebody's going to step up for them and we're going to have to do what we can to meet the challenge when it happens."
If it happens.
Chris Broussard is a senior writer at ESPN The Magazine.
Playoff Dimes past: April 22 | 23 | 24 | 25 | 26 | 27 | 28 | 29 | 30 | May 1 | 2 | 3 | 4 | 5
No Lingering Tension After Martin's Hard Foul On Dirk

By Marc Stein | ESPN.com
DENVER -- Dirk Nowitzki and Kenyon Martin didn't engage in the well-worn NBA custom of tapping fists before Game 2's opening tip, but Nowitzki insists that no tension lingers from Martin's flagrant foul in the first quarter of Game 1.
"We've never had a problem with anything," Nowitzki said at Tuesday's morning shootaround.
Nowitzki then recounted a later Game 1 run-in with Martin that had both of them laughing after Martin stood his ground while the Mavs' All-Star forward went through an extensive sequence of fakes.
"He asked me what the hell am I doing," Nowitzki said, laughing again as he told the story. "I told him I was lost."
Martin, though, has remained mum to the media since being hit Monday with a $25,000 fine for the foul, which was also upgraded by the league office from a technical foul to a flagrant foul.
The Nuggets have complained loudly and often about the ruling, openly questioning why Martin was fined when multiple hard fouls committed by Boston's Rajon Rondo in the Celtics' first-round series with Chicago drew no fines. Martin's agent, Brian Dyke, plans an appeal of the fine through the NBA Players Association and was spotted pregame in a Pepsi Center corridor huddling with NBA executive vice president of basketball operations Stu Jackson, who doles out the league's fines.
The Nuggets were told Monday that Martin's history of hard fouls, both in Denver and New Jersey, factored into the decision. Another potential factor: Martin spoke openly before this second-round series about the Nuggets' plans to be physical with Nowitzki, which was bound to be noted by Jackson's staff after similar comments from Dallas' Erick Dampier about greeting San Antonio's Tony Parker with hard fouls in the first round were subjected to a formal league review.
"It's amazing,'' Karl said. "The NBA's amazing. That's all I'm going to say, other than I think it's way out of line and crazy.'"
Nowitzki himself described the fine as "a little unnecessary." Regarding the shove itself from Martin along the baseline that knocked him down, Nowitzki said: "I didn't think it was that bad."
His harshest words were reserved for Nuggets vice president of player personnel Rex Chapman, who suggested Monday night that Nowitzki made the foul look worse because he's a proficient flopper.
"I didn't know Rex Chapman was still alive," Nowitzki said, before proceeding to dispute the flopping charges.
Chapman retorted by saying that "the good-looking, high-jumping Rex Chapman with the sweet mullet passed away years ago, but the ugly bald guy is still wandering around."
Yet there was no real heat in that exchange, either. Chapman and Nowitzki have known each other for years through mutual friend Steve Nash and actually exchanged pleasantries after crossing paths following Dallas' shootaround.
The closest thing to real tension came from an unlikely source, some 660 miles away in Dallas, where Martin's sister was invited to call into Michael Irvin's radio show Tuesday on ESPN Radio (103.3 FM) after she e-mailed Irvin to protest repeated references to her brother -- who played his high school ball in Dallas -- as a thug.
"I just want to go on the record and let you guys know that you're entitled to your opinions, and there's nothing wrong with that because I have a lot of opinions about a lot of things as well, but the one thing that I want to make clear -- and very clear -- is that my brother is not a thug," Tamara Martin Harris said during her interview.
"He's a human being that's doing his job. And it's really funny to me that you are labeling him as a thug, but if he was playing soft then he's not worth the money that they're paying him, just like [critics in Dallas] do with Dampier because he doesn't go in hard and he's not physical, [so] he's not worth the money that we're paying him."
When the teams finally hooked up for real late Tuesday night, Martin guarded Nowitzki only part-time after picking up two early fouls and struggling for the second straight game to contain him in one-on-one situations. Nuggets coach George Karl continues to resist double-teaming Nowitzki, so instead he gave a variety of Denver defenders -- including Chris Andersen, Nene, Carmelo Anthony, Linas Kleiza and Dahntay Jones -- turns versus Nowitzki when Martin switched off him.
Marc Stein is the senior NBA writer for ESPN.com. To e-mail him, click here.
Winning Big In Game 1 Of Conference Semifinals

By Elias Sports Bureau
The Cavaliers routed the Hawks, 99-72, matching the largest margin of victory in the opening game of a conference semifinal series over the last nine years. The Cavs were on the losing end of the last second-round Game 1 decided by 27 points (or more) -- a 113-86 loss at Detroit in 2006.
No NBA team has won a playoff series after losing Game 1 by more than 25 points since the Lakers rebounded from a 148-114 pasting to defeat the Celtics in the 1985 NBA Finals.
By Maurice Brooks
ESPN.com

TUESDAY'S BEST
Carmelo Anthony, Nuggets
: After being held to just 10 points through three quarters, he heated up in the final period, scoring 15 of his 25 as Denver cruised to a 117-105 win over Dallas.
---

TUESDAY'S WORST
Atlanta Hawks
: Playing in the second round for the first time in 10 years, they came out flat in the second half, making 9 of 30 shot attempts and scoring just 28 points in a 27-point loss.
---
QUOTE OF THE NIGHT
"What we will bring ... is efficiency, transparency, honesty and integrity back to the mayor's office."
-- Former Pistons standout Dave Bing, who was elected Tuesday as Detroit's mayor through the end of the year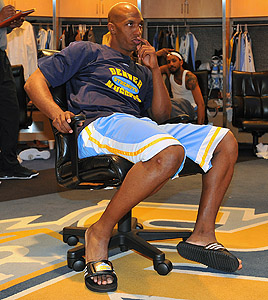 (Photo by Garrett Ellwood)
Chauncey Billups had 18 points, eight assists and three steals for Denver, which pulled away from Dallas in the fourth quarter of its Game 2 win. The Nuggets lead the series 2-0.
Sore, Bruised And Scratched
By Shelley Smith | ESPN

LOS ANGELES -- Kobe Bryant sounded a little congested but insisted his sickness was gone.
"I feel fantastic," he said.
Yao Ming had a big bag of ice Saran-wrapped around his right knee but insisted his knee was mostly healed.
"It's a little sore," he said. "But it's fine."
And Shane Battier, his left eye purple and swollen beneath four stitches, insisted his wife told him she still loved him and said he was beautiful.
"She's a good liar," he said.
It was hard to tell, really, who exactly was telling the truth and who was spinning propaganda for the ears of the enemy. There are those who believe Bryant was sicker than he let on for Game 1's 100-92 loss to the Rockets, and there were those who were terrified the Rockets' chances were over as their 7-foot-6 superstar lay writhing on the ground in obvious pain after bumping knees with Bryant, only to walk back into the game minutes later.
So that leaves Battier's wife. "OK by me," he said, laughing.
Tuesday revealed a few things: Pau Gasol's scratches on his right arm (to go with the gouge near his eye), which initially many thought he suffered in the afternoon's physical, spirited practice, were actually from the game. And Andrew Bynum now has to wear a protective sleeve over his metal knee brace because "they said I was cutting people [Monday] night."
OK, on to Round 2, which most expect to be even rougher than Round 1, which, at final tally, bloodied Battier and Gasol and, as Brent Barry said, "took a lot of oxygen out of the whole nation of China," with Bynum giving a new meaning to slicing and dicing.
"I think Game 2 is going to be more physical than Game 1," said Yao, who wound up playing 40 minutes and finished with a team-high 28 points. He said he was able to participate in the full practice Tuesday. "I expect it to be much harder, higher intensity, and I believe Kobe will stand up. I believe that."
So do the rest of the Rockets and the Lakers, for that matter. After practice Tuesday, Bryant said he felt "spirited," and was "anxious to see how we respond."
Usually, that's bad news for the opponent. But the Rockets plan to try anyway.
"I felt we did a good job [in Game 1] every time he got the ball," said Battier, who, with Ron Artest, drew the defensive assignment on Bryant. They were reasonably effective, but Bryant still finished with a game-high 32 points on 14-of-31 shooting. "He's so good, we have to give him different looks. One man in Game 1, another man in Game 2, and then make adjustments as we go. It's a constant evolution of trying to figure out a way to defend the best player on the planet."
Bryant said the Lakers' practice was, "productive," and then paused and said, "Do I sound like Phil?" He clearly was in a good mood, either having been humbled by the unexpected loss or recharged by his teammates, who he says are "on edge, pretty energetic and excited about" the challenge of having to come from behind to win the series.
"Last year, we had a cakewalk to the NBA Finals, really, and it feels good to be tested a little bit," he said. "If you want to be a champion you've got to be tested a little bit. You've got to answer the call. I'm anxious to see how we do."
Shelley Smith is an ESPN bureau reporter based in Los Angeles
Allen Has To Outscore Redick
By John Hollinger
ESPN.com

I'll go out on a limb and say that if J.J. Redick continues to outscore Ray Allen, the Magic will advance. Of all the numbers from Monday night, the most shocking was Allen's inability to take advantage of Redick at the offensive end. The Celtics ran some pin-downs for Allen to free him for jumpers, but Redick contested most of them very well. And when Mickael Pietrus came off the pine, Allen struggled against his length, most notably when he drove for a baseline layup and Pietrus rejected it.
Actually, the Chicago Bulls should get a tape of this game and watch it, because the Magic put both Celtics guards in lockdown. Rafer Alston did a great job tactically against Rajon Rondo, just backing, backing, backing up and forcing Rondo to shoot floaters and jumpers. This also kept the help from having to come too soon and opening up other players; that's why Rondo finished with eight assists and seven turnovers.
Of course, it helped both Redick and Alston that there was a flyswatter behind them, such as when Dwight Howard materialized from out of nowhere and rejected an Allen floater into the Back Bay.
To see the four other Insider Gems, click here.
Legler On Rockets vs. Lakers

Tim Legler thinks that the Lakers need to speed the game up against the Rockets and that Ron Artest has grown up a lot.
The Herd with Colin Cowherd