AP Photo/Chris Carlson
Kobe Bryant gets an earful from Ron Artest, who took umbrage at an elbow to the throat.

AP Photo/Chris Carlson
Pau Gasol (22 points, 14 rebounds) sends one home in the Lakers' Game 2 win over the Rockets.

AP Photo/Elise Amendola
Eddie House, right, takes issue with Rafer Alston, who had just slapped House upside the head.

Brian Babineau/NBAE via Getty Images
Celtics greats Bill Russell and Tommy Heinsohn take in Game 2 between Boston and Orlando.

Brian Babineau/NBAE via Getty Images
Where's Waldo? Dwight Howard has at least one supporter in the sea of Celtic green in Game 2.
Lakers-Rockets: Let's Get Ready To Rumble

LOS ANGELES -- Flip the old NBA adage: This Lakers-Rockets series has really started now that the home team won a game.
Playoff schedule
WEST FIRST ROUND
WEST SEMIFINALS
Denver 2, Dallas 0
Game 3: Sat., 5 ET, DAL Houston 1, Los Angeles 1
Game 3: Fri., 9:30 ET, HOU

EAST FIRST ROUND


EAST SEMIFINALS
Orlando 1, Boston 1
Game 3: Fri., 7 ET, ORL

Cleveland 1, Atlanta 0
Game 2: Thu., 8 ET, CLE
Game 2 had a full menu of items, including a Kobe Bryant 40-point scoring outburst, a Ron Artest Ron-Ron outburst, disappearing 7-footers, and enough flagrant and technical fouls and ejections to submit a double-DVD for Stu Jackson to review. (And that doesn't even include the Houston player sent to the locker room by his own coach or the official cursed out by Jack Nicholson.)
The Lakers' 111-98 victory evened the series at a game apiece, and now there's a whole Red Cross bank's worth of bad blood.
Instead of coaching adjustments, the next moves belong to Jackson, the NBA's executive vice president of basketball operations who attended the game at Staples Center. He will have a busy day on his hands when he gets off his red-eye flight back to New York.
Most significant is an elbow Bryant threw that caught Artest in the throat as they were jockeying for position under the basket. The NBA rulebook states that a player must be ejected for "an elbow foul which makes contact above shoulder level." By the standard that's been set in these playoffs, Bryant should be suspended. Orlando's Dwight Howard was when he elbowed Philadelphia's Samuel Dalembert in the head. Superstar or not, the head and neck have been deemed off-limits for elbows. (The lightest tap of the playoffs, Rafer Alston's slap upside Eddie House's head in the Magic-Celtics game Wednesday night, could also fall in this category.)
Not only was Bryant not ejected, he wasn't called for a foul on the play. Artest was.
Feeling that justice wasn't served, Artest took some vigilante action, running across the court to Bryant, letting Bryant know that Artest is not to be, uh, messed with. It was probably more about planting a seed that Artest might just go off in Game 3, that next time there could be dire consequences.
"I was hoping the referees would tell him to stop, but then nobody told him to stop, so I had to tell him to stop," Artest said.
Bryant wanted no part of Artest. He raised his hands and looked away, afterward claiming to not even have heard Artest.
Kobe's explanation for the play: "We were both fighting for position. He was shoving me under the basket. I was just trying to establish position. It wasn't malicious at all."
Artest might get fined but won't be suspended. His ejection was more a response to the escalating tension in the game and an attempt to get it under control. Viewed on a TV screen in an office a continent away, it won't warrant further punishment.
The reason Artest got tossed was because the stakes were higher after Derek Fisher's flagrant 2 foul for delivering a hockey-style check to Luis Scola as Scola ran up to set a back screen. Flagrant 2 fouls result in an automatic ejection, plus review to determine if a suspension is warranted.
The explanation put forth by Fisher and advocated by Phil Jackson was that Fisher just wanted to fight through the screen and it looked worse because Scola stopped short of where Fisher expected him to be.
Uh-uh. We haven't seen someone take so long to load up since people were fighting with muskets. But what could keep Fisher in the lineup for Game 3 was that Fisher hit Scola square in the chest -- below the shoulders. It's similar to the justification for not suspending Rajon Rondo for his roller-derby toss of Kirk Hinrich into the scorer's table.
The Fisher foul followed some chatter between Lamar Odom and Scola, after Scola fouled Odom on a drive, with Luke Walton adding some commentary as well. Official Joey Crawford dished out technical fouls to all three.
These were the Lakers as we haven't seen them in these playoffs. They were edgy, with an attitude, fueled by trailing a series for the first time and people questioning their championship testiness. This was the response Bryant wanted to see.
"It's good for us," Bryant said. "You have a challenge here in front of you. You want to be champions, you have to respond to it."
He took it upon himself to take out his frustrations on Shane Battier, lighting up from the beginning and making 16 of 27 shots overall. After almost every basket he yelled to the fans, to Kevin Harlan and Doug Collins, or to Battier himself that "He can't guard me."
Finally, in the fourth quarter, that earned him a technical foul.
Nicholson escaped without punishment when he cursed and made a lewd gesture at official Bill Spooner. But Houston's Von Wafer wasn't so lucky, getting dismissed for something he said to Rockets coach Rick Adelman on the bench.
Whatever ticked off Wafer, he can't be as frustrated as Lakers big man Andrew Bynum, who started in Game 1, but in Game 2 lost his spot to Lamar Odom for the second consecutive series, then wound up playing only eight minutes.
Bryant's 15 first-quarter points staked the Lakers to a 39-25 lead, but it dwindled to a six-point advantage while Bynum was on the floor to start the second quarter, and by halftime the score was tied at 57.
But Bryant poured in another 12 in the third quarter as the Lakers regained control. He easily won the superstar battle on a night Yao Ming scored only 12 points. The Lakers took him out with more fronting, and he took himself out with five personal fouls.
And the Lakers won the decision on the night the series took on a decidedly nastier tone.
"They're getting hammered by their media for not being tough enough," Battier said. "I guess they wanted to come out and show they're tough guys, making some plays like that. That's their mind frame."
Fine, Artest seemed to say. Be that way.
"We're naturally tough," he said. "We're naturally like that."
The Rockets leave with the split -- or should we say split decision?
Round 3 -- er, Game 3 -- is Friday in Houston (ESPN, 9:30 ET).
"This one looks like it's shaping into a good, physical series," Bryant said. "It's fun, '80s style."
J.A. Adande is an ESPN.com senior writer and the author of "The Best Los Angeles Sports Arguments." Click here to e-mail J.A.
Playoff Dimes past: April 23 | 24 | 25 | 26 | 27 | 28 | 29 | 30 | May 1 | 2 | 3 | 4 | 5 | 6
Seven Questions A Fisher Suspension Would Raise

By Kevin Arnovitz | TrueHoop
LOS ANGELES -- After delivering a blow to Rockets forward Luis Scola in the final minute of the third quarter Wednesday night, Derek Fisher may not be in uniform for Game 3 of the series in Houston (ESPN, 9:30 ET). His absence Friday night would leave a gaping hole at the point guard position for the Lakers, and pose a number of questions:
• Could Fisher's one-game absence be a blessing in disguise? Though Fisher's shooting improved with the start of the postseason, he's made only 37 of his last 101 from the field. His defense against the speedier Aaron Brooks in the Lakers' Game 1 loss was even more problematic. While losing a starter is never something a playoff team wants to contend with, it's not difficult to write a narrative that includes the emergence of Shannon Brown or the redemption of Jordan Farmar as the key to the Lakers' playoff awakening.
• Would a Fisher suspension fire up the Lakers? The Rockets achieved an emotional peak at the very outset of the series that the Lakers initially struggled to match. The opportunity to wave the bloody shirt in Game 3 and win one for their floor general could be additional motivation for the Lakers in what promises to be a hostile environment.
• How will the Lakers cope with the loss of one of their most dependable spot shooters? Shooting struggles aside, Fisher is a master at finding space for himself along the arc for open shots within the Lakers' system. While the presence of open perimeter shooters might not be as vital to the Lakers as to other offenses around the league, Fisher -- slump or no slump -- demands a level of attention from the defense that neither Brown nor Farmar can. Brown hit on 37.8 percent of his 3-point attempts this season, while Farmar shot at a 33.6 percent clip from beyond the arc.
• Would the Lakers get faster without Fisher? Game 2 featured 95 possessions from each side, and that number is deceptively high when you consider Houston's 20 turnovers. Farmar prefers to push the ball, while Brown executes a more controlled brand of offense. With Farmar at the point, the Lakers might be able to inch the pace factor of the series -- currently being played in the mid-90s -- closer to triple digits.
• Who would better serve the Lakers' post players? Farmar has worked with the Lakers' system for three years now, but he's most comfortable in a drive-and-kick scheme. Brown's size, along with his ability to see the court and execute well-timed entry passes without disrupting the motion of the Lakers' offense, would be of better help to Pau Gasol and Andrew Bynum. "I'm still learning," Brown said Wednesday night of the Lakers' offense. "But I have a good grasp of what's going on."
• What about defense? Advantage Brown. Even in his 17 minutes Wednesday, Farmar struggled to contend with Houston's hard picks. He has an unfortunate tendency to be taken out of plays in half-court sets, which leaves opposing guards a lot of space to either shoot or penetrate. Brown has proved to be a capable defender for Phil Jackson, fast enough to stay with quick point guards and strong enough to deal with bigger shooting guards.
• Would Jackson consider Sasha Vujacic for the bulk of the point guard minutes? It's certainly conceivable. Prior to Brown's arrival, Vujacic was seeing minutes at point guard. The 1 in Phil Jackson's system requires fewer traditional point guard duties. With strong ball handlers like Kobe Bryant and Lamar Odom in the starting lineup, Jackson could opt for a veteran like Vujacic, and still have Brown and Farmar as options off the bench.
To read the entire TrueHoop blog, click here.
By Maurice Brooks
ESPN.com

WEDNESDAY'S BEST
Kobe Bryant, Lakers
: He made sure there would be no repeat of Monday's home loss to the Rockets by scoring 40 points on 16-for-27 shooting as the Lakers tied the series.
---

WEDNESDAY'S WORST
Yao Ming, Rockets
: He spent the entire game in foul trouble and attempted just four shots on the way to a quiet 12-point night.
---
QUOTE OF THE NIGHT
"All I did was hit a shot, turn the other way and I got hit upside the head. I guess he was tired of getting hit upside the head."
-- Celtics guard Eddie House on being slapped by the Magic's Rafer Alston
• See Wednesday's daily leaders
Carrying The Load For Boston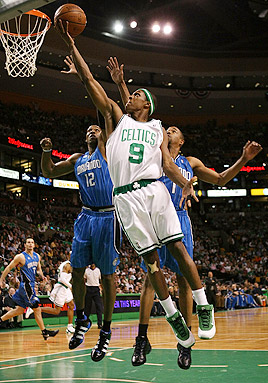 (Photo by Elsa/Getty Images)
Rajon Rondo had a triple-double (15 points, 18 assists and 11 rebounds) and Eddie House dropped in a career playoff-high 31 points, including going 4-for-4 on 3-pointers, as the Celtics knocked off the visiting Magic.
Rondo Comes Out Of His Shell
By Chris Sheridan
ESPN.com

BOSTON -- We're going to take you beyond the obvious Wednesday, and we're not going to take a long, hard look at Rajon Rondo's triple-double so much as we're going to take a longer, more insightful look into Rajon Rondo the person.
Because that person, for some reason, made a conscious decision that he was going to come out of his shell Wednesday night. No more Mr. Super-Shy. No more Brand Bland.
To read the column, click here.
By Eric Neel
ESPN.com

LOS ANGELES -- The first question for Kobe Bryant at the postgame news conference was about what Ron Artest had said to him when he ran across the court and got up in his face late in the middle of the fourth quarter. "Nothing," Kobe replied with a slight smirk and then reiterated: "Nah, he didn't say anything. Nothing. I didn't hear anything."
In the Lakers' locker room after the game, someone asked center Pau Gasol if there was more talking than usual out on the floor, and he said, cutting the line of inquiry short with a kind of mocking affirmation, "Yes, correct."
After a reporter asked ejected Lakers point guard Derek Fisher whether the Lakers were trying to send a message with their physical play, he explained, simply and cryptically, "We have to be who we are."
And so it went in most every postgame interview.
Loose lips sink ships.
Betray nothing, remember everything.
If the most obvious measures of how intense this series has become were the five technical fouls, two ejections, and myriad scowls and scuffles on the floor Wednesday night, the most intriguing evidence of that intensity came afterward, as the players held their tongues and let their eyes -- everyone with a far-eyed stare equal parts determination and relish -- do the talking.
They kept things civil, understated, barely acknowledged.
And it's hard to explain, but watching them, you knew, precisely because of that civil discourse, precisely because they were taking shelter in short answers and trotting out clichés like Crash Davis, that they were loving where this series has gone, that they were itching for Round 3. You knew, because they refused to tell you so, that this thing, like a great novel, was from here on out going to be a story governed by angers and resentments and suspicions and betrayals and terrific, sometimes violent, and unavoidable collisions.
Rockets Need To Check Egos
By Brody Rollins | TrueHoop Network

Kobe Bryant was spectacular Wednesday night, but after the first 30 minutes of play the Lakers were no closer to victory despite a seemingly perfect performance.
For all the criticism leveled against Bryant that he can't win a championship without Shaquille O'Neal, he proved the critics wrong in the second half by distributing the ball just as effortlessly as he was draining shots over Shane Battier.
Which leads to my second point, that perhaps no ejection was more deserving than the one Rockets coach Rick Adelman leveled against Von Wafer early in the fourth quarter. For many, the Rockets' playoff hopes evaporated when Tracy McGrady opted for season-ending surgery in February.
Instead, what formed in his absence was a group of role players and hustlers defined by the team-first personalities of Ron Artest and Battier. The facts behind Wafer's dismissal remain mysterious, but there is little doubt that his lack of effort on defense and propensity for playing a one-on-one game led to his confrontation with Adelman.
In a series where the Rockets are clearly outmatched on a level of pure skill, there is no room for players who don't forfeit their egos at the door.
Rollins' work can be found on the TrueHoop Network's Rockets blog, Rockets Buzz
By Elias Sports Bureau

Kobe Bryant scored 40 points in the Lakers' series-tying victory over the Rockets. This is the fourth consecutive postseason in which Bryant has had at least one game with 40 or more points. Only four other players in NBA history had a 40-point game in each of four straight playoff years: Michael Jordan had an eight-year streak (1985-1992) and a four-year streak (1994-1997), while George Mikan (1948-1951), Elgin Baylor (1959-1962) and Allen Iverson (1999-2002) had four-year streaks.