Nathaniel S. Butler/NBAE/Getty Images
LeBron James and and the Cavaliers have won their first six playoff games by double digits.

Gregory Shamus/Getty Images
Familiar sight: LeBron and Mo sitting on the bench while the reserves protect a big lead.
Cavaliers Taking Playoff Opponents To School

CLEVELAND -- Delonte West once told me he thinks everyone on Cleveland's roster was a class clown back in the day.
Playoff schedule
WEST FIRST ROUND
WEST SEMIFINALS
Denver 2, Dallas 0
Game 3: Sat., 5 ET, DAL Houston 1, Los Angeles 1
Game 3: Fri., 9:30 ET, HOU

EAST FIRST ROUND


EAST SEMIFINALS
Orlando 1, Boston 1
Game 3: Fri., 7 ET, ORL

Cleveland 2, Atlanta 0
Game 3: Sat., 8 ET, ATL
But if the NBA were a school, Principal Stern would be handing out merit badges to the Cavaliers, parading them around as role models during packed assemblies in the gymnasium, praising them to parents and colleagues alike as a delight, a joy and a pleasure to have on campus.
While the little terrors in Los Angeles, Houston, Boston, Orlando and Denver take cheap shots at each other -- all but meeting shirtless on the playground to knuckle up -- the Cavaliers are all smiles, skipping off to class arm in arm, joshing innocently with one another, getting straight A's on their progress reports.
They have yet to take their Finals, of course, but so far they've been nothing but model students.
I can almost hear an exasperated Stern now, face red as a Rockets jersey, paddle in hand:
"Rafer, why can't you be more like Mr. Williams? Have you ever seen him haul off and smack an opponent on the back of the head? If you kept your cool like those Cavaliers, you'd be on the court with the rest of your teammates in Game 3 instead of in detention. This isn't the playground at P.S. 131, young man. Such thuggish behavior will not be tolerated here!'
"And how about you, Mr. Fisher? What do you have to say for yourself? I have to tell you, I'm more than a little bit disappointed. I didn't expect this from you -- body checking poor Mr. Scola like that. You could have broken his jaw. Do you think Mr. West would ever do something like that?'
Compared to the chin checking and dysfunction going on elsewhere -- Kenyon Martin sending Dirk Nowitzki flailing toward the baseline with a forearm shiver; Kobe Bryant and Ron Artest throwing 'bows and going nose to nose; Von Wafer being sent to his (locker) room by Rick Adelman -- Cavs-Hawks is the series from Mayberry.
It's "Happy Days" on TV Land in a world full of raunchy MTV reality shows.
The Q's 20,000-plus fans stand in unison in burgundy T-shirts, waving white towels at their heroes. Rick Astley's "Never Gonna Give You Up" blares from the loudspeakers as grinning spectators, young and old, sway to the corny '80s beat. Moondog, the team mascot, and nameless Cavs employees entertain folks with playful skits on the JumboTron.
With the Cavs acing every test they've taken, it's like some sort of hoop utopia in here.
Even the defenseless Hawks, walloped 105-85 in Game 2 Thursday night, get caught up in the frivolity. They're being punked like Ashton Kutcher -- LeBron throwing down Dunk Contest slams in traffic, 7-foot-3-inch Zydrunas Ilgauskas tossing no-look feeds over his shoulder, the jump-shooting Wally Szczerbiak backing folks down like a brute for points in the paint -- and yet they can't seem to muster up any disdain for their good-humored hosts.
Zaza Pachulia, a bulldog who scuffled with seemingly every Miami Heat player in the first round, taps Mo Williams on the chest, acknowledging that he fouled him in the second quarter. Maurice Evans, his team trailing by 18 less than 18 minutes into the game, extends a hand to James, picking him up after fouling him on a drive to the basket.
These are the same Hawks who went all WWE on the Celtics last season, mean-mugging and talking so much trash they had Paul Pierce yelling obscenities and throwing up mysterious signs with his hands.
But here, it's as if Atlanta, which bickered in the press about strategy after Game 1, admires the harmony and chemistry the Cavs have, wishing they could be part of it.
"They're out there laughing and joking and having fun," Evans said after the 27-point shellacking in Game 1. "And that in itself is demoralizing -- when you have a team full of guys just playing together and picking you apart.
"It doesn't matter if it's the first quarter or the fourth quarter, they constantly put pressure on you from all over the floor. And, to be honest, we need to copy that style a little bit. It has to be a team thing."
While others are fighting to the death to advance, the Cavaliers are making such a mockery of the first two rounds that some are wondering if they could use a little adversity. I mean, they're going to be challenged at some point. How will they respond when their lead is only three points instead of 36, as it was Thursday?
James, whose team is 6-0 with a victory margin of 18 points this postseason, isn't concerned about that.
"If a team can stay away from it and win a championship, why not?" he said, when asked if a club needs to face adversity. "We're ready for anything. We don't go into a game saying 'win by 20' or 'win by double digits.' We go into a game to execute and take one possession at a time and try to get better. If that causes us to win by 20 or causes us to win by two, we're ready for that challenge."
Let's be honest: There can be fun and value in fighting -- fighting to overcome an incredibly tough opponent, fighting tooth and nail to reach your goal. To that end, James says the Lakers and Rockets and Celtics and Magic aren't the only ones fighting.
They just aren't winning by knockout.
"I'm having fun," James said, when asked if he longs for some of the scuffling and nastiness on display in some of the other series. "You're not? Sorry. I'm having a ball."
And when he's watching the fun-loving Cavs, so is Principal Stern.
Chris Broussard is a senior writer at ESPN The Magazine.
Playoff Dimes past: April 24 | 25 | 26 | 27 | 28 | 29 | 30 | May 1 | 2 | 3 | 4 | 5 | 6 | 7
Cavaliers Continue To Have Fun While Winning

By John Krolik | TrueHoop Network
Long before the final horn finally put the Atlanta Hawks out of their misery Thursday night, the Cavaliers had removed any doubt about the outcome of their sixth consecutive blowout win to begin these playoffs. At the forefront of the Cavs' onslaught on the Pistons and Hawks has been league MVP LeBron James, leading all scorers yet again with 27 points in only 31 minutes.
After winning the MVP in a landslide, James has stepped up his game in the playoffs, and Thursday night his talents were on full display as he produced a highlight reel most players would take a full season to assemble: throwing down an alley-oop, slipping a no-look Houdini touch pass to Wally Szczerbiak on the fast break, driving directly through a waiting Hawks defense for a punishing reverse slam at the end of the first quarter, and somehow backhanding a pass from the top of the 3-point line to Anderson Varejao under the basket, overpowering the fundamental guidelines of basketball strategy and human physiology. Oh, and there was the 40-footer to end the half. The step-back 40-footer.
But there's another element to the effect James is having on this team, and the most revealing play James made came on a seemingly meaningless play with nine minutes to go in the second quarter. In fact, LeBron wasn't even on the court when it happened. As Mo Williams got ready to take a jump ball against Flip Murray, James was standing up, fully engaged, arms linked with little-used reserve Tarence Kinsey. James worked just as hard to create energy off the bench as any towel-waver in the league. When Williams won the tip, the bench went absolutely wild, with LeBron showing far more emotion than he did after making any of his own ridiculous plays.
Top to bottom, there are teams in these playoffs more talented than the Cavaliers. But over the 82-game season (well, 81 of those games), and so far in these still-young playoffs, no team has shown a more consistent sense of purpose and relentless drive than the Cavaliers have. Spurred on by the type of energy shown by LeBron during that tip, the Cavaliers haven't shown an "on/off switch." They haven't leaked leads. They haven't had sluggish starts. On Thursday night, the entire team was aggressive and disciplined in its defensive rotations, and everyone, up to and including 7-foot-3 Zydrunas Ilgauskas, was on the floor and fighting for every loose ball. Offensively, the team didn't settle for jumpers, attacking the net and ruthlessly exploiting the Hawks' weak perimeter defense possession after possession.
With how easy he can make the game look and his tendency to take a "just how good am I?" shot from time to time, James can occasionally appear, as the studio crew suggested during halftime, that basketball is merely a "game" to him while he's on the court. But the leadership, hunger and drive that LeBron instills in the Cavaliers even when he's not on the floor shows that the Cavaliers are taking every minute of every game very, very seriously. That's bad news for anyone looking for the Cavaliers to come off their unstoppable pace anytime soon.
To read more from Krolik, check out his TrueHoop Network blog, "Cavs: The Blog."
By Maurice Brooks
ESPN.com

THURSDAY'S BEST
LeBron James, Cavaliers
: His playoff averages of 31.5 points, 9.7 rebounds and 6.3 assists are even more impressive when you consider he spends the end of most games on the sidelines cheering for the second unit. He scored 27 in Game 2.
---

THURSDAY'S WORST
Josh Smith, Hawks
: Which is worse, that the athletic forward grabbed just one rebound or that he shot 2-for-13 on the way to an eight-point night?
---
QUOTE OF THE NIGHT
"The elbow was delivered as part of [a] rebounding play under the basket. It made contact to the chest area."
-- NBA vice president of basketball operations Stu Jackson, explaining why Kobe Bryant wasn't suspended for elbowing Ron Artest
• See Thursday's daily leaders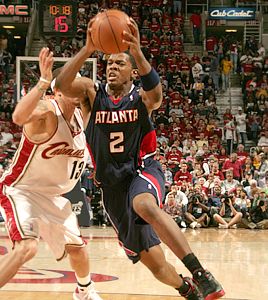 (Photo by David Liam Kyle/NBAE/Getty)
Hawks swingman Joe Johnson rolled his ankle in the third quarter against the Cavaliers and left the arena wearing a walking boot.
What's Going On, Minnesota?
By John Hollinger
ESPN.com

Start your "Wrath of Kahn" jokes now -- it appears the Minnesota Timberwolves are closing in on hiring David Kahn as their next general manager. Here's the unusual part: He's not really a personnel guy. All the main points on his résumé are on the business side, and he's been out of the league altogether for several years.
In other words, it sounds like another bizarre move by the Wolves. Either they're going to split the business and basketball sides, with Kahn handling business and somebody like Fred Hoiberg handling basketball, or they're going to do what the Blazers did with Steve Patterson a few years ago and let the business guy start making basketball decisions, a move that became a complete disaster for Portland.
To see the four other Insider Gems, click here.
Hawks Need To Get Healthy
By Bret LaGree | TrueHoop Network

The Hawks are unlikely to win any games in this series where it takes Joe Johnson and Mike Bibby and Josh Smith combined to outscore LeBron James by two points. The best-case scenario for Hawks' fans is that coach Mike Woodson took inspiration from Falstaff and decided that discretion was the better part of valor.
Starters Al Horford and Marvin Williams sat out Game 2. Horford is the team's best post player, and Williams is the team's best chance to slow James before the double-team arrives and, when healthy, a vital part of the offense. The Hawks had little chance to win in Cleveland without two starters, but their chances of winning either Game 3 or Game 4 are surely increased, however marginally, with every moment they allow the former third and second overall picks to heal.
Atlanta's difficulty in remaining competitive on the road at less than full strength manifested itself in Maurice Evans being the team's leading scorer and Thomas Gardner, a third team All-Big 12 selection three years ago, a man who played just 98 minutes this season, outscoring both Johnson and Bibby.
Given the fact that the Hawks attacked their own offensive glass admirably (given, admittedly, frequent opportunities), the efforts of the few healthy Atlanta players -- especially Zaza Pachulia's 12 rebounds (five offensive) -- are difficult to criticize. But they again failed to take anything away from Cleveland's offense while the game was competitive. Unless the Hawks can get healthy and figure out a way to force Cleveland to miss, can rebound those misses, and (maybe) force a team that didn't turn the ball over very often this season to start doing so this weekend, they risk undermining the vast improvement they made between last season and this season in the eyes of their serious fans.
Bret LaGree's work can be found on the TrueHoop Network's Hawks' blog, Hoopinion

Avery Johnson thinks Andrew Bynum has put too much pressure on himself to contribute for the Lakers.
The Herd with Colin Cowherd
By Elias Sports Bureau

The Cavaliers beat the Hawks by 20 points in Game 2 of their Eastern Conference semifinal series, marking the fourth time in the 2009 playoffs that Atlanta has lost by 20 or more points. That sets a new NBA record for most 20-point losses in a single postseason.