Ronald Martinez/Getty Images
Ron Artest commits a flagrant foul on Pau Gasol in Game 3, earning his second ejection of the series.

Bill Baptist/NBAE via Getty Images
Kobe Bryant rose above the defense of Shane Battier and Aaron Brooks in a Game 3 win.

(AP Photo/Pat Sullivan)
Von Wafer, left, went down in a heap after jumping into the path of a closing Sasha Vujacic.

AP Photo/John Raoux
Magic center Dwight Howard might not need to worry about Kendrick Perkins in Game 4.
Yao's Foot Might Hold Key For A Houston Response

HOUSTON -- This time the game included a flagrant foul and an ejection -- it wasn't defined by it.
Playoff schedule
WEST SEMIFINALS
Denver 2, Dallas 0
Game 3: Sat., 5 ET, DAL Los Angeles 2, Houston 1
Game 4: Sun., 3:30 ET, HOU

EAST SEMIFINALS
Orlando 2, Boston 1
Game 4: Sun., 8 ET, ORL

Cleveland 2, Atlanta 0
Game 3: Sat., 8 ET, ATL
If the body parts representing Game 2 were the raised elbows of the Lakers, Game 3 was symbolized by the sore left foot of Yao Ming and the slumped shoulders of the Rockets as they sat along the scorer's table awaiting the end of a third-quarter timeout, aware that they were surrendering control of the series to the Lakers. Ron Artest's dismissal for a not-so-malicious flagrant foul 2 on Pau Gasol wasn't a turning point or an exclamation mark, just another step along the way to a 108-94 Lakers victory Friday night.
Los Angeles leads the series 2-1 and has reclaimed home-court advantage, and some swagger as well.
"J.A. Adande, are the Lakers still in trouble?" Kobe Bryant said in a sarcastic send-up of "Around the Horn" host Tony Reali.
Uh, no. They have their defense operating the way they'd like it to, causing trouble for Yao and forcing turnovers from everyone else, there's more balance to the offense, and they still have Kobe doing Kobe things, such as hitting a 3-pointer from 33 feet at the end of the third quarter. Woody?
While the Lakers had a reduced roster, with Derek Fisher serving his one-game suspension for leveling Luis Scola, the Rockets were hampered by a hobbling Yao and their inability to protect the ball or hit open shots. They made only 42 percent of their shots and continued turning the ball over, 17 times for 20 L.A. points. They gave this one away in the third period, when they scored four points in the first 4½ minutes, as Bryant seemed to make it his personal mission to keep Yao from scoring. He materialized out of nowhere to block a Yao dunk attempt from behind, then popped up from under the basket to block a layup, quickly rising to knock the ball out of Yao's outstretched hand.
Yao's mobility was limited from the injury he said he suffered in the second quarter. "It kept getting worse and worse," he said.
He said he will test out the foot in running exercises Saturday morning and judge his availability for Game 4 afterward. "I really want to play on Sunday," said Yao, who had 19 points and 14 rebounds. "[Saturday's] the test. If everything's all right, I'll play Sunday."
If he doesn't, what looked like a promising series will quickly turn into just another second-round victory for a top seed. Game 2 -- with the Fisher incident, and Bryant's elbow of Artest and taunting of Shane Battier spicing up the broth of a never-quit attitude by the Rockets and a 40-point performance by Kobe -- elevated the standards.
"Game 2 was a great game," Bryant said. "It got a little out of hand toward the end, obviously, but outside of that it was just beautiful basketball played by two great teams."
It carried through to the first half of this game. Both teams were on their best behavior, Kobe unleashed another double-digit scoring quarter at the outset, and the Rockets managed to hang within two points of the Lakers, who had the tempo and the score more to their liking.
Jordan Farmar started at point guard for the Lakers while Fisher watched on TV and Twittered away (RT @derekfisher "Really good start to the half. We have to stay out of fouls and keep them off the free throw line until later in the 3rd quarter."). Farmar had fallen out of favor with Lakers coach Phil Jackson and appeared sparingly, but made the most (well, not quite the most according to Jackson) of the opportunity with 12 points and seven assists, highlighted by a sprint and dive for a loose ball that he threw ahead to Trevor Ariza for a dunk.
"Jordan's game will certainly be noted," Jackson said. "He played a good game today. He can play better than that. Even with a stellar performance, he's got a better game than that in him."
Jackson said Fisher will start Game 4. "That's the way it is."
The bigger question is whether Yao will start Game 4. Well, technically there's also the matter of whether Artest will be suspended for Game 4 after the automatic review that accompanies a flagrant foul 2. Not only should he not be suspended, it should be downgraded to a flagrant 1. Gasol was driving for a dunk in transition. Battier appeared to hit him first, knocking him off-balance, then came Artest, his arms outstretched, heading more toward Gasol's body than the ball, but not striking downward with strong force.
After a video review and a cordial discussion with the officials (he even had his arm around Ron Garretson at one point) Artest was kicked out. Afterward he was optimistic about avoiding further penalties, and appreciated the officials' explanation, which he called "cool."
"He said they were thinking about rescinding it, making it a 1, but [Gasol] fell awkwardly, so they made it a 2," Artest said.
Even Bryant said it shouldn't be more than a flagrant 1 at most. He'd like to beat the Rockets at their best, to get a true measure of his team, after seeing it pass the most recent examination.
"I wanted to see how we respond to this kind of test, this kind of challenge," Bryant said. "It was good to see us come out and respond the way we have."
Now it's the Rockets who have to respond, for their playoff lives and for the sake of restoring drama to the series.
J.A. Adande is an ESPN.com senior writer and the author of "The Best Los Angeles Sports Arguments." Click here to e-mail J.A.
Playoff Dimes past: April 25 | 26 | 27 | 28 | 29 | 30 | May 1 | 2 | 3 | 4 | 5 | 6 | 7 | 8
Orlando's Neck Season Arrives With Another Flagrant Foul

By Chris Sheridan | ESPN.com
ORLANDO -- The French word for throat is "gorge." And the "gorge" was where Celtics center Kendrick Perkins' elbow struck Frenchman Mickael Pietrus' throat early in the fourth quarter of Boston's humbling 117-96 defeat Friday night in Orlando, which dropped the Celtics into a 2-1 deficit against the Magic in their Eastern Conference semifinal series. That play brings us back to one of the topics that has been a major theme of the 2009 postseason: the elbow rule. And what we've learned is if you strike an opposing player above the shoulders with a malicious elbow, you're getting a one-game suspension. Magic center
Dwight Howard
knows that rule now, because it's what kept him out of Game 6 of the first round.
Kobe Bryant
knows it, too, because the only reason he was playing in Friday's Lakers-Rockets game was because his flagrant elbow against
Ron Artest
struck Artest in the top of the chest, missing his neck by inches. "Certainly, in this case had he made contact in the head area, we'd be evaluating it on a different level," said NBA vice president of operations Stu Jackson of the Bryant elbow on Thursday. And in the rulebook as well as in practice, "the head area" is everything above shoulder level. So if Stu sticks with his own precedents, it's going to be bad news for a Boston front line already undermanned and undersized, because Perkins, the C's starting center, is going to be watching Sunday's Game 4 from somewhere other than the Amway Arena. "I was just trying to fight through a screen," said Perkins, using the same plea as
Derek Fisher
before the NBA suspended him for his malicious blow in the Rockets-Lakers series. Perkins continued, "It wasn't like I was trying to hurt him or elbow him in his mouth or nothing like that. I was just trying to fight through the screen and ended up hitting him." The play was ruled a flagrant foul 1 at the time, and Perkins stayed in the game. One member of the Celtics complained privately that what got Perkins riled up was being pulled to the floor by Dwight Howard on the previous possession without a foul being called, with referee Scott Foster gesturing at Perkins to get off the floor and get downcourt. If he is forced to miss Game 4, the Celtics -- already without frontline stalwarts
Kevin Garnett
and
Leon Powe
-- would be forced to start either
Brian Scalabrine
or
Mikki Moore
on the front line, or perhaps move
Glen Davis
over to center and go with a smaller starting lineup featuring three guards. Either way, they would be smaller, and that would not be a good thing against an Orlando team that figured out in the first half of Game 3 that it could attack the basket instead of relying primarily on the 3-point shot. The Magic didn't make a 3 until
J.J. Redick
buried one with 4:51 remaining in the second quarter after scoring 20 of their 22 first-quarter points in the paint.
To see the full Chris Sheridan column, click here.
By Andrew Ayres
ESPN.com

FRIDAY'S BEST
Kobe Bryant, Lakers
: That long 3-pointer to end the third quarter was a demoralizer. His 33 points in Houston made sure the Lakers stayed in charge in the series.
---

FRIDAY'S WORST
Kendrick Perkins, Celtics
: Did Perk's wayward elbow on Mickael Pietrus' neck just sentence the C's to a 3-1 deficit? Mikki Moore vs. Dwight Howard? Ow. Ow. Ow. Better hope Stu Jackson gets a scratchy DVD of that play.
---
QUOTE OF THE NIGHT
"I understand what the NBA is trying to do and trying to prevent, and I respect that. But it is getting to the point now that every time somebody gets hit somebody has to get up there lobbying trying to get a guy suspended."
-- Magic coach Stan Van Gundy, on the suspension watch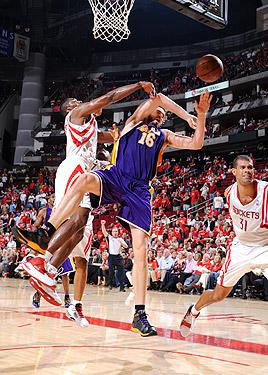 Noah Graham/NBAE via Getty Images
Ron Artest's shooting aim was off for much of the night, but his foul of Pau Gasol found the mark.
By John Hollinger
ESPN.com

This is not a typo: LeBron James has a playoff player efficiency rating (PER) of 42.28, which is so off-the-charts unbelievable that it's hard to put into context.
Yes, he has played only six games against relatively weak teams (among playoff teams, that is), and he'll face much tougher competition starting in the conference finals. But still ... 42.28?!
His playoff averages of 31.5 points, 9.7 rebounds and 6.3 assists become even more impressive when you consider he's shooting 54.1 percent, has only nine turnovers in six games and is averaging more than 13 free throw attempts per contest.
And then there's that pull-up 40-footer he casually drained Thursday night to end the first half and essentially the game. It's scary to think that the game's best player might be raising his game to another level for the playoffs, but so far, that's what has happened.
To see the four other Insider Gems, click here.
By ESPN Stats And Information

Kobe Bryant led all scorers with 33 points in the Lakers' 108-94 Game 3 win over Houston, but he did most of his damage with hot shooting early on.
Kobe Bryant Game 3 vs. Rockets
Time
FG
Points
1st quarter
5-6
11
Rest of game
6-22
22
While Rockets star Ron Artest racked up a team-high 25 points, he really struggled with his shooting touch. He hit just 3-of-14 on jump shots, and two of those made baskets came in the final minute of the game, when the outcome was all but decided. Artest was 1-for-12 on jumpers in the first 47 minutes of the game. Artest wasn't the only Rocket struggling with jumpers.
Houston Rockets FG Game 3 vs. Lakers
Time
Jump shots
Outside paint
1st half
8-18
5-9
2nd half
5-27
4-20
The Lakers outscored Houston 24-14 in the third quarter, turning a two-point lead into a 12-point lead. The Rockets' shooting woes were most evident in the third quarter, when Houston was just 1-of-13 on jumpers. On the flip side, the Lakers scored 16 points on jump shots in the third.

ESPN The Magazine's Chris Broussard wonders if the Cavaliers will be tested before the NBA Finals. Broussard thinks both of the suspensions handed out by the league were deserved.
Mike And Mike In The Morning
By Elias Sports Bureau

The Magic made 39 of 66 shots (59 percent) in their win over the Celtics on Friday. That's the highest shooting percentage in a postseason game for Orlando and the highest against the Celtics since the Hornets made 61 percent in a 1993 playoff game.