Garrett Ellwood /NBAE/Getty
Different team, same result: Billups reached the conference finals for the seventh straight year.

Garrett Ellwood /NBAE/Getty
The Nuggets, who are 8-2 in the postseason, advanced to the West finals for just the third time.
Are The Nuggets The New Favorites In The West?

DENVER -- The expected vengeful response from the locals never came. The Dallas Mavericks were greeted by the tamest crowd of the playoffs at the Pepsi Center.
That barely helped them.
The relatively restrained heckling and hostility scarcely made a difference in this decisive Game 5, because the Mavericks also were greeted by the increasingly relentless Western Conference wild cards who, in the words of
Dirk Nowitzki
, are simply "a beast" in this building. The Mavs would tell you the
Denver Nuggets
are plenty hostile with just their speed, offensive variety, balance, athleticism and length, even on a night when Denver's fans felt they had to stifle the obligatory "Beat L.A." chants until the final minute.
Waiting for the Mavericks after two testy games in Dallas was a team that comfortably finished off this second-round encounter with a 124-110 rout Wednesday night, good for another 4-1 series cruise. Add the Nuggets' growing reputation and swagger to the vulnerabilities flashed lately by the Los Angeles Lakers, and it's no longer inconceivable to see Denver representing the West in the NBA Finals.
Is it?
"They've got all the pieces," Mavericks coach Rick Carlisle said. "They really do."
Said Nowitzki, "They have all of what it takes to be up there."
The Nuggets have Carmelo Anthony playing better than ever, seemingly draining every open shot and playing defense you're starting to notice every night. They have Chauncey Billups -- recently proclaimed by Magic Johnson to be "the best leader that's playing basketball today" -- not just running Denver coach George Karl's locker room but also looking reborn with his hometown team. The Nuggets have clinched the franchise's first trip to the conference finals since 1985 after dumping Marcus Camby to cut payroll, swapping Allen Iverson for Billups with modest expectations and happily reveling in the maturation of Kenyon Martin and Nene as well as the buy-in from the previously undependable likes of J.R. Smith and Chris Andersen.
It's tough to forecast their conference finals potential in one sense because, as one veteran scout reminded me Wednesday night, these Nuggets "haven't exactly faced the hardest push" in the playoffs. That said ...
Pressure will be completely off if they wind up seeing the Lakers in the West finals, which can make these wild cards only more dangerous.
Can L.A.'s guards deal with Billups and Smith? Can Pau Gasol, assuming the Lakers finish off the Yao Ming-less Houston Rockets, deal as well with Denver's athletes and physicality as Nowitzki did during one of the greatest playoff runs of his career? Can the Lakers do any better than the Mavs did against Anthony, whose 3-pointer to beat an expiring shot clock with 6:35 to play broke open a 103-97 game?
Three valid questions to ponder as Billups heads to the NBA's final four for the seventh consecutive season -- and with the benefit of at least 72 hours of rest for the heir to John Elway's No. 7.
"Hopefully I don't wake up no time soon," Billups said after telling us all again what a fairy tale this has been.
League officials will be thrilled just to see this series go away after Games 3 and 4 generated a steady stream of unsavory headlines stemming from controversies on the floor and in the stands, but the finale played out pretty much incident-free. Expecting a vicious reception, after all the complaints Denver had about its treatment at American Airlines Center, Dallas received little hassle near its bench. Especially with Mavs owner Mark Cuban in Las Vegas for an advertising awards show.
"Complete nonfactor," said one stunned member of the Mavs' traveling party. "The crowd was pretty easy on us."
The problems were Melo, Billups, Smith and Dallas' ever-porous D. The Mavericks just don't have the team speed or the rim presence to stop a team with Denver's weaponry, which is why Nowitzki's averaging a stunning 34.4 points for the series -- in spite of last week's arrest of his live-in girlfriend and the unprecedented challenges that has thrown at him -- wasn't nearly enough.
Nowitzki went out with a dazzling near triple-double: 32 points, 10 rebounds and seven assists. Yet his Mavs were down 14 at the half and never got closer than six points in the final two quarters, even with Jason Kidd reaching back for 19 points and nine assists.
Carlisle arrived at the Pepsi Center an hour before tipoff, with the help of a police escort from the airport, after attending Chuck Daly's funeral in Florida. He unexpectedly moved Jason Terry into the starting lineup with the hope of sparking the newly minted NBA Sixth Man Award winner out of a playoffs-long struggle and force-fed Josh Howard early in an attempt to keep the unpredictable swingman engaged, but the Mavs lost an early lead shortly after Howard was fouled on a first-quarter 3 and missed all three free throws. They never got it back, either.
Anthony scored 30 points for the third consecutive game, Billups went for a gaudy near triple-double of his own (28 points, 12 assists, seven rebounds) and Smith threw in four 3s and six bonus assists. The Nuggets somehow amassed 20 assists by halftime; Nowitzki and Kidd each finished with five turnovers against Denver's now-standard defensive swarms.
"This city deserves a winner," Billups said. "This is a football town, but we are trying to divide it up a little bit and let it be a football and basketball town."
Said Karl, "It seems like everybody wants to talk about when we're going to crack and when we're going to falter. I don't have that worry."
It was left to the visitors to start worrying after their uneventful but unsuccessful return to the altitude. Nowitzki acknowledged that the Mavs are facing "a busy offseason" with many "decisions to make," starting with the challenge of persuading Kidd to re-sign in Dallas in free agency, even though he should expect pitches from LeBron James' Cleveland Cavaliers and/or Kobe Bryant's Lakers. The Mavs also want to re-sign Brandon Bass, who seemed to return to his 2007-08 best during this series. Yet consummating those two deals can be only the start, judging by the gulf between the teams.
"I think ultimately, Game 3 was a killer for us," Nowitzki said. "If we find a way to win that game, it's a different series."
Yet he quickly added, "There's certainly room to improve in a lot of areas. … To give up 124 points in an elimination game is just too much to overcome."
Nuggets-induced concern, though, might not be restricted to Big D. It would appear that getting to the Finals won't be nearly as easy for the Lakers as initially presumed, given that they haven't even finished off Houston yet.
The Nuggets have won 16 games in a row at home dating to March. They possess the best scoring margin in league history after 10 playoff games by outscoring the opposition by an average of 16 points. And they will spend the next few days hearing how the past four teams to outscore the opposition by the mere average of 14.1 points or better through 10 playoff games went on to win it all.
Then there's Melo, who just laughed along when an ESPN.com wise guy informed him that he has reached the conference finals every year he has kept his hair short.
The Nuggets have been telling us for months that Anthony came back from the Olympics in Beijing with a newfound determination to keep up with fellow 2003 draftees James and Dwyane Wade. Anthony concedes now that he was "kind of the joke of the [Team] USA guys" after Camby's salary was dumped to the Clippers ... and because he kept telling them that he was going to be Mr. Last Laugh.
"These two [rewards] tonight solidify who he is," Karl said, referring to Anthony's selection to the All-NBA third team announced earlier in the day, followed by his second straight series triumph after five consecutive first-round exits.
"What's he's done over the last couple of weeks is first-class, big-time and real."
Tame?
Claimed Billups, "You can start to put Melo in that group of winners and not just great players."
Marc Stein is the senior NBA writer for ESPN.com. To e-mail him, click here.
Playoff Dimes past: April 30 | May 1 | 2 | 3 | 4 | 5 | 6 | 7 | 8 | 9 | 10 | 11 | 12 | 13
Denver's Surprising Season Moves On

By Jeremy Wagner | TrueHoop Network
How things have changed in the Mile High City. A Denver Nuggets franchise that was considered lottery fodder in the preseason is now in the Western Conference finals.
The Nuggets drubbed the Hornets with their defense and hammered the Mavericks with their offense, the biggest difference in this Denver squad when compared with previous versions. The Nuggets have always been one-dimensional, whether offensively -- see the Paul Westhead era for that extreme -- or defensively -- as under Jeff Bzdelik, with a starting backcourt of Junior Harrington and Vincent Yarbrough, for the other extreme. But this iteration of the Nuggets can win a rough-and-tumble 90-88 game, or they can run the floor and beat you 120-118.
That versatility is why no matter whom Denver faces in the conference finals, the Nuggets are capable of winning.
The reason for their newfound ability to dominate at both ends of the floor was born out of the constant inability to advance in the playoffs. Even before the arrival of Chauncey Billups, once one-dimensional offensive players such as Carmelo Anthony, J.R. Smith -- who actually received a vote for the NBA first-team defensive squad -- and even former Nugget Allen Iverson bought into George Karl's message and displayed a dedication to defense that this team had lacked in the past.
Once Billups arrived, the mixture of players able to execute any type of game plan was complete. Throw in his leadership, which filled a void that had been seriously lacking under other personnel combinations, and the Nuggets finally were built to win.
However, as impressive as Melo's defensive improvement has been, his return to being a dominant offensive player is equally vital to the Nuggets' success. After a mediocre regular season by his standards, and because he was regarded as a playoff flop after posting miserable numbers in four of his five career playoff series, Melo is averaging 27 points per game this postseason and has scored more than 30 in three straight contests.
Just as important as his scoring is the efficiency with which he is doing it. Anthony is hitting 48 percent of his shots, including 44.7 percent from behind the arc. Add in his 4.3 assists a game and his defensive improvements, and he is playing the best ball of his career.
If you are still skeptical about the Nuggets' ability to advance to the NBA Finals, just remember how unlikely it was for the Nuggets to make it this far. For all the knowledge and analysis that goes into covering this league and for all the things we think we are certain of, the NBA is still capable of surprising us. Before the season began, not even Denver's fans expected the Nuggets to make it past the first round of the playoffs. Now, still playing deep into May, they just might have another surprise left in them.
To read more from Wagner, check out his TrueHoop Network blog, "Roundball Mining Company."
By Maurice Brooks
ESPN.com

WEDNESDAY'S BEST
Chauncey Billups, Nuggets
: Besides the normal leadership he provides every game, Billups filled the box score with 28 points, 12 assists and seven rebounds.
---

WEDNESDAY'S WORST
Jason Terry, Mavericks
: The Sixth Man of the Year was in the starting lineup but failed to provide a spark, scoring 11 points on 4-for-13 shooting (3-for-10 on 3-pointers).
---
QUOTE OF THE NIGHT
"We're going to make a team beat us. We can live with that. But we're not going to give it to anybody. We're going to go after it."
-- Denver coach George Karl after the Nuggets advanced to the Western Conference finals
• See Wednesday's daily leaders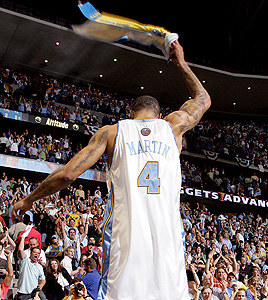 (Photo by Bart Young)
In a series highlighted by a war of words, Kenyon Martin and the Nuggets let their play do the talking, finishing off the Mavs in five.
Mavs Exceeded Expectations
By Rob Mahoney | TrueHoop Network

The Dallas Mavericks seem doomed to play a game of "what might have been." But despite the mumblings of rebuilding and retooling that inevitably will follow the Mavs' playoff demise, the boys in Big D have plenty to be proud of.
Regardless of whether the Mavs were battling the Suns, the Spurs, the Nuggets or their own inconsistency, they've shown the ability to fight through adversity and, perhaps more importantly, the ability to respond in the wake of failure. The Mavs were up-and-down all season long, but only in the past month were they able to respond to those "downs" in a truly meaningful way. They continued to perform in that same vein during their second-round loss to Denver. Although their execution against the Nuggets was hardly flawless, the Mavs put together an impressive display of effort and resiliency. Given the limitations of the roster and what basically amounts to a season-long injury to Josh Howard, that kind of performance is not embarrassing.
The disappointment that comes with going home early in the postseason is tough to face, particularly for a franchise seemingly on the brink of a shake-up. But the summer will allow plenty of time for analyzing the team's approach. One can only hope that after the wounds of a playoff exit have begun to heal, Dirk Nowitzki, Mavs coach Rick Carlisle and the entire roster can look at their accomplishments this season with the appreciation they deserve. There won't be any parades in Dallas, but exceeding expectations is always reason to celebrate.
To read more from Mahoney, check out his TrueHoop Network blog, "The Two Man Game."
Lakers' Bynum Bounces Back
By John Hollinger
ESPN.com

That the Lakers buried the Rockets 118-78 in Game 5 on Tuesday night drew barely a shrug from many is unfair after the way we kicked the Lakers to the curb Sunday. L.A. played exceptionally well and dominated the game at both ends.
Of particular note to Lakers fans had to be the play of Andrew Bynum. He'd been unfailingly awful in the first nine postseason games but got the start Tuesday and took advantage of his massive height advantage over Houston's Chuck Hayes and Luis Scola. Bynum finished with 14 points on 5-of-6 shooting and racked up six boards. And amazingly, he didn't have to leave with early foul trouble. (Bynum had only two personals in 20 minutes.)
The rejuvenation of Jordan Farmar is another story to watch. Although Derek Fisher was awful again, Farmar had 12 points and six dimes off the bench, along with a buzzer-beating 3 to end the first quarter. He has had some low moments during this series, most notably Sunday when he fell asleep on an inbounds play at the end of the third quarter to free Aaron Brooks for his highlight-film layup. But during the past three games, Farmar has 31 points, 14 assists and just two turnovers.
To see the four other Insider Gems, click here.

Michael Wilbon thinks the Lakers will close things out against the Rockets in Game 6 now that they are awake.
Tirico & Van Pelt
By Elias Sports Bureau

Dirk Nowitzki averaged 34.4 points per game for the Mavericks during their series loss to the Nuggets. In the past 20 years, only two other players had a scoring average that high in a playoff series their respective teams lost: Allen Iverson for the 76ers in the 2001 Finals (35.6) and Amare Stoudemire for the Suns in the 2005 Western Conference finals (37.0).
• Denver's victory means that Chauncey Billups will play in the conference finals for the seventh consecutive year. Since 1970, only four men have played for their conference championship in each of seven or more straight playoff years, and all of them did so for the Lakers. Kareem Abdul-Jabbar, Michael Cooper and Magic Johnson had eight-year streaks (1982 to 1989), and Kurt Rambis had a seven-year run (1982 to 1988).
• The Nuggets made 58.5 percent of their field goal attempts (48 of 82) on Wednesday, their third-highest shooting percentage in an NBA playoff game. Denver shot 62.0 percent against San Antonio in 1985 and 60.3 percent against Seattle in 1994.
• Carmelo Anthony scored 30 points for the Nuggets in their series-clinching Game 5 win over the Mavericks after scoring 31 points in Game 3 and 41 points in Game 4. Anthony is the first Nuggets player to score at least 30 points in three consecutive games in one playoff series since the team entered the NBA in 1976. Alex English scored 30 or more points for Denver in four consecutive postseason games in 1985, spanning two series (final two games versus Utah and first two games versus Lakers).