Andrew D. Bernstein/NBAE via Getty Images
Ron Artest and Kobe Bryant had a few choice words for each other in the Rockets' Game 6 win.

AP Photo/Pat Sullivan
Getting a grip on Ron Artest and the Rockets proved difficult for Luke Walton and the Lakers.

Andrew D. Bernstein/NBAE via Getty Images
The energy and hustle of Aaron Brooks (26 points) earned hearty approval from the Houston fans.

Fernando Medina/NBAE via Getty Images
Celtics coach Doc Rivers could not coax a series-clinching win over Orlando in Game 6.

AP Photo/Phelan M. Ebenhack
Cold-shooting Hedo Turkoglu made one 3, but it was a backbreaker saluted by Rashard Lewis.
Surprise, Surprise: Rockets Force A Game 7

HOUSTON -- Is it possible for a team to be winning a series that's tied, a series in which they suffered a loss that equaled the worst in the franchise's playoff history? It sure feels like the Rockets are doing that. Maybe it's because they're 2-1 since Yao Ming last wore his uniform. Or maybe it feels like everything that can be lost is elsewhere, now that the Lakers are one defeat from watching their championship hopes evaporate in the second round and the NBA could be 48 minutes away from losing the possibility of its dream Finals of Kobe versus LeBron.
Not only are the Rockets smaller without Yao, they're lighter. They don't carry around the burden that the Lakers do, of a fan base and front office that will be satisfied with nothing less than a championship. They don't care about the millions of dollars in television ratings points that are in jeopardy here.
It's still hard to imagine the Rockets advancing past the Lakers. It goes against every bit of historical favor bestowed on home teams in Game 7s, and the Lakers' 41-6 home record this season. But if you think the Rockets are suddenly feeling the magnitude of the moment and are about to get crushed under the weight of playing a Game 7, just listen to this portion of Ron Artest's postgame interview.
"'Five Dollar Foot-long' is one of the best songs," Artest said. "That's a hot song. You've got the FreeCreditReport.com, and then 'Five Dollar Foot-long' comes on. When 'Five Dollar Foot-long' comes on, they should play that in the club. They should play all those in the club."
Anytime a key player has more to say about commercial jingles than adjustments, it's the sign of a loose team.
"We're just playing to see how far we can take it," Rockets coach Rick Adelman said.
The journey goes at least another 1,373 miles, westward to Staples Center in Los Angeles for Game 7. The last time the Rockets set foot in that building, they were served with a 40-point whupping. It also became clear at the outset of Game 6 Thursday night that it had no lingering aftereffects.
The Rockets made eight of their first 12 shots, while the Lakers made one of their first 12. (That's 8.3 percent. Yes, eight-point-three.) More surprising was the way the downsized Rockets were scoring: 16 of their first 23 points came in the paint thanks to a determined effort to avoid the long-range misfires that doomed them in Game 5. They quickly got ahead 21-3.
There were other aspects of Houston's 95-80 victory. The Lakers even managed to get back within two points. But it kept coming back to that first quarter.
"They started attacking us, and we were settling early," Pau Gasol said.
When Aaron Brooks was asked about his 15-point second half, he responded, "Let's talk about the beginning, when Luis [Scola] started it off."
Scola had 14 points and seven rebounds in the opening quarter, finishing with 24 and 12. His start was much better than noted closer Kobe Bryant's finish. With the lead back to single digits in the fourth, the best Bryant could do was five points on 2-for-6 shooting. His game-high 32 points seemed irrelevant, lost in Houston's statistical surge from Scola, Brooks (26 points) and Carl Landry (15 points and nine rebounds off the bench).
"After the game the other night, I knew we were going to come out and play with intensity," Adelman said.
Isn't it sad that Phil Jackson can't say the same for his team? He doesn't know what he's going to get. Part of that is his fault for not eliciting more zeal from the outset and for not staying with Derek Fisher as his starting point guard.
Jackson has done his best not to avoid piling on his squad when everyone else leaps to point out the shortcomings, but he did admit it has a "Jekyll and Hyde" quality on Monday, and after Game 6 he lowered his veneer of cool to say the team's inability to carry anything from its Game 5 victory "concerns me."
"But what are we going to do about it now?" he said.
He has to wonder how much he can get from Fisher and Andrew Bynum. They shot a combined 1-for-10, played less than half the game and didn't see action in the final 16 minutes.
He's thrown Bynum back into the starting lineup by default, after Lamar Odom bruised his back in a fall in Game 4.
"We're playing with a couple of guys that are injured," Jackson said. "Lamar's out there, half a guy. That's difficult for him."
Don't complain about injuries in the presence of the Rockets. Not when before the game Yao is propping up his injured left foot and eating chicken wings while Dikembe Mutombo limps around on a giant crutch and Tracy McGrady isn't even in the building.
The thing is, the Rockets aren't wallowing in pity. They're reveling in their new role.
"I'm sure a lot of people had us written off," Chuck Hayes said. "But if you did, then you really haven't been watching basketball for the past month, because we're underdogs and we surprise people."
You catch the Rockets laughing. They're not laughing at the Lakers, they're laughing at their own fortune, perhaps in some way as surprised as the rest of us that this is happening.
At one point Landry was stuck in the lane, no one to pass to, about to rack up a three-second violation, so he heaved up a shot. It went in. Even he had to shake his head and crack a smile as he ran back downcourt.
Brooks, analyzing Scola's impact, said, "They started doubling him," then chuckled. Luis Scola, commanding double-teams.
Bryant managed a laugh, too. Unfortunately for the Lakers, it came after he was asked if they're playing their best basketball right now.
"You know what, you've got to just grind these things out," he said. "We could be playing much better. But we're not. Right now, it's just win by any means necessary, just win the damn series, get the hell out of this one and try to get ready for the next one."
If there is a next one. What once seemed a foregone conclusion has yet to be resolved. For now, there's only a next game, a game that's a burden for the Lakers and a pleasant surprise for the Rockets.
J.A. Adande is an ESPN.com senior writer and the author of "The Best Los Angeles Sports Arguments." Click here to e-mail J.A.
Playoff Dimes past: April 30 | May 1 | 2 | 3 | 4 | 5 | 6 | 7 | 8 | 9 | 10 | 11 | 12 | 13 | 14
Howard's Non-Touches Were Key

By Chris Sheridan | ESPN.com
ORLANDO -- Dwight Howard's biggest touch of the game was a non-touch. At least that's the way I saw it, so I took my premise straight to Howard's locker and bounced it off him when he came out of the shower.
The play came right after Howard checked back in with 7:37 remaining in the fourth quarter. Ray Allen drove the lane and saw the Defensive Player of the Year standing between him and the basket, and he hesitated.
"Yeah, he did one of these," Howard said, motioning as though he were double-clutching upon releasing a shot -- just as Allen had done.
Allen ended up having to put several extra inches of arc on the ball to get it over Howard -- a play known in stat-geek circles as an altered shot -- and the attempt missed. Howard then grabbed one of his dozen defensive rebounds, leading to a transition bucket by Courtney Lee that boosted Orlando's lead to three. He never laid a finger on the ball, but I offered it up for consideration as Howard's biggest touch or non-touch of the game.
"Yeah, that's fair," Howard said.
To read the entire Sheridan column, click here."
Rockets Do It The Hard Way

By Elias Sports Bureau
The Rockets staved off elimination without Yao Ming, their leading scorer from the regular season. Only four other teams in NBA history, and only one other since 1972, have fought off elimination from a playoff series without their regular-season leading scorer. The last to do so was the 2002 Raptors, who were playing without Vince Carter.
By Maurice Brooks
ESPN.com

THURSDAY'S BEST
Dwight Howard, Magic
: With all eyes on him, the big man delivered, going off for his fifth career 20-point, 20-rebound game in the postseason.
---

THURSDAY'S WORST
Ray Allen, Celtics
: He may be the sweetest outside shooter in the league, but through six games in Boston's series against Orlando he has been off the mark. He went 2-for-11 from the field and 0-for-7 from deep (he has made just 5-of-36 3s in the series).
---
QUOTE OF THE NIGHT
"For the last two days, all I've heard is that we weren't going back to L.A. Our guys in the locker room didn't believe that."
-- Houston coach Rick Adelman after the Rockets shocked the Lakers in Game 6
• See Thursday's daily leaders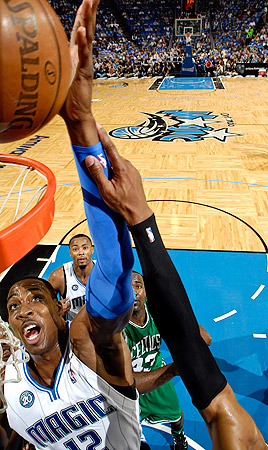 (Photo by Fernando Medina)
Dwight Howard did it all on both ends of the floor, scoring 23 points, grabbing 22 rebounds and blocking three shots as the Magic beat the defending champs to force a Game 7.
Letting Go Of Expectations
By Kurt Helin | TrueHoop Network

Phil Jackson is not trying to intentionally spread the gospel of Zen (by definition there can't really be a gospel), but being a Lakers' fan this season is learning the lessons of patience and forgoing expectations in a way no written gospel could teach you. One has to live it to really understand.
If one expects these Lakers to react like a traditional team, one will be disappointed. True fans must let their expectation mind go. They must accept that there are moments this team will play with a fluid beauty and brilliance few teams could ever match, but five minutes later that can disappear.
Lakers' fans could be frustrated by the little things Thursday -- the inability of Kobe Bryant to make a bounce pass into the post when Los Angeles trailed by just two. The fact that Carl Landry hit an ugly, awkward turnaround on Lamar Odom that was more luck than it was skill. The Lakers deflecting a pass with time running out in the first half that bounced right to Aaron Brooks for a 3.
These were all things that were momentum changers, all things that were a little bit fluky. But if luck really is the residue of design (not to mention effort) then the Rockets deserved the win. They are more talented than some believe.
The panic in Lakerdom is wasted energy on this team; the fact is, they likely will show up in all their glory on Sunday. The challenge really is letting go of the expectations that will come against Denver. And beyond.
To read more from Helin, check out his TrueHoop Network blog, "Forum Blue & Gold."
Pierce Over Gasol? No Way
By John Hollinger
ESPN.com

The All-NBA teams were announced Wednesday, and my criticisms will be relatively mild this year. The voters did the best they could with the constraints of the ballot, one that essentially forced them to put Dirk Nowitzki on the first team ahead of Chris Paul. Actually, I would have put Paul on the first team and Kobe Bryant on the second, but team success tends to overwhelm other considerations in these votes.
The bigger injustice was Paul Pierce being named to the second team ahead of Pau Gasol. I wasn't aware that 2008 Finals stats counted for the 2008-09 All-NBA team. This was basically a "we have to have a Celtic" vote: Pierce's output declined for the third straight season, while Gasol produced as much offense with far greater efficiency and vastly superior rebounding.
To see the four other Insider Gems, click here.

Cavaliers head coach Mike Brown thinks it's really important for LeBron James to be part of the team instead of above it.
Tirico & Van Pelt