Garrett W. Ellwood/NBAE via Getty Images
This looks familiar: Carmelo Anthony can't corral an errant inbounds pass against Trevor Ariza.

Jed Jacobsohn/Getty Images
Kobe finished Denver with free throws shortly after a foul sent him into a Superman-style slide.

Doug Pensinger/Getty Images
Pau Gasol (20 points, 11 rebounds) managed a death stare in addition to some big plays in the fourth.

Garrett Ellwood/Getty Contributor
Nuggets coach George Karl answers postgame questions. Will his team have the answers in Game 4?
If Inbounds Issue Sticks, Nuggets Could Be Outbound

DENVER -- The new most wanted man in the Mile High City, the thief who has sealed two Nuggets defeats in the Western Conference finals by swiping inbounds passes, would have been easy to apprehend Saturday night.
Trevor Ariza limped his way out of the Pepsi Center, walking stiff and bowlegged as if he had been riding a horse all day.
That's the current state of the Los Angeles Lakers: They're tired and sore, and their 2-1 lead in the series is the only thing that feels good.
They aren't winning based on superior play or physical prowess. They picked up a 103-97 victory in Game 3 even though they shot 69 percent from the free throw line, Chauncey Billups outscored their three-man point guard rotation 18-8 and six Nuggets scored at least 10 points.
The Lakers are winning this series because the Nuggets are beating themselves with crucial mental errors and because the two savviest plays, the defining moments of the series, belong to Ariza.
He intercepted Anthony Carter's pass to Billups in Game 1. On Saturday night, when the Lakers led by two points with 37.1 seconds remaining, Ariza stole Kenyon Martin's pass to Carmelo Anthony near midcourt.
"It was kinda déjà vu," Anthony said.
Anthony instinctively fouled Ariza to stop a breakaway, then immediately regretted it when he realized it was his sixth personal foul. Ariza made both free throws to put the Lakers up by four.
How does Ariza do it? Lakers coach Phil Jackson talked up Ariza's acceleration -- "He can really make one step and be at full speed, it seems like," Jackson said -- but this one was about his uncanny sense of timing.
"The anticipation part," Ariza said. "If the ball's somewhere and it's being bobbled around, I'm going to go get it. My team needs me to do that stuff."
That's how he could be the hero in the two Western finals games in which he has not scored 20 points, unlike Game 2. His anticipation also is how he has made an impact even though he injured his back on a hard fall in Game 2, pain that was exacerbated by another crash to the floor during the third quarter Saturday.
"It hurt," Ariza said. "I can't even lie."
Kobe Bryant was another Laker who didn't even bother to act like a tough guy. There are nights when Kobe makes scoring 40 points look easy. This wasn't one of them. He's feeling the cumulative effects of playing all but seven games during the past four seasons, making the NBA Finals last season and spending two summers with Team USA.
He elevated for an alley-oop dunk, but this wasn't the night to rack up highlights. In a third-quarter race with Nene on a fast break, Kobe eschewed a posterizing slam and went for a quick layup that barely made it in. A few plays later, the lane opened up for him, but he wasn't cocking back to dunk even before Dahntay Jones knocked him off-balance with a two-handed shove in the back.
The Nuggets were physical with Bryant as they have been all series, but he made 15 of his 17 free throws and scored 41 points in 41 minutes to go with six rebounds and five assists.
Kobe said he "didn't have anything" for a while in the fourth quarter, but Pau Gasol picked up the slack by banging against Chris Andersen for one shot, then showing off his deft footwork to elude Nene for another bucket.
Bryant found enough to hit the go-ahead 3-pointer with 1:09 remaining. Even that one felt to him as if it was going to be short when he first went up.
This would have been a devastating loss for the Lakers because it's doubtful they'll be able to recoup their energy for Game 4 on Monday. This was their fourth game in seven days, a self-inflicted schedule brought on by allowing the Houston series to go seven games. The weariness showed.
"The tank was on 'E' for a lot of the plays we made tonight," Jackson said.
It was one of the rare nights when Jackson -- he of the artificial hips, bad knees, bad back and notoriously stiff walk -- moved better than his players as they made their way to the bus.
Bryant left the press room, saw Nike representative Nico Harrison and leaned on him, looking like the emotionally spent Tiger Woods leaning on his caddy after the 2006 British Open -- only without the tears. Lamar Odom needed more electrical stimulation for the back injury he suffered during the Houston series.
At least Odom was able to stand tall and wave his long arms while defending the inbounds pass, providing a distraction as he did for Ariza's steal in Game 1.
"Good ball pressure again," Ariza said.
"All the credit should go to Trevor," Odom said.
Too bad he didn't get credit for a steal on the postgame play-by-play sheet, which listed the play as an offensive foul on Anthony. (Making it even more ludicrous was that players don't shoot free throws after an offensive foul and the next entry on the play-by-play sheet was Ariza's two free throws.)
Ariza should receive credit. So should the Lakers. We've spent so much time hounding them for their lack of toughness and their lax attitude toward defense, yet they're up in this series because of two defensive plays and because Gasol won the big man battle in the fourth quarter, scoring eight points while not allowing his man to score.
"You can't get to the championship round without playing defense, at least when you need to," Odom said. "We're not known to be the most physical team. We might not have guys that are muscle-bound and knock guys to the ground, but we've got guys on this team that can get 16, 17, 18 rebounds. And you have to be aggressive and physical to do that."
Most important of all, you have to be smart to win playoff games. The mental edge in this series goes to the Lakers.
The Lakers missed 14 of 45 (yes, 45) free throws on the night, but they made all three of the free throws that followed Denver's technical fouls. The worst was J.R. Smith's, for yelling at Sasha Vujacic after draining a 3-pointer on him as the third quarter expired. It cut into the momentum the Nuggets should have carried into the fourth, which began with Bryant at the line making the technical foul shot to bring the Lakers within seven.
And it didn't help that after Billups cut the Lakers' lead to two with a pair of free throws with 24.6 seconds left, Martin made yet another bad foul. His previous worst mistake came with 30 seconds left in Game 1, when the Lakers had Bryant blocked off and Martin reached in for a foul that gave Bryant the chance to make two go-ahead free throws. In Game 3, after Billups' free throws, the Nuggets had Bryant trapped in the corner after the inbounds pass about 90 feet from the basket. At the very least, the Nuggets could have tried to force an eight-second violation. But Martin fouled Bryant. Two more free throws for Kobe, and more head-shaking by Billups.
The Lakers won this game with their heads and with their hearts, as Bryant indicated when he tapped his. They might not have enough left to win another road game against a desperate Nuggets team that lost its first home playoff game and for the first time in Denver since March 9. But that's the balm to soothe their ailments: After this game, they don't have to win in Denver to win the series.
J.A. Adande is an ESPN.com senior writer and the author of "The Best Los Angeles Sports Arguments." Click here to e-mail J.A.
Playoff Dimes past: May 8 | 9 | 10 | 11 | 12 | 13 | 14 | 15 | 20 | 21 | 22 | 23
Melo's Presence Not Felt In Second Half

By John Hollinger | ESPN.com
DENVER -- Carmelo Anthony was dominant in the first two quarters, scoring 18 points on just nine shots -- eight if you don't count a 61-foot desperation heave to end the first quarter. At the other end, he was defending with as much vigor as we've seen en route to three steals, including several productive turns on Kobe Bryant.
That fact was the sole reason Denver led 52-48 at the break, as the other Nuggets missed a succession of open jumpers that could have extended the lead. Anthony's teammates were 13-of-33 from the field and 0-for-5 on 3s during the first two quarters.
But then halftime came, and faster than you can say Keyser Söze … poof, he was gone. Anthony went scoreless in the third quarter with two turnovers, including an offensive foul for clearing out on Luke Walton that gave him four personals and sent him to the pine for several minutes.
His teammates made up for his disappearing act, outscoring L.A. 16-15 to preserve a three-point lead during the 7 minutes, 20 seconds he sat out. But Anthony's re-entry was hardly a momentous occasion. He took only two more shots and missed both, contributed two more turnovers and fouled out on that fateful inbounds play to prevent a Trevor Ariza breakaway.
Anthony's final line for the second half: 0-for-4, three turnovers, four fouls, three points. Except for one sweet pass to set up a Kenyon Martin dunk, he was invisible, even though none of the participants thought either team did much to effect such a change.
To see the full Hollinger story, click here.
By Andrew Ayres
ESPN.com

SATURDAY'S BEST
Kobe Bryant, Lakers
: Catch your breath, 24. You're doin' work, and the Birdman's workin' the 'do. Nice baseline fadeaway. Huge trey. The free throws. Your clutch play leads to 41 points and an impressive road win.
---

SATURDAY'S WORST
Denver's failed three-party system
: Shooting 5-for-27 from the arc (18.5 percent) is no way to keep the upper hand on a Lakers team hungry for a title.
---
QUOTE OF THE NIGHT
"I rank this right up there with some of the biggest road wins we've had since I've been a Laker. Because in the past, we always had guys that had a lot of experience. Robert Horry, Rick Fox, Ron Harper, they've all been through this before. For our guys, this is brand new."
-- Lakers guard Kobe Bryant on the Game 3 win
• See Saturday's daily leaders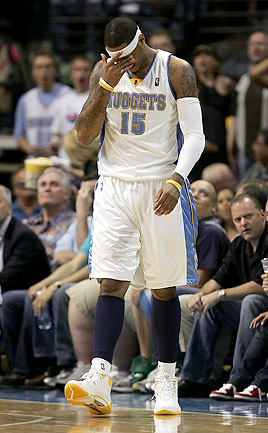 Jed Jacobsohn/Getty Images
After a strong first half that included 18 points, Carmelo Anthony's night did not get much better. He netted only three more points before fouling out on a bad inbounds pass.
Kobe's Would-Be Defenders
ESPN Stats & Information

As he has throughout the entire series, Kobe Bryant has victimized a slew of Denver defenders. After allowing Bryant to shoot 9-of-17 against him in the first two games of the series, Dahntay Jones was tagged with three shooting fouls against the Lakers star.
How Denver Defenders Fared On Kobe
Defender
FG-FGA
Fouled*
Points
J.R. Smith
4-7
1
10
Dahntay Jones
1-3
3
7
Carmelo Anthony
1-1
1
2
Kenyon Martin
0-3
1
2
Uncontested
3-3
-
7
Double-covered
1-2
0
2
*--Shooting fouls only

Ahmed (Boston): Seeing the way the Cavs and Magic are playing, would I be out of line to think "what if we had KG and Leon" scenarios? I mean, seriously, this was the Cavs team that was supposed to sweep us? Puh-lease, Mr. Hollinger! Me suddenly likey our chances next year with a healthy Celtics!
John Hollinger: No, the difference is in the matchups. Cleveland is a much better team than Orlando, but it doesn't match up well against them at all. The Cavs match up much, much better against the C's because they don't have a Lewis to screw up their D.
To see the full Hollinger chat, click here.
ESPN Stats & Information

Carmelo Anthony was held to 21 points in the Nuggets' loss and made just one field goal after the first quarter. Anthony did not attack the rim at all during the game, attempting just one layup and two shots in the paint, a far cry from his effort in Denver's Game 2 win. More than 92 percent (12 of 13) of Carmelo's shots in Game 3 were jumpers, compared with just 59 percent in Game 2.
Vacating The Paint
Category
Game 2
Game 3
Won
Lost
FGA in paint
14
2
Anthony was not the only Denver player who struggled with his shot -- the Nuggets as a team hit just 13 of 52 FG attempts (25 percent) outside the paint.
By Elias Sports Bureau

The Lakers have won each of their past seven road playoff games against the Nuggets: one game in 1979, two in 1985, one in 1987, two in 2008 and one Saturday night. That equals the NBA record for consecutive road playoff wins against a particular opponent. The Lakers tied their league record: They defeated the Spurs in seven straight road playoff games from 1982 to 1988.