Elsa/Getty Images
Forget big boards and blocks. Dwight Howard's free-throw shooting (14-for-19) was reason to party.

AP Photo/Phelan M. Ebenhack
After taking an elbow from Anthony Johnson, Cavs guard Mo Williams needed four stitches.

AP Photo/Reinhold Matay
LeBron James (11-of-28 FG) shoots over Hedo Turkoglu and Dwight Howard en route to 41 points.

Photo by Elsa/Getty Images
Magic reserve Mickael Pietrus (16 points) celebrates drawing a foul from Delonte West.
Not A Misprint: Howard's Free-Throw Shooting Leads Magic

ORLANDO -- In the final 5½ minutes of Game 3 between the Magic and Cavs, Dwight Howard was an 80 percent free-throw shooter and LeBron James shot 60 percent at the line.
Neat fact, eh?
Something almost nobody would have predicted -- nobody except James Kirkland and Chris Prothro, two of Howard's childhood friends ("my homeys," Howard calls them) who spent countless long nights during the past seven months at the Magic's practice facility, working with Howard as his designated rebounders to help Superman overcome his kryptonite.
"Usually, practice ends at noon, he goes home and chills, then at 8 o'clock we all meet at the complex and get to work," Kirkland told ESPN.com. "We stay there until he makes 300 of them, and he has to make the final 20 in a row. And when he misses, the count starts all over again."
One of the primary chapters in the book on defeating the Magic is to make Howard earn his points from the free-throw stripe. There, he shot 59 percent during the regular season, missing 345 of 849 attempts in 79 games.
He entered this postseason with a 52 percent career playoff average from the stripe, and his free-throw difficulties were so much a concern for the Team USA coaches last summer that they turned to Chris Bosh as their go-to big man during the Redeem Team's march to the gold medal in Beijing.
Not that Howard wasn't practicing then, because he was.
As someone who wrote stories about that team from the day it assembled in Las Vegas until the night before the players left China on a charter flight with gold medals draped around their necks, I can tell you that I have borne witness to Howard's chipping paint off the rims at Valley High School in Vegas; at the arena tucked inside the massive Venetian resort on the island of Macau; at the tennis stadium in Shanghai that was converted to a basketball venue for a pair of exhibition games; at the American University in Beijing, where the Americans practiced during their time in the Chinese capital; and at the Wukesong Indoor Stadium, where the basketball competition was staged.
Every day, you'd see the same thing: Howard standing at the line at the end of practice or at the end of warm-ups, trying his darnedest to get into a free-throw shooting rhythm but failing nearly every time. By the midpoint of the Olympics (which he finished shooting at 47 percent from the line), he was struggling so much that the Team USA brain trust actually thought he was doing himself more harm than good by focusing on that part of his game instead of other areas.
"It was all mental," Howard whispered in the locker room before giving up the details of the secret of Sunday night's success.
The nightly free-throw shooting routine doesn't just involve Howard, Kirkland and Prothro. Howard's iPod has played a part, too.
Typically, Kirkland and Prothro would plug the iPod into a speaker dock, choose a few tunes from Howard's playlist and crank up the volume to full blast in an effort to simulate crowd noise.
"We go for stuff with a loud bass line, mix it up with hip-hop and rock," said Kirkland, who has been friends with Howard since both were 7-year-olds growing up in the East Point section of Atlanta and attending the Southwest Atlanta Christian Academy. "When his follow-through would drift to the right, we'd mess with him."
Every team in the NBA messes with him, too, but in a much more violent way. They wrap him up, they hack him across the arms, they shove him in the back -- anything to make him earn his points from 15 feet away instead of with a dunk or a chippy. As I said, that's the book on beating Howard -- although that book might need a postscript if the confidence Howard showed at the line Sunday continues to stick with him through this postseason.
On a night when 58 personal fouls were whistled, 86 free throws were attempted, three players fouled out, two players finished with five personals, Mo Williams had his face sliced open by Anthony Johnson's elbow and two technical fouls were called, the Magic scored 19 of their 31 fourth-quarter points from the foul line. Mickael Pietrus made all six of his attempts, and Hedo Turkoglu went 4-for-4 from the line to help make up for his 1-for-6 final-stanza shooting from the field on a night when he missed 10 of his 11 attempts overall. (Side question: Do 10 missed field goals, 11 made free throws and 10 rebounds add up to a dubious triple-double? Sorry to digress, but just asking.)
So now we have a series in which the underdog has clearly become the favorite. Orlando's matchup advantages pose so many difficulties for Cleveland that this series very easily could be sitting at 3-0, on the verge of a sweep, if not for a certain "biggest shot of my life" that James sank from 3-point range at the buzzer to give the Cavs their Game 2 victory.
That Kobe-LeBron matchup that everyone has been touting as an inevitability, the one that has inspired commercials, arguments and endless variations of comparisons between the two?
Might not happen, folks.
And even worse for Cavs fans, that hype is actually fueling the Magic's desire.
"Do we find it disrespectful that they're counting us out? Yeah," Howard said. "But that's nothing we can control."
Control of the series will be at stake when these teams meet again Tuesday night, and whatever mutual fondness and respect the teams had for each other a week ago has quickly dissipated.
Both teams were upset all night by the officiating. (Referee Mark Wunderlich was back on the job for the first time since missing Antoine Wright's intentional foul on Carmelo Anthony at the end of Game 3 in the Denver-Dallas series.) Williams was steamed over the flagrant elbow to his face from Anthony Johnson in the first half. And James was proclaiming afterward how he hasn't lost an ounce of confidence -- at least in himself.
But James isn't getting much help from his supporting cast, and it has become crystal clear during the first three games that Orlando is the deeper, bigger and more versatile team.
Now, on top of all that, the Magic have Howard acting like some combination of Steve Nash, Jose Calderon and Calvin Murphy (OK, that's an exaggeration, but y'all get the point) when he's not dunking with the force of Darryl Dawkins and treating Zydrunas Ilgauskas and Anderson Varejao the way Shaq used to treat Greg Ostertag.
Is this thing over? No.
Does it look a whole lot different from what just about everyone (excluding Howard, Kirkland and Prothro) had expected? Yup.
More importantly: Is there something the Cavs can do to keep themselves from heading home late Tuesday night one loss away from extending the city of Cleveland's championship drought past its current 45 years?
Well, if Howard keeps shooting free throws as he did during the fourth quarter Sunday night, the Cavs' chances don't look good.
And if Howard finds himself in the NBA Finals when this series is over, he'll have the satisfaction of knowing that all those nights spent at the foul line in an empty gym, nights when he wouldn't leave until 300 free throws went down, were well worth the extra effort.
Chris Sheridan covers the NBA for ESPN Insider. To e-mail Sheridan, click here.
Playoff Dimes past:
May 9
|
10
|
11
|
12
|
13
|
14
|
15
|
20
|
21
|
22
|
23
|
24
Williams Left Bruised and Bloodied In Game 3

By Chris Broussard | ESPN The Magazine
ORLANDO -- His nickname is Mo Gotti, and now the Cleveland Cavaliers point guard actually looks like someone who's been involved in mafia business.
The wrong side of mafia business.
Midway through the second quarter, Orlando's Anthony Johnson drove down the right side of the lane with Mo Williams hounding him tightly. A referee whistled Williams for a foul, and Johnson went into shooting motion -- a strange, unorthodox shooting motion, one that saw him violently raise his left elbow and smack Williams in the eye.
Williams hit the deck immediately, and when he got up several minutes later, he had boxing gashes above and beneath his left eye. He continued to play, logging more than 41 minutes, but not without the aid of four stitches -- three to close the upper cut and one glue stitch to shut the lower one.
At the postgame news conference, Williams, looking like someone who had been roughed up by some wise guys, didn't mince words. Asked whether he thought Johnson nailed him with a cheap shot, he said, "Most definitely."
Then he talked about how Johnson hit him in Game 2, when both flew into the front row at Quicken Loans Arena while going for a loose ball. "This is the second time," Williams said. "He gave me the elbow then."
Johnson, who received a flagrant foul 1 on the play, disagreed wholeheartedly and said he was surprised by the call.
"It was just a weird play, and I hit him in the face," Johnson said. "There was no intention of trying to hit him or anything like that. My intention was, upon hearing the whistle, I tried to get the ball up to the rim just to get the two free-throw shots.
"I'm not a dirty player. I just tried to get two free throws. It kind of threw me out of my game a little bit because in no way was it a malicious play."
Williams said it didn't throw him off his game. But his game is still clearly off.
A first-time All-Star who averaged 17.8 points on 46.7 percent shooting this season, Williams had his third straight subpar game Sunday, missing 11 of 16 shots and committing five turnovers.
His 15 points and three assists left him with series averages of 17 points and 4.3 assists, but he's shooting a measly 32 percent from the floor.
He's not the only Cav who's struggling. In fact, every Cleveland player not named LeBron James is being outplayed severely by his Magic counterpart.
"It's amazing how we're still in games at times," Williams said. "And I think y'all know why -- it's No. 23."
It's doubtful that James, No. 23, can carry the Cavs past Orlando by himself. Even though he's averaging 41.7 points, 7.3 assists and 5.7 rebounds on 53 percent shooting during this series, he'll need some help.
Williams, who has averaged nearly 19 shots a game in the series, said he'll stop trying to be Robin to LeBron's Batman and just play the game.
"In Game 4, it's going to have to be a collective group, not just myself," Williams said of James' supporting cast. "I think I'm going to have to defer a little bit, not rush shots, not force shots. It has to come from a collective group, what we've done all season, instead of having just myself being that guy."
James, for the record, also thought Johnson's elbow was dirty.
"It was a little extra," he said. "The foul was called, and he continued to swing his elbows. I mean, you see Mo's face. It wasn't a pretty sight. It's not called for in this game."
Williams isn't taking any consolation in the fact that he showed major toughness. After Johnson was called for the flagrant, he was rushed out of the locker room to shoot the two free throws. If he hadn't shot them because of the injury, he would not have been able to re-enter the game.
Williams, who got his nickname from his love for mob movies, said he won't retaliate against Johnson. But in doing so, he nailed the Orlando backup with a cheap shot of the verbal variety.
"I got bigger fish to fry," he said. "I got to go and figure out how I can make some shots and get open looks. I couldn't care less about Anthony Johnson -- he plays 12 minutes a game. I couldn't care less."
Chris Broussard is a senior writer at ESPN The Magazine.
By Maurice Brooks
ESPN.com

SUNDAY'S BEST
Dwight Howard, Magic
: He was limited to just 28 minutes of action because of foul trouble, but that was plenty of time for him to tally 24 points and nine rebounds.
---

SUNDAY'S WORST
Cleveland's bench
: The Cavaliers' reserves combined to score just eight points, while Orlando received 16 points off the pine from Mickael Pietrus.
---
QUOTE OF THE NIGHT
"They create so many matchup problems for us. I know it. They know it. Everybody knows it."
-- Cavaliers guard Mo Williams on why Cleveland is having difficulty stopping Orlando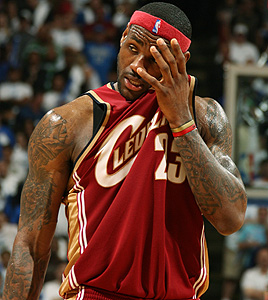 Nathaniel S. Butler/NBAE/Getty
LeBron James had 41 points, seven rebounds and nine assists, but that wasn't enough to prevent the Cavs from dropping Game 3.
Howard Picks Up His 5th Tech
By Marc Stein
ESPN.com

Orlando's Dwight Howard picked up his fifth technical foul of the playoffs in Sunday night's Game 3 win over Cleveland, tying him with Kobe Bryant for the league lead and leaving Howard just two technicals shy of a one-game suspension.
Players who reach the five-T barrier in the playoffs receive a warning letter from the league office, with one-game suspensions assessed after the seventh technical and every other one thereafter (ninth, 11th, 13th, etc.).
"We just kept fighting. That's what we got to do, we fight to the end," Howard said. "We can't worry about nothing, we can't worry about the calls, can't worry about nobody else. We just got to get out there and play."
To read the entire story, click here.
Pietrus Giving Cavs Problems
By Zach McCann | TrueHoop Network

The Mickael Pietrus we saw Sunday night -- working relentlessly on defense, pushing the tempo, hitting open shots -- was the player the Orlando Magic envisioned when they gave him the midlevel exception this past summer.
Pietrus, who spent his time on the floor as the primary defender of LeBron James, forced James into a 39.2 percent shooting night and allowed very few easy buckets for the NBA MVP.
And despite missing four of his five 3-point attempts, Pietrus scored 16 points by being active, attacking the hoop and drawing fouls.
"MP has had the tendency in the past to get very frustrated with himself when he's not shooting the ball well, and he allows it to affect the rest of his game," Magic coach Stan Van Gundy said. "Tonight he didn't do that."
His performance on Sunday night and in the playoffs has validated a free-agent acquisition who was questioned after an inconsistent regular season. Pietrus battled injuries all season long, and the Magic couldn't depend on him when he did play.
Pietrus' consistency couldn't come at a better time. He's averaging 12.4 points and shooting 52 percent since the start of the Boston series, and the Magic often depend on him to guard the opponent's best player.
There's never been any doubt that Pietrus had the talent and athletic makeup to contribute on a title-contending team. What has been unclear, though, is whether he has had the head.
Mike Montgomery, who coached Golden State from 2004 to 2006, once said of Pietrus, "He's a great athlete, but you look over with two minutes left in a tight game, and he could be talking to the peanut guy."
No late-game chats with any food vendors on Sunday night. Pietrus was too busy defending the league's best player and helping give the Magic a 2-1 series lead.
To read more from McCann, check out his TrueHoop Network blog, "Orlando Magic Daily."
Cavs Lose Defensive Battle
By John Krolik | TrueHoop Network

The silver lining for the Cavaliers on Sunday night was that Game 3 at least represented a return to normalcy in this series. The league's two best defensive teams finally engaged in the ugly defensive battle that most insiders expected coming into the series. Dwight Howard was neither dominant or dormant on offense, working inside and drawing fouls on the Cavaliers' bigs and hitting a decent proportion of his free throws.
LeBron James was great but not surpassing. He ground his way to maybe the worst 41-point, nine-assist game of his career, needing 28 shots and 24 free-throw attempts (many of them questionable) to pick up his points. The Cavaliers' role players seemed unable to make a jump shot or defend without giving a cheap foul.
After Game 3, there are no mysteries for the Cavaliers' coaching staff to consider. Why are Rashard Lewis and Hedo Turkoglu picking apart the vaunted Cavaliers defense? Why can't the Cavs hold early leads? Why is the backcourt utterly dormant? Even the best thing that has happened to the Cavaliers in this series, James' legendary shot (that is, if the Cavaliers can pull out the series, lest it be filed away along with Kobe Bryant's miraculous game-winning 3 in the NBA Finals against the Pistons in 2004) -- was utterly out of the ordinary. The Cavaliers at least know what went wrong in Sunday's game. You're not going to beat the best defensive team in the league without making a jump shot or forcing it to get its points from the field.
If the Cavaliers were up 2-1, they would shrug off the problems that cost them Game 3 -- role players' not making jumpers, LeBron's not getting confident, role players' losing composure defensively -- as things that happen on the road. But because the Cavaliers gave away a game on their home floor, there's no such thing as an "acceptable" loss in these playoffs until they can steal back home-court advantage. And they're running out of chances to do it.
To read more from Krolik, check out his TrueHoop Network blog, "Cavs the Blogs."
James Extends Scoring Streak
By Elias Sports Bureau

LeBron James scored 41 points, including 18 from the free-throw line, in the Cavaliers' Game 3 loss at Orlando. It was James' 14th straight playoff game with at least 25 points (dating back to last year), the longest streak of its kind for any active NBA player. He surpassed 13-game streaks by Kobe Bryant (2002 and 2003) and Shaquille O'Neal (2002 and '03). The last player with a streak as long as LeBron's was Michael Jordan (14 straight 25-point playoff games from 1992 to 1993).