Doug Pensinger/Getty Images
After going 9-for-17 from the floor, including 4-for-9 from 3-point range, Smith celebrated.

Jed Jacobsohn/Getty Images
Nene was a force for Denver, giving out a game-high six assists while also grabbing 13 boards.
With Anthony Under The Weather, Other Nuggets Stepped Up

DENVER -- It was the biggest game in Nuggets' history, so it might have been a bad omen that their top scorer was puking into a trash can 15 minutes before tipoff.
But in a way, Carmelo Anthony's stomach bug and off night helped illustrate what is perhaps the biggest story of the Western Conference finals: Denver's energy reserves run much deeper than just its two stars, and it's not clear the Lakers can say the same thing.
With subs J.R. Smith, Linas Kleiza and Chris Andersen combining for 40 points, 18 rebounds and six assists, Denver beat L.A 120-101 to win Game 4 and even the Western Conference finals 2-2 -- even though go-to-guy Anthony was laid low by a stomach virus that started bothering him late Sunday night. He needed IV fluids at halftime and, making matters worse, he also suffered a mild ankle sprain in the first quarter.
"I don't think I had my legs early in the game; I didn't feel like I had any energy," said Anthony, who shot just 3-for-15 and finished with 15 points.
Until the game started, his stomach bug was a state secret. Not even his teammates knew, and the Nuggets weren't about to make an announcement for L.A.'s benefit.
But it didn't matter because his teammates responded with a tidal wave of energy that swamped the increasingly weary-looking Lakers. Denver's frontcourt dominated L.A.'s on the glass, grabbing 20 offensive rebounds to the Lakers' nine, outscoring the Lakers 42-16 on dunks and layups, and winning seemingly every 50-50 ball.
That included an underrated but outstanding performance from center Nene, who grabbed six first-quarter rebounds and created two other team boards to keep the Nuggets ahead during a brick-filled first quarter. He also had six assists for the second time in three games and devoted just as much energy to sharing credit as he did to sharing the ball.
"Me? No, the team," said Nene. "We played smart, we played fast, and the shots we missed last game we got."
"We just didn't get to the ball," said Lakers coach Phil Jackson "If we were tired, it was noticeable tonight because their energy was better."
Denver also got a huge boost from its bench, with Smith having his first breakout game of the series (24 points in 28 minutes) and Kleiza chipping in 10 in just 13 minutes. Throw in 14 rebounds from Andersen and the disparity was glaring -- Jordan Farmar was the only Lakers sub to score more than six points.
"We feel like we've got a better bench, a longer rotation, and they look tired," said Kleiza. "We look fresher."
Going forward, Kleiza's point is one to watch closely. As the war of attrition takes its toll, it's fair to ask whether the Nuggets' superior depth and energy will wear out the Lakers.
Certainly, that's part of Denver's game plan. The Nuggets have kept attacking, kept pushing, kept sending players to the glass and playing physical in part because they feel L.A. will wear down as a result of playing 13 games in 25 days, or 14 in 27 if this goes to a seventh game. And with little production from the supporting cast, Bryant and Gasol have played huge minutes in nearly all of them. Those two were again brilliant Monday night, combining for 55 points, but had little company in the scoring column.
The Nuggets aren't exactly daisy-fresh either -- in addition to Melo's ankle, Smith and Renaldo Balkman also have battled minor injuries in this series -- but L.A. is the team that looks more worn down physically. Of particular note are the injuries limiting Lamar Odom and Trevor Ariza, neither of whom was of much use on this night.
Odom (back) finished with five points on 1-of-8 shooting and, in the ultimate irony, threw away an inbounds pass for a Chauncey Billups layup that basically ended the game. Ariza (hip and groin) was worse, with just three points and one rebound in 26 impact-free minutes.
Quietly, the Nuggets don't see fatigue as the only factor in their favor. They also believe they're much, much tougher (with the monumental exception of the guy wearing No. 24 in gold), and that it can work in their favor toward the end of this series -- much as it did for Boston in the Finals a year ago. It's no accident that coach George Karl said his team had prepared for this series more by watching Boston film than by watching Houston.
Of course, it was easier for the Nuggets to have more energy and effort Monday night. They were playing with an extra hint of desperation, since a loss would have effectively ended the series, and they were playing at home and at their preferred altitude. The Lakers had already taken care of business by winning Game 3 in Denver, so there was less urgency on their part -- with fatigue perhaps contributing.
"When you're tired, you say, OK, I don't have to get that ball or I don't have to get on the floor for this loose ball," said Bryant, "as opposed to taking every possession like it's the last possession like we did in the third game."
Denver's aggression occasionally went over the edge; the Nuggets picked up three technical fouls for a second straight game. Additionally, guard Dahntay Jones added another notch to his growing rep as a dirty player by appearing to intentionally trip Bryant as he made a cut down the lane. There was no call on the play but he'll likely hear from the league office about it, with the likely outcome being an after-the-fact flagrant 1, but a suspension is also possible. (The league will also review Andrew Bynum's flagrant foul on Andersen, most likely to rescind it.)
"It was a fine line," said Billups, who scored 24 points with nary a turnover. "So some of that you have to say, all right, you have to live with some of it. But at the same time, you've gotta be smart sometimes."
Nonetheless, Denver's aggression is proving to be an effective weapon against the Western Conference's top seed, and the next test is to see how well it travels. Having already won twice in the conference finals for the first time in franchise history, Denver still must win once in Staples Center to make a first-ever trip to the NBA Finals.
That's a tall order given that the desperation card will no longer be theirs alone to play. But having overcome one huge obstacle by pulling out a must-win game even with their top scorer ill, they may just be ready for the next challenge.
John Hollinger writes for ESPN Insider. To e-mail him, click here.
Playoff Dimes past: May 9 | 10 | 11 | 12 | 13 | 14 | 15 | 20 | 21 | 22 | 23 | 24 | 25
Effort Lacking In Lakers' Game 4 Loss

By J.A. Adande | ESPN.com
DENVER -- We've seen this from the Lakers before, regaining the series lead and home-court advantage with a victory in the first road game, only to lose the next road game. Just happened a couple of weeks ago, actually. Only this time they didn't simply forget to show up for the start of Game 4, as they did in Houston when they found themselves trailing the suddenly Yao-less Rockets 19-4 before they even had a chance to work up a sweat.
Their 120-101 loss at Denver in Game 4 of the Western Conference finals Monday night wasn't, Kobe Bryant insisted, a case of the Lakers simply waiting on the proverbial on/off switch.
"They whupped us, period," Bryant said. "They whupped us on the glass, they whupped us to loose balls. There's no switch. There is no switch."
Even if there were a switch, it's pointless to flip it when the fuse has blown. There's no energy flowing through the Lakers right now.
If there's one category in which effort is reflected in the box score, it's rebounds, and the Nuggets won that stat 58-40. And if there's an advantage you can usually give to the home team beforehand, it's bench scoring. This time it was 42-24, Nuggets.
It was Phil Jackson who first gave me the wording I use to explain why reserves tend to play better at home than they do on the road. He thinks they're more dependent on the home crowd's energy, and a little less confident when they're in hostile territory.
At Staples Center, the Nuggets are less likely to get, say, a career-high 14 rebounds from Chris Andersen; only two of his 11 double-digit rebound games in the regular season were on the road.
But home court might not cure everything for the Lakers, unless there's an on-duty masseuse to loosen Lamar Odom's back. Sasha Vujacic (27 percent shooting in the playoffs) has been bad everywhere. And the Lakers need to make a tactical adjustment similar to the one the Nuggets made when they asked their shot-blockers such as Andersen to stay on their own man a little longer to help prevent Lakers offensive rebounds. The Lakers spent so much time reacting to driving Nuggets that they were exposed on their defensive boards; Denver had a stunning 20 offensive rebounds.
"You could sense more their sense of desperation tonight," Lakers center Pau Gasol said. "Their game plan was attack, attack the paint, penetrate, everybody go to the boards. We didn't have quite that aggressiveness that they did."
Gasol (21 points) and Bryant were the only thing the Lakers had going for them Monday night, save for some flashes of Andrew Bynum in the fourth quarter. Even though the Lakers were Kobe-dependent on Saturday (their deficit went from three points to 11 when he sat out the start of the second quarter and they fell behind by 16 when he rested in the fourth), Jackson resisted the urge to use him more than the 41 minutes he played him in Game 3.
But he went out of his way to point out the "not equal refereeing" that led to a 49-35 advantage in free throws for Denver and labeled Dahntay Jones' trip of Bryant "unacceptable defense" and "unsportsmanlike basketball." The stakes must be rising, because Jackson is playing the officiating blame game more than he has at any point in these playoffs.
The officiating is one other thing that tends to favor the home team in this series, one more item on the short list of things the Lakers have on their side right now in a series that might just be decided by location more than anything else.
J.A. Adande is an ESPN.com senior writer and the author of "The Best Los Angeles Sports Arguments." Click here to e-mail J.A.
The Nuggets Hit The Glass Hard

By Elias Sports Bureau
Three Denver players had at least 13 rebounds in the team's Game 4 win over Los Angeles on Monday night: Kenyon Martin (15), Chris Andersen (14) and Nene (13). It's the first time in 15 years that three teammates each recorded 13 or more rebounds in a playoff game. That had last been done by Utah's Karl Malone, Felton Spencer and Tyrone Corbin in a double-OT loss to Denver in 1994.
By Maurice Brooks
ESPN.com

MONDAY'S BEST
J.R. Smith, Nuggets
: In the first half, he hurt the Lakers with his passing. After intermission, it was his shooting that finished off L.A. Smith had 24 points and four assists off the bench.
---

MONDAY'S WORST
Lamar Odom, Lakers
: It is never a good thing to have the same number of fouls as points (five), but Odom managed to do that when he went 1-for-8 from the field.
---
QUOTE OF THE NIGHT
"They deserve respect; they're a good team. But we're the best team in basketball."
-- Cleveland point guard Mo Williams on why he feels the Cavaliers will defeat the Magic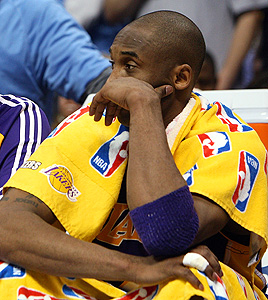 Jed Jacobsohn/Getty Images
Kobe Bryant did his part, scoring 34 points, but Los Angeles failed to slow down Denver's balanced attack in a 120-101 loss.
Williams Remains Confident
By Chris Broussard
ESPN The Magazine

ORLANDO -- With the Cleveland Cavaliers trailing the Orlando Magic two games to one, you might think the Cavs, ultraconfident all year long, have been swagger-jacked.
But on the eve of Tuesday's Game 4, they were still talking bravely, especially their smallest man.
Wearing stunna shades to cover up the four stitches, two cuts and a black eye he received thanks to an Anthony Johnson elbow in Game 3, Williams gave assurances that the Cavaliers are still Finals-bound.
"We're the best team in basketball," Williams said, speaking before a team meeting and film session. (They didn't practice.) "They deserve respect; they're a good team. But we're the best team in basketball."
An Orlando television reporter followed by asking Williams, "So if you're the best team in basketball ... is it an almost-guarantee that you're going to win this series?"
Williams didn't back off his loaded comment.
"Guarantee we're going to win the series?" he said, repeating the reporter's question. "Yeah, yeah. We're down 1-2, but there's nobody on this team -- and definitely not myself -- that thinks we're not going to win this series. Yeah, it's going to be tough. We know that. We get this game tomorrow, go home, we still have home-court advantage, and I don't see us losing two out of three at home."
To read the entire column, click here.
By Kurt Helin | TrueHoop Network

What happened to the Lakers I watched all regular season?
I miss those Lakers. The ones where seemingly a different role player stepped up every night and did something that contributed to a win. We could always count on Kobe Bryant and Pau Gasol to play well, and often Andrew Bynum when healthy, but it was the other guys who got the Lakers 65 wins. Derek Fisher hit big shots and played decent defense, Sasha Vujacic was The Machine, Lamar Odom was enigmatic, but more often than not he was making plays with the game on the line.
Not so much in the playoffs, particularly after the first round. On Monday night, the Kobe/Gasol/Bynum combo was 24-of-44 shooting (or 54.5 percent), while the other Lakers were 10-of-38 (or 26.3 percent). And that number was uglier before garbage time; at one point it was 6-of-33 (and the Kobe/Gasol/Bynum numbers got worse in late desperation play; they had been 21-for-35).
That shooting wasn't the only reason the Lakers lost Game 4 -- Denver came out like a team desperate for a win, and they attacked. Lakers fans can -- and do -- complain about the officiating, but Denver got the calls because they went to the rim. Same on the offensive glass, where they grabbed 39.2 percent of their missed shots. To use the cliché, they wanted it more.
But during the regular season, the Lakers overcame that because they had role players making plays seemingly every night. Heck, D.J. Mbenga was even that guy and had his own cheering section at Staples (Banging With Mbenga shirts are all the rage).
But in this series, the Denver role players have stepped up and the Lakers have faded. If they don't show up soon, the Finals could be Mile High.
To read more from Helin, check out his TrueHoop Network blog, "Forum Blue & Gold."
Rebounding Issues For L.A.
By Jeremy Wagner | TrueHoop Network

Before the Western Conference finals, nearly every writer, commentator and blogger gave the Lakers a big edge in the battle of the bigs. I know I did. The Lakers did not disappoint as they crushed the Nuggets on the offensive glass in Game 1, pulling down 17 of their own missed shots on the way to outrebounding the Nuggets by nine (46-37).
In Games 2 and 3, the Nuggets were able to eliminate the Lakers' rebounding advantage -- capturing 85 rebounds to the Lakers' 86 and pulling down three more offensive rebounds in those two games.
It seemed that a draw on the glass would be the best the Nuggets could hope for. However, Game 4 showed that Denver could not only hang with the Lakers, but dominate them.
Nene, Kenyon Martin and Chris "Birdman" Andersen combined to corral 14 offensive rebounds combined, and the trio outrebounded the Lakers by themselves, 42-40. These were not flat-footed boards or chasing down a wayward shot as the ball bounced in the corner. Time and again they fought for position and then rose to snag the ball with two hands before it was within reach of an opponent. It was a beautiful display of the combination of hard work, athletic prowess and timing.
With these two teams heading back to Los Angeles for the always-crucial Game 5, the Lakers are going to have to figure out how to overcome this sudden weakness that was thought to be one of their greatest strengths.
To read more from Wagner, check out his TrueHoop Network blog, "Roundball Mining Company."