Gary Bogdon for ESPN.com
Dwight Howard walks off a winner after scoring 10 of his 27 points in OT of Orlando's 116-114 win.

AP Photo/John Raoux
When not making guarantees or making 5 of 15 shots, Cavs guard Mo Williams tangled with Howard.

Photo by Elsa/Getty Images
Mickael Pietrus and the Magic fans celebrate a win after thwarting LeBron James' winning 3-point bid.

Nathaniel S. Butler/NBAE/Getty Images
Rashard Lewis launches a 3 that gave the Magic a 100-98 lead with 4.1 seconds left in the fourth.
Howard Plays Superman Despite Not Getting Superstar Calls

ORLANDO, Fla. -- He got a technical foul for taunting after scoring on Anderson Varejao, who had intentionally fouled him by grabbing him around the neck.
He did not get a whistle on the final play of regulation, when he and Varejao were tangled together and the Magic were trying to go for a game-winning lob.
Superstar calls? Dwight Howard didn't get 'em.
Superstar plays? Superman made 'em when he needed to.
If there was a superstar call in this game -- and it's arguable whether there was one despite the way the fans here reacted in disbelief -- LeBron James was on the receiving end of it when he initiated contact with Mickael Pietrus while going to the hole and was tripped with a half-second left in regulation, then knocked down both free throws to send the game to overtime.
After that?
Didn't matter who had gotten the calls or who was going to get them.
Because only one player on the court performed like a world-class tail-kicker throughout the final five minutes of Game 4 of the Eastern Conference finals, and it wasn't the guy with the MVP trophy who keeps showing up in all those TV commercials.
The King?
On this night, His Majesty was the guy nicknamed Superman, a moniker that seemed to fit more than ever after what Howard accomplished in overtime, especially after the way things had ended during regulation.
"We have to go to overtime, and everyone is a little frustrated, and to bounce back from that, especially Dwight, because he was frustrated on that last play on the lob, thought he should have gotten the call, but he bounced right back and played an extremely good overtime. And I just think that's a sign of his maturity," Orlando coach Stan Van Gundy said.
Indeed, it was an extremely good overtime for Howard, who began the extra stanza with a pair of dunks, a layup and then a steal before helping finish off a 116-114 overtime victory over the Cleveland Cavaliers by knocking down a pair of clutch free throws with 21 seconds left to put the Magic ahead by four.
James still had some magic of his own left; he hit an absolutely sick 3-pointer from in front of the Orlando bench as his momentum was carrying him out of bounds with 4.1 seconds left, making it a one-point game, but his special powers dried up at the end as his last-gasp shot from just inside midcourt, near the scorer's table, was off-target.
For those of us who picked the Cavs -- yes, that's me raising my hand, but at least I'm not alone -- our prediction is in a precarious position. For those who have waited 45 years for a title of some kind in Cleveland, there might just be that same old refrain, "wait 'til next year." And next year for the Cavs could begin as soon as Thursday night, if the Magic are able to beat a playoff opponent on the road for the third straight series and advance to the NBA Finals for the first time in 14 years.
And if it doesn't happen Thursday, Orlando gets two more chances: at home Saturday, or back in Cleveland for a Game 7 on Monday night.
"I'm happy with our progress, but I'm not satisfied," Howard said. "We get respect by winning, but we haven't won anything yet. We won a couple games, but so what? We need to win a championship. We want to win the whole thing, and that's when we'll be happy."
Or as Lewis put it: "Judging by what Coach said, you would have thought we lost this game. We can't be satisfied with winning this game. You can't relax."
Three of these four games have come down to the final shot. And while the direction of the series has shifted somewhat with each of them, several things have become clear over the course of the seven days these teams have spent matched against one another: Orlando is deeper, Orlando is bigger, Orlando can shoot the heck out of the ball, and Orlando is only one unbelievable shot by James away from having already put this one in the books with a sweep.
Dire circumstances for the Cavs? You'd think so, unless you heard the tone of James' voice afterward, heard him say how he felt better at this stage of the playoffs than he ever had in his NBA career, watched him exit the building with the confident stride of a superhuman who craves an NBA title as much as he used to crave an Olympic gold medal. I wouldn't bet against him, but if I were a Cavs fan, I'd be doubting whether he has enough around him.
"The stuff he's doing in this series is unbelievable," Van Gundy said of James, whose 44 points were offset by eight turnovers, including seven in the fourth quarter and overtime. "And you know, this thing is a long, long, long way from over, just like the games in this series have been. When you've got a guy as great as him on the other side, you're a long way from done."
Aside from worrying about James, the Magic have to worry about Howard, too.
Unless his technical foul is rescinded by the league office ("You do start to feel like the guy is a marked man a little bit," Van Gundy said), Howard will be suspended for a game if he picks up another one, since he's already accumulated six techs during this postseason and a seventh tech (and a ninth, and an 11th, etc.) carries with it an automatic one-game suspension. He joked afterward that he might wear duct tape over his mouth for the rest of the playoffs.
They'll also have to worry about James getting another call like the one he drew against Pietrus at the end of regulation -- a call that would have changed the series monumentally if James' second free throw with 0.5 second remaining had rolled out, as it almost did, because Varejao had his fingertips waiting right at the edge of the rim and would have tipped the shot in for the game-deciding points.
And if Orlando wants more cause for concern, consider:
You think Magic fans are confident they'll get another game like this out of Rafer Alston (26 points on 10-for-16 shooting, including six 3s)?
You think Orlando can afford to have Rashard Lewis (17 points, including a monstrous 3 with 4.1 seconds left in regulation to turn a one-point deficit into a two-point lead) score only four points in the first three quarters of the next game, as he did in this one? You think Mo Williams is going to do anything as silly as guaranteeing a victory as he did on the eve of this one?
"That's something he'll have to live with," Alston said.
The closeout game is always believed to be the toughest, and the Magic are going to have to try to get it done against the team that was the toughest in the NBA from November until a few days ago. This isn't going to be like it was in Philly, when the place wasn't even sold out and Dwight Howard wasn't even playing. Nor will it be like it was in Boston, where the wounded and weary defending champs knew deep down that they had drained their tank of all the fuel it had left.
The Magic are going to LeBron's house now, and they have reason to believe that James is going to get the benefit of the doubt no matter whose building he's in. But if Dwight Howard and Co. finish the same way they did in Game 4, the Magic's season won't be finished until the championship has been decided -- and they'll either have won it or lost it.
Thanks to Superman's effort, they're just one win away from getting that chance.
Chris Sheridan covers the NBA for ESPN Insider. To e-mail Sheridan, click here.
Playoff Dimes past: May 10 | 11 | 12 | 13 | 14 | 15 | 20 | 21 | 22 | 23 | 24 | 25 | 26
LeBron's Big Night Finishes With A Miss

By Chris Broussard | ESPN The Magazine
ORLANDO, Fla. -- Once again, it was all laid out for him.
The Cleveland Cavaliers were down two with seconds remaining. Cavalier Nation -- this time, nearly 1,000 miles from the action -- was in panic mode, thousands certainly afraid to look at their televisions, thousands more certainly on the brink of tears.
Mo Williams was standing out of bounds with the ball in his hands, zeroed in on King James and King James alone. And the dream season was a swish or a miss away from either salvation or, for all intents and purposes, the end.
But this time, it would be more difficult. The Orlando Magic had learned their lesson after letting LeBron James squirt free for a game-winning 3-pointer in Game 2. This time, they put two defenders on him. This time, it seemed like he wouldn't even get the ball.
But he did, using what Magic coach Stan Van Gundy called a "tight end" move to shake loose from Mickael Pietrus and Courtney Lee.
He caught the pass from Williams, who was stationed beneath the Magic basket, in the backcourt with 3.2 seconds to play, and began racing toward the left sideline, eyeing the clock and preparing to fire.
But from the moment he let it go, he knew his 38-footer didn't contain a miracle, and as the buzzer sounded, it hit the backboard, short and to the left.
This time, there would be no talk of history, no talk of exorcising demons of seasons past. This time, James could not save the Cavs.
"I always feel like I can make any shot that I take," James said. "But as it traveled, it didn't look good. It felt good leaving my hand but didn't look good in the air."
Now nothing looks good for the Cavs.
Orlando's 116-114 overtime victory gave them a 3-1lead in the best-of-seven Eastern Conference final, and if you think they'll come back and win the next three games, I've got a new pair of Nike Air Broussards to sell you for $350.
In the 62-year history of the NBA, 190 teams have taken a 3-1 lead in a playoff series, and 182 of them (or 95.6 percent) have won.
And that's not even to mention the Cavs' lousy history against this Magic team. A nightmare matchup if there ever was one, Orlando has now beaten Cleveland 10 times in 14 meetings over the last three years.
To read the entire Broussard column, click here.
Lewis Produces Fourth-Quarter Magic

By Elias Sports Bureau
Rashard Lewis scored 10 points, including two 3-pointers, in the fourth quarter of the Magic's 116-114 overtime win over the Cavaliers. Lewis ranks second in the 2009 playoffs with a total of 107 fourth-quarter points, trailing only Kobe Bryant (121). Lewis has made 12 3-point field goals in the fourth quarter, to rank third behind the co-leaders, J.R. Smith and Ray Allen (13).
By Maurice Brooks
ESPN.com

TUESDAY'S BEST
Orlando's inside-outside combo
: Dwight Howard muscled his way around the paint for 27 points, 14 rebounds and three blocks, and the Magic nailed a franchise-record 17 3-pointers on 38 attempts.
---

TUESDAY'S WORST
Mo Williams, Cavaliers
: He was outplayed by Rafer Alston and gave out just two assists, and although he scored 18 points, he was scoreless in the fourth quarter and overtime.
---
QUOTE OF THE NIGHT
"I feel like we have an advantage, and I'm effective. We should stay with what works and what's effective and not get away from it. It just doesn't make a lot of sense."
-- Lakers big man Pau Gasol on wanting to get the ball more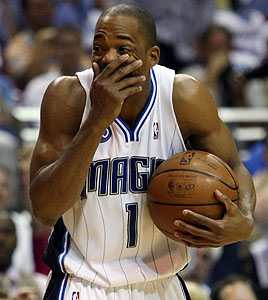 Photo by Elsa
Cleveland's Mo Williams has been in the headlines lately, but it was Orlando point guard Rafer Alston who let his play do the talking in Game 4, dropping in 26 points.
Howard Can't Afford Another T
By Marc Stein
ESPN.com

If there's one nagging nightmare scenario to torment the Orlando Magic after they took a dream 3-1 lead in the Eastern Conference finals, it's this:
Dwight Howard getting hit with a technical foul in Thursday's Game 5 in Cleveland.
That's because Howard collected his sixth tech of the playoffs in Tuesday's Game 4, leaving him just one T shy of suspension territory.
Seven technical fouls, remember, add up to an automatic one-game vacation. So Howard is on the brink unless the league rescinds the T he received for what was deemed to be taunting of Cleveland's Anderson Varejao after a third-quarter dunk.
The good news? Getting a tech erased is far from implausible, as Kenyon Martin could tell you. Denver's K-Mart would be tied with Howard for a league-leading six Ts in the playoffs if three of Martin's six hadn't been rescinded by the league office this month.
However …
If Tuesday's T stands, Howard will have to be extra careful not only for the rest of a postseason that threatens to last longer than so many of us Orlando skeptics ever imagined … but especially so in Game 5. Although a 3-1 deficit certainly has Cleveland at death's door, as Phil Jackson would say, imagine how much the complexion of the series would swiftly change if the Cavs not only forced a Game 6 but if Howard also had to miss that close-out opportunity at home.
The Magic might have been able to get through a Game 6 without Howard in the first round against Philadelphia, when he was suspended for Orlando's clincher on the road after slamming an elbow into the Sixers' Samuel Dalembert. You can be sure that they don't even want to think about trying to finish off LeBron James without him.
Especially not after Howard, after three quarters of virtual quiet, scored 10 of Orlando's 16 points in Tuesday's OT, enabling him to finish with 27 points and 14 boards and take another significant step toward LeBron's stratosphere.
"Hopefully they look at it," Howard said of a possible mulligan from league officials on his sixth tech, insisting that he didn't taunt Varejao and that he didn't deserve the T after escaping the Brazilian's forceful grasp to squeeze home a key layup.
Then Howard joked about trying to keep his mouth zipped for the rest of the series: "I might have to really use some duct tape."
(There is one other scary omen for Howard's Magic that we have to stick in here: Only eight teams in NBA history have blown a 3-1 lead but Orlando is one of them, losing three straight games to Detroit in 2003 in the series remembered for Tracy McGrady prematurely talking about getting to the second round for the first time.)
Dwight Dominates Both Ends
By Zach McCann
TrueHoop Network

One day, we might look back at May 26, 2009, and say this was the moment Dwight Howard became more than a dominant big man -- he became a winner.
For the first time in Howard's career, he took over in a playoff game. Howard put the Magic on his broad shoulders and completely controlled the game on both offense and defense. He did more than just post big stats; he carried the team in its 116-114 victory over Cleveland.
Despite the Cavaliers focusing their defense directly on No. 12, Howard was a force that could not be stopped. Nothing got to him -- not the contact, not the refs, not the pressure, nothing. Forget that other guy; Howard was the king on Tuesday night.
Down 102-100 in overtime, Howard scored on three consecutive possessions, then stole the ball from LeBron James on the next play. After a Mickael Pietrus 3-pointer, Howard tipped in a missed layup to put the Magic up six with 1:12 to go.
Later, he forced a crucial jump ball on a James drive, and -- perhaps most importantly -- he iced the game by sinking two free throws to make it a two-possession game with 21 seconds left.
In all, Howard finished the five-minute overtime period with 10 points, a block and a steal.
"I think he's matured," Stan Van Gundy said. "I think he has handled some of the frustration and things. I thought he was great and our guys were great."
With Shaq in the stands, Howard captivated the Orlando crowd and put this team within a game of where O'Neal took this team 14 years ago: the NBA Finals.
With one more win, the torch will officially be passed.
To read more from McCann, check out his TrueHoop Network blog, "Orlando Magic Daily."

Houston's Shane Battier says fear is his motivation when playing against guys like the Lakers' Kobe Bryant and Cavs' LeBron James.
Tirico & Van Pelt