Andrew D. Bernstein/NBAE via Getty Images
Lakers coach Phil Jackson and Kobe Bryant share a few words after reaching the NBA Finals again.

Jed Jacobsohn/Getty Images
Chris Andersen and Lamar Odom (20 points, eight rebounds) vie for position in Game 6.

Garrett W. Ellwood/NBAE via Getty Images
Kobe Bryant has a fond farewell for his best friend from the Olympic team, Carmelo Anthony.
Finals Exam Passed: It's All Coming Together For Lakers

DENVER -- Eighteen games into the playoffs, at the point where results matter more than style, the Lakers finally managed to combine the two. At this late stage it doesn't really matter how the Lakers got to the NBA Finals; it would be enough to say they're playing in the championship round in back-to-back seasons and making the trip for the 30th time in franchise history. Yet they chose to arrive in grand fashion, rolling in the Maybach. This was their most complete team effort of the postseason, a 119-92 road victory to close out what had been a formidable Denver team, making the blown leads against Utah and the blowout losses to a depleted Houston team seem like distant memories.
"We finally played a full 48 together, and in one of the biggest games of our year," said
Luke Walton
. "We're here now. People are going to say whatever they're going to say, but we're in the NBA Finals and we went through a very tough Western Conference again. We're back to where we wanted to get and at this time we're playing at probably the highest level we've played all year. So that's what you want to do." Yeah, I'm as surprised as you are that Luke Walton is the first Laker quoted. But he had his breakout game of the playoffs (10 points) in Game 6 and outscored
Carmelo Anthony
6-5 in the third quarter, including a dunk over the Melo Man. Like I said, complete team effort. The bench, outscored 42-24 by Denver's reserves in the Lakers' last trip here, returned the favor with a 40-34 advantage Saturday night. That's why
Kobe Bryant
's line of 35 points, 10 assists and six rebounds wasn't as spectacular as
LeBron James
' 37-12-14 the night before; it didn't have to be. Not when
Trevor Ariza
knocked down three 3-pointers on his way to 17 points,
Pau Gasol
added 20 points, 12 rebounds and six assists, and
Lamar Odom
scored 20. And not on a night when the Nuggets came out with such little inspiration. Ariza's 10 first-quarter points came within a point of the first-quarter total for Carmelo,
Chauncey Billups
and
Kenyon Martin
. The Nuggets kept opening the door and asking the Lakers to come into their house and swipe everything from the silverware to the 60-inch screen, and Bryant finally took them up on it by scoring 11 points in the final 3:09 of the half to give the Lakers a 13-point lead. From there it was simply a matter of refining for the next series, getting reps at the Nuggets' expense, sharpening an offense that suddenly is operating at near max efficiency. "I think we learned from Game 5 at home that if we move the ball we can kind of break their defense," Gasol said. "We found our balance. And we were able to be very effective." The Lakers think they have the answer if any Finals opponent tries to shut down Kobe the way the Nuggets did so successfully in Game 5, when he scored 22 points on 13 shots. He didn't try to force the ball through the double- and triple-teams. He made the early pass to his open teammates (like Ariza). And when the Nuggets had to respect their scoring, the Lakers moved the ball back to Bryant for one-on-one matchups. By the fourth quarter, whether the possessions ended in made jumpers or free throws, Bryant kept looking at his teammates, giving them a nod or a fist pump, letting him know that's the way it's supposed to be done. "We have guys on the team that are very smart basketball players," Bryant said. "So I could communicate something to them and they can just take it out on the floor and do it. And we were able to kind of learn on the fly." They found something. As much as I've argued against momentum during these playoffs, the Lakers stumbled upon it. After failing to outscore the Nuggets in back-to-back quarters through the first five games, the Lakers won the final five quarters of the series. "For us to come in here and put on the performance we put on gives us a lot of confidence," Bryant said. Confidence. That's the better word. That's what could possibly carry over from this series, after the Lakers get their much-needed rest and perhaps even accumulate a little rust before the NBA Finals begin on Thursday. "We really think that this is the team that we've seen most of the year, the team that played tonight," coach Phil Jackson said. Jackson ran his record to 43-0 after winning the first game of a playoff series. But his once-incredible 9-0 record in the NBA Finals is long gone, updated with a two-Finals losing streak that included the humbling loss to the
Boston Celtics
last season. "We feel like we failed our team as a coaching staff in both situations," Jackson said. "You feel that way. So having to go back there knowing what a disappointment it was over the summer to live with that and saying we're going to go back there and do this regardless, we're going to get this done, I give a lot of credit to these guys." The Lakers have mentioned the pain of last year's Finals loss throughout the season. "Last year hurt us pretty bad," Gasol reiterated for those who haven't been around to hear the message. "Now we have a chance to redeem ourselves."
Andrew Bynum
didn't get to participate last year because of a new injury. He was the only Laker in the locker room wearing the Western Conference champions T-shirt and cap combo, and he also violated protocol by stating his preference for the next opponent. "We want Orlando," Bynum said. "Because I think we owe 'em, they beat us 2-0 in the regular season, but we get home court against them. That's huge in the Finals. Last year we learned that. We went down 2-0 and it's tough to overcome that. I think with home court we'll have a better opportunity." That's the only advantage they would have against the Magic, who also are coming on strong in the conference finals, and beat the Lakers in both regular-season games. But that came with
Jameer Nelson
averaging 27.5 points against L.A. before he went down for the season with a shoulder injury. If the Lakers get Cleveland, they won't have home-court advantage, but they'll have the knowledge that they swept the season series and were one of only two teams to beat LeBron on his home court during the regular season. If Kobe can cancel out LeBron's stats, the rest of the Lakers, who are looking more effective than Cleveland's supporting cast, could be the difference. Normally the excitement of advancing to the ultimate round outweighs any thoughts of the just-vanquished opponents, particularly when the final game's outcome is decided so early. But the Lakers kept praising Denver's toughness and the competition the Nuggets provided. And there's no novelty to this trip, now that most of the players have been there before and Bryant's already experienced it without
Shaquille O'Neal
. "It's different. We're very thankful of being in this position. But," Kobe said, shrugging, "we did it last year. We're ready to move on the NBA Finals and try to take care of business." They've been trying to tell us they had it in them all postseason. Finally, the game on the court matched the talk. Finally, it's time to believe them.
J.A. Adande is an ESPN.com senior writer and the author of "The Best Los Angeles Sports Arguments." Click here to e-mail J.A.
Playoff Dimes past:
May 12
|
13
|
14
|
15
|
20
|
21
|
22
|
23
|
24
|
25
|
26
|
27
|
28
Salary Cap Could Hinder Denver's Progress

By John Hollinger | ESPN.com DENVER -- After two and a half months of exquisite basketball, the Nuggets were overdue for a stinker. And unfortunately, they delivered it at the worst possible time. This was a reversion to the style of play that had made them so hard to love even as they won 50 games a season ago -- lazy defense, poor offensive decisions and periodic combustibility. Denver gave up too many wide open shots, tried too many crazy passes and picked up yet another senseless technical foul in falling to the Los Angeles Lakers 119-92 in Game 6 of the Western Conference finals. "We tried to outscore them instead of outdefend them," said Nuggets coach George Karl, but his team ended up getting neither done. For L.A., it's back to the NBA Finals, where the Lakers can head with confidence after their most complete outing of the postseason. For Denver? It's an offseason full of question marks. First, the good news. What the Nuggets accomplished this season was borderline miraculous from a financial perspective -- Denver's front-office team of Bret Bearup, Mark Warkentien and Rex Chapman not only met owner Stan Kroenke's mandate to get under the luxury tax by shedding nearly $20 million in payroll, but also moved up six spots in the conference standings and reached the conference finals. Once there, they gave a 65-win team everything it could handle for five games. Teams are fond of saying "nobody believed in us," but in the Nuggets' case it's really true -- not one of our experts had them making the playoffs before the season, much less moving into the upper crust of the vaunted Western Conference and taking the Lakers to six games.
By Andrew Ayres
ESPN.com

FRIDAY'S BEST
Kobe Bryant, Lakers
: Doin' Work, The Sequel. Puts in 35 points, dishes ten dimes and his team puts the feisty Nuggets away in six games.
---

FRIDAY'S WORST
Chauncey Billups, Nuggets
: They wouldn't be here without him, but still, Billups has had bigger games in bigger spots. His 10 points and five turnovers were not enough from the Nuggets' fearless leader.
---
QUOTE OF THE NIGHT
"I saw little cracks in the Lakers and somehow we've cemented those cracks back up, and I think they're the best team right now in the NBA."
-- Nuggets coach George Karl, after Game 6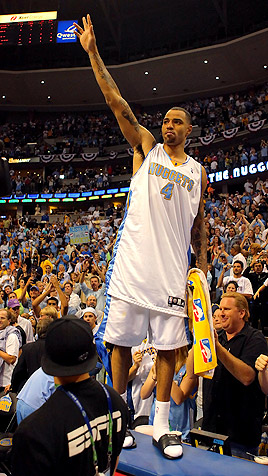 Doug Pensinger/Getty Images
Kenyon Martin of the Denver Nuggets waves to the crowd after losing the West finals to the Los Angeles Lakers in Game 6.
Henry Abbott
ESPN TrueHoop

In the Lakers' most important game of the season -- ultimately, the one that got them back the Finals -- the Nuggets left
Trevor Ariza
space to shoot. And Ariza, with a season of confidence-building behind him -- did not hesitate. He fired with poise, and had one of the best shooting nights of his life. In the early part of the game, before it became a blowout and things were tense, Ariza nailed three of four from downtown.
• To see the full blog, click here.
Elias Sports Bureau

The Nuggets have now lost each of the past eight playoff games they have played in which they faced elimination, the longest such streak in NBA history. Denver had been tied with Atlanta (1968 to 1978) and Charlotte (1992 to 2002) entering Game 6.
ESPN Stats & Information

Kobe Bryant was willing to trust his teammates in Game 6, and they did not disappoint. Kobe's 10 assists were his most in a game since January 21 (at the Clippers, 12), and his most in the playoffs since Game 4 of last year's Finals (10).
His teammates made the most of the unselfishness, shooting an astounding 10-for-11 (91 percent) off Kobe dishes.
Shooting by Lakers off Kobe passes
Category
FG-FGA
Pts
Walton
3-3
6
Fisher
2-2
5
Ariza
2-2
5
Gasol
2-2
4
Odom
1-1
2
Farmar
0-1
0
TOTAL
10-11
22
Kevin Arnovitz
ESPN TrueHoop
The Nuggets trapped Kobe Bryant aggressively -- probably too aggressively -- and the Lakers made them pay [in Game 5]. By Thursday morning, some Nuggets players were openly wondering if they were giving Bryant a little too much respect at the expense of their base defense. How would Denver respond on Friday night? [1st, 11:40] Right out of the gate, the Lakers test Denver's defensive philosophy by getting the ball to Bryant on the right side, free throw line extended. Will Denver run a double-team at Kobe? Not immediately. It's a deliberate, kinda-sorta double-team, with Carmelo Anthony slowly wandering over from the foul line. What's most notable is how intently the backside of the Nuggets' defense is watching Kobe. With Anthony now committed, Kobe kicks the ball up top to Trevor Ariza. The Denver rotation is swift, and the Lakers never get a good look, settling for an aborted alley-oop attempt inside for Andrew Bynum. •
To see the full TrueHoop blog click here.