AP Photo/John Raoux
After topping the Cavs in six games, the Magic have reached the Finals for the first time since 1995.

AP Photo/John Raoux
After a great regular season, the Cavs are disappointed that they didn't reach the Finals.
Superman Forecasts Divine Intervention For NBA Finals

ORLANDO -- One singular moment that Orlando Magic center Dwight Howard might cherish most from this night happened quite apart from his numerous dunks, his timely passes and the dozen free throws he knocked down with a confidence he rarely has shown before.
It happened so quickly, was done with such subtlety, that it's possible only a handful of people witnessed it. With 41 seconds left, Howard had the ball in the low post and was turning toward the basket, and
Cleveland Cavaliers
forward
LeBron James
grabbed him with both arms and wrapped him up with an intentional foul. Both players dropped their arms, and a quick low-five was discreetly exchanged -- a gesture that seemed congratulatory on James' part, conciliatory on Howard's.
"It was all love, no bad blood there," Howard said of his Team USA pal. Howard one-upped the superstar by playing the game of his career, a 40-point, 14-rebound offensive masterpiece that put the Magic into the NBA Finals as they defeated the Cavs 103-90 on Saturday night.
They don't call him Superman for nothing. Especially on a night when he shot 14-for-21 from the field and 12-for-16 from the line, handed out four assists when the Cavs were forced into triple-teaming him and sacrificed some of his defensive intensity for the good of the team, realizing that aggression in the paint would lead him into foul trouble.
Yes, he finished with five personals. But Howard was never in foul trouble when the game was still relatively tight. That allowed him to channel his energy toward being a dominant scorer who became deserving of his touches because he kept converting them. In Game 6, Howard had 52 touches, 40 of them in the paint, compared to 18 total touches in Game 7 of the Eastern Conference semifinals against Boston. In the entire Eastern Conference finals against Cleveland, he made only one shot from outside the paint while attempting only four.
Earlier this month, Howard had ripped Magic coach Stan Van Gundy for failing to provide him with more touches and had seemed to lack maturity both on and off the court. In this series, the 23-year-old center has grown up before our eyes. One sign of that was his demeanor in the locker room after Saturday's game. As Howard scrolled through the text messages on his cell phone ("Biggest one so far is from Spike Lee," he said), he offered this reply to one of his buddies who stopped by to congratulate him: "Ain't finished yet."
Indeed, he isn't, but he's moving on to face an opponent likely to give him more problems than the one he just finished bulldozing. The Lakers have plenty of big men in their rotation along with several spare parts at the end of their bench who all have six fouls to use, so Superman can expect to get battered and bruised by not only the likes of Andrew Bynum and Pau Gasol but probably also Josh Powell and D.J. Mbenga, if that's the speed-bump-filled route Lakers coach Phil Jackson chooses to use to neutralize Orlando's most powerful interior force.
Howard shot 70 percent from the line in this six-game set and seemed to gain confidence from the stripe as the series moved along, and the Magic used their other primary offensive weapon -- the 3-point shot -- with remarkable aplomb, averaging a shade more than 10 3s per game while making them at a 40-percent clip.
"They [the Lakers] have a low-post game," Orlando point guard Rafer Alston noted. "The Cavs' game was LeBron on the perimeter and LeBron on the low block. [Cavs center Zydrunas Ilgauskas] stepped out and became a jump shooter.
"But the Lakers have Gasol down there, they can put [Kobe] Bryant down there [and] depending who's guarding [Lamar] Odom, he can slide down there. So not only do they have a post game, they have a perimeter game, and that's going to be a challenge for us." Los Angeles already has been installed as a 6-point favorite for Game 1 on Thursday night at the Staples Center, where the Magic will have to put the elation of this accomplishment behind them as they take their game to the league's ultimate stage.
"What are you guys going to do for commercials now?" one Orlando fan shouted at a TV personality, a reference to the number of Kobe-LeBron spots that have been running throughout the first six weeks of this postseason.
"There will be no puppets of me. I'm not that big, I'm still small," said Magic swingman Mickael Pietrus, who will find his profile getting larger by the day because he likely will be the best option the Magic have for defending Kobe Bryant. (Van Gundy said he had toyed with the idea of replacing Courtney Lee with Pietrus as the starting shooting guard Saturday night but ultimately decided against it.)
"When we run, defend and rebound, we can defeat anybody. That's the mentality we have to take into the next series," Howard said from the postgame podium. "If we do what we can do best, we can beat anybody."
Earlier, in the locker room, I had asked Howard to give me one or two reasons I should consider picking the Magic to defeat the Lakers.
"God" was his answer, which was met with the counterargument that the Lord probably has better things to worry about than who wins a basketball game, and besides, religion and politics are usually best kept out of sports stories.
"That's the reason, I'm telling you," Howard replied. Pietrus offered the view that Rashard Lewis would be the key to the series for the Magic. My belief is that Alston could be a major positive factor for Orlando if he can keep his playground style in check and use his speed and handle to force the defense to collapse.
But a better, deeper thought came from the mouth of Magic owner Rich DeVos, who was wearing an Eastern Conference champions cap as he compared this Orlando team to the last Magic team that went to the NBA Finals -- the 1995 squad led by Shaquille O'Neal and Penny Hardaway that was swept by the Houston Rockets.
"This is a more secure team, better balanced, speedier, and all these guys can hit the 3," DeVos said. "We'll be the underdogs, but as long as we get a fair shake on the refereeing, we'll be fine."
They're fine for the moment, that's for sure. They've dethroned the defending champs. They've knocked off the team with the league's best record. They sent LeBron James scurrying from the building speechless on Saturday. And now they're going to El Lay.
Can they compete? Yes.
Can they win? Maybe.
Do I think they will? No.
So the prediction here is Lakers in 7, barring the divine intervention that Howard predicted would be the difference-maker.
Chris Sheridan covers the NBA for ESPN Insider. To e-mail Sheridan, click here.
Playoff Dimes past: May 13 | 14 | 15 | 20 | 21 | 22 | 23 | 24 | 25 | 26 | 27 | 28 | 29 | 30
Nice Guys Can Finish First

By Zach McCann | TrueHoop Network
Minutes after his team's monumental victory Saturday night, Dwight Howard leaned back in front of his locker and said to the room, "I'm too nice. I smile too much."
Surrounded by his teammates, reporters and autograph seekers, Howard was taking it in.
Howard did everything for which he's always been criticized: He sunk his free throws, flourished in the post and stayed out of foul trouble. He did it all while smiling after dunks and joking around with his teammates on the bench.
"My main goal is to go out there and fight for my team," Howard said. "And I can do that with a smile on my face."
The 40-point, 14-rebound showing was undoubtedly the best game of Howard's career and a performance the big man likely will remember for the rest of his life.
The victory officially thrusts the Orlando Magic to the national stage. At age 23, Howard has this franchise at a higher level than it has been since he was 9.
"I can remember coming to the games and nobody is in the stands until we play a Kobe or a LeBron," Howard said. "And now the stands are always filled up. I think we started to bring back some magic in Orlando, and that's one of the goals that I set out to do when I first got here.
The team will look for its first NBA championship against the mighty Los Angeles Lakers. The current Magic are a far cry from the 21-win team on which Howard started his career.
"I felt that we were a laughingstock around the league. Everybody played the Magic, and they thought about Disney World. So I just wanted to change that."
It's not Disney World anymore. It's Dwight's World.
To read more from McCann, check out his TrueHoop Network blog, "Orlando Magic Daily."
Magic Make It Count From Distance

By Elias Sports Bureau
The Magic made 12 of 29 3-point field goal attempts in their Game 6 victory. Orlando's total of 62 3-pointers in the conference finals tied the NBA record for 3-point field goals in a six-game playoff series. The Warriors had canned 62 3s in their upset victory over the Mavericks in the first round of the 2007 playoffs.
Dwight Howard scored 40 points and collected 14 rebounds in the Magic's 103-90 victory over the Cavaliers in Game 6. Only one other player in NBA history has had 40 points and 14 rebounds in a victory that put his team into the Finals: Charles Barkley, who had 44 points and 24 rebounds in the Phoenix Suns' Game 7 win over the Seattle SuperSonics in the 1993 Western Conference finals.
For the series, Howard averaged 25.8 points and 13 rebounds per game while connecting on 65.1 percent of his shots. Only one other player in NBA history has averaged 25 points and 13 rebounds in winning a playoff series while shooting at least 65 percent from the floor. Kareem Abdul-Jabbar (34.8 points, 19.5 rebounds, 66.3 percent) did it in the Bucks' four-game sweep over the Bulls in the 1974 Western Conference finals.
By Maurice Brooks
ESPN.com

SATURDAY'S BEST
Dwight Howard, Magic
: So much for all of that Kobe versus LeBron talk. Howard put a halt to those plans by posting 40 points, 14 rebounds and four blocks in Orlando's convincing Game 6 win over the Cavaliers.
---

SATURDAY'S WORST
Zydrunas Ilgauskas, Cavaliers
: Cleveland's starting center was outscored by only 38 points and outrebounded by seven by Howard.
---
QUOTE OF THE NIGHT
"Everybody's hurting. It's hard watching the dream go away with every 3-point shot they made."
-- Cavaliers guard Daniel Gibson on the Magic's hot shooting throughout the series
• See Saturday's daily leaders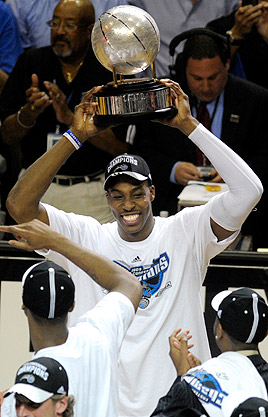 AP Photo/Phelan M. Ebenhack
Dwight Howard and the Magic eliminated the Sixers, Celtics and Cavaliers in the playoffs on the way to winning the Eastern Conference.
Broken Hearts In Cleveland
By Henry Abbott
TrueHoop

There are a million outcomes of the Eastern Conference finals Game 6. The Lakers got home-court advantage in the Finals. Some quick fouls on the likes of Anderson Varejao and Mo Williams helped kill talk that the playoffs were rigged to present us Kobe Bryant versus LeBron James. Dwight Howard played his biggest in his biggest game yet, and Stan Van Gundy has more than proved Shaquille O'Neal wrong.
But of all the storylines and lessons, does anything really resonate more than the fact that Cleveland fans once again did not get a championship?
• To read the entire TrueHoop blog, click here.
ESPN Stats & Information

Since complaining about his lack of touches following the Magic's 92-88 Game 5 loss to the Celtics in the Eastern Conference semifinals, Orlando center Dwight Howard has been dominant as both a scorer and rebounder.
Here are his stats in the eight games since he let out his frustrations.
No Slowing Down D12
Opponent
FG-FGA
PTS-RBDS
Celtics (Game 6)
9-for-16
23 and 22
Celtics (Game 7)
5-for-9
12 and 16
Cavs (Game 1)
14-for-20
30 and 13
Cavs (Game 2)
3-for-8
10 and 18
Cavs (Game 3)
5-for-8
24 and 9
Cavs (Game 4)
10-for-16
27 and 14
Cavs (Game 5)
8-for-10
24 and 10
Cavs (Game 6)
14-for-21
40 and 14
Cavs' Defense Has No Answers
By John Krolik
TrueHoop Network

The storyline of these Eastern Conference finals has been LeBron, LeBron and more LeBron. In wins he's been the messiah, in losses the pariah. And the talk apart from LeBron has focused on the exorbitantly high amount of the team's offense LeBron has accounted for in this series and the need to get him offensive help of some kind. But although the Cavaliers looked simplistic on offense, and despite the need to look at every win or loss as a function of James' offensive performance, the Cavaliers did more than enough offensively to win this series.
In a battle of two of the three best regular-season defenses in the league, the Cavaliers' lowest scoring total in this series was 89 points, and they managed to break the 100-point barrier in three of the six games. Make no mistake: This series was lost because of two gigantic Rashard Lewis 3-pointers to claim Games 1 and 4 and, more consistently, the Cavaliers' utter inability to stop the Magic's unorthodox attack.
The Cavaliers' back-line defense had been phenomenal all season because their two starters complemented so well on the defensive end. With Zydrunas Ilgauskas' length, strong base and shot-block timing, he could neutralize any big post players who would come at the Cavaliers despite his glacial movement.
Anderson Varejao's topflight speed and footwork allowed him to stay in front of any of the quicker 4s in the league looking to do damage from the outside despite his complete lack of strength.
Against 99 percent of back-to-the-basket threats in the league, this strategy worked. But in Dwight Howard, the Cavaliers were thrown a combination of speed and strength inside for which they had absolutely no answer.
When Ilgauskas attempted to defend, Howard blew past him with a running move through the lane. When Varejao attempted to defend, he got shoved into the basket support and watched a layup or dunk. And when the Cavaliers attempted to bring double-teams, they would open up the perimeter for the Magic's unorthodox and lethal perimeter game, as Orlando swung the ball where most would hold it and knocked down the open 3 where most would look to dump it to a slasher.
This offseason, the Cavaliers will look for answers. Against the Magic's five-deep offensive attack spearheaded by an unguardable post presence, they had none.
To read more from Krolik, check out his TrueHoop Network blog, "Cavs the Blog."