Andrew D. Bernstein/NBAE via Getty Images
With three more wins against the Magic, Kobe will finally win an NBA title without Shaquille O'Neal.

Andrew D. Bernstein/NBAE via Getty Images
Point guard Rafer Alston saw his playing time reduced in Game 1 with the return of Jameer Nelson.
Kobe, Phil Disagree On Whether Bryant Is A Nice Guy

EL SEGUNDO, Calif. -- Kobe Bryant is not a nice guy.
Rather, he is "a killer, a gunslinger, a guy who will take the weak and have no mercy on them. That's one of the things about Kobe. He's a tough character, [though] he's got a real nice demeanor and carries himself very well."
Finals schedule
Game 1: Lakers 1, Magic 0 Game 2: Sunday, 8 ET, ABC
Game 3: Tuesday, 9 ET, ABC
Game 4: Thursday, 9 ET, ABC
Game 5: June 14, 8 ET, ABC
Game 6: June 16, 9 ET, ABC
Game 7: June 18, 9 ET, ABC
Those were the words Saturday of his coach, Phil Jackson, the guy who has sat on the sidelines and guided Bryant through nine of his 13 NBA seasons, watching him grow through bouts of immaturity, feuds with teammates, scoring binges mixed in with the occasional mysterious drought, and various types of standoffs with the local media, all while coaching him through legions of glorious victories and equally agonizing defeats.
To Jackson, Bryant is nowhere near the same mystery he is to the rest of the world, a player whose mood throughout this postseason has been scrutinized closely, often quizzically.
In the Houston series, in between the times Bryant was yelling to TV analyst Doug Collins: "They can't guard me," you couldn't help but say to yourself: "I'm no lip reader, but I'm pretty sure he has used 16 different variations of a certain curse word."
In Game 1 of this series, it immediately jumped out at colleague J.A. Adande that Kobe brought his game face to the center circle for the opening tip, the first guy out there, "bad man" written all over his focused features. He scored his 40 without yapping, looking as unstoppable as he ever has in a game at this late stage of the postseason.
Afterward, he kept up his recent habit of being borderline morose in his news conference -- he said his daughters had been calling him "Grumpy," a reference to one of the Seven Dwarfs in the Snow White fairy tale, because of his mood lately) -- and observers were struck by how it was such a far cry from the loose Kobe we saw during last season's Finals against Boston, or the even looser Kobe from last summer in Beijing, who was as conversant on off days as he was focused on game days, a byproduct of how genuinely awe-inspired he was by the whole Olympic experience.
His checkered history, his mood swings, and his successes and failures have all fed into the accurate and inaccurate perceptions of Bryant, but the latter was the topic Jackson was asked about on the eve of Game 2 of the NBA Finals:
"What is the biggest misperception people have of Kobe?"
Jackson's answer actually had two parts, the second being that people have the mistaken impression that Bryant is a selfish player: "All of us have a certain amount of ego in this game, and I'm sure no one would doubt that. But he understands what the mood and the temperament of the game is a lot of time, reads the game, knows when he has to carry the thrust of our team a lot and then knows a lot of times if he's got to pull back or sit back and let some other people do what they can do best on the team."
But the first part of Jackson's answer was the richer one, and the story only got better when that comment was relayed to Bryant some 20 minutes later.
"He lied," Bryant said.
(Pardon the interruption, but it seems we have a disagreement between Bryant and Jackson. If this were a tabloid city, we'd suggest the back-page headline: "Kobe: Phil a Liar. Phil: Kobe a killer.")
The follow-up question to Bryant after he said Jackson had lied:
"In your mind, what is the biggest misperception about you?"
"The way I am on the court is the way I am off the court. I'm completely different at home and outside of the Staples Center and here. I think my USA Olympic teammates were up for a pretty big shock, too, this summer. I'd probably say that."
Bryant's Olympic teammates undoubtedly developed a new level of respect for Bryant from witnessing his dedication to his craft, and the workout time he put in, but it was never quite clear exactly how friendly they became with him. (Dwight Howard said last week that he doesn't even think Kobe has his phone number, and LeBron James made a point in Beijing to declare, "I am the leader of this team," as the medal round was commencing.) The younger Team USA players, especially James, also were somewhat stunned by how much more popular Kobe was among the Chinese fans than any of the other Redeem Teamers were.
"Is he a nice guy? Kobe?" Howard said. "Yeah, Kobe is a nice guy, a very nice guy. He's a great team player, one of the hardest-working people you'll ever meet, a good person to be around.
"Sometimes he goes crazy. He starts making unbelievable shots, he plays great defense," Howard said. "When he has that killer-instinct look, you probably seen it last game, it is a sight to see."
Given the emotional swings over the course of his career, much of the mood measuring and tea-leaf reading of Bryant is a product of his own making, the kind of thing that snowballs when he spends two weeks giving short, clipped answers to most every question thrown his way, then plays with such intensity -- and maintains that game face afterward -- that he almost comes off as joyless.
"Just because you're focused on something doesn't mean you don't enjoy something," Bryant replied when asked whether he was enjoying this, since it appears to the untrained eye that he is not. "That's part of the fun is just figuring out how to focus and how to get ready to play game after game. You can still do your job and still have a good time."
Did that mean his Seven Dwarfs alter ego had morphed from "Grumpy" to "Happy"?
"I'm always happy. I was just happy my kid didn't call me Dopey," Bryant said.
Well, there's another perception out there that isn't really a fairy tale, and as much as Bryant dismisses it, there remains a dominant undercurrent to this postseason that Bryant wants to rid everyone's minds of the perception that he wouldn't have won any titles, much less three, if he did not have Shaquille O'Neal as his running mate when the Lakers dominated the NBA at the start of this decade.
O'Neal has been openly and publicly rooting for the Lakers to defeat the Magic and for Bryant to win a fourth ring, a happenstance that has not gone unnoticed or been appreciated by the Magic, who had O'Neal in the house during the Eastern Conference finals against Cleveland. (They charged him for his tickets, rather than comped him, although it would have been understandable had the Magic steered Shaq to StubHub or some other ticket broker and wished him the best of luck getting seats as close to the floor as the ones they provided.)
Bryant's comment on Shaq's rooting interest: "I don't make much of it."
You believe him?
Depends on whether you think he's a nice guy, a killer, or what he said Jackson was -- a liar.
At least we can all agree he's a gamer, which is something to keep in mind when you see whether his game face is intense Sunday night as it has been for the past several days.
Playoff Dimes past: May 14 | 15 | 20 | 21 | 22 | 23 | 24 | 25 | 26 | 27 | 28 | 30 | June 4
Turkoglu Remains Confident Despite Slump

By Chris Sheridan | ESPN.com
EL SEGUNDO, Calif. -- The Turkish word for "slump" is "dŁşme."
And it does me no good to tell you that Hedo Turkoglu is in a slump, because he's having none of it.
Yes, he shot 3-for-11 overall and 1-for-3 on 3-pointers in Game 1 after going 3-for-12 (and 2-for-6 on 3s) in Game 6 of the Eastern Conference finals, but two games does not qualify as a slump in America or Turkey (although in Greece, it'll get you cut from the team) -- especially after he went 10-for-18 in Game 5 against the Cavs as the Magic's only effective offensive weapon in their loss that night at Cleveland.
And yes, Turkoglu had only two assists in Game 1 after putting up just two in Game 5 against Cleveland, but good passes are good passes regardless of whether his teammates make the shots, and he is confident we'll be seeing more of that in the days ahead.
"On my assists, I'm just trying to make the decisions, find my teammates, try to get them the ball when they need," Turkoglu said Saturday on the eve of Game 2. "I will overcome it and I believe that. As long as I'm getting them the ball when they need at the right time, all I have to do is just wait, and make them shots.
"On the other hand, I'm not worried about my shooting at all. I have a lot of confidence in myself, and I know I'm going to respond better in the second game. As long as I'm being active, obviously, and just playing my game, I think it'll be all right. It's just the one game. I didn't shoot the ball well, but I was kind of active and I did a good job. They are long, athletic, so like I said, I've just got to wait and see how they're going to guard me and read the situation and try to attack."
Trevor Ariza opened Game 1 with the defensive assignment against Turkoglu, and his length and quickness was a drastic departure from what Turkoglu faced in the Eastern Conference finals, in which he was often guarded by Delonte West, a player he towered over by at least six inches.
Orlando coach Stan Van Gundy noted that the Lakers' size and length had the effect of taking a little zip off Turkoglu's passes because he had to loop them over the taller outstretched hands of the Lakers, giving L.A.'s defenders the extra split second they needed to close out on the Magic's shooters.
Another player who was affected in Game 1 by that aspect of matching up with the Lakers was Rashard Lewis, whose only two buckets came from 3-point range, as he shot 0-for-8 from inside the arc -- often with a tall Lakers player defending him closely.
"It's been noted this year that the size that we play with has some effect on teams as far as penetration and passing and dribbling and then making the passes. So we've tried to accentuate that," Jackson said.
Finding ways to keep Turkoglu as the centerpiece of the fourth-quarter offense will be crucial for Orlando in Game 2 and beyond -- provided they're not as out of the next three games at the end of the third quarter, as they were in Game 1 three nights ago.
If not, we'll have to find an Internet translating device that can give us a reasonable Turkish translation of "protracted slump."
Stay tuned on that one.
Kurt Helin
ESPN TrueHoop

Lakers fans are confident right now. With most fan bases you'd expect that after a 25-point Game 1 win, but that's not the usual reality in Los Angeles this past season. The Jekyll and Hyde nature of the Lakers has conditioned the fan base to expect a lackadaisical performance after a good one. A big Lakers win normally makes us as skittish as a grazing gazelle. The Lakers' up-and-down play was a forgivable habit in December but became worrisome in April and downright exasperating in May.
But it doesn't feel like that is what is going to happen in Game 2 against Orlando.
There is Kobe Bryant's new underbite, and all that comes with it. There was the Lakers locker room after Game 1, which was far more businesslike than normal -- all season long the Lakers players said the right thing about trying to be consistent, but this time it seemed as if they meant it.
And they have meant it for 10 straight quarters. Starting at halftime of Game 5 against Denver and running through Game 1 of the Finals on Thursday, the Lakers have played basketball about as well as they can. That may not seem like much, but for the up-and-down Lakers that is a DiMaggio-like streak.
Most of all, confidence exudes from Phil Jackson now. It's not just the 43-0 thing after winning Game 1 (although that helps). He is far more confident than he was in 2004 or in 2008 -- and he's said as much. He feels like he has a handle on these Lakers and what buttons to push. He clearly knows what mismatches he can get and wants to exploit against Orlando.
Jackson is carrying himself with the confidence of a man with 10 rings. Soon he may have that, but that confidence has buoyed all of Los Angeles.
To read more from Helin, check out his TrueHoop Network blog, "Forum Blue & Gold."
Shooting For Double Digits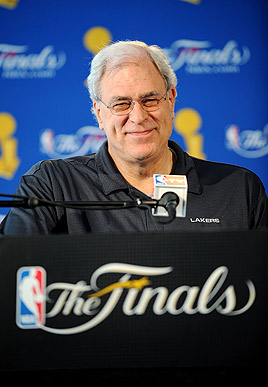 Andrew D. Bernstein/Getty Images
Phil Jackson is trying to win his 10th NBA title and his fourth in 10 seasons as the head coach of the Los Angeles Lakers.
L.A. Knows What Phil Expects
Henry Abbott
ESPN TrueHoop

I spent a little time recently rereading Phil Jackson's 1995 book "Sacred Hoops." Orlando nightspots, don't expect to see a lot of late-night Lakers action next week. Phil Jackson is wise to your ways. Jackson says his first real tirade as Bulls coach -- he kicked a soda can, which shocked the players -- came after his Bulls had been partying too much in Orlando. "The players had been hanging out in Florida all week, chasing women and partying every night. I was angry because we had blown a 17-point lead, and it was clear that the players' extracurricular activities were sapping their energy."
• To see the full blog, click here.
John Hollinger
ESPN.com

LOS ANGELES -- Of all the stats from L.A.'s Game 1 blowout of Orlando on Thursday night, this one might be the most eye-popping: Kobe Bryant 16, Orlando Magic 15.
L.A.'s star guard made more 2-point baskets than the entire Magic team in Game 1, a testament both to the impressive display put up by No. 24 and to the swarming defense played by the purple and gold.
We've already heard plenty about the former, so it's now time to dissect the latter. And to get to the roots of the Lakers' defensive dominance in Game 1 of the Finals, we have to go back a little more than a week ago, to the middle of their conference finals series against Denver.
It's easy to forget now, but it appeared L.A. was against the ropes. The Lakers were tied 2-2 after four games against a Denver team that appeared healthier and more energized, and the general consensus was that an L.A. team worn out from a seven-game second-round series against Houston might lack the stamina to finish the Nuggets off.
That hypothesis seemed further validated when the Nuggets scored 56 points in the first half of Game 5 in the Staples Center, raced out to a seven-point lead early in the third, and seemed to be en route to stealing home-court advantage from their weary opponents.
• To read the entire Hollinger column, click here
David Thorpe
Scouts Inc.

When Orlando has struggled offensively this postseason, normally it was a result of too few touches for Dwight Howard. That lack of touches allows the opposing defense to keep its basic structure, and against the Lakers, this became a problem. But it wasn't the only issue the Magic had on offense. In addition to not establishing Howard enough early in the clock, the Magic players seemed tentative in many of their actions. Guys held the ball for too long, again allowing Lakers defenders to stay in good spots. Players jogged to set screens too often, unsure of what exactly the ball handler wanted. This shortened the clock on many possessions, a fatal blow against a team with the length of the Lakers. And the ball handlers didn't attack off screens once they were set, rarely getting penetration and forcing the Lakers to break out of their standard defense.
• To see the full Game 2 preview, click here.

Four-time NBA All-Star Penny Hardaway thinks Orlando looked nervous in Game 1. Penny believes the Kobe Bryant-Shaquille O'Neal rivalry is driven mostly by the media.
The Herd