Noah Graham/NBAE via Getty Images
After taking an inbounds lob from Hedo Turkoglu, Courtney Lee misses this potential game winner.

Noah Graham/NBAE via Getty Images
Courtney Lee shows some emotion after missing the lob at the end of the fourth quarter.

Stephen Dunn/Getty Images
Hedo Turkoglu blocks Kobe Bryant with one second left in regulation, setting up the lob to Lee.

AP Photo/Matt Sayles
Lakers guard Kobe Bryant and Pau Gasol (seven OT points) react to their great escape during Game 2.

Nathaniel S. Butler/NBAE via Getty Images
Lamar Odom pulled down eight rebounds and had the game's highest plus-minus rating (plus-10).

Gabriel Bouys/AFP/Getty Images
Pau Gasol (24 points, 10 rebounds) fights for the ball with Dwight Howard (17 points, 16 rebounds).
Game 2: Lakers Win By Default

LOS ANGELES -- The Los Angeles Lakers aren't winning the NBA Finals so much as they're not losing it.
They're not putting on a basketball clinic or anything worthy of the terms "shock" and "awe." Be honest now, would you watch the DVD of these Lakers playoffs, even if it came free with a magazine subscription?
There's still something to be said for not beating yourself, for not blowing opportunities, for not making dumb mistakes, for not missing open shot after open shot -- in short, for not doing the things that caused the Orlando Magic to lose Game 2 101-96 in overtime and fall behind 2-0 in the series.
"When you win a game in the Finals, regardless of how it looked out there, you earned it," Lakers guard Derek Fisher said.
Most of this one looked like that picture Shaq labeled as Dwight Howard and Stan Van Gundy's baby on Twitter the other night.
The Lakers were co-conspirators in a 15-15 opening quarter that set a record for fewest combined first-quarter points in NBA Finals history.
The Lakers gave Orlando a point-blank shot to win the game with 0.6 of a second left in regulation, and the Magic couldn't win it.
Kobe Bryant did not have "a good game at all as far as his standards go," according to Phil Jackson. (Bryant missed 3 of 5 shots and committed three turnovers in the fourth quarter).
Orlando marksman Rashard Lewis had more obstacles in his shooting drills two hours before tipoff than he did once the Lakers took the floor.
The Lakers' backup backcourt players provided four points.
No wonder Jackson described the feeling after this victory as "a sense of relief."
That's still better than "most definitely heartbreaking," which is how Lewis depicted it.
There was only beauty to be found on a relative scale, emerging from the numerical comparisons.
Look at all of the little things that added up to a Lakers victory. The Orlando Magic committed 20 turnovers that led to 28 points, including three turnovers that the Lakers converted into four points during the five-minute overtime. The Lakers took 28 free throws and made 24, the Magic took 27 and made 20.
And once again, with the potential for the game to swing either way, the Lakers came up with a critical steal. Trevor Ariza did it to Denver twice on inbounds plays in the West finals, and Sunday night Fisher pilfered Orlando's J.J. Redick.
With the Lakers leading by a point with two minutes left in overtime, Fisher went to the middle when he saw Redick driving (a good move at any point in this game). He swiped Redick's pass to Howard, took off the other way and drew a foul on Hedo Turkoglu. It wasn't a great call, but Turkoglu never stopped to establish position and when Fisher went into him, the officials had to call something. Veteran move. Fisher's two free throws put the Lakers ahead by three.
"I read J.J.'s eyes," he said of the steal, "and I knew he was going to try and make that hook pass behind to Howard. I've made that play myself a couple of times, you know, where you have that big guy rolling behind you that way. I just slid over and read his eyes and the ball, I think, bounced off Dwight's legs as I got a hand in there. [Then] I just tried to go down and create some contact because I knew I had Turkoglu backing up."
This game reflected Fisher's resolve and resourcefulness as much as Game 1 was a product of Kobe's determination and ability. With a paucity of baskets in that dreadful first quarter, the loudest ovation from the Staples Center fans came after Fisher stole a pass and drew a foul.
L.A. fans would rather pile adulation on Bryant, but he didn't provide as many spectacular moments as he did when he got hot in the middle quarters of Game 1. His 29 points and eight assists were tempered by seven turnovers, and in the fourth quarter, when the offense was reduced to the rest of the players standing around and watching him, he couldn't deliver the victory in regulation. His attempt to go for the winning shot in the final seconds, against what wound up being four Magic defenders, was blocked from behind by Turkoglu. Then he let Courtney Lee get free for the layup from a lob pass off the inbounds play with 0.6 of a second left. Jackson said, "We warned Kobe that was probably what they were going to come back to."
But Bryant did deliver a nice pass to Gasol for a layup and foul that took the Lakers' lead from three to six in overtime. And Bryant couldn't be held responsible for so many of the defensive breakdowns.
"We missed a lot of rotations," assistant coach Brian Shaw said.
And they almost missed out on the chance to make the major off-day story Van Gundy's mix-and-match lineups, which have gone from Rafer Alston to Jameer Nelson to neither of the above, with a backcourt of Redick and Lee.
"We had an opportunity to really make them second-guess what they were doing," Shaw said. "The fact that all of this point guard controversy, if you want to call it that, was going on, then at a critical stretch of the game they didn't have none of them. We didn't take advantage of all of that. With all that being said, we got the win."
And that, after all, is the final word.
J.A. Adande is an ESPN.com senior writer and the author of "The Best Los Angeles Sports Arguments." Click here to e-mail J.A.
Playoff Dimes past: May 24 | 25 | 26 | 27 | 28 | 29 | 30 | 31 | June 5 | 6 | 7
Hey, Where Is The Goaltending Call?

By Chris Sheridan | ESPN.com
LOS ANGELES -- If I am an Orlando Magic fan, I need two things: a new TV to replace the one I put my foot through after the Magic's frustrating 101-96 overtime loss to the Los Angeles Lakers, and an explanation as to why goaltending wasn't called when Pau Gasol touched the rim on Courtney Lee's missed alley-oop layup at the end of regulation.
We can't help the folks in central Florida resolve that first problem, but we can give you the official answer on the second. NBA supervisor of officials Bernie Fryer told ESPN.com that if Gasol's hand had shaken the basket, caused the stanchion to move or touched the rim while the ball was on the rim, the correct call would have been goaltending.
But since none of those things happened, according to Fryer, "It was a cut-and-dried no-call."
Let's reset the scene. With the score 88-88, Hedo Turkoglu blocked Kobe Bryant's shot from behind, grabbed the rebound and motioned for a timeout. The clock ran down to 0.0, but the officials reviewed the play and put 0.6 of a second on the clock because, in their judgment, that was the time remaining when Turkoglu signaled for the timeout. The Magic were permitted to move the ball to the frontcourt, because of the timeout. On the first attempt to run an inbounds play, Turkoglu was unable to make the pass that Orlando coach Stan Van Gundy had drawn up, so he burned one of the Magic's two remaining 20-second timeouts.
On that attempt, the coaching staff noticed that Kobe Bryant came over to help guard against a lob to Dwight Howard, so Van Gundy drew up a new play, a backdoor lob that Lee said the Magic had practiced numerous times over the course of the season.
"We warned Kobe that was probably what they were going to come back to," Lakers coach Phil Jackson said, "and we suspected that that would probably be the action that they would come back to, but they still found a way to get a shot off."
Turkoglu's pass looked perfect, hitting Lee in flight after a pick had freed him from Bryant's defense. But Lee was sailing slightly beyond the backboard as he caught the ball, and in his attempt to get the ball back to the basket, he spun it a little too hard off the backboard. The ball banged off the rim right to Howard, who jumped, caught it and dunked it, but after the buzzer. No basket, and the game went into overtime. The Magic came up short in OT, falling behind 2-0 in the NBA Finals.
"I was just trying to catch the ball and put it in," Lee said. "I don't know if I was wide open or not. I was just looking at the ball when it was in the air and was trying to go get it and complete the play.
"You sit and groan about it just for that moment, but you still have another five minutes to go out there and play. We didn't lose the game just because I missed the layup."
Van Gundy pointed to his team's 20 turnovers (the Lakers scored 28 points off of them) as one critical factor, but there also was the fact that Orlando scored only two fast-break points after having none in Game 1.
The Orlando coach also made major changes to his rotations, playing the final nine minutes of the fourth quarter without a true point guard on the floor, assigning most of the ballhandling duties to Turkoglu in a lineup that also included Howard, J.J. Redick, Rashard Lewis and either Lee or Mickael Pietrus. Redick was forced into extended minutes because Pietrus was whistled for six fouls in 23 minutes -- several of them questionable calls when he was defending Bryant one-on-one (although it should be noted that Pietrus refused to say anything negative afterward about any of the six fouls).
Van Gundy also limited Jameer Nelson to 16:40 of playing time, used a twin towers lineup of Howard and Gortat for a long stretch of the low-scoring first half, handed the defensive assignment on Bryant to Turkoglu (rather than Lee) after Pietrus fouled out, and then turned to Lee late in the game after keeping him benched for 38 of the first 45 minutes.
"We were just searching for somebody to make a shot," Van Gundy said. "I don't think it's much trouble to get our guards shots; they're not guarding them. They're only guarding three guys, so it's not very hard to get those guys shots."
After the lowest-scoring first quarter in NBA Finals history ended tied 15-15, Orlando scored 20 points in the second quarter -- 18 by Lewis and two by Tony Battie. The others were 0-for-12, including 0-for-4 by both Redick and Turkoglu.
Over the first two games, backcourt players Lee, Alston, Nelson and Redick are a combined 14-for-53 (26 percent), while Howard (6-for-16), Lewis (14-for-31) and Turkoglu (11-for-28) are shooting a combined 41 percent.
"Obviously, we didn't find anybody. Our guards were 6-for-26, and I think for the most part, again, L.A.'s defense was good ... but we just couldn't knock anything down," Van Gundy said. "We were just trying to see if we could get somebody out there who would make shots off of the double-teams and off the pick-and-rolls and things like that. I thought our guys fought hard, but we couldn't make enough plays."
Especially that one from Lee with 0.6 of a second left -- the one the NBA declared had not been goaltended.
Magic NBA Finals Losing Streak Reaches Six

By Elias Sports Bureau
The Lakers took a 2-1 lead in the NBA Finals with an overtime win over the Magic. After being swept in their only previous NBA championship series, the Magic have extended their losing streak in the NBA Finals to six games, the second longest for any NBA team to begin its franchise history. The Baltimore/Washington Bullets lost their first nine games in the Finals (four against Milwaukee in 1971, four against Golden State in 1975 and one against Seattle in 1978).
By Maurice Brooks
ESPN.com

SUNDAY'S BEST
Kobe Bryant, Lakers
: Yes, he turned the ball over seven times, but he also gave out a game-high eight assists to go along with 29 points as the Lakers took a 2-0 lead.
---

SUNDAY'S WORST
Rafer Alston, Magic
: Through two games, the point guard is shooting 3-for-17 from the floor with a total of 10 points and six helpers.
---
QUOTE OF THE NIGHT
"We blew a lot of assignments tonight -- a lot of assignments -- and we still managed to get a win."
-- Lakers guard Kobe Bryant, after his team escaped with an overtime victory in Game 2
• See Saturday's daily leaders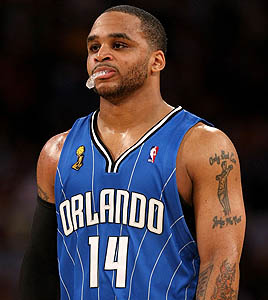 Stephen Dunn/NBAE/Getty
Much has been written about Jameer Nelson's return from a shoulder injury, but so far Orlando is 0-2 in the Finals with their All-Star in the lineup. In Game 2, he was held to 1-for-3 shooting with one assist.
By John Hollinger
ESPN.com

LOS ANGELES -- It's perhaps not the main story from the Lakers' victory in Game 2, but it's a story nonetheless: the resurrection of Derek Fisher.
L.A.'s embattled veteran point guard had struggled through the Houston and Denver series. Actually, struggled is putting it kindly. In one seven-game stretch he went 15-for-57 from the floor, and defensively he struggled mightily to keep Houston's Aaron Brooks in front of him.
But he showed a bit of a pulse toward the end of the conference finals, scoring 12 points in the Lakers' Game 5 win, and has played quite well in the first two games of the Finals.
Fisher is 8-for-17 in the two games (21 points overall) and has committed just two turnovers. And in Game 2, overtime stretched him out to 41 minutes of playing time -- the most he had played since a Feb. 5 win in Boston.
Nonetheless, it was Fisher who made two of the biggest plays in overtime. On Orlando's first trip, he stripped Dwight Howard near the hoop and prevented a near-certain basket. And just inside the two-minute mark, with L.A. clinging to a one-point lead, he stole a J.J. Redick pass and drove to the other end to draw a foul. After he made both shots, L.A. had a three-point lead, and once Pau Gasol scored on a foul-and-one on the next trip, the game was essentially over.
"Derek has been playing 24 to 28 minutes during the course of the season," said Lakers coach Phil Jackson, "so that he could have this type of minutes during the playoffs. We know how valuable he is just because of his heady play out there and his ability to organize our game and keep everything in flow."
And Fisher's play stood in stark contrast to his opponents'. While Orlando's point guards struggled all night to make shots even when left wide open -- Jameer Nelson and Rafer Alston were a combined 2-for-11 -- Fisher has kept the Magic honest by making three of his four 3-point attempts.
"Derek is a professional, he's going to keep on coming all the time," said Kobe Bryant. "If he's not shooting the ball well, it's not going to affect him. It's not going to affect the next shot, and he's going to continue to shoot the ball and play with great energy and play with great confidence."
Magic Play Better In Game 2
By Dr. Jack Ramsay
ESPN Radio

LOS ANGELES -- The Magic didn't win Game 2 because they committed too many turnovers and their point guards struggled.
Still, coach Stan Van Gundy had his team ready to play. He recognized the mistakes his team made in Game 1 and made moves to rectify those problems.
Dwight Howard, Rashard Lewis and Hedo Turkoglu played better, and that gave the Magic a chance to win at the end of the game.
Van Gundy drew up a terrific end-of-the-game play to get Courtney Lee a wide-open layup; it was a great call.
If Lee had not missed that shot at the end of regulation, the series would be tied 1-1. That's a tribute to SVG.
So, the Lakers won the games they were supposed to win, and now the Magic head home to try to win the games they're supposed to win.
Blown Career-Defining Moment
By Henry Abbott
TrueHoop

Kobe Bryant prides himself on his ability to interpret the strategy of opponents. He notices Turkoglu taking the ball out of bounds. He notes Lewis and Redick fighting toward the ball. When his own man, Lee, does too, Bryant matches him stride for stride. Somebody is going to catch the ball and fire a jumper. Surprise! Instead, Turkoglu lobs from nearly half-court, high into the air toward the hoop. Just then, Lewis steps in to screen Bryant out of the play.
Lee scrambles for the hoop, unimpeded.
Later, Lee said his main thought was that the ball seemed to take forever to make its way out of the sky and into his hands.
If this shot -- basically, an uncontested, if hurried and off-balance layup -- goes in, the Magic have tied the series, gained home-court advantage, and stunned the pundits. They would have stolen a win in Los Angeles, and the NBA Finals would tilt in their favor.
"It was very close," Lee would say later. "The ball rolled off the rim. ... I just had to finish but I didn't."
"He got a good look at it," said Lewis. "I don't know if it was a bad pass. It seemed like he was a little under the basket when he caught the ball for the layup and it was a tough play for him."
Lee can't remember ever having won a game with an alley-oop before at any level of play. It's about as spectacular as basketball can get.
It just was not to be on this night -- and it's the kind of opportunity that comes to the NBA Finals only once in a great many years. It's exceptionally unlikely that Lee, or any other player in this series, will ever get another chance to win a Finals game with an alley-oop.
Lee is nearly alone in even having attempted such a thing. And he missed.
But he's not taking it too hard. "All we can do now," he says, "is get ready to play on Tuesday."
To read the entire TrueHoop blog, click here