Nathaniel S. Butler/NBAE/Getty Images
Hedo Turkoglu celebrates the Magic's first NBA Finals win, a 108-104 decision over Kobe & Co.

Stan Honda/AFP/Getty Images
Rafer Alston made 8 of 12 shots, setting the tone for the Magic's Finals-record 62.5 percent night.

Photo by Chris Graythen/Getty Images
After he scored 21 points in the first half, Kobe Bryant garnered more hands-on defensive attention.

AP Photo/ Ronald Martinez
Magic super sub Mickael Pietrus (18 points, 7-of-11 shooting) could not be stopped by Sasha Vujacic.

Emmanuel Dunand/Getty Images
Rashard Lewis (21 points) made some big shots, and dealt with Lamar Odom and Pau Gasol.
Alston On Motivation: "Everybody Got On Me"

ORLANDO -- That was quite the story Orlando Magic coach Stan Van Gundy told afterward about how he motivated Rafer Alston.
A short story, and a tall tale, too.
"I thought for two days about what to say to him, and I said, 'Play your game.' You can write that down. That's a quote. It took me two days to come up with that."
If you want to believe that was the only motivational thing Van Gundy said to his point guard, go ahead. But you'd be fooling yourself just as much as Van Gundy was trying to fool everyone who was watching and listening to his postgame news conference.
In reality, Van Gundy was all over Alston on the team bus after Game 2, and all over him again at practice Tuesday morning, repeatedly imploring Alston to be aggressive all over the court -- a litany of motivational talks that ESPN colleague Rachel Nichols first reported during her pregame "SportsCenter" report.
The microphone Van Gundy was wearing during Game 3 even picked him up telling Alston during the third quarter: "Solid and simple. Settle down, play your game."
That's exactly what Alston did, making his first five shots (including a 4-for-4 first quarter) and going 8-of-12 overall (1-of-1 from the 3-point line). Alston finished with 20 points to help lead the Magic past the Lakers 108-104, cutting Orlando's deficit in the NBA Finals to 2-1.
Van Gundy, who at Tuesday's shootaround had ruled out using Jameer Nelson as a starter during this series, wasn't the only one in Alston's ear.
Friends back home in New York were texting him the same thoughts: to play smart, to knock off the knack for knuckleheadedness he had displayed so consistently over the better part of all four rounds of the NBA playoffs.
Alston even told himself to stop jacking up 3-point shots as though he were Ray Allen, and his Magic teammates -- even one guy who didn't play a minute Tuesday night and another who hasn't played in months -- got in on the motivational act.
"My teammates, everybody was telling me to be the guy that they brought in," Alston said. "I took that very seriously, and that's what I wanted to do.
"Rashard [Lewis], Dwight [Howard], Adonal [Foyle], and then tonight, it was surprising, even J.J. [Redick] pulled me aside and said, 'Come on now, play your game, get back to being Rafer.' And some of them wanted some Skip tonight," Alston added, referencing his New York playground nickname, Skip To My Lou. "I gave them a little of that. But these guys are the best. They encourage me, and they keep looking for me with the confidence that I can stick the shots."
What had been killing the Magic in this series was the play of their guards, both their inability to make shots and the difficulties they were having defending Kobe Bryant.
ESPNDB

Find all the stats and info on Magic guard Rafer Alston, check out ESPNDB: NBA Finals.
•
ESPNDB: Rafer Alston
Alston's mojo had been thrown off-kilter in Game 1 when Van Gundy used Jameer Nelson for the entire second quarter in Nelson's first game in four months, and his confidence got beaten down further in Game 2 when Van Gundy went the final nine minutes of the fourth quarter with
Hedo Turkoglu
playing point forward and Redick and
Courtney Lee
getting the clutch-time minutes in the backcourt.
Alston was clearly frustrated and unhappy, and not only with himself.
"Stan and I have a great relationship," Alston said. "He's just trying to coach to win games, and I'm trying to play to help this team win games, help this team. Number one is don't take it personal. I think the first game, I just said it was a rhythm thing because I had never done that before, never played like that. Second game, I was able to find a flow but not hit shots. Tonight, I was able to make shots."
Orlando also got huge games from Howard (21 points, 14 rebounds), Lewis (21 points, five rebounds, five assists) and Turkoglu (18 points, seven assists, six rebounds). But the play of Alston and Mickael Pietrus put the Magic over the top on a night when they set an NBA Finals record by shooting 62.5 percent, yet managed to win by a mere four points.
Van Gundy called Pietrus' dunk with 2:19 left -- a follow of a missed jumper by Turkoglu -- the biggest bucket of the game. The dunk broke a 99-99 tie and put Orlando ahead to stay.
Two possessions later, Alston made what might have been the second-best play of the night. When the Lakers trapped him, he feathered a pass to Lewis at the 3-point line for a dagger -- well, it would have been more of a dagger, except a video review showed Lewis' toe was touching the 3-point arc, so the shot was reclassified. The 2-pointer made it 104-101.
On the Lakers' next possession, Howard fouled Bryant, who made 1 of 2 (he missed half of his 10 free-throw attempts). Then Gasol blocked a shot by Lewis, but Gasol's turnover on a deflection and steal by Pietrus led to a Bryant foul. Pietrus hit both free throws to put Orlando up 106-102 with 28.7 seconds left, and after four 3-point misses by the Lakers, this one was just about in the books. Bryant's putback off Fisher's missed 3 with 0.5 left cut L.A.'s deficit to two, but Lewis made two free throws with 0.2 left to ice the game.
And, best of all for Alston, he would not wake up Wednesday morning to an earful of advice, pep talks and/or motivational speeches -- not to mention the theoretical argument, for which a compelling case could have been made prior to Tuesday, that Orlando's best point guard might be Anthony Johnson, who hasn't logged a single second of playing time in this series.
Those days are behind Alston, at least for the time being.
Then again, you never know if someone might want to taunt him with the fact that he hasn't had two consecutive great games since he was breaking ankles on the concrete courts at Rucker Park in Harlem back when he was earning his nickname.
OK, that's a reach.
But so, too, was Van Gundy's line about working for two days to come up with a three-word motivational speech.
Chris Sheridan covers the NBA for ESPN Insider. To e-mail Chris, click here.
Playoff Dimes past: May 24 | 25 | 26 | 27 | 28 | 29 | 30 | 31 | June 5 | 6 | 7 | 8 | 9
Kobe Loses His Finishing Touch

By J.A. Adande | ESPN.com
ORLANDO -- Here it was, literally in Kobe Bryant's hands, the chance to turn this basketball into a gold trophy, an opportunity to tie the score or take the lead against the Orlando Magic with half a minute left, a shot at the historically insurmountable 3-0 advantage in the NBA Finals in his grasp.
He bobbled it. He lost it. Orlando's Mickael Pietrus grabbed it. Bryant had no choice but to foul him for two free throws that extended the Magic's lead to their eventual winning margin of four points.
Bryant was so mad at himself he ignored prone teammate Pau Gasol. Gasol had hit the deck to retrieve the ball after Dwight Howard poked it away as Bryant tried to split a double-team. Gasol instinctively passed to Kobe, the man three-quarters of the league would choose to have the ball in the final minute of a game.
Just not on Tuesday night. This time, given a reprieve on the same play, given another chance on a night of several crunch-time mistakes, Bryant couldn't even maintain possession. After the foul he stomped around, nearly stepping on Gasol, whom he never did offer a hand. He didn't pick his teammates up, he let his teammates down; whatever direction you want to use it was appropriate.
After Gasol stole an entry pass intended for Dwight Howard with 3½ minutes left, Bryant missed a drive on the other end. At the two-minute mark, Kobe missed a 3-pointer that could have given the Lakers the lead. With 59.8 seconds remaining, he missed one of two free throws. And in the Lakers' late, desperate flurry, he missed two more 3-pointers before he finally made a too-late layup with 0.5 seconds remaining.
You'd have to go back to Kobe's early years in the older-style Lakers uniforms -- when he was throwing up air balls against Utah in 1997 or missing potential icing free throws against San Antonio in 1999 -- to conjure up images of Bryant failing so badly in playoff crunch time. Since then, he's accumulated a clip reel heavy on the types of plays you see in the black-and-white commercials with the piano music.
"I'm used to coming through in those situations," said Bryant, the frozen mask he's put on for the past week replaced with a look of frustration, his fingers tapping on the table. "The team trusts me to come through in those situations, and it just didn't happen tonight."
Phil Jackson smiled when the scenario was put to him, offering a whimsical take on life.
"You know, we're all frail as humans," Jackson said.
Lamar Odom shrugged.
To read the entire Adande column, click here.
Magic Light It Up From The Field

By Elias Sports Bureau
The Magic went 35-of-50 on 2-point field goal attempts in Tuesday's 108-104 win over the Lakers. It was the second-highest 2-point field goal percentage in NBA playoff history (.700). The record is .705, by the Celtics in a 157-128 first-round victory over the Knicks in 1990. The previous high for an NBA Finals game was .658 by the Bulls in a 107-86 win over the Lakers in Game 2 in 1991.
• More from Elias Sports Bureau | More stats at ESPNDB: The NBA Finals
By Maurice Brooks
ESPN.com

TUESDAY'S BEST
Orlando Magic
: There really is no place like home. The Magic set a Finals record for shooting in a game (62.5 percent) and a half (75 percent) on the way to winning their first Finals game in franchise history.
---

TUESDAY'S WORST
Kobe Bryant, Lakers
: The missed 3-pointers, the struggles at the foul line, the crucial turnover ... even the best closer in the game falls short from time to time.
---
QUOTE OF THE NIGHT
"It was disappointing. I'm used to coming through in those situations, the team trusts me to come through in those situations, and it just didn't happen tonight."
-- Lakers guard Kobe Bryant on his poor play down the stretch of Game 3
Magic Follow Their Leader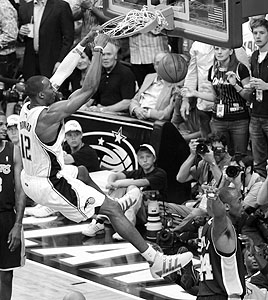 Noah Graham/NBAE/Getty
Dwight Howard had only six field goal attempts, but he managed to score 21 points thanks to 11 made free throws. The man in the middle also recorded 14 rebounds and two blocks.
Coaches Lobbying For Calls
By John Hollinger
ESPN.com

ORLANDO -- The Magic won Game 3, and because of it we now have a series. And in addition, we have something else -- the age-old tradition of lobbying for calls through the media began in earnest after Game 3.
It started before the game, when Lakers coach Phil Jackson discussed center Pau Gasol's hitting the rim on a last-second, alley-oop layup attempt by Magic guard Courtney Lee (on an inbounds play at the end of Game 2). Jackson took a reverse approach of lobbying the officials, saying that by the letter of the rule it was basket interference on his own player.
Of course, Jackson wouldn't let that go without also tweaking the officials about Magic center Dwight Howard going through the rim to block a shot by Gasol earlier in Game 2. It's to his benefit to make the officials as aware as they can be about goaltending violations, since shot-blocking leader Howard is far more likely to commit a violation than Gasol.
Jackson pushed the envelope even further by lobbying for a goaltending call from a game several years ago against the Vancouver Grizzlies.
Then, after the game, it was Orlando coach Stan Van Gundy's turn. Frustrated by the slew of touch fouls his defenders have picked up against Kobe Bryant, he was subtle but yet made his point when discussing Howard's late steal.
"We had him trapped one other time, and I guess we fouled him," said Van Gundy. "You've got to make sure that you really keep your hands back on all of his traps. You don't want to touch him at all."
Jackson answered back later to lobby for more calls on Howard, this time for illegal screens.
"We're concerned about his physical contact out there," said Jackson, "and the amount of picks he's laying on our defenders, Trevor and Fish. They did give an offensive foul to him at one point tonight, but we thought there were three or four occasions where there were offensive fouls."
With an off day to intensify the lobbying and any number of questionable calls from the past two games to vent their wrath about, keep a close eye on the two coaches during Wednesday's media-day conference. Historically, this has been the time for coaches to get their points across, and Jackson in particular has been among the most willing practitioners of the game.
Confident Alston Shows Off
By Dr. Jack Ramsay
ESPN Radio

ORLANDO -- Magic coach Stan Van Gundy did a terrific job getting Rafer Alston going in Game 3. The point guard shot just 3-for-17 in the first two NBA Finals games. Van Gundy met with him on the bus after Game 2 on the way to the airport and had another meeting with him once the team arrived in Orlando.
Van Gundy told Alston to be more assertive, and we saw a different Rafer in Game 3. He was much more alert, alive and confident than he was in the first two games. Rafer made his shots (8-for-12, 20 points), got penetrations and distributed the ball to open shooters. Alston was the key to the Magic's performance on Tuesday.
Another thing Van Gundy got Tuesday was better action off the Magic's high screen-roll offense. When Dwight Howard sets a high screen, the Lakers' strategy is for Howard's defender to jump hard to the dribbler. Howard sealed his man and got the ball enough times to make a difference. In other situations, Howard would get the ball and pass to the weakside shooter. If the ball was not entered into Howard, the ball would swing around the perimeter to the outside shooters, and they knocked down their shots.
Orlando made every big shot from the field and from the free throw line, unlike L.A. Van Gundy wanted this in the first two games, but finally got it in Game 3 and was able to get a win.
Heating Up: Bryant vs. Lee
By Henry Abbott
TrueHoop

Kobe Bryant paced. He walked in circles, he swayed from side to side, and he rocked onto his heels. With 8:46 left in an NBA Finals game, his team was down six on the road. Show time.
Only the show was on hold. The coaches were huddled, and the players were waiting silently for instruction. The five players who were in the game sat in a row. Bryant stood. He still wasn't going back in.
To read the entire TrueHoop blog, click here