Noah Graham/NBAE/Getty
According to our experts, the Lakers need to get center Pau Gasol the ball more often in Game 4.

Noah Graham/NBAE/Getty
Stan Van Gundy was all smiles with the media the day after Orlando's record-setting performance.
What To Watch For In Game 4
We asked J.A. Adande to tell us something he's watching for in Game 4:
J.A. Adande, ESPN.com: Time to talk touches. Again.
Pau Gasol should be getting more shots. We've been through this before. It was only one series ago that Gasol lodged a rare (for him) complaint that he wasn't getting the ball enough, a situation the Lakers rectified in the final two games of the Western Conference finals.
But just as the Lakers have a bad habit of forgetting to cover
Rashard Lewis
, they also tend to overlook their most efficient shooting option. Think the Magic hitting 62.5 percent of their shots in Game 3 was impressive? Gasol has done that over the entire series.
He made 82 percent of his shots in Game 3 (9-of-11) ... and that still didn't qualify him to get the most shots on the team. Well, at least you can understand Kobe Bryant getting that honor. But Gasol didn't even place. That spot went to Trevor Ariza, who took 13 shots in Game 3.
The Magic are inviting Ariza to beat them, and the Lakers keep dutifully sending in the RSVP. He has a 30 percent field goal percentage in the Finals. That's not the answer.
So look for the Lakers to get back to basics, to get the ball back to Gasol. Shaq or no Shaq, it's always wise to think of the center.
More "what to watch for" in Game 4 from our writers:
Marc Stein, ESPN.com: Kobe's gas tank.
I know he's had a long year with almost no break after Beijing. I know he carries a huge, huge load and a big burden, too, trying to win this first post-Shaq title.
But I've got to be honest: Kobe's fatigue has been a bigger story this postseason than I ever imagined, starting with that postgame interview when he was hunched over. Open displays of weariness and five missed free throws in a Finals game? From the NBA's most maniacal gym rat?
He looks like LeBron James in this series, wearing himself out trying to do so much on his own offensively ... except that he shouldn't be in LeBron mode so much because he has so much more capable scoring help. (Getting the ball more to that Pau Gasol fellow who can't seem to miss is an interesting idea.)
Two clunky games in a row is rare for No. 24, especially this postseason, but the same goes for a fourth quarter like we saw Tuesday night from the game's most feared closer. So ...
How fresh Kobe is Thursday night with such minimal rest could be the difference in a game that will truly tell us whether we have a series. Or not.
ESPNDB

Find all the stats and info on Laker forward Pau Gasol, check out ESPNDB: NBA Finals.
•
ESPNDB: Pau Gasol
Henry Abbott, TrueHoop:
I'm watching for the ratio of Bryant's field goal attempts to Gasol's field goal attempts. If that ratio is greater than 3-1, Orlando wins. If it's below, then Game 4 is a dogfight.
Chris Broussard, ESPN The Magazine: I'm looking forward to seeing whether the Lakers give Pau Gasol more touches. Will they have more of an equal-opportunity offense that gets Gasol and Lamar Odom truly involved, or will Kobe continue to average 27 shots a game?
David Thorpe, Scouts Inc.: The Magic had success crowding Kobe and playing him very physically in Game 3, and they were not whistled often. Will Game 4 be called loosely, too?
Chris Sheridan, ESPN.com: Well, Rafer Alston has reached his quota of one strong game per series, so I'm curious to see whether Stan Van Gundy turns to Anthony Johnson in the second half if both Rafer and Jameer Nelson are struggling offensively. Johnson was solid as a rock as the backup point guard in the first three rounds.
Playoff Dimes past: May 24 | 25 | 26 | 27 | 28 | 29 | 30 | 31 | June 5 | 6 | 7 | 8 | 9 | 10

By Kurt Helin | TrueHoop Network
It was easily the most frustrating part of being a Lakers fan this year.
When the Lakers would lose -- or blow a 20-point lead and barely hang on -- Lakers players accepted it with a casual nonchalance. They might give lip service to concepts like focus or energy, but they mostly just said they were fine, it was no big deal. They seemed overconfident.
Lakers fans were frustrated. We wanted Crash Davis to tell the coach to scare the kids, for Phil Jackson to walk into the shower and throw a bunch of baseball bats on the floor and call them all "lollygaggers." Except that's not really Jackson's style. And there just aren't a lot of bats in a basketball locker room, anyway.
Now, after their first taste of defeat in these NBA Finals, that nonchalance is back. And I love it. The fact that this team is still oozing confidence has Laker Nation feeling confident, as well.
And they should feel confident. That was a heck of a punch the Magic just threw, shooting like they were alone in the gym. The Lakers' defense wasn't spectacular, but it wasn't 62.5 percent shooting bad, either. The Magic hit shots, they made the extra passes, they played the best game we have seen them play.
And they barely won.
"It was still a two-point game, a one-possession game at the end," said Jordan Farmar (who had better get more minutes on Rafer Alston in Game 4). "It's about continuing to do what we do."
Farmar said that as he sat down and leaned back in the locker room. He looked so relaxed he just needed a cigar and a snifter of brandy to complete the scene.
Pretty much every Laker had the same reaction. Sure, Kobe said it through gritted teeth on his new scowling face, but he basically said the same thing.
There are some who say this series is inches from being 2-1 Orlando, just a Courtney Lee make away from a totally different feel. It's also inches away from being 3-0 Lakers. If Kobe hits more free throws or Dwight Howard doesn't get the lucky swipe when Kobe split the double-team at the end of the game (as Bryant had done successfully in Game 2), media members would be trying to change plane reservations.
"It was disappointing. I'm used to coming through in those situations, the team trusts me to come through in those situations, and it just didn't happen tonight," Bryant said. "Just got to bounce back, be ready to go for Game 4."
The Lakers all talked about bouncing back next game. About being ready, with just a few tweaks of strategy and a little better execution, to get the first road win of this series.
They seemed confident that it was going to happen. Very confident. And with that, Lakers fans everywhere finally share in that confidence.
To read more from Helin, check out his TrueHoop Network blog, "Forum Blue & Gold."
Time For The Magic To Get Defensive

By Zach McCann | TrueHoop Network
The Magic played their best offensive game of the season on Tuesday night, scoring 108 points on 84 possessions and setting an NBA Finals record for field goal percentage. But it still took a last-minute surge to close out the Lakers.
Is there any hope for Orlando's defense in this series?
The Magic had the NBA's best defense in the regular season, but it's clear the Lakers are giving Orlando problems without any clear-cut solutions.
The Lakers are shooting 47.7 percent for the series and have scored 305 points on 277 possessions -- that's 110.1 points per 100 offensive possessions, against a Magic team that allowed 101.9 during the season.
I know the offensive fireworks got Magic fans excited in Game 3, but if Orlando is going to win this series, it's going to be because of its defense.
"We've got to find a way to defend these guys," Rafer Alston said.
It starts with Kobe Bryant. In Game 3, after an unbelievable first quarter, Courtney Lee disconcerted Bryant by getting right up underneath him and trying to limit opportunities for pull-up jumpers. Mickael Pietrus, as in the first two games, tried to deny Bryant the ball at all times.
There's no one way to stop Kobe, but the Magic are trying to make him work. For a player who plays as many minutes and shoots as much as Bryant does, Orlando hopes the constant pestering and denying of the ball takes its toll on Bryant's legs by the end of the game.
Bryant might not be the biggest problem for the Magic, though.
Pau Gasol is absolutely killing the Magic in the post, consistently establishing deep position and fluidly banking in a variety of hooks and layups. Gasol is often finding himself matched up with Rashard Lewis, who doesn't have the body to limit Gasol. And it's not as if Dwight Howard can always stop Gasol's pretty post game.
Lamar Odom's ability to grab offensive rebounds and finish in the paint has been problematic, and Trevor Ariza's outside shooting ability seems to have the Magic confused.
Coach Stan Van Gundy is known for making adjustments and getting the best defense out of his players. The Magic need both right now.
To read more from McCann, check out his TrueHoop Network blog, "Orlando Magic Daily."
By Chris Sheridan
ESPN.com

Hedo Turkoglu is a law-abiding fellow, unlike all those criminals the Los Angeles police department was ticketing outside the Staples Center during the first two games of the NBA Finals.
And what exactly were all those bad guys doing?
Crossing the street, Chick Hearn Drive, without using the crosswalks.
Yes, it was a jaywalking ticket bonanza for the men in blue with quotas to fill, and no one was immune. This reporter personally witnessed an ABC/ESPN honcho and a low-level Staples Center employee being forced to produce identification in order for a police officer to write them up for their disorderly conduct, and we received word Wednesday that an NBA big shot got caught up in the ticket blitz, too.
As for Turkoglu?
At the conclusion of Game 1, he opted not to take the bus back to the hotel with his teammates because he had a friend picking him up outside the arena.
That friend was parked along the westbound side of Chick Hearn Drive when Turkoglu exited the arena, and Turkoglu was all set to scamper across the street to get in on the passenger side of his buddy's car until he was informed by the police that such a decision would be a costly one.
"They made me walk all the way down to the end of the street, to the corner, to use the crosswalk," Turkoglu said Tuesday in recounting the incident, estimating that the detour added a couple hundred yards to his trip. "I don't know if they recognized me or not."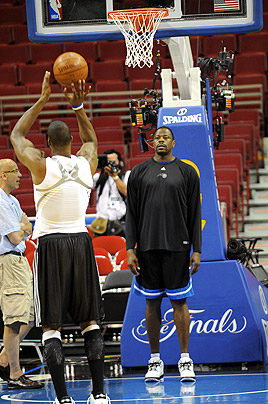 Noah Graham/NBAE/Getty
Under the watchful eye of Magic assistant coach and former Knicks great Patrick Ewing, center Dwight Howard worked on his touch from the foul line on Wednesday.
By Kevin Arnovitz
TrueHoop

In a postseason that lasts more than eight weeks, it's hard to appreciate the full scope of what a team has experienced. While most of us were falling in love with the Boston-Chicago series, the Magic were enduring their own emotional turbulence -- buzzer-beaters, blown leads, sweet vengeance, a suspension for their franchise player and more sweet vengeance. And that was just the first round.
"I've said it throughout the season and throughout these playoffs, the one thing that you can't question with our team is their resilience in situations like that," Orlando Magic coach Stan Van Gundy said after his team's Game 3 win over the Lakers. "Whether it's from game to game, minute to minute, our team will keep playing."
Normally, these sorts of statements are filled with clichés, but not in Orlando's case. Whether or not the Magic win the NBA title this season, they'll have built up enough scar tissue for future battle. Here's a sample of the gut-wrenching ups-and-downs from Orlando's 2009 playoff odyssey.
Heartbreak: First Round, Game 1 -- Philadelphia 100, Orlando 98
As if blowing an 18-point second-half lead weren't devastating enough for the Magic, Andre Iguodala stuck a fadeaway dagger with 2.2 seconds remaining to negate Orlando's home-court advantage. After the game, Van Gundy questioned his team's effort and added, "I was surprised not only for our lack of intensity defensively, but I was really surprised with our lack of focus."
Rebound: First Round, Game 2 -- Orlando 96, Philadelphia 87
Hours after Dwight Howard was named the NBA's Defensive Player of the Year, it appeared as if the Magic might cough up another 18-point second-half lead. Howard fouled out of the game at a precarious moment in the fourth quarter. But the Magic hung on and squared the series at 1-1, with a couple of key drives into the heart of the Sixers' defense by Anthony Johnson and Rashard Lewis.
To read the entire TrueHoop blog, click here

Jalen Rose thinks the Cavs should raid the Lakers for Lamar Odom and Trevor Ariza to put them with LeBron James.
The Herd

Chris (Toronto):
Hi David, It seems to me Howard need to make quicker post moves. He gets the ball and every move seems to come off 2-4 dribbles. And since he can't dribble with his head up this gives the wings time to come in and swipe at the ball without him seeing them coming. Am I crazy or does he just need to use quick, hard, simple moves (drop-steps, etc.) when he gets the ball?
David Thorpe: He needs to sometimes to avoid the double. I also think he should explode up more often without gathering himself and get the simple dunk instead of the massive one.
To read the full David Thorpe chat, click here