Photo by Elsa/Getty Images
After missing his first five 3-point shots, Derek Fisher shoots a game-tying 3-pointer that forced OT.

Chris Graythen/Getty Images
Pau Gasol and Trevor Ariza, who both scored 16 points and led L.A. in rebounding, celebrate Game 4.

Ronald Martinez/Getty Images
Lamar Odom, Dwight Howard and Kobe Bryant exchange words after some physical play in the third.

Stan Honda/AFP/Getty Images
Kobe Bryant and Derek Fisher congratulate each other on a job nearly done. Is ring No. 4 calling?
Trio Of Heroes Move Lakers A Win From Title

ORLANDO -- Trevor Ariza had his time at the podium, giving way to Derek Fisher, and by the time the press conference moderator announced that Kobe Bryant would be next, it seemed, strangely, like an afterthought.
Oh yeah. Him.
Game 4 of the NBA Finals was a night when the likes of Fisher, Ariza and Pau Gasol outperformed Bryant down the stretch. They saved him, even, from having to answer questions about another night of cold shooting when he's supposed to be cold-blooded. They served as a reminder that championships are a collective effort, that there are more storylines here than Bryant's drive to lead a team to a title on his own.
There's another face we can add to the images of these Finals. Fire up the editing software and insert a Fisher smile in front of those Kobe scowls. And lay down the piano music track for the next batch of "Amazing" commercials, this time to accompany the 3-pointer Fisher hit with 4.6 seconds left to send this game into overtime, where the Lakers prevailed 99-91 to grab a 3-1 lead in the series. Their first crack at the 15th championship in franchise history comes Sunday in Game 5 in Orlando.
Game 4 was the Lakers' most collaborative performance of the playoffs. All 12 Lakers in uniform played, 11 made statistical contributions and eight scored (four in double-digits). Foul trouble for the frontcourt brought D.J. Mbenga and Josh Powell into the game in the first half. Some spirited discussion in the halftime locker room brought out an inspired 30-14 third quarter that erased a 12-point halftime deficit and put the Lakers ahead by four. Ariza made five shots in the period after missing all six of his attempts in the first half.
But the real story of redemption and perseverance belonged to Fisher. He missed his first five 3-point attempts before he hit the one that mattered the most and brought on overtime. It goes further back than that, though. He pushed the final mute button on all the critics who roared for Phil Jackson to bench him during his weaker games of the playoffs, or questioned Jackson's decision to draw up the final shot for Fisher instead of Bryant at the end of the second game of the Western Conference finals. (He missed; they lost.)
This tale actually started when Jackson first got to Los Angeles in 1999, and the conventional wisdom was that Fisher should check the U-Haul rental rates. Jackson was known to prefer veteran and big guards. Fisher had played only three years at that point, and even as he gained more experience, he'd always be 6-foot-1.
"I was worried," Fisher said. "Because I didn't know him."
Jackson brought in Ron Harper, his starting point guard for the second three-peat run in Chicago. The Lakers added Brian Shaw, as well. Fisher stuck around for all three championships at the start of the new millennium. After the run was stopped by Tony Parker and the San Antonio Spurs in 2003, the Lakers signed Gary Payton to play point guard, but by the time they reached the NBA Finals, Fisher was getting the bulk of the minutes while cameras focused on Payton's expressions on the bench.
Fisher left as a free agent and went to Golden State; after two seasons, he was traded to Utah. When Fisher's daughter was diagnosed with a rare form of eye cancer, he asked the Jazz to release him so his family could move closer to a facility that was able to treat her. Utah obliged, and Fisher wound up returning to the Lakers. The guy who wasn't supposed to fit Jackson's style has played seven years over two stints for him and now is, unquestionably, one of Jackson's guys.
"He's persistent," Jackson said. "He's just a dogged player. He's not blessed with great speed. He's a good athlete, but he's not spectacularly fast. But he has a certain sense about him, knows what's going on on the floor, can organize a team. [He's] not afraid to go away from Kobe when sometimes Kobe is asking for the ball and he knows better, and I need a guard like him to do that."
And that is why Fisher kept coming back on the court in these playoffs. It's also how he wound up with the ball with a chance to swing the course of this series.
"It's character," Jackson said. "We've always said the character has got to be in players if they're going to be great players. It's not just about talent, it's about character, and he's a person of high character."
After Dwight Howard's seventh missed free throw of the game bounced off the rim, Ariza grabbed it and the Lakers called time out with 10.8 seconds remaining. Jackson, wary that the Magic might take a foul to deny the Lakers a 3-point shot, elected to inbound the ball in the backcourt.
"I'm sure you know who that play was designed for," Fisher said.
Yes, it was for Bryant. But on this night, that might not have been the right call. Even though Kobe scored 32 points, it took 31 shots for him to get there. In the fourth quarter, Bryant missed six of eight shots, committed one turnover and had other times when he lost the ball or had it batted away, but the Lakers still recovered. He missed both of his 3-point attempts in the quarter.
Still, the Magic went on reputation. They tried to get the ball out of his hands, and as the double-team arrived, he passed ahead to Ariza. Ariza found Fisher in the frontcourt, with the 6-foot Jameer Nelson on him.
Fisher had a high dribble, nearly losing the ball, but regained control, glanced at the clock and noticed that Nelson was backing up. That's when Fisher decided to pull up for the 3.
"I felt like I had the space and he wasn't close enough to deter me from shooting," Fisher said.
ESPNDB

Find all the stats and info on Lakers guard Derek Fisher, check out ESPNDB: NBA Finals.
•
ESPNDB: Derek Fisher
An accurate read of a horrible miscalculation by Nelson and the Magic. Play up on Fisher and he'd have to force a contested shot or drive and eat up most if not all of the clock for a 2-point attempt. If nothing else, foul a Lakers player before he even got to a shooting position.
These are the questions coach Stan Van Gundy and the Magic will have to account for over the next two days, while Jackson is already being asked what it would feel like to get his record-breaking 10th championship ring as a coach. Fisher is being asked if he's another version of "Big Shot" Robert Horry, and how this one ranked with the basket he made with 0.4 remaining in Game 5 of the 2004 conference semifinals against San Antonio, or the clutch shot he made for the Jazz in the opening round of the 2007 playoffs after flying from New York to Utah on game day following his daughter's eye surgery.
"Even greater than .4, because I feel like we're as close as possible to what our end goal is," he said.
He brought them a step closer with another 3-pointer that broke a tie in overtime and started the Lakers on an 8-0 finishing kick. After that one, he backpedaled down the court, then stopped and broke out a smile.
"Once I hit the second one, it was hard to contain at that point," Fisher said.
On this night, the Magic couldn't contain him, Ariza or Gasol (16 points). They couldn't protect their home court, couldn't pull even in the series. They couldn't keep Fisher from making the big shot and making his way to the podium.
"He went after that shot, and he earned it," Jackson said.
Long after he earned Jackson's trust, he gave him the ultimate reward. Well, penultimate. The Lakers have just one more win to go.
J.A. Adande is an ESPN.com senior writer and the author of "The Best Los Angeles Sports Arguments." Click here to e-mail J.A.
Playoff Dimes past:
May 25
|
26
|
27
|
28
|
29
|
30
|
31
|
June 5
|
6
|
7
|
8
|
9
|
10
|
11

By Chris Broussard | ESPN The Magazine
ORLANDO, Fla. -- Conventional wisdom says there had to be a beef. An argument. Some bellyaching. A philosophical divide. Something.
Something had to happen between Stan Van Gundy and Rafer Alston during the second half of Game 4 Thursday night. Why else would the Orlando coach sit his starting point guard for the last 18 minutes, 28 seconds of the Magic's 99-91 overtime loss to the Los Angeles Lakers?
Especially when Jameer Nelson, fresh off a serious shoulder injury, wasn't exactly flashing his All-Star form. Especially when six days earlier, Van Gundy had admitted he erred by playing Nelson the entire second quarter of Game 1. Especially when, for all intents and purposes, the Magic's quest for its first NBA championship was on the line.
But apparently, there was nothing, nada, no disagreement at all. Apparently, Van Gundy's coaching instincts just told him to stick with Nelson, who produced two points and three assists all night, for the entire fourth quarter and overtime.
To read the entire Broussard column, click here.
Magic Fail To Cash In On Freebies

By Elias Sports Bureau
Orlando missed 15 free throws in their overtime loss in Game 4. Only one other team has lost an NBA Finals game in overtime while missing as many as 15 free throws. In Game 7 of the 1957 Finals, the St. Louis Hawks lost in double-OT to the Celtics and missed 17 free throws.
By Maurice Brooks
ESPN.com

THURSDAY'S BEST
Derek Fisher, Lakers
: After missing his first five 3-pointers, the veteran point guard nailed a trey with 4.6 seconds left in regulation and another one with 31.3 seconds remaining in overtime.
---

THURSDAY'S WORST
Hedo Turkoglu, Magic
: He scored a team-high 25 points and at times carried the offense for Orlando, but when the Magic needed him most, he missed four free throws in the fourth quarter.
---
QUOTE OF THE NIGHT
"He shot the ball and made them. I wanted to go double Kobe on the back-down and he kicked it to him and he made the 3. I mean, I don't know. I was on the ground, so I don't know."
-- Magic guard Jameer Nelson, who was defending Derek Fisher on both game-changing 3-pointers
Ariza Provides Spark For L.A.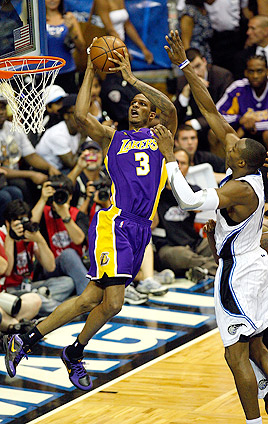 Ronald Martinez/Getty Images
Dwight Howard set a Finals record by blocking nine shots, but he couldn't get his hands on this attempt by the Lakers' Trevor Ariza, who finished with 16 points and nine rebounds.
By John Hollinger
ESPN.com

ORLANDO -- The Magic had a lot of reasons to be upset after their Game 4 overtime defeat -- turnovers, missed free throws and an inexplicably open game-tying 3-pointer by Derek Fisher were all major factors in the defeat.
But perhaps the biggest was the Magic's offensive implosion after halftime. Orlando scored only 14 points in the third quarter to squander a 12-point halftime lead, and had only 44 points in the game's final 30 minutes.
The part that stands out in particular came after Hedo Turkoglu picked up his fourth foul. He had scored 15 points on only six shots in the first half and was carving up the Lakers on pick-and-rolls; even during the rough start of the third quarter he hit a bailout corner jumper at the end of the shot clock to keep the Magic afloat.
But after Turkoglu picked up his fourth personal, Orlando's attack stagnated. The Magic scored nine points in the final 7:11 of the quarter, and a five-point lead turned into a four-point deficit.
"I had myself going, too, so picking up that stupid foul, that really hurt me and hurt my team, too,"Turkoglu said.
For the half as a whole, Orlando shot 13-of-37 with eight turnovers, and despite all the bricks they shot, the Magic had only two offensive rebounds. On 2-point tries, they were only 9-for-28, and after scoring 24 points in the paint in the first half, they had only 14 in the last two quarters and overtime.
The stagnation was reminiscent of the Magic's troubles in the second half of Game 1. That day they scored only 32 points after the break as the Lakers romped to a 25-point win. Orlando had cleaned up its offensive problems in the 10 quarters since, but they surfaced again in the second half of Game 4. With the Magic on the brink of elimination, they can't afford any more shooting slumps.
By Dr. Jack Ramsay
ESPN Radio

ORLANDO -- Phil Jackson made a couple of adjustments in Game 4 that really paid dividends and helped the Lakers win. On the defensive end, he sent his guys to swarm Rashard Lewis. The Lakers were all over Lewis from the opening tip. The hard double-teams forced Lewis into a bad shooting night. Lewis was just 2-for-10 from the floor. He finished with just six points -- 11 below his season average.
Lewis was so frustrated that he stopped looking for his shot, and this hurt the Magic's offensive scheme.
Jackson also made some key game-management decisions that helped his team. He left Lamar Odom on the floor even though Odom was in foul trouble. A lot of coaches would have pulled Odom, but Phil stuck with him and Lamar was big in the fourth and in overtime. Lamar rewarded his coach by not fouling out, and the gifted 6-foot-10 big man contributed to the Lakers' victory.
Jackson also used his timeouts effectively. He often will let his team play through trouble spots and stretches of offensive and defensive breakdowns. But on Thursday night, Phil was quick to call timeout when he saw mistakes on the floor and did work to correct those mistakes. That might seem like a minor point, but I thought it was important. Phil got his team in sync and is now just one win away from his 10th championship ring.
By Chris Sheridan
ESPN.com

ORLANDO, Fla. -- He sat alone at his locker, his back turned away from everyone, barely saying a word to anybody for 10 minutes, then 10 more, then another 10, and then a few more.
Finally, when the Orlando Magic locker room had been cleared of all but the final stragglers, Dwight Howard rose slowly from his chair, walked over to a large mirror covering almost an entire wall, and looked into it. Silently.
Back to his locker he went to retrieve his light yellow dress shirt before he doubled back to the mirror, walked to within inches of it, and stared himself in the face.
To read the entire Sheridan column, click here