Photo by Elsa/Getty Images
Has Pau Gasol been keeping up with the Tweeting of teammates Trevor Ariza and Sasha Vujacic?

Nathaniel S. Butler/NBAE/Getty
After struggling at the line in Game 4, Dwight Howard is working to make sure it doesn't happen again.
What The NBA Is Tweeting About
While the Lakers and Magic battle it out on the court, the rest of the NBA world has been buzzing about the Finals off it for the past week. Here are some of the best Finals comments from the Twitter pages of NBA players and ESPN personalities. (In 140 characters or fewer, of course.) "Fisher just proved that old school is cool" --
Kareem Abdul Jabbar
(June 11) "In the words of dick vitale O my baby. Oooooo my hedo turkaglue is a p t p er, betta get a tee o baby Uh oooooh" --
Shaq
(June 12) "Amazing game!" --
Chris Bosh
(June 12) "The Magic dancers are wearing superman capes, as are the valets at my hotel. In this town, that signifies Dwight Howard." --
Henry Abbott, TrueHoop
(June 11) "WHEW!! Tonight was a tough one. One more. Just one more!" --
Lamar Odom
(June 12) "Ahah! Kobe on his way to Finals MVP??? I think so!" --
Thabo Sefolosha
(June 5) "Very impressed with the Magic's adjustments, Kareem I think Howard heard you cuz he stole your sky hook!" --
Chris Webber
(June 11) "what a game! hard to beat the lakers in OT...Thats why i shot that 3 even though we were down 2 back in march" --
Andre Iguodala
(June 12) "And in the 'who called you today?' category..Magic PR tells us Hedo Turkoglu got a good luck call from the Prime Minister of Turkey" --
Rachel Nichols
(June 11) "From ESPN Research: don't expect a long series. Of 29 teams to fall behind 3-1 in Finals, only 2 got to Game 7: '66 Lakers and '51 Knicks" --
ESPNDB
(June 12) "So focused" --
Trevor Ariza
(June 4) "My postgame question for Phil Jackson: 'Phil, that was the worst defensive performance in Finals history. I don't have a question'" --
Bill Simmons
(June 9) "Research: Howard has 20 double-doubles in the 09 playoffs. Only 4 others did that in a single postseason: Malone, Barkley, Shaq and Duncan" --
SportsCenter
(June 12) "did the magic make the right move bringing nelson back???" --
Troy Murphy
(June 9) "Cold-blooded Hedo: thick robe in lockerroom, H+A, on bench a towel hood, jacket and hotpacks on his thighs. Shard: 'We call it Turkoflu.'" --
Ric Bucher
(June 11) "STOP blaming NElSON! look at the last play again. When they doubled Kobe he ran to Ariza. Thats y he kicked it to Fisher, he was recoverin" -- former NBA player
Kenny Smith
(June 11) "This reminds me of last yr's Finals. Lakers need 2 remember we lost gm 4 didn't give up & won gm 5 to force gm 6. Magic will try to do same" --
Jeanie Buss
, Lakers vice president of business operations (June 12) "This is a crazy game. Down to wire in OT at da finals. I can only imagine being a part of it. Hopefully I will soon. We'll see what happens" -- Kings forward
Jason Thompson
(June 12) "uh oh!!! kobe looks great thus far. but honestly thats what you want if you are the magic. contested jump shots. you just hope he miss some" -- former NBA player
Eric Snow
(June 9) "Somewhere, Mike Bibby is nodding in agreement right now." --
John Hollinger
(June 11, after Jameer Nelson caught an elbow to the face from Kobe) "I'm living across the street from the Staples Center. Lakers fans are wild, in a good way, LOL. The series goes back east, any predictions?" --
Charlie Villanueva
(June 9) "Lakers take commanding 3-1 lead in NBA finals...as Orlando has 19 big turnovers and missed 15 huge free throws..is it over on sun?" -- former NBA player and ESPN analyst
Jalen Rose
(June 11) "Lakers: Really nice scene at halfcourt after the final buzzer, as Fisher's teammates individually hug him for extended seconds" --
Lakers
(June 12) "Dam this is a pretty good finals7, I gotta admit it" --
Shaq
(June 12) "Can't wait to watch game 5 tomorrow! The lakers have a good lead but in the post season, nothing is never over until u win the 4th game!" --
Kevin Durant
(June 13) "im excited for the finals game 5 tom! this has been a great series. a couple plays diff the series cld b 3-1 magic!" I do think game 5 is going to go to the magic. --
Candace Parker
(June 13)
Playoff Dimes past:
June 6
|
7
|
8
|
9
|
10
|
11
|
12
|
13
No Parade For the Lakers?

By Henry Abbott | TrueHoop
If the Lakers win the NBA championship on Sunday, some city officials are speculating about a parade on Figueroa Street on Tuesday.
However, the police and cleanup crews for such an event cost something around a million dollars, and it's not at all clear the city -- which has recently forced employees to take paycuts, and is facing dire shortfalls -- has the cash.
City Councilwoman Jan Perry was on the dais with David Stern a week ago, when the NBA announced the 2011 All-Star Game would be in Los Angeles. Now she's quoted by David Zahniser and Phil Willon in the L.A. Times with the bad news:
"We can't afford to cover the costs," Los Angeles City Councilwoman Jan Perry, whose district includes Staples Center, said this afternoon. "How could we make a decision about people's jobs and then sponsor the parade?"
She suggests the Lakers or the NBA ought to pick up the tab.
To read the entire TrueHoop blog, click here.
Don't Blame Nelson For Magic's Struggles

By Zach McCann | TrueHoop Network
All throughout the playoffs, you could see how badly Jameer Nelson wanted to be a part of it all. This was his team. This was his season. And he was left out.
The increasing number of media members would flock to everyone around Nelson's locker after each Magic win. Rafer Alston, Courtney Lee, Anthony Johnson and Mickael Pietrus took their turns all while Nelson sat in the corner, texted on his phone and occasionally made small talk with someone close by.
Little did we know, Nelson furiously rehabbed his shoulder and found himself well ahead of schedule. When the news surfaced that Nelson might be able to play in the Finals, Magic fans went crazy. It dominated talk on the radio, blogs and newspapers Web sites. Could he be the next Willis Reed?
It was shaping up to be the feel-good story of the playoffs.
And now, after Nelson played extended minutes in another Magic loss, it's all backfiring. Nelson's taking the blame for rushing back, and it's Stan Van Gundy's fault for playing Nelson so much. Everyone from paid analysts to casual fans are wondering why Alston didn't play down the stretch in Game 4 and Game 1.
Orlando's second-most beloved player is a big part of the reason the Magic probably aren't going to win the NBA Finals. Some people want to see more Anthony Johnson (read that sentence again). Local columnists are lambasting Van Gundy for playing Nelson.
It has turned out to be the saddest story of the playoffs.
"I'm not trying to be a hero," Nelson said. "I'm not trying to be a savior."
The problem is that's what a lot of Magic supporters expected out of him. The city of Orlando practically threw a parade when it came out that Nelson was going to play in this series, ignoring the fact that it was completely unrealistic that Nelson could jump in and contribute the way he usually does.
Nelson's deadly jumper and clutch reputation were all anyone could think about. Things like team chemistry, effects on the rotation and Nelson's conditioning weren't important. Jameer was back!
He's back, but clearly not the same. He's not the elite scorer he was before. He can't attack off the dribble the way he did before the injury, and he's lost the consistent jumper. That's not his fault, but it doesn't mean people aren't upset at him.
Two particular defensive plays in Thursday night's Game 4 loss put Nelson's struggles in the limelight.
He gave too much room for Derek Fisher to hit a game-tying 3-pointer with four seconds left in regulation, a situation in which the Lakers absolutely had to shoot a trey. On Friday, Van Gundy called Nelson out in a conference call with reporters.
Jameer had one responsibility on that play, and that was to not give Fisher a 3-point shot, Van Gundy said.
Then, in overtime, Nelson double-teamed Kobe Bryant, who caught Nelson with an elbow and found Fisher for an open 3-pointer that proved to be the winning basket.
If those two plays don't happen and the Magic win, no one's talking about Nelson. Instead, we're hearing calls for more Alston and less Nelson in Game 5.
Van Gundy and Nelson don't have a plan in place on how many minutes Nelson is going to play in a game. "We just feel it out," Nelson said. In Game 4, they felt like leaving Nelson in was best for the team.
"Jameer wasn't doing a whole lot but he also wasn't hurting us at all," Van Gundy said. "The unit had played pretty well, so that's why I stayed with it."
That's a perfectly reasonable explanation, but in the NBA Finals, everything gets talked about, analyzed and talked about again. And people are doing a lot of talking about Nelson's struggles.
Van Gundy is in a 100 percent results-driven position. If Nelson plays and the Magic succeed, he's a genius. If Nelson plays and the Magic lose, he's the Master of Panic.
Despite the inherent risks, the Magic opted to bring Nelson back. They didn't have to, but they did. Just don't blame Nelson. He worked hard to earn this chance to play, and he doesn't deserve to be attacked for making a comeback that everyone was behind two weeks ago.
To read more from McCann, check out his TrueHoop Network blog, "Orlando Magic Daily."
By David Thorpe and Mike Moreau
Scouts Inc.

The razor-thin margin between winning and losing in the NBA Finals has been on full display this season, as the Magic are an alley-oop layup and a free throw away from a 3-1 lead in the series. However, it isn't that simple. In spite of coach Stan Van Gundy's protestations, experience is the difference on crucial possessions that swing series.
It is experience that keeps a team from panicking when it is down five with less than a minute to play.
To read the entire Game 5 preview, click here.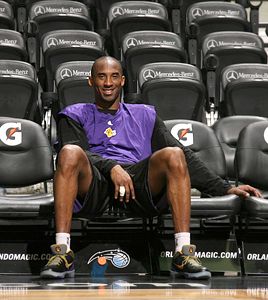 Nathaniel S. Butler/NBAE/Getty
If the Lakers can win one of the next three games in the Finals, Kobe Bryant will finally claim an NBA title without Shaquille O'Neal.
By John Hollinger
ESPN.com

ORLANDO, Fla. -- Readers have heard me say it countless times -- foul when you're up by three points in the final seconds. Orlando didn't do it in the final seconds on Friday, and it cost them ...
Or did it?
With 11 seconds left, there was more time left than the typical "foul when you're up three" situation, especially since the Lakers still had a timeout and could advance the ball if they so chose after Orlando free throws.
To read the entire Hollinger column, click here.

Charles Barkley thinks the Magic gave away the NBA title in Game 4 and that they should have fouled Derek Fisher at the end of regulation.
Tirico & Van Pelt

The following are highlights from Derek Fisher's typically thoughtful session with the media Saturday. Here's Fisher on:
Kobe's passing ability
"He's pretty remarkable, actually. He has an ability to get himself in and out of trouble with his vision that I think improves his ability to dominate offensively.
"He reads situations very well, and he's able to take double teams and score, but he's also reading where the double teams are coming from, who's coming, and we talk a lot during the game about staying prepared for a shot opportunity or for certain things to happen because of how teams are playing.
"He loves to dominate a game, and so if he chose to pass more, he would easily average Chris Paul-type assist numbers. But he's a born scorer, and he's always said that, and we don't mind it because that sets up everything else that we do. ...
"I don't think there was anybody happier the other night after he kicked the ball out in overtime and I made the shot."
Kobe's ultra-serious demeanor for most of the Finals
"I think our experiences from last year were just so different prior to getting to this point. I don't think we were overconfident or assumed that we were going to win the championship before the Finals started, but to go through the Western Conference playoffs the way we did a season ago, I think we were able to walk in and feel as though we couldn't lose no matter who we played. ...
"Obviously that's been very different for us getting to this point this year. So I think there's just a change in perspective and a realization that even if you may be the more talented team [and] you've been really successful before today, there's no guarantee that things are going to end the way you want them to until it's actually done.
"So this year [Bryant], myself, other guys on our team just haven't been as jovial and as excited about great things happening or really good things happening because, until we win this fourth game in the series, it's too close to last year for us to feel as though we've won before we've won.
"We don't want to go through that feeling again of getting to the doorstep and not being strong enough and willing to stick our hand out and twist that doorknob and open the door and walk through it. We're not going to stand in front of the door this time. I think that's where the serious nature is coming from."
What this championship would mean in relation to the three titles he and Bryant helped L.A. win from 2000 to '02
"Winning the first championship is a really difficult thing to do, and we learned last season how difficult it is to try and finish it. We're on the doorstep of it now. From year to year after you win one, you feel like you know what it takes to win, and so there's a confidence and a belief that no matter what you face, you'll figure out how to get things done.
"And the confidence that we played with in 2001 after going through what we went through in 2000 in terms of having problems in elimination games and not being able to beat teams to close them out, in 2001 we just weren't going to lose. It didn't matter. Even losing that first game in the Finals was very frustrating and disappointing for us.
"This year and having the opportunity to win a fourth championship, like I said a few days ago, it feels like the first again. It's so far removed from 2002 and what I've personally been through, what everybody on our team ... there are a lot of guys on our team that were almost just graduating from middle school when we were winning championships in 2000 and 2001 and 2002, and now they're my teammates. So it's a lifetime from the last championship won.
"So I see this championship as obviously one that will go on top of the three that I'm fortunate enough to have if we can get this done. But it feels new again. You know, that's why I'm laying everything that I possibly have out there to try to help this team."