Ronald Martinez/Getty Images
In his first action since March, Kevin Garnett (right) had 13 points, 10 rebounds and played solid D.

NBAE/Getty Images
Ron Artest (10 points, five rebounds, four assists) sported an interesting haircut for his Lakers' debut.

NBAE/Getty Images
Arenas went 10-for-21 from the floor and 8-for-9 from the foul line in 38 productive minutes.

NBAE/Getty
Roy struggled with his shot, but still dropped in 20 points in Portland's win against Houston.
Celtics Show Cavaliers They Aren't On Their Level

CLEVELAND -- By the hundreds -- no, make that by the thousands -- grimaces, glum looks and blank stares adorned the faces of the Cavaliers' faithful as they streamed through the exit doors of the Q Arena, all of them having borne witness to an inalienable truth.
Their team was clearly and decidedly the second-best on this floor on this first night of the 2009-10 NBA season, and that dream of a championship parade -- a dream that has gone unfulfilled in this Rust Belt city since 1964 -- will end up being no more than a pipe dream if this is how the Cavs are going to measure up against the Celtics this season.
Quite frankly, they don't measure up. Boston was deeper, Boston was more fluid, Boston was more confident. Practically any way you looked at it, Boston was just plain better.
And those were just the cold, hard facts on a night when the winter chill that lasts on the shores of Lake Erie from November and into May hadn't even made it to town yet, a night when folks were struggling to recall when -- or if -- a challenger had made a team coming off a 66-win season look quite so secondary.
Led by Rasheed Wallace, whose first basket as a Celtic was a 3-pointer over the outstretched, lunging arm of 7-foot-3 Zydrunas Ilgauskas, Boston's reserves outscored Cleveland's 26-10 as both coaches used only four reserves apiece.
Wallace (12 points and three 3-pointers) and Marquis Daniels (seven points and two assists) were the catalysts in the second quarter when Boston erased a 14-point deficit, and the Celtics were able to play from ahead throughout the third and fourth quarters led by Pierce (23 points, 11 rebounds), Garnett (13 points, 10 rebounds), Ray Allen (16 points) and Rajon Rondo (eight points, 10 assists, three steals).
And when it got to crunch time in the fourth, the Cavs' defenders were unable to efficiently contain the high picks Boston kept setting, luring Shaquille O'Neal out of the paint and letting Pierce use him as a screen to give himself enough room to create something on offense.
Yes, many of those possessions ended in misses. But with Boston playing the same stifling defense that was its trademark two seasons ago when banner No. 17 was won, the Cavs could never make a sustained finishing push.
Truth be told, the energy to make that push probably got sucked out of them when Boston, trailing 13-2 just 3:06 into the game, got an earful from Rivers during a timeout.
"I told them in that timeout that we wanted the lead back by halftime," Rivers said.
That was exactly what they did. Boston looked like a different team from that point forward, and the life got sucked out of the building before intermission even arrived.
The Celtics' lead grew as high as 15, and reality was staring Cavs' fans in the face.
Their team was not the equal of the visitors who came into their home and acted like they owned it, and with a few exceptions, all those Ohioans left the building feeling a whole lot worse about the chances of winning a title in the waning months before James can become a free agent and bolt town -- a move that could very well usher in another 45 years of misery.
O'Neal Gives Garnett A Welcome Back Tap

By Chris Forsberg | ESPNBoston.com
CLEVELAND -- With one thunderous bump from
Shaquille O'Neal
, Celtics forward
Kevin Garnett
spilled to the floor during Tuesday night's season opener in Cleveland. Not that Garnett enjoys the bumps and bruises that come with crossing paths with O'Neal, but that collision was just another step in his recovery from offseason knee surgery. Shaq's own little way of saying, "Welcome back, KG." "That's the Diesel," Garnett said to reporters after the game. "I'm sure if any one of y'all ran up against the Diesel, the same thing would happen." After missing 25 games last season, Garnett returned to regular-season action with a quiet 13 points, 10 rebounds and 3 blocked shots over 33 minutes. Not eye-popping numbers, for sure, but combined with the emotional lift of having No. 5 back on the court, it was enough to help the Celtics emerge with a 95-89 win over the Cavaliers, another Eastern Conference superpower. Garnett admitted after the game he's not where he wants to be physically, but -- don't start fretting about the knee -- it's more about getting in game shape.
To read the entire Forsberg column, click here.
Agent Zero Returns As A Low-Key Hero

By Marc Stein | ESPN.com
DALLAS -- He drove fearlessly to the bucket. He drained a few clutch contested jumpers. He even talked to the media.
It would be a stretch to say that Gilbert Arenas dazzled Tuesday night in the Wizards' season-opening road win over the Mavericks, but he certainly turned in a complete game.
After all those knee problems that allowed him to play in only 15 games over the past two seasons, Arenas announced his return to prominence by ringing up 29 points and nine assists without a lot of highlight-reel material. He merely capitalized with precision on what he called "weak" pick-and-roll defense from the Mavs to deliver a steady performance that looks gaudier in the box score than it did in person.
Not that the Wizards mind steady.
"He did his talking on the floor," Wiz coach Flip Saunders said. "Gil showed glimpses of ... that unbelievable burst of speed and his ability to weave through people and score at the rim. I thought he ran our offense great as far as getting the ball to people.
"I think that anyone that had questions about where he's at ... he's just going to continue to get better and better."
Arenas didn't want to say much after Washington's impressive 102-91 triumph over the retooled Mavs -- keeping with his well-chronicled determination this season to avoid the media -- but eventually conceded that he "did fine" and "feels great."
"Coach told me to be myself," Arenas said. "Don't let the outside world dictate how I play."
And he didn't.
Logging 38 minutes, Arenas instead managed to control the tempo throughout, with Dallas forced to scramble from behind for much of the evening after the Wizards rung up 35 points in the second quarter. The only displays of his old showmanship were nods in approval after a couple of jumpers and teasingly leaving his shooting hand in the air after one late dagger from the perimeter.
In crunch time, Arenas' driving layup (with plenty of contact) and that dagger snuffed out any hopes of a Dallas escape.
As for Arenas' newfound desire to keep his name out of the media game, Saunders said: "He talks to me. That's all that matters. ... I think he's gotten to the point that no matter what he says, it doesn't matter, because everybody is going to judge him by what he does on the floor. I think at this point he says, 'I'm going to play and how I play is going to be first line of defense of what's going to be said about me.'"
Marc Stein is the senior NBA writer for ESPN.com. To e-mail him, click here.
By Maurice Brooks
ESPN.com

TUESDAY'S BEST
Gilbert Arenas, Wizards
: After playing in just 15 games over the past two years, it didn't take long for Agent Zero to show the rest of the league that he is back. He poured in 29 points and gave out nine assists as the Wizards shocked the Mavs.
---

TUESDAY'S WORST
Baron Davis, Clippers
: His foot injury didn't prevent him from giving out seven assists, but maybe it had something to do with his 1-for-10 shooting from the field. He finished with just two points.
---
QUOTES OF THE NIGHT
"He would be dead by Christmas if we're going to let him be the offense."
-- Jason Kidd on teammate Dirk Nowitzki, who carried the offense for Dallas by scoring a game-high 34 points
Lakers Show Off Their Bling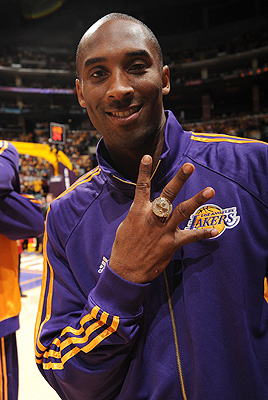 NBAE/Getty
Kobe Bryant and the Lakers received their championship rings and raised a new gold banner to the top of the arena prior to their season opener against the Clippers.
By Tim MacMahon
ESPNDallas.com

DALLAS -- After grabbing a microphone and giving a brief pep talk to the sellout crowd moments before his Dallas Mavericks debut, Shawn Marion gave the fans a glimpse of the impact he can make.
Then he ran out of gas.
The first seven minutes of Marion's tenure with the Mavericks were spectacular. He hit his first three shots and was active defensively as Dallas jumped out to a six-point lead over the Washington Wizards.
To read the entire column, click here
Rockets Struggle On Glass
By Elias Sports Bureau

Portland had a 51-33 rebounding advantage in its opening-night victory over Houston. No Rockets player had more than five rebounds. It was only the third game in the last eight seasons in which Houston did not have a single player record at least six rebounds.
By Eric Neel
ESPN.com

LOS ANGELES -- Andrew Bynum took the first Lakers shot Tuesday night -- a little back-down, feathery cross-lane jump hook for two. Expect to see more of it in games to come, even after Pau Gasol returns from his recent hamstring injury.
On his 22nd birthday, young Bynum looked ready to be counted on, ready to shoulder some load for this club. There were times last year, even late in the season as the Lakers marched toward the championship, when coach Phil Jackson said Bynum sometimes struggled to understand and embrace his role for the team.
On Tuesday night, Jackson was clear that this season the Lakers would count on Bynum to be aggressive on the block and around the bucket.
"His teammates are going to get him the ball," he said. "He's going to score points."
He scored 26 of them (on 9-of-15 shooting) and pulled down 13 rebounds and was active in running the floor.
"I really want to stay ahead of the ball as much as I can," Bynum said afterward.
Credit a healthy knee ("the knee is fine, I'm healthy this year," he said) and a lighter frame (Bynum weighs 272 pounds, down 13 from his playing weight last year). The work he's put in to get healthy -- and to take off enough weight to increase the chances that he stays that way -- has made it easy for Jackson to start talking about Bynum as a player the Lakers can lean on.
"He's got to take a load down there," Jackson said. "With minutes, he's going to get points. And that's something we're relying on [from him]."
Bynum, still grinning from his big night on the Lakers' ring night, said to bring it on: "I like that. I like that challenge."