Gary Bassing/NBAE via Getty Images
Dwight Howard and the Magic tipped off their East title defense with a 120-106 rout of the Sixers.

David Sherman/NBAE via Getty Images
Jonny Flynn and Al Jefferson mob Damien Wilkins after he sank the game-winning shot against N.J.

Brian Babineau/NBAE via Getty Images
Rasheed Wallace and new teammate Ray Allen yuk it up at the end of a 92-59 blowout of Charlotte.

AP Photo/Darren Abate
No. 2 overall pick Hasheem Thabeet had two boards and no points in Memphis' 96-74 loss to Detroit.

AP Photo/Darren Abate
Spurs forward Richard Jefferson, left, argues with Chris Paul during San Antonio's 113-96 win.

Doug Pensinger/Getty Images
Utah's Ronnie Brewer extricates himself after crashing into the Nuggets dance team. Denver won.
Magic Show Sixers How Deep They Can Go

A lot has been written about Boston being better this season because of the addition of Rasheed Wallace, and Cleveland being more talented because of the addition of Shaquille O'Neal, but the Magic showed in their opener why they are the defending champions in the East.
Orlando, which is one of the deepest teams in the league, also had its new additions on display during its 120-106 home victory over Philadelphia.
Vince Carter, Matt Barnes, Jason Williams, Brandon Bass and Ryan Anderson give the Magic more offensive firepower than any team Dwight Howard has had in his time with the Magic.
Howard picked up where he left off last season, dominating the paint early, which set the tone for the perimeter players to have easy nights. He finished with 21 points and 15 rebounds.
In his first game with his new team, Carter looked comfortable in the spread offense and blended in well with an offense that hit 16 of 29 3-point shots. Carter scored 15 points on 5-for-12 shooting and also gave out three assists to help Orlando race out to a 23-point halftime lead.
There's no question that Carter adds an explosive scoring element that Hedo Turkoglu lacked, but it remains to be seen how the Magic will replace Turkoglu's fourth-quarter decision-making and his ability to create mismatches with his size and perimeter game.
Anderson started in place of Rashard Lewis (serving a 10-game suspension for testing positive for an elevated level of testosterone) and contributed 16 points (4-of-7 on 3-pointers), while Williams dropped in 15 and gave out five assists.
It's early, but the Magic have integrated their new pieces seamlessly. They are poised to make a run at another Eastern Conference crown. They will again battle the Celtics and Cavs for supremacy in the East and can truly be gauged only by how they play against their two rivals throughout the season.
ESPN analyst Tim Legler is a regular contributor to the Daily Dime.
Celtics' Defense Shuts Down Bobcats

By Chris Forsberg | ESPNBoston.com
BOSTON -- Shelden Williams sounded like he couldn't quite believe the number.
"Fifty-nine?" he repeated back, more startled than seeking confirmation of the loser's total after the Celtics thumped the Bobcats, 92-59, Wednesday night at the TD Garden.
"Obviously, I haven't seen that since college. That's a great defensive performance by us. The opposing team scoring in the 50s, you don't really see that."
On the positive side for the Bobcats, they avoided infamy when Gerald Henderson's 19-foot jumper with 5:58 remaining in the fourth quarter dented the Celtics' lead to 76-50, assuring the team would surpass the NBA record for fewest points (49, by the Bulls on April 10, 1999).
On the negative side, Boston forced 18 turnovers, registered 10 steals, held the Bobcats to 31.1 percent shooting overall, and absolutely flustered the Charlotte offense with constant pressure and deflections.
The Celtics limited the Bobcats to 20 percent shooting (3-of-15) in the first quarter.
After being shut out over the first five minutes of that first quarter, the Bobcats endured another scoreless stretch of more than six minutes to start the second half. Over those two stretches alone, the Celtics outscored Charlotte 23-0.
While numbers like those forced newcomer Williams to do a bit of a double take, Boston's defensive domination was met with far less shock by center Kendrick Perkins.
To read the entire Forsberg column, click here.
Which Players Are Ready To Break Out?

By John Hollinger | ESPN.com
Michael Beasley, Heat: Obviously, worries abound given his rehab stint in the offseason, but offensively this guy's numbers are off the charts. As a first-year pro with one year of college experience he averaged 22.4 points per 40 minutes last season and shot 40.7 percent on 3s; I can't get those numbers out of my head. Beasley should see a big spike in minutes this season, and I'm pleased that the Heat appear to have relented and moved him to his natural power forward spot rather than squeezing him in at the 3. If he keeps his head on straight, his numbers should blow up in response.
Jason Thompson, Kings: For a decent chunk of his rookie season, the Kings tried to play Thompson at small forward. I'm not joking -- this really happened, and obviously it dragged down his numbers a bit. Now that he's playing his natural position, center, Thompson seems primed to become a nightly double-double threat and one of the few bright spots in what should be a long year in Sacto.
Greg Oden, Blazers and Roy Hibbert, Pacers: It's the same story for both these guys: They need to cut the fouls. Hibbert led the league in fouls per minute last season while Oden was eighth. Based on their preseason results, I see decent prospects for both in that department. Each is a big, clumsy guy who overwhelms opponents around the basket with pure size, and each claimed a starting job in the preseason. Hibbert is the better scorer, averaging nearly 20 points per 40 minutes last season, while Oden is the superior rebounder, leading the league in offensive rebound rate in 2008-09. If they can stay on the court, they'll each put up numbers.
To read Hollinger's entire PER Diem column, click here
By Maurice Brooks
ESPN.com

WEDNESDAY'S BEST
Andrea Bargnani, Raptors
: He connected on 11 of 15 shots from the floor on the way to 28 points to help Toronto overcome a triple-double from LeBron James in a 10-point Raptors' victory.
---

WEDNESDAY'S WORST
Charlotte Bobcats
: This is definitely not how the Bobcats wanted to start their season. Charlotte was held to a franchise-low 59 points, which set an NBA mark for fewest points in a season-opening game since the advent of the shot clock (1954-55).
---
QUOTE OF THE NIGHT
"We're UConn guys. We know how to win. We just go out there and try to feed off each other on the floor."
-- Richard Hamilton on sharing time in the Detroit backcourt with new teammate Ben Gordon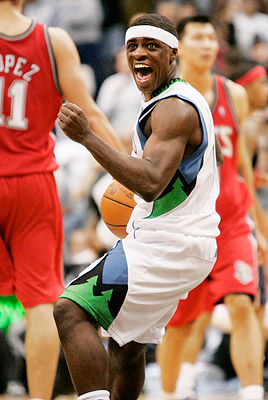 Genevieve Ross/NBAE/Getty
Rookie point guard Jonny Flynn saved his best for last, scoring 13 of his 18 points in the fourth quarter as the Wolves erased a 19-point deficit on the way to a 95-93 win.
Amare's Return To The Court
By J.A. Adande
ESPN.com

LOS ANGELES -- Same building, same court, much different Amare Stoudemire. Stoudemire's last regulation NBA game before Wednesday's season opener was in Staples Center on Feb. 18, when he hit the Clippers with 42 points and 11 rebounds as the Phoenix Suns hit the 140 mark for the second game in as many nights after Alvin Gentry took over the head-coaching reins.
Stoudemire also was poked in the eye and suffered a partially detached retina. There went the Suns' playoff chances, followed by Shaquille O'Neal to Cleveland and then, for Stoudemire, a long summer of nothing. The recuperation from his eye surgery entailed lying face down for day after day.
To read the TrueHoop blog, click here
Grizzlies Lose Opener ... Again
By Elias Sports Bureau

With a loss to Detroit on Wednesday, the Grizzlies have lost their last nine season openers, setting an NBA record. Atlanta set the previous record from 1999-2006.
Sloppy Passing Hurts Pacers
By John Hollinger
ESPN.com

ATLANTA -- It's a simple concept, really: Get the rebound, throw it to a guard, and run.
Unfortunately, the Pacers were so focused on the "and run" part on Wednesday that they glossed over "throw it to a guard" on several occasions. Indiana made a whopping 25 turnovers in a frenetic 120-109 loss to the Hawks, and by my count at least six of them came in the backcourt while trying to advance the ball upcourt.
To read the TrueHoop blog, click here