NBAE/Getty
All five Chicago starters, including John Salmons, scored in double digits against the Spurs.

NBAE/Getty
Kenyon Martin and the Nuggets erased a five-point deficit in the fourth quarter on the way to the win.
No "I" In Team For Bulls Against Spurs
CHICAGO -- The Spurs had the star, the Bulls had the team.
Tim Duncan scored 28 points, dropping in a handful of bank shots over Joakim Noah, and added 16 rebounds, but San Antonio only had one other player in double figures, Manu Ginobili with 12, and he scored only two in the second half.
The Bulls had six players in double figures, led by Luol Deng's 17, and dominated the glass in a 92-85 season-opening win. Chicago had a 52-44 rebounding advantage and grabbed 15 offensive rebounds. Seven players had at least five rebounds, and in the first half, the Bulls outscored San Antonio 19-0 on second-chance points. For a team that lost its leading scorer from last season (Ben Gordon), this was a perfect starting point.
"We were very balanced tonight, which is good," Bulls coach Vinny Del Negro said. "I don't think we shot the ball particularly well in the first half, but San Antonio is a solid defensive team -- they have been for years."
It wasn't a perfect win. The Bulls shot 41.7 percent and made just 3 of 16 3-pointers. One advantage of that was the glut of second-chance points, and the Bulls took advantage of those opportunities.
"We rebounded the ball well," Del Negro said. "We controlled the tempo of the game a little bit better. I would like to see us get out on the fast break a little bit more and be more efficient that way."
The Bulls had only six fast-break points, but with Derrick Rose still recovering from a right-ankle injury that all but wiped out his preseason, that wasn't necessarily a problem. Rose still had a good line -- 13 points, seven assists and seven rebounds -- but he wasn't the same electric scorer. Most of his points came on jumpers. But the Bulls didn't need a star output from Rose.
The frontcourt took center stage. During the game-changing third-quarter run that lasted 8½ minutes, the Bulls' forwards scored 18 of 23 points as they turned a one-point deficit into a 10-point lead going into the fourth quarter. Rose was on the floor for less than three minutes during this run, leaving after assisting on a Thomas jumper that made it 60-54. The Bulls led 74-64 going into the fourth. During that run, Thomas had six points, while Noah, Brad Miller and Deng each had four.
Thomas had 13 points, six rebounds and three blocked shots, coming alive in the third quarter, when he scored 10. Noah had 10 points and 10 boards, Hinrich had 14 points and six rebounds, and Salmons scored 10. Miller had nine points and five rebounds.
"We play well together," said Deng, who had nine rebounds, playing almost 38 minutes. "We share the ball real well. I think we're going to see this a lot, where a lot of guys are in double figures."
An unselfish team is usually a happy team. This Bulls team is dominated by happy-go-lucky 20-somethings. Rose, who just turned 21, called it a "comfortable environment." Deng, a veteran, went one better.
"I feel like we have a great group of guys that care about winning," Deng said. "I've said it before, but I couldn't really say that the last few years."
The Spurs were coming off a 113-96 win in San Antonio on Wednesday and got their first taste of back-to-back games.
The Bulls hit the road after the game for their own back-to-back challenge, heading to Boston for a Friday game.
"We just got to have guys get their rest," Thomas said. "We've got to take care of our bodies. We caught them at the end of back-to-backs and tomorrow we'll be on the same end."
Noah, who won a playoff game last year with a steal and a fast break dunk in the Bulls' thrilling series with the Celtics, is excited to head back to Beantown to try to avenge the seven-game series loss.
"We like playing in that environment," he said. "Us against the world."
Jon Greenberg is a columnist for ESPNChicago.com. He can be reached at jgreenberg@espnchicago.com.
ESPN.com writers and TrueHoop Network bloggers chatted with fans and gave their in-game opinions throughout Thursday night's slate of games in Daily Dime Live.
Calm Down Cleveland Fans, No Need To Worry

By John Hollinger | ESPN.com
It's not time to panic, Cleveland ... yet.
We should remember that at this time a year ago the Orlando Magic were coming off a loss to Memphis that dropped them to 0-2, after opening with a home loss to Atlanta in which they were seriously outhustled. Suffice it to say, the Magic recovered.
For the Cavs, a home loss to Boston and a road loss in a back-to-back against a Raptors team with funky matchups aren't cause to sound the alarms.
Nonetheless, there has to be a bit of concern in Cleveland over the way the Cavs have opened the season. All eyes have been focused on Shaquille O'Neal and his well-chronicled struggles in pick-and-roll defense. But the defense hasn't been the problem; Cleveland ranks 13th in defensive efficiency out of the 28 teams that have played games thus far. While that's short of where the Cavs would like to be, it's also not a major outlier in a two-game sample against two pretty good offensive teams.
No, the problem, shockingly, is that they can't score. Take Wednesday night's 101-91 loss at Toronto, for instance. You would expect the Cavs to have some trouble at the defensive end against the combo of athletic big men Andrea Bargnani and Chris Bosh, because of Cleveland's pair of slow, plodding big men, O'Neal and Zydrunas Ilgauskas. And the Raptors duo indeed took advantage of the matchup, combining for 49 points.
To read Hollinger's entire PER Diem column, click here
Well-Rounded Debut For Rose

By Elias Sports Bureau
Derrick Rose had 13 points, seven rebounds, seven assists and only one turnover in the Bulls' season-opening win over the Spurs. Rose had at least 13, seven and seven in only two games last season but he never had such a game with fewer than two turnovers.
By Maurice Brooks
ESPN.com

THURSDAY'S BEST
Carmelo Anthony, Nuggets
: One night after shaking loose for 30 points, Melo was even better against the Blazers, connecting on 11-of-21 from the floor and 18-of-19 from the line en route to scoring 41.
---

THURSDAY'S WORST
Richard Jefferson, Spurs
: It has been only two games, but so far Jefferson is having a hard time fitting in with his new team. He followed up Wednesday's 1-for-7 shooting performance by going 3-for-9, finishing with just nine points.
---
QUOTE OF THE NIGHT
"Just one of those nights we couldn't make a shot, and on top of that, they brought a lot of energy to the table."
-- Tim Duncan on the below-average performance of the Spurs against the Bulls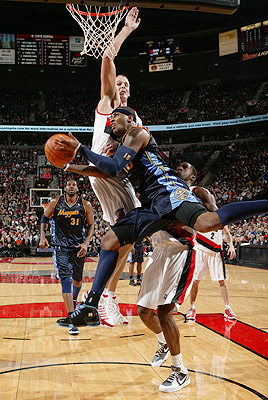 NBAE/Getty
Carmelo Anthony exploded for 41 points, including 19 in the fourth quarter, to power the Nuggets to a 97-94 comeback victory over the Blazers in Portland.
By Graydon Gordian
TrueHoop Network

The hype surrounding DeJuan Blair reached a fever pitch after the rookie scored 14 points and grabbed 11 rebounds in his pro debut against the Hornets on Wednesday. After Thursday's loss to the Bulls, fans' expectations for Blair may have come back down to Earth.
Before we collectively overreact in the opposite direction, let's be clear: six points and four rebounds in 12 minutes is a respectable line for a guy who has played a grand total of two NBA games. But the exuberance Spurs' fans felt after his line on opening night masked some of the weaknesses that were more easily identifiable this evening. And by weaknesses, I am primarily referring to his defense.
Before the game, Gregg Popovich said every aspect of Blair's game except rebounding needs improvement. And, like nearly every aspect of his game except rebounding, he is far from his ceiling as a defender. He has a preternatural sense of spacing that lends itself to the complicated rotation defenses Popovich require. And he has the core body strength to be physical without being foul prone.
But as things currently stand, he is both physical and foul prone. He plays far too much defense with his hands, and far too little with his feet and chest. His unbelievably long reach only exacerbates the problem. Once he commits himself to the necessity of lateral movement, his length will be an asset. Currently, his 7' 3" wingspan serves as a crutch.
Certainly Blair's defensive struggles aren't for lack of effort. If anything, a more tempered approach might do the rookie some good.
To read more from Gordian, check out his TrueHoop Network blog, 48 Minutes of Hell.
By Jeremy Wagner
TrueHoop Network

Denver Nuggets fans are thrilled to have Ty Lawson on the roster and much to the surprise of those who follow the Nuggets, he is actually playing.
The Nuggets traded away their first-round pick in the 2008 NBA Draft and one of the reasons Mark Warkentien gave was that rookies do not contribute to contending teams. It is obvious after five summer league games, eight preseason games and two regular-season games that Lawson is a rookie who can contribute right away.
Lawson is a rare player who can play at warp speed and still take care of the ball. He works as hard on defense as he does on offense, can score and also earn his teammates easy shot attempts.
This early in his career what can Nuggets' fans realistically expect from him? Teams will begin to learn his tendencies. At this point we do not know if he has quirks like trying to get to the rim with his right hand, but looking to pass when he drives left. Is his jumper weak enough that you can lay off him and keep him out of the lane? After a library of his time on the floor is compiled for teams to study they will find ways to make things more difficult for him.
Defensively teams will try to take advantage of his stature. The Jazz posted him up with Deron Williams and the Trail Blazers forced him down on the block as well. No matter how much more skilled he becomes, he will always be 5-foot-11.
To read more from Wagner, check out his TrueHoop Network blog, Roundball Mining Company.