Getty Images
With Salary Cap Expected To Drop, Here's The Cash Call

You've heard tons about the infamous memo dispatched by the league office in July warning teams that the salary cap for the 2010-11 season could drop from the current $57.7 million all the way down to somewhere between $50.4 million and $53.6 million.
What hasn't been widely publicized is that more teams than not, at this early stage, expect next season's cap to wind up closer to the higher figure.
The NBA's public position on the matter has not changed. Commissioner David Stern re-iterated again last week in briefings with reporters leading into opening night that his number-crunchers continue to forecast overall league revenue in 2009-10 to decline from 2.5 to 5 percent.
Yet as one Eastern Conference executive told ESPN.com this week: "We are projecting a number somewhere in the 52-to-53 million range. We had been working off the doomsday 50.4 [million] number, but now … we think 53.6 [million] could be very realistic."
There are several other teams that believe the same after the recent NBA Board of Governors meetings in New York. Sources say teams were advised that the leaguewide revenue hit -- while still significant if the cap figure will be decreasing by a record $4 million from this season's cap -- might not be as bad as first feared. Which would obviously be a welcome development for those of you still banking on something resembling a free-agent bonanza in July.
Our own extensive consultation with one veteran team capologist returned a list of seven teams that should have at least $10 million in spending money next summer, provided that the revenue dip is indeed closer to 2.5 percent and the $53.6 million cap that would go with it.
A disclaimer is required here to make it clear that the math involved in such projections can vary from team to team, especially this many months in advance. Another East exec we spoke to is holding firm in his belief that the 2010-11 salary cap will be closer to the dreaded $50 million range, no matter how many of his colleagues believe otherwise, with a fellow pessimist from West predicting a cap fall to $51-52 million.
"When in doubt," said the East resident, "go bleak."
So …
Acknowledging all of those perspectives here, let's take an immediate look at the seven teams on course to have the most money next summer, based on a cap at $53.6 million and at $50 million and factoring in expected financial obligations to draft picks and the cap holds that teams must add to their books during the offseason when they have fewer than 12 players under contract. We caution that these are merely the best available estimates as of Halloween, but we proceed in the season's maiden Weekend Dime because payroll positioning for July 1, 2010 -- as you also might have heard -- is going to be a non-stop story for the next eight months.
As Miami's Dwyane Wade said Wednesday night when surrounded by reporters who cover the Knicks: "I think the whole world is aware of that."

1. NEW JERSEY
$53.6 million salary cap:
$24.9 million in cap space
$50 million salary cap:
$21.3 million in cap space
What it means: With his estimated net worth of $9.5 billion and more room than anyone else no matter where the cap winds up, Russia's Mikhail Prokhorov is all set to make a huge splash in his first summer as an NBA owner … barring his unlikely failure to be approved by the league. Throw in the two quality building blocks (Devin Harris and Brook Lopez) New Jersey already has, Jay-Z's presence as a minority owner and the increasing likelihood that the Nets' move to Brooklyn will actually (finally) happen in a couple of years and you can understand why the Nets have been restored to the short list of teams that have Cleveland legitimately freaked about the possibility of stealing away LeBron James.
---

2. NEW YORK
$53.6 million salary cap:
$23.4 million in cap space
$50 million salary cap:
$19.8 million in cap space
What it means: It's worldwide common knowledge, to put it in the terms D-Wade used, that the Knicks' original free-agent fantasy was signing LeBron along with another max player (such as Wade or Chris Bosh) in the summer of 2010 to start over under coach Mike D'Antoni, who is beloved by James, Wade and several other members of Team USA from their time with the national team. But with first-year salaries for the big names expected to be in the $16 million range, New York can only afford one max player … unless it can (gulp) move Eddy Curry for an expiring contract during the season. This, furthermore, is a best-case scenario for the Knicks that assumes unrestricted free agents-to-be David Lee and Nate Robinson are no longer on the payroll. In short? No team has been pinched more by the prospect of a declining salary cap than the residents of Madison Square Garden.
---

3. MIAMI
$53.6 million salary cap:
$18.5 million of cap space
$50 million salary cap:
$14.9 million of cap space
What it means: These numbers should leave little doubt why Pat Riley was so adamant about taking the Heat completely out of the transaction game last summer. Even if the cap goes down to $50 million, Miami will have enough room to compete for Bosh -- or another marquee player that isn't so similar to Michael Beasley -- and re-sign Wade. Which means that, yes, even the team one rung below the Knicks in the Cap Space Club would appear to be better off than the Knicks … even if Miami's roster will be virtually barren heading into the summer. For the Knicks to change this reality, Donnie Walsh would have to find a way to move out Curry (and/or Jared Jeffries) before the February trading deadline. We repeat: Gulp. .
---

4. CHICAGO
$53.6 million salary cap:
$12.9 million of cap space
$50 million salary cap:
$9.3 million of cap space
What it means: Sources with knowledge of the Bulls' thinking say Chicago wants to get a decent look at this group before deciding how to attack July 2010. There's also the perennial possibility that Kirk Hinrich gets moved, which could wind up creating more cap space than the Bulls currently envision depending on what they would have to take back in a trade involving Hinrich. Yet this much we know for sure: Chicago naturally believes it's set at the point with Derrick Rose and has one trusty big man for the future in Joakim Noah. Any eight-figure amount of cap room is going to help them keep adding quality to the core, although that is another best-case scenario that assumes restricted free agent Tyrus Thomas will have been traded elsewhere.
---

5. MINNESOTA
$53.6 million salary cap:
$12.5 million of cap space
$50 million salary cap:
$8.9 million of cap space
What it means: Wolves fans aren't going to exhale until they know that Ricky Rubio's signature is on a signed NBA contract, which isn't expected before the 2011-12 season at the earliest. Wolves fans would also be rightly skeptical of anyone who dared to suggest that their starting-over franchise will be a free-agent player in 2010. But cap room, remember, can be used in trades, too. The combination of the cap space for deals, Minnesota's emerging frontcourt tandem of Al Jefferson and Kevin Love and the knowledge that Rubio, Jonny Flynn and Ramon Sessions all rank as attractive trade assets adds up to some legit post-KG hope. The Wolves could also be moving up the cap-space charts if, as expected, they decline their option on Oleksiy Pecherov and depending on what happens with Thomas in Chicago and Minnesota's multiple first-round picks in June.
---

6. OKLAHOMA CITY
$53.6 million salary cap:
$11.8 million of cap space
$50 million salary cap:
$8.2 million of cap space
What it means: Still wondering why we're always saying that the Thunder, for all the cracks about unfashionable Oklahoma City, are the envy of countless teams? On top of the wildly promising four-man core of Kevin Durant, Russell Westbrook, Jeff Green and James Harden and the good crowds, OKC is poised to make its first significant foray into free agency. The Thunder still have to convince skeptics they can lure a big-name signing to their humble outpost and prove they're willing to pull the trigger on big spending -- it wouldn't surprise anyone if they merely seek a quality piece or two and save some of the money to pay all the kids -- but sunglasses are definitely required with an outlook this bright.
---

7. L.A. CLIPPERS
$53.6 million salary cap:
$11.1 million of cap space
$50 million salary cap:
$7.5 million of cap space
What it means: I've been led to believe the Clippers have some ideas about creating a bit more room than they are on course to have as of Halloween. That would almost certainly require parting with either Al Thornton or Sebastian Telfair … unless they have an unexpected deal in the works to move Baron Davis. Yet even if the Clips stay where they are cap-wise, they'll have a healthy amount of cash to keep building around the foursome with long-term contracts: Blake Griffin, Eric Gordon, Chris Kaman and BD.

One of the season's early box-score stunners: Washington's Nick Young getting a DNP-CD at Dallas on opening night.
Young had a disappointing preseason in which he struggled to keep up with new coach Flip Saunders' system and suddenly has three established players in front of him -- Randy Foye, Mike Miller and DeShawn Stevenson -- in the race for minutes alongside returning hero Gilbert Arenas. It was widely assumed going in that Young would at least play ahead of Stevenson, but that assumption proved unfounded.
Which will inevitably get people wondering whether Young -- who has unquestioned offensive skill but still ranks as a one-dimensional (and undependable) scorer at this stage of his career -- has a future with the Wiz.
We were advised, upon making our initial check here, that it would be premature and incorrect to presume that (A) Young can't eventually work his way into Flip Saunders' rotation or (B) he's automatically destined to be shopped by the Wiz. The Wizards, I'm told, still intend to pick up Young's option (but not Javaris Crittenton's) for the 2011-12 season before Monday's deadlne.
With all those vets in the way, though, Young is going to have to develop some dependability and maturity if he wants to play. Especially when the Wiz are trying to restore a sense of professionalism to their locker room after last season's early firing of Eddie Jordan and the unprofessionalism/anarchy that followed.
---

I had Rasheed Wallace as my NBA Sixth Man Award winner when we turned in our staff predictions earlier this month. It'll be a tough award to win -- with the likes of Manu Ginobili, Jason Terry and Lamar Odom operating as sixth men out West -- but it looks as though Sheed is gunning for a spot in the 3-point contest instead.
You hesitate to nitpick given how ruthless Boston has been to start the season, but it's impossible not to notice that Sheed hoisted six 3-pointers in 24 minutes of the Celtics' win Tuesday in Cleveland, then took eight shots -- all 3s -- in Wednesday's home rout of Charlotte. Before that, Wallace launched 39 3-pointers in Boston's seven preseason games.
Not that the Celts are apt to complain, as happy as they are to have Sheed. Especially given what's happened with Glen Davis.
Sheed and Big Baby are supposed to lighten Kevin Garnett's regular-season load as much as possible to save as much KG as Boston can for the postseason, but that plan has already been scuttled in the short term because of Davis' fight with a former college teammate and subsequent thumb injury.
---
Can't predict what Larry Bird will do at season's end.
Don't know if the Pacers can convince him to put off retirement and stay on as team president, because no one is ever quite sure how much longer Bird wants to keep running the team.
On the management side, though, we continue to hear consistently out of Indy that Pacers owner Herb Simon wants try to convince Bird to keep going, at least through next season and possibly longer.

The Hornets have not lodged a trade bid for Golden State's
Stephen Jackson
, according to NBA front-office sources, but you can see why people have made the connection. Wing scoring is a h-u-g-e trouble spot for New Orleans, as underlined by the mere 20 points combined managed on opening night by
Morris Peterson
,
Julian Wright
,
Peja Stojakovic
and
James Posey
. It ranks as the latest source of grave concern for a franchise headlined by one of the most competitive spirits in the game in
Chris Paul
but likewise faced with an apparent shortage of supporting-casters to play at the level Paul demands.
Question is: Who can the Hornets get? They have been linked in the past to Detroit's Rip Hamilton as well, so that's something to monitor given what we discussed the other day, amid a growing sense among rival executives that the Pistons will attempt to move either Hamilton or Tayshaun Prince before the trading deadline in February as Detroit continues to reshape a roster teeming with 2-guards.
Hard to see, though, what New Orleans could offer in return that the Pistons would want. Hamilton has also left little doubt that he is determined to convince the Pistons to keep him in Detroit now that Michael Curry has been removed as coach.
---

It's a number that the Clippers, in their most optimistic moments since winning the lottery and the right to draft
Blake Griffin
, might have believed they could chase in the standings: 45.
It's a number with a different meaning now after Griffin was sidelined for at least six weeks with a fractured kneecap.
Forty-five, sadly, represents the highest number of games played by a rookie taken with the No. 1 overall pick by the Clips.
Danny Manning appeared in only 26 games as a rookie in 1988-89 because of a torn ACL.
Michael Olowokandi played in only 45 games as a rookie because 1998-99 was the NBA's lockout season … but that's one of the few glitches in a career of profound disappointment and underachievement that can't be blamed on Olowokandi.
And now you can't stop yourself from wondering whether Griffin -- who has admirers all over but who's also on his third NBA injury already since hurting his shoulder in summer league -- will play in more than 45 games this season.
Let's hope. His luck has to get better, doesn't it?
---

The state of his knees -- neither of which houses an anterior-cruciate ligament -- are such that you can't be totally shocked
DeJuan Blair
slipped into the second round of the draft. Major injuries lead to draft-night tumbles. It happens.
The shocker here is that Blair somehow plummeted right into the Spurs' clutches, which instantly caused the undersized power forward to be hailed as a steal and is already inflating San Antonio's draft-day mystique.
Tony Parker
was a No. 28 overall pick.
Manu Ginobili
was a No. 57. Blair went 37th overall to the Spurs in June -- right after they acquired
Richard Jefferson
in a pre-draft trade with Milwaukee and before the subsequent signing of
Antonio McDyess
-- and promptly rung up 14 points and 11 rebounds in his first real game after averaging nearly eight rebounds in just 17 minutes per game in a monster preseason.
Blair didn't fare as well Thursday night against fellow rookie Taj Gibson in Chicago, but the double-double in San Antonio's season-opening home rout of New Orleans made Blair just the third player in the club's history to go for at least 10 and 10 in his NBA debut. You can probably guess the other two: Tim Duncan (15 points, 10 rebounds) in 1997 and David Robinson (23 and 17) in 1989.

Five questions with Magic swingman Vince Carter:
Q: How's life with your new team?
A: Life is pretty good. Just to be a part of this organization that I grew up watching and not living too far from … they're a championship-caliber basketball team. It's great to finally have that [opportunity].
I'm hungry to have the opportunity to help this team get back there [to the Finals]. It's a new experience for me.
Q: How much advance warning did you have that the trade was going down?
A: No idea. It didn't even seem real. [The Nets] told me I was going home. I was like: "Well … home is Orlando. Does that mean what I think it means?"
Q: What's your response to people who question whether you can replace what Hedo [Turkoglu] brought to this team? Us "experts" are always saying that it was the Hedo/Dwight Howard pick-and-roll that made this team special.
A: I love the pick-and-roll. Love it. … They didn't put any pressure on me to try to fill anybody's spot. They said, "We brought you here to just play your game." Just playing in one exhibition game it was amazing to see … I got open shots. I got open shots playing with all these guys. Something I didn't get before [in New Jersey and Toronto].
Q: Dwight said I should ask you if you're going to get back into the dunk contest now that you're on his team.
A: I don't think so. Are you allowed to have two guys from the same team?
Q: I'm going to go out on a limb and predict that the league will let you both in if you want to make a comeback.
A:
I don't think so. We'll see as we get closer, but I'll leave to that him.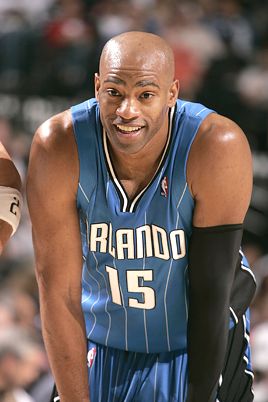 Photo by Glenn James/NBAE via Getty Images
Vince Carter tells us how things are going with his new team (See Box 4).

Little has changed in the NBA's world of no-trade clauses. Kobe Bryant remains the only player in the NBA with full no-trade language in his contract.
However …
There are 21 more players this season who can block trades through three other provisions. Sixteen of those 21 players possess one-year contracts that require them to give consent before being included in any deal because they are also eligible for Early Bird or Full Larry Bird free-agent rights at the end of the contract. Bird rights are not transferrable to a new team in one-year deals.
Three more players signed two-year contracts that are treated in the same manner as the aforementioned one-year contracts because the deals include a player option for Year 2.
Including Bryant, then, there are 22 players in a league of 430-plus players who begin the season with a say in trades. They break down into three groups:
Group 1: Kobe, again, is the only player in the NBA universe with unlimited veto power on all trades, essentially because no-trade clauses in the NBA are almost impossible to get. Players can only secure a no-trade clause if they have eight seasons of service time as well as a minimum of four seasons of service time with the same team and also must be an unrestricted free agent with the right to negotiate a no-trade clause into a new contract as Bryant was in 2004.
Most NBA stars with the requisite stature or leverage to request a no-trade clause sign their first big-money deals well before their eighth pro season. They also frequently sign extensions to those big contracts as opposed to going onto the open market and then re-signing with their current team, like Bryant did in 2004.
Many of Bryant's contemporaries have thus never even been eligible for a no-trade clause, since the current collective bargaining agreement does not allow such clauses to be added to contract extensions. They're only permissible in new contracts.
Group 2: The majority fall into this category. They are mostly one-year Bird cases such as former Dallas forward Devean George, who refused to grant his consent to being traded in February 2008, which nearly scuttled Dallas' complicated trade for Jason Kidd.
A team must receive permission to trade a player on a one-year contract in three instances. They are: (1) when the player can become an Early Bird free agent at season's end, which occurs when the player finishes two consecutive years with the same team; (2) when the player, like the current Knicks duo of David Lee and Nate Robinson, can become a Full Bird free agent at season's end, which occurs when the player finishes three consecutive seasons with the same team; or (3) when the player, like Charlotte's Raymond Felton, has accepted a qualifying offer for the fifth season of a rookie-scale contract.
Phoenix's Grant Hill, Miami's Joel Anthony and the Los Angeles Lakers' Shannon Brown are included here as well even though they all signed two-year deals with a player option for Year 2, because each would still be eligible for Early Bird or Full Bird rights at season's end even if they decline the option.
Players who qualify for this season's no-trade list must forfeit their Bird rights if they give consent to be traded in these circumstances, which limits their earning power further next summer when they return to the open market. The list:
•
Othello Hunter
(Atlanta)
• Raymond Felton (Charlotte)
•
Aaron Gray
(Chicago)
•
Lindsey Hunter
(Chicago)
•
James Singleton
(Dallas)
•
Anthony Carter
(Denver)
•
Johan Petro
(Denver)
•
C.J. Watson
(Golden State)
•
Steve Novak
(
Los Angeles Clippers
)
•
Brian Skinner
(Los Angeles Clippers)
•
Shannon Brown
(
Los Angeles Lakers
)
•
Joel Anthony
(Miami)
•
Jamaal Magloire
(Miami)
•
Sean Marks
(New Orleans)
• David Lee (New York)
• Nate Robinson (New York)
•
Adonal Foyle
(Orlando)
•
Royal Ivey
(Philadelphia)
•
Grant Hill
(Phoenix)
Group 3: There are two players this season who, as restricted free agents in the previous offseason, signed offer sheets with other teams that were matched.
Any team that matches an offer sheet to its own restricted free agent can't trade that player for one calendar year without the player's permission. The player also can't be traded to the team that signed him to the offer sheet for one calendar year.
Players With Matched Offer Sheets
Orlando's Marcin Gortat
Signed with:
Dallas
Veto Rights End:
July 13, 2010
Utah's Paul Millsap
Signed with:
Portland
Veto Rights End:
July 17, 2010

Warriors coach Don Nelson disputed the notion of a next-few-days timetable for a Stephen Jackson trade when he met with reporters before Golden State's season-opening loss to Houston. Referring to Warriors general manager Larry Riley, Nelson said: "I speak to Larry every day and I haven't heard that. … It would surprise me if that's true."
Our Thursday evening check, via NBA front-office sources, likewise suggested that Golden State is still getting largely unappetizing offers for Jackson. The Warriors are undoubtedly prepared to move Jackson but have said from the start that they won't rush the process just for the sake of making a deal.
Cleveland nonetheless continues to be nominated by executives around the league as the most likely destination for Jackson.
Yet we must again pass along the disclaimer that obstacles to a Cavs-Warriors swap remain, even if Cleveland's 0-2 start has put LeBron James and his overhauled supporting cast on a path toward desperate faster than anyone imagined.
Sources say both LeBron and Shaq -- although they have no plans to say so publicly -- like the idea of acquiring Jackson. But Cleveland's reluctance to part with Zydrunas Ilgauskas and his $11.5 million expiring contract in the exchange, which would make the Cavs smaller as a team and strip them of their O'Neal injury insurance, has been well-chronicled.
If the Warriors were willing to package Ronny Turiaf along with Jackson or planning to waive Ilgauskas after they got him -- potentially setting up Big Z to rejoin the Cavs after a 30-day wait as seen last season with Antonio McDyess -- Cleveland's perspective would presumably change. Every signal I'm getting, though, suggests that Golden State would be amenable to neither of those scenarios.
So either another team (or two) must be recruited to help facilitate a Jackson-to-Cleveland swap. Or that deal depends on the early-season discomfort in Cleveland or Golden State reaching the point that it causes one of the teams involved to amend its current stance.
To read Stein's entire blog post, click here.

"I'm the one who INVENTED that theory."
Suns president of basketball operations Steve Kerr,
when asked if he gives credence to the belief that Phoenix will surprise people in the West this season given the fact that it managed to win 46 games last season in spite of a tumultuous coaching transition from Mike D'Antoni to Terry Porter, which resulted in Porter's firing during the All-Star break. In Phoenix.

Marc Stein and host Ryen Russillo will dissect Stein's weekly NBA Power Rankings and other pertinent topics around the league every Monday on the NBA Today podcast.
Listen to the podcast

The Mavs quietly believe Rodrigue Beaubois would have been a rookie of the year contender -- in a race that might prove more open than anticipated in the wake of the fractured kneecap suffered by prohibitive favorite Blake Griffin -- had he been drafted by a lottery team.
His gifts are obvious: Beaubois has "Tony Parker-like speed and can change games with it," in the words of one veteran scout; he also has a 6-foot-10 wingspan and a build reminiscent of Boston's Rajon Rondo.
But Mavs president of basketball operations Donnie Nelson thinks it's wise to temper expectations, thrilled as everyone in the organization is to have landed such a gem in the lower reaches of the first round. Although it's true that containing speedy point guards is a Mavs weakness -- which theoretically creates a need for Beaubois to play -- getting the 21-year-old on the floor likely requires him to wrest minutes away from Jason Kidd, Jason Terry or J.J. Barea.
"We are in the business of winning games," Nelson cautions. "And playing rookies big minutes is not always conducive to winning games."
That's why you shouldn't be surprised if Beaubois -- for all the expectations he has already generated -- spends some time this season with the Mavs' D-League affiliate in Albuquerque, N.M. Valuable as it is for Beaubois to spend as much time as he can sponging off a mentor as accomplished as Kidd, there would be unquestioned value in letting Beaubois run a team for an entire game (or games).
"With any young player, you've got the instructional component and you've got the practical component," Nelson said. "You've got to be able to use what you've learned in the heat of the battle.
"Roddy has gotten off to a real good start, but you never want to close the door on any playing opportunity. We feel real good about the development he's getting and being with Jason every day, but you never know. There might come a time or a stretch of games where it makes sense to give him a chance to have the ball in his hands with five seconds to go in the game."
To read the entire Stein column, click here.