NBAE/Getty
As the Hawks found out, Ron Artest is willing to do the dirty work to help the Lakers get a win.

NBAE/Getty
Steve Blake not only played tough defense against Russell Westbrook but also scored 18 points.

NBAE/Getty
Phoenix improved to 3-0 this season thanks to a 19-point effort from Amare Stoudemire.
Don't Rush To Judge Artest Just Yet

LOS ANGELES -- Ron Artest was supposed to give the Lakers a tough defender who could get his own shot. Who would've thought his most salient contribution at this early stage in the season would be to provide a reasonable, clarifying bit of perspective.
"I always look at it as, 10 years from now you won't be thinking about the first three games," Artest said. "You'll think about the big-picture games. That's why it's really hard for me to get frustrated about not playing great."
He was far from great through the first two games of his five-year contract with the Lakers, and in this tweeting/live-blogging era where champions and MVPs are based on who wins the opening tip, there were rumblings that the Lakers made a mistake bringing him in and letting Trevor Ariza go. Artest looked uncertain on offense, made 4 of 16 field goals and provided a total of 13 points in 64 minutes. He took out his frustrations with silly fouls during the Lakers' loss to Dallas on Friday night. And not all of his ineffectiveness could be traced to learning a new system and new teammates; he was 3 of 9 from the foul line after making only 58 percent of his free throws during the preseason. Those are inexcusable numbers at any point in the season for an 11th-year pro.
Just to bring additional angst to Lakerland, Ariza scored 33 points for the Houston Rockets on Saturday night.
"He had 33?" Artest said. "Oh, that's great. I didn't know he could score 30."
Given that backdrop, it was time for Artest to show antsy Lakers fans what he could do on Sunday night. So Artest dumped an ice bucket (metaphorically; with Artest you have to be specific) on Hawks guard Joe Johnson after Johnson flambéed the Lakers for 18 points in the first nine minutes of the game.
Give an assist to Hawks coach Mike Woodson, who benched Johnson with 2:39 left in the first quarter, when he was in a 7-for-8 shooting zone. Johnson didn't return until the 7:28 mark of the second quarter, and with Artest taking over the defensive duties from Kobe Bryant, Johnson made only one of his final eight field goal attempts.
"I told Kobe, 'Let me get him,'" Artest said.
With Johnson taken out of the picture, the rest of the Hawks struggled to score. The Lakers' defense came up with seven steals in the third quarter, leading to unopposed baskets at the other end. The Hawks, so dependent on their defense to create transition baskets, seemed to stop trying as hard.
"We've got to have some type of presence," Johnson said. "We're too soft. We're giving way too many layups."
The Lakers nearly ran the Hawks out of the building before the reserves blew enough of a 24-point lead to force Phil Jackson to bring his starters back into an eventual 118-110 victory.
Bryant scored 41 points, but we've seen that before. Ninety-six other times, to be precise. This night was about Artest's initiation into the Lakers, finally making contributions, more than can be measured in his 12 points, seven rebounds, four assists and three blocked shots.
"The effect of the ability of Ron to defend tonight, it was a nice thing to happen for him," Jackson said. "I'm sure he's going to have offensive games with bigger numbers than that, but it was nice to get him back in the offensive flow."
Artest keeps saying he doesn't need to be a 20-point scorer. He has been able to move the ball in the offense, even if he hasn't always found the right time to shoot, nor was he on the mark before he started getting easy layups and dunks Sunday night.
"The main thing is playing hard," he said. "The shots don't mean nothing. You want to make open shots, but the main thing is play hard, play within the offense, know your role. I'm not going to expect myself to take 20 shots a game like I used to take. Some days I might only take three shots."
Later, after the media crowd dispersed, Artest reached into the cold bucket he was soaking his feet in, grabbed chunks of ice and crushed them in his hands as he talked about how you really should judge him: by the numbers the big-time scorers produce against him. Carmelo Anthony averaged 15 points against Artest's Rockets last season; I'm already counting the days until the new, apparently unstoppable Anthony goes against Artest in Denver on Nov. 13.
That will be a better time to assess this summer's Artest/Ariza swap. Until then, gulp, take a lesson from Artest, wait to render judgment, and don't hate upon others.
"I hope Trevor averages 20-plus this year," Artest said.
J.A. Adande is an ESPN.com senior writer and the author of "The Best Los Angeles Sports Arguments." Click here to e-mail J.A.
Dimes past: Oct. 27 | Oct. 28 | Oct. 29 | Oct. 30-31
ESPN.com writers and TrueHoop Network bloggers chatted with fans and gave their in-game opinions throughout Sunday night's slate of games in Daily Dime Live.
Celtics Pass Gut Check Against Hornets

By Brian MacPherson | ESPNBoston.com
BOSTON -- It's not that Doc Rivers wasn't enjoying the blowouts. But if the Celtics played every game the way they played Charlotte and Chicago last week, there wouldn't be much reason for the coach to draw his salary.
On Sunday, he gained some job security.
"We're better than this," Rivers said after his Celtics let a double-digit lead slip away in the third quarter but pulled away late. "I thought we were sloppy. I thought we broke our execution on defense and offense at times, and so we're going to have to go watch some tape and keep working to get better."
To read MacPherson's entire column, click here
By Maurice Brooks
ESPN.com

SUNDAY'S BEST
Kobe Bryant, Lakers
: He keyed an 18-0 third-quarter run and finished with 41 points (the 97th 40-point game of his career), eight rebounds and five steals as the Lakers rebounded from their loss to Dallas.
---

SUNDAY'S WORST
Kevin Durant, Thunder
: The fact that his jumper was off didn't prevent KD from putting up shots. The forward connected on just 3 of 21 attempts. He also finished the game with zero assists.
---
QUOTE OF THE NIGHT
"If he's going to make six, he can take 15. He passed up a lot of shots."
-- Phoenix coach Alvin Gentry on Channing Frye, who went 6-for-10 on 3-pointers against the Wolves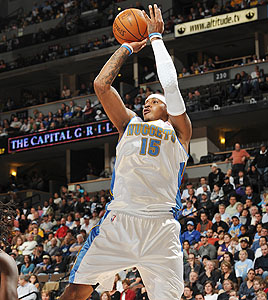 NBAE/Getty
Carmelo Anthony did a little bit of everything, finishing with 42 points, seven rebounds and five assists as Denver improved to 3-0 with a 10-point win over Memphis. He is averaging 37.7 points, 7 boards and 4.3 assists.
Defense Is The Key For OKC
By Royce Young
TrueHoop Network

Against Portland Sunday night, Oklahoma City shot just 34 percent from the floor, missed nine free throws, scored only 74 points, turned the ball over 19 times and had only six assists (think about that -- SIX assists). Oh, and on top of that, Russell Westbrook turned it over nine times and Kevin Durant went 3-for-21 from the field, yet, I'm oddly encouraged.
Why? Defense.
Sunday night's 83-74 loss was ugly in every sense of the word for the Thunder but there is a key difference here from last season: They had a chance to win regardless of the poor performance. Play like this last season and Oklahoma City loses by 20, maybe 30. But now, the Thunder still have a chance to win against a quality team. Hit a shot or two, knock down some free throws or maybe even get a slightly less awful performance from your superstar and you just squeaked out an ugly WIN. And that is all because of the effort on the defensive end.
Last season, the Thunder ranked 23rd in the league, allowing 103.1 points per game and ranked 20th in defensive efficiency with a 109.4 rating. This year through three games, OKC is allowing just 85 points per game and is ranked in the top three in defensive efficiency. The commitment in training camp was to defense and it's showing.
Before the loss to Portland, OKC had won 16 of its past 17 games when holding opponents to under the century mark. And while the Thunder dropped a nasty one to the Blazers, the formula for success holds true for OKC. And it appears that the Thunder are really starting to buy into it.
To read more from Young, check out his TrueHoop Network blog, Daily Thunder.
By Elias Sports Bureau

Jameer Nelson scored 30 points and J.J. Redick had 27 in the Magic's 125-116 victory at Toronto. With Vince Carter sidelined and Hedo Turkoglu wearing an opponent's jersey, Nelson and Redick became Orlando's first pair of starting guards to score at least 25 points in the same game since 2005, when Steve Francis (32) and Turkoglu (29) did it against the Pistons.
Paul Pierce scored 27 points in the Celtics' 97-87 win over the Hornets. It was the seventh straight game in which Pierce has scored at least 25 points against New Orleans, matching the longest such streak of his career against any opposing team. He posted seven straight games of 25 or more points against the Nuggets from 2001 to 2004. • More from Elias Sports Bureau
By NBA Statistics and Information Research

The anniversary of the first NBA game in history was Nov. 1. While the New York Knicks defeated the Toronto Huskies 68-66 on Nov. 1, 1946 in Toronto, there was a great promo for the game: Any fan taller than Toronto's 6-8 center George Nostrand got in free.
Currently, there are 433 players in the NBA and 225 are 6-8 or taller (58.9 percent). The tallest player is Houston's Yao Ming at 7-6. There are two players listed at 7-3: Zydrunas Ilgauskas (Cavs) and Hasheem Thabeet (Grizzlies).The average NBA player is currently 6-7 (actually 6-feet, 7.3 inches). The shortest player in the NBA is Nate Robinson (Knicks) at 5-9.