Nathaniel S. Butler/NBAE via Getty Images
Chris Paul had 32 points and 13 assists, but the Knicks earned their first win of the season 117-111.

Kent Smith/NBAE via Getty Images
Yi Jianlian hurt his knee, and the winless Nets limped off the court with a 79-68 loss to Charlotte.

Melissa Majchrzak/NBAE/Getty Images
Rockets rookie Chase Budinger (17 points) got past Wes Matthews and the Jazz in a 113-96 road win.

Photo by Jeff Gross/Getty Images
Baron Davis and the Clippers earned win No. 1, topping Jonny Flynn and the Timberwolves 93-90.

AP Photo/Steve Yeater
Allen Iverson debuted with 11 points, but Kevin Martin (48 points) led the Kings to their first win.
CP3 At 1-3: Not A Happy Hornet

NEW YORK -- On the subject of his altercation with Rajon Rondo, Chris Paul was mum Monday. On the subject of whether he smacked Al Harrington upside the head, he was in denial.
But as for his team, the New Orleans Hornets, Paul didn't mince words after a 117-111 loss to the New York Knicks on Monday night.
Paul is not a happy man with his team now 1-3, and here's why.
"When we talk right now, me, coach [Byron Scott] and [general manager] Jeff Bower, it's all about what can we do with the guys we have," Paul said. "I mean, we have guys that are capable of doing anything anyone else does in this league. We've just got to find it.
"Every team has an identity, a style of play they have. We have to find out if we're going to be a fast team, are we going to be a slow-down team, are we going to run a set every time? We just have to find out what our identity is."
They also have to figure out how to play better defense, because any team that allows 117 points to the New York Knicks simply cannot be considered among the league's elite or near-elite, no matter how far they've come over the past two seasons.
Back then, "We knew going in every night what this guy would do or this guy would do, and right now we've got such a different team, so many new guys, we haven't found that yet," Paul said.
Offensively (unless a way is found to bring Stephen Jackson aboard), there simply may not be enough talent to go around -- especially in the starting lineup, if Scott sticks with his preseason decision to bring Peja Stojakovic off the bench.
Paul (12-for-18 for 32 points with 13 assists), Emeka Okafor (9-for-13, 24 points) and David West (7-for-13, 21 points) carried their share of the load. But Julian Wright contributed only two points, Morris Peterson added nine and the bench shot a combined 8-for-29, with half those buckets coming from Stojakovic.
Coming off a humbling loss the previous night at Boston, along with a 17-point loss to San Antonio on opening night (and a five-point home victory over Sacramento), the Hornets now face three consecutive tough opponents -- Dallas, Toronto and the Lakers -- as they attempt to figure out what's ailing them and turn it around quickly.
Paul was pretty much a one-man offense for the Hornets in the fourth quarter, scoring 18 points, but New Orleans allowed New York to shoot 60 percent from the field and sent the Knicks to the line 18 times. After beginning the quarter with a four-point lead, they fell behind by 12 with 2:50 left and had no more juice.
For a moment midway through the fourth, it appeared Paul had a little extra fight left in him -- perhaps from frustration, perhaps from some holdover emotion from the previous night when he exchanged words with Rondo during and after the game and reportedly had to be restrained from going into the Celtics' locker room to confront Rondo.
"That's over and done with. I don't even remember what he said," Paul said.
Scott also claimed to not know exactly what was said between Paul and Rondo, and one member of the Hornets said what particularly irked Paul after the buzzer was Rondo saying something to the effect of: We won the game, what are you going to say now?
Scott's take on it: "I think there comes a point in time during the game, or even after the game, when somebody says something to you -- and the only thing I heard Chris say at the end of the game when we were walking off is that, 'He is going to respect me as a man.' So I don't know what Rondo said, but obviously Chris took exception to it."
Against the Knicks, Paul and Harrington were scrambling for a loose ball midway through the fourth when Harrington felt something striking him on the back of his head. Replays appeared to show it was Paul, swiping in the direction of the loose ball.
"That was nothing," Harrington said. "I dove for the ball, and I think he thought I fouled him, so he was, like, frustrated. I don't know what he thought, but it wasn't nothing I was worried about or nothing nobody should review or anything like that."
Paul's version: "When he dove for the ball it was like he grabbed my legs, and I just couldn't get to the ball. I was trying to get to the ball because I had just had the turnover."
As he answered that question, and the one about Rondo, an unmistakable look of frustration crossed Paul's face. Unmistakable because that look -- and the words explaining that frustration -- are things we're starting to see and hear plenty of from CP3.
Chris Sheridan covers the NBA for ESPN Insider.
Dimes past: Oct. 27 | Oct. 28 | Oct. 29 | Oct. 30-31 | Nov. 1
ESPN.com writers and TrueHoop Network bloggers chatted with fans and gave their in-game opinions throughout Monday night's slate of games -- all in Daily Dime Live.
Clippers Pick Up Their First W Of The Season

By Kevin Arnovitz | TrueHoop Network
As the final buzzer sounded at Staples Center on Monday night, Los Angeles Clippers center Marcus Camby emphatically pounded the ball into the hardwood. He then hung there for a moment, hunched over in relief.
The Clippers had finally recorded their first win of the season.
"I was just letting out frustration," Camby said. "It's been a long, tough week."
Even by the Clippers' standards, that's an understatement. Exactly seven days ago, the team got the gut-wrenching news that prized rookie Blake Griffin will miss six weeks with a fractured kneecap.
Then, 24 hours later, they notched a moral victory of sorts, playing the world champion Lakers even for three quarters. After that, things began to turn sour.
Fourth-quarter collapses against Phoenix, Utah and Dallas left the Clips 0-4. While there were positive things to glean from the losses, that familiar dark cloud gradually began to drift back over Clipperland.
On Monday night, they got off the schneid with a 93-90 win over the Minnesota Timberwolves.
"We had to get this win tonight," Clippers coach Mike Dunleavy said. "We want to be a playoff team."
It wasn't easy for the Clippers -- nothing ever is. They suffered their patented second-half doldrums and they turned the ball over 20 times, which translated to 30 Minnesota points. But center Chris Kaman made it easier, scoring 25 points, draining 10 of 15 shots from the field and grabbing 11 rebounds.
"They didn't double-team me right away very strongly," Kaman said.
Opponents might want to reconsider that strategy. Over his first five games, Kaman is averaging 22.6 points and 10.2 rebounds per game on 58.5 percent shooting from the floor.
The Clippers' schedule eases up in the coming weeks, and they've played well in spurts. But they'll need more complete efforts if they want to claw their way up the standings.
"We've played a lot of good minutes in games at a very high level," Dunleavy said. "We just need to get it for the full 48."
By Maurice Brooks
ESPN.com

MONDAY'S BEST
Kevin Martin, Kings
: With the Kings looking for their first win of the season, they turned to their best player and he didn't let them down, scoring 48 points, including seven 3-pointers, in an OT win against the Grizzlies. He also had five rebounds, four assists and four steals.
---

MONDAY'S WORST
New Jersey Nets
: They scored just seven points in the third quarter and went almost 12 minutes without converting a bucket, turning a double-digit lead into a double-digit deficit in an 11-point loss to Charlotte.
---
QUOTE OF THE NIGHT
"All I have heard of is how tough it is to win here. People are just amazed how bad we kind of beat them just because that doesn't happen here."
-- Houston rookie Chase Budinger after the Rockets' victory in Utah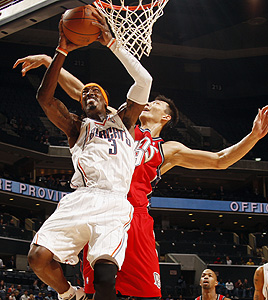 NBAE/Getty
Gerald Wallace scored 24 points and pulled down a career-high 20 boards for the Bobcats, who dominated the winless Nets 79-68.
Iverson's Grizzlies Debut
By Zach Harper
TrueHoop Network

You have this mental image of the legendary players who have played in the NBA. You expect them to be ruthless. You expect them to be instant difference-makers when they step on the court. But Monday night in the Kings' home opener against the Grizzlies, it took much longer than expected to get that out of Allen Iverson's season debut.
When A.I. signed with Memphis, it brought about confusion amongst all fans. He was resigning to the things he said he would never do. He would be a role player coming off the bench for a team whose playoff hopes were already grounded before the season started. Five years ago, if you told me this was how his twilight years would go, I would have fought you. Now, it's just a fact of life and NBA economy.
He checked into the game and replaced Mike Conley with 4:39 left in the first quarter, marking only the 10th time in his NBA career in which he didn't start a game he played in. In the past, if he saw Beno Udrih guarding him, he would have been insulted, but early Monday night he was mostly just trying to fit in.
Initially, he was not the player I remembered; he was timid. He was deferring instead of destroying. He was teaching O.J. Mayo during dead balls instead of teaching the defense not to test him. It took him a long time to get into the flow of the game, but when he finally did, it was like old times. He scored eight minutes into his debut when he decided it was time to remind everybody why he was there.
Final tally for A.I. was 11 points in 18 minutes and one new, weird era for The Answer.
To read more from Harper, check out his TrueHoop Network blog, Cowbell Kingdom.
Martin Off To A Great Start
By Elias Sports Bureau

Kevin Martin has scored 124 points in four games this season. Only four other players in Kings franchise history scored that many points in the team's first four games of a season: Jack Twyman for the Cincinnati Royals in 1959-60 (161), Oscar Robertson for the Royals in 1965-66 (136) and 1966-67 (132), Nate Archibald for the Kansas City/Omaha Kings in 1972-73 (146) and Eddie Johnson for the Kansas City Kings in 1983-84 (124).
•
More from Elias Sports Bureau
By John Hollinger | ESPN.com

Blake Griffin? Tyreke Evans? Humbug. The Rookie of the Year race saw its first hat thrown in the ring this past weekend, and it didn't belong to either of those two.
Instead, Milwaukee rookie Brandon Jennings -- the 10th overall draft pick who most had thought would need quite a bit of seasoning -- rose to the fore with two very strong performances. On Friday, he nearly became the second rookie in NBA history to post a triple-double in his debut, finishing with 17 points, 9 rebounds and 9 assists -- and then he added to his luster with a 16-point third-quarter explosion in a win over Detroit on Saturday.
Fortunately, Bucks-Pistons was part of my Saturday night viewing schedule, so I was treated to the lefty knocking in one jumper after another to help Milwaukee regain the lead, followed by an around-the-back reverse layup in transition that brought the house down. In the Bucks' 96-85 win, Jennings scored 24 points on 9-of-15 shooting, and after the admittedly small sample of two games, he leads all first-rounders in player efficiency rating.
His performance is a major surprise given how poorly he played in Europe last season. Normally, there's a very reliable translation between how a player performs in Euroleague games and how he'll perform in the NBA. Jennings' translated stats were 11.4 points per 40 minutes, 34.1 percent shooting and an 8.06 PER. Suffice it to say that it seems he'll comfortably exceed that projection.
Obviously, his was a special case. The typical translation involves a European player who has played multiple years in that environment and is much more familiar with the style of play across the pond. Jennings went to Rome straight out of high school and by all accounts improved significantly as the season went on.
Nonetheless, the early returns have been a surprise, particularly regarding his shooting. In 16 Euroleague games, Jennings shot just 11-of-41 on 3s, and that's at a shorter distance than the pro line. This season, he's already 5-for-9 from distance in his two games. And with a smooth, high-arcing stroke, there doesn't seem to be any reason he can't continue to shoot well. Similarly, he shot only 45.7 percent on 2s overseas, which is fairly awful (the league average was 51.8 percent), but that hasn't been a problem for him stateside, either (11-for-22 so far).
•
To read Hollinger's PER Diem, click here