Sam Forencich/NBAE via Getty Images
Jamal Crawford had 27 points off the bench, boosting the Hawks to a 97-91 win in Portland.

Photo by Glenn James/NBAE via Getty Images
Dirk Nowitzki was untouchable, scoring 29 of his 40 points in the fourth of a 96-85 win over Utah.

Kent Smith/NBAE via Getty Images
Steve Nash (30 points) and the Suns beat the Heat 104-96, moving to 4-0 on the season.

Allen Einstein/Einstein/NBAE via Getty Images
Will Bynum and Rodney Stuckey, who both scored 20 points, savor an 85-80 win over the Magic.

Photo by Layne Murdoch/NBAE via Getty Images
Kobe Bryant (31 points) was under the weather, but managed to get over on OKC in overtime.

Photo by Gary Dineen/NBAE via Getty Images
Bulls guard Derrick Rose had 10 of his 16 points in the fourth quarter in an 83-81 win over the Bucks.

One week into the 2009-10 season and doubt can be found anywhere you look in the NBA. It's fear that is the rare commodity.
Doubt exists even among the pleasant surprises, in addition to the teams that don't give you reason to believe. Maybe you doubt the Houston Rockets can maintain their good start once opponents realize they'll have to expend an additional amount of energy to beat them. Or you question whether the undefeated Phoenix Suns can avoid reversing into a sudden losing streak when they play their next two games in Orlando and Boston.
Fear is the province of a select few.
• Any team who looks at the schedule and is playing the Boston Celtics.
• Any player who looks at the matchups on the whiteboard in the locker room and sees he is guarding Carmelo Anthony that night.
• The Portland Trail Blazers.
Everything else in the NBA is just a matter of concerns that can be addressed, or low expectations coming to fruition.
The Celtics are serving a reminder that as long as Kevin Garnett is in the lineup, no one in the green jersey is allowed to take nights off on the defensive end. The way they're protecting the basket, you'd trust them to safeguard your family heirlooms and a list of all your PINs. Only one of their first five opponents has reached 90 points. Agents should start creating Excel files detailing their player's performances against non-Celtics opponents, just to remind potential free-agent suitors of what can be accomplished under normal circumstances.
And who would want to have to stop Anthony right now? Stand your ground and he'll put you on the wrong end of a "SportsCenter" highlight, just like poor Paul Millsap. Close in and he'll drive by you. Give him some room and he'll pull up for a jumper over you.
It's clear that Anthony is ready to inflict Category 5 hurricane damage on the league this year. He's already so intense that there's no way you can call him Melo. Nothing mellow about him. That's Carmelo K. Anthony to you. He has already set the standard so high that when he scored 25 points against the Pacers on Tuesday, it felt like a massive letdown. His average dropped four points, to 33.5 per game.
Anthony and the Celtics are harming other teams. The Blazers are self-mutilating. Dropping a home game to Anthony's Nuggets by missing two free throws at the end. Letting the Atlanta Hawks outrebound them 46-36. The Hawks are supposed to be younger and more energetic than most teams ... but not the Blazers.
Their No. 1 overall pick from the 2007 draft has 19 personal fouls and 16 field goal attempts. Their offseason free-agent acquisition is shooting 34 percent. They are 2-3, with two home losses.
There are plenty of other teams with losing records. Most of them were supposed to be that way. Utah and New Orleans might be surprises, but most Conventional Wisdom watches had down arrows next to those teams and an up arrow by Portland. The other teams with optimistic outlooks are at least at .500 now, unless you want to include the Clippers. And the Portland Trail Blazers didn't assemble this roster to be compared with the Clippers. That's the neighborhood they've stumbled into. That's the reason for fear.
J.A. Adande is an ESPN.com senior writer and the author of "The Best Los Angeles Sports Arguments." Click here to e-mail J.A.
Nowitzki's Record-Setting Night Lifts Mavericks

By Tim MacMahon | ESPNDallas.com
DALLAS -- The standing ovation started with a few minutes remaining in the game and continued until Dirk Nowitzki disappeared into the tunnel.
There had been scattered boos from the sellout crowd earlier Tuesday night as frustration mounted during three miserable offensive quarters. But Nowitzki made the fans forget about that with the most spectacular dozen minutes in franchise history.
His 29 points in the final frame broke a 25-year-old team record for scoring in a quarter. It turned a 15-point deficit at the start of the fourth into a 96-85 win over the Utah Jazz. It was an amazing performance that left a lot of the 19,725 folks who packed the American Airlines Center in awe, although there was one notable exception.
"The first three quarters had been pretty awful," huffed Holger Geschwindner, Nowitzki's longtime coach and mentor who is making his usual early-season visit from Germany. "He had to catch up somehow."
Nowitzki caught up with a remarkable display of determination and efficiency.
Through three quarters, Nowitzki had misfired on all but five of his 14 shots from the floor. And the rest of the Mavericks were even worse, as Dallas' freezing shooting (31.9 percent) allowed the Jazz to build the big lead.
Then, a couple of minutes into the fourth quarter, Dirk went to work.
To read MacMahon's entire column, click here
ESPN.com writers and TrueHoop Network bloggers chatted with fans and gave their in-game opinions throughout Tuesday night's slate of games -- all in Daily Dime Live.
By Maurice Brooks
ESPN.com

TUESDAY'S BEST
Dirk Nowitzki, Mavs
: He scored a franchise-record 29 points in the fourth quarter to help the Mavs wipe out a double-digit deficit on the way to a 96-85 win against the Jazz. He finished with 40 points, 11 rebounds, five assists and five blocks.
---

TUESDAY'S WORST
Ryan Anderson, Magic
: He had plenty of open looks but failed to knock them down in Orlando's five-point loss to the Pistons. He made just 2 of 14 shots, including missing 10 of 11 3-pointers.
---
QUOTE OF THE NIGHT
"We've got the bats for it, we've got the pitching for it."
-- Boston forward and Phillies fan Rasheed Wallace on whether or not Philadelphia can still win the World Series
Suns Hand Heat First Loss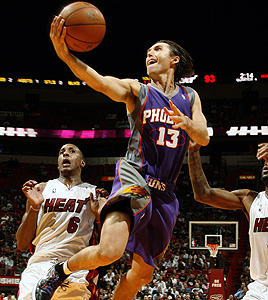 Issac Baldizon/NBAE/Getty
Steve Nash posted 30 points and eight assists, and the Suns used a zone defense to cool off the Heat in a battle of unbeaten teams.
Sefolosha Makes Bryant Work
By Royce Young
TrueHoop Network

Oklahoma City's 2-2 start isn't all that shocking. A lot of people kind of suspected that would happen.
But what's a little surprising is who the team's unquestioned MVP is. Kevin Durant? Jeff Green? Russell Westbrook? New addition James Harden? Nope, no, no and negative.
The answer? Thabo Sefolosha.
You look at Tuesday night's box score and you see Kobe Bryant's 31 points on 9-for-22 shooting in 46 minutes and you assume Kobe just had a slightly off night while getting what he always gets. But if you watched, you saw an absolute defensive gem from Sefolosha. He frustrated Kobe in a way that very few have. He blocked shots. He stripped him multiple times (four steals). He took Kobe out of key possessions. He frustrated him and had Kobe begging for a call nearly every time down the floor. It was just about as good as you can do against Bryant.
Heck, with the game tied at 90 and seconds remaining, the ball was in Bryant's hands in a place he drools over -- on the wing with a single man on him. And what happened? Kobe ended up launching a fadeaway 25-foot airball. Why? Because Sefolosha pressured Kobe and never even let him take the shot he wanted.
Now, some will point out that Kobe had the flu and was under the weather and that's what kept The Mamba off his game. While that may be true to a degree, it really was a sore throat and it's not like Kobe was just missing open shots. The reality was, he couldn't get open shots. Everything was contested. Everything was challenged. I swear Sefolosha had a hand in Kobe's face during his free throws. It was that suffocating.
And on top of all that, Sefolosha hit two monster 3-pointers that tied the game late in the fourth for OKC. He's not just a one-end-wonder.
In the end, the Lakers got the overtime win and Thunder fans went home disappointed. But it's pretty clear that the contract extension given to Sefolosha last week was a bigger victory for OKC. If the Thunder can get to the place so many think they can, one piece of a championship puzzle is now accounted for: the star stopper.
To read more from Young, check out his TrueHoop Network blog, Daily Thunder.
By Elias Sports Bureau

The Hawks completed a night of comeback victories in the NBA by overcoming a 12-point Blazers lead to win in Portland, 97-91. Atlanta's victory was the fifth of the night by an NBA team that overcame a deficit of at least a dozen points. Cleveland came from 18 points down to defeat Washington; Chicago overcame a 13-point deficit to beat Milwaukee; Phoenix came from 12 points back to win in Miami; and Dallas rebounded from 16 points behind to outlast Utah.
•
More from Elias Sports Bureau
Round 1: Jennings vs. Rose
By Jon Greenberg | ESPNChicago.com

CHICAGO -- For most of the game, Brandon Jennings was the best point guard in the building. The whippet-thin Bucks rookie ran the floor, hit his jumpers and played like a veteran.
Derrick Rose just looked rusty.
The marquee matchup of Jennings and Rose looked like a relative dud as Milwaukee built a sizable third-quarter lead. Rose left with about seven minutes left in the third and the Bulls trailing by 18. The Bulls roared back with him on the bench.
•
To read the entire column, click here