NBAE/Getty Images
Ron Artest (15 points) found himself in the middle of the action against his former team.

NBAE/Getty
The Pacers had plenty of reasons to celebrate after knocking off the Knicks for their first victory.

NBAE/Getty
It wasn't easy, but the Celtics were able to fight off Al Jefferson and the Wolves down the stretch.
Ariza vs. Artest I: Kobe Steals The Show

HOUSTON -- If the battle of Artest versus Ariza showed us one thing, it's that actions speak louder than words, everyone. Trevor Ariza and Ron Artest said all the right things beforehand about how this game was Rockets versus Lakers and they wouldn't be taking things into their own hands. So did their coaches, though I'm not sure whether they genuinely believed this to be true or were just engaged in some wishful thinking.
But once the game tipped off Wednesday night, a different story emerged. Artest spent much of the first half trash-talking Ariza and trying to get under his skin, with the two earning offsetting technical fouls just 2:49 into the game.
Other shenanigans, perhaps, went on behind the scenes. Ariza claimed Artest had tried to put his hands on his neck, while Artest counterclaimed that Ariza had shot elbows at him.
"I got hit with about three elbows," Artest said. "If you throw an elbow into Ron Artest's chest, do you know who you're hitting?"
Only this time he didn't chase down Ariza the way he did Kobe Bryant in last year's playoffs.
"You know if somebody hits me, I'm going to react," Artest said. "But I give up, I just give up. I'm not fighting anymore. You could elbow me, smack me, use me as a punching bag. I'm not reacting anymore, I'm tired."
Surprisingly, it was Ariza who spent much of the game seemingly determined to show his former employers what they were missing. While Artest rarely forced the issue, Ariza spent much of the first half searching out shots that weren't there, finishing 5-of-21 from the floor. In the end, he was turned aside one final time in the final seconds, with Derek Fisher's strip in the waning seconds of overtime allowing L.A. to preserve a 103-102 overtime victory.
Before that, it was Artest versus Ariza in the final minute of regulation, when each made a clutch 3-pointer to provide great theater as a prelude to the extra stanza. Better yet, each betrayed his pregame statements by posturing for the opposite bench after his shot: Artest with an exaggerated timeout sign when his triple put L.A. up by three with 30 seconds left in regulation, and Ariza by wagging three fingers in L.A.'s direction when his triple tied things with 14 seconds to go.
At the end of the day, they were bit players in a different story: Kobe putting the Lakers on his back en route to a second straight overtime road win. With Pau Gasol still out with a hamstring injury, the Lakers rode their star to 41 points, and it was his pass to Andrew Bynum that set up the latter's game-winning free throw with 24 seconds left in overtime.
Houston had a chance to regain the lead, but will rue two missed opportunities. The first came on a drive by Aaron Brooks in which Lamar Odom fouled him along the baseline just before Brooks flipped a shot into the underside of the rim. Although it seemed a clear continuation call, the foul was ruled on the floor, denying Brooks two free throws that could have put Houston ahead with 13 seconds left.
Afterward, Houston coach Rick Adelman would only say "I'm really frustrated," but wouldn't say why. It didn't take a Rocket scientist to figure out what had upset him.
What happened next was self-inflicted. After the Lakers bottled up Brooks and Ariza recovered a loose ball near midcourt, Houston failed to use its final timeout to set up a play in the dying seconds. Instead, Ariza made a desperation drive, Fisher (who, amazingly, played 34 minutes and finished with 0 points, 0 rebounds and 0 assists while fighting off the flu) stripped it loose, and the Lakers went home with a hard-fought win.
For much of the night it seemed Houston -- who seem to be the league's Little Engine That Could this season -- would emerge with yet another improbable win to follow recent upsets of Portland and Utah. Houston went up by seven points early in the fourth quarter with L.A.'s struggling second unit on the court, forcing Phil Jackson to put his starters back in the game earlier than he'd anticipated -- including Bryant, who had to play 48:09 after a long night against the Thunder the previous day.
But, as in several recent episodes of Rockets versus Lakers, Houston couldn't maintain its offensive output down the stretch. With the Lakers determined not to let Brooks beat them after he'd torched L.A.'s defense in Games 4 and 6 of last year's playoffs, Houston mustered a mere nine points in the final 10 minutes of the fourth quarter until Ariza hit his game-tying triple with 14 seconds left. Even that score came with the Lakers scrambling after a jump ball -- on set plays, L.A.'s combo of Fisher and Bynum repeatedly thwarted Brooks with their traps.
Of course, that may have been Adelman's other source of "frustration" -- Fisher's strong-arm tactics against the diminutive Brooks on the perimeter. Given an inch by the referees he went ahead and took a mile, using his superior strength to shoo the quicker Brooks away from the basket.
As for Artest versus Ariza, statistically it was basically a draw: Each player had 15 points. And perhaps it was unrealistic to expect a duel to break out between the two when they rarely guarded each other. Usually Bryant checked Ariza while, in a sign of how much zip Artest has lost on his first step, Luis Scola guarded him for much of the night and Artest didn't get past him on the bounce once.
Most notably, there was a major difference in firepower thanks to No. 24 in gold. And in the end, the night belonged to him. With 41 points on just 30 shots and only two turnovers to mar his evening, Bryant allowed the reigning champs to overcome a triple-bagel from Fisher, a rough outing from the bench and a torrent of second shots by the Rockets. That he did it the night after playing 46 minutes in an overtime win against Oklahoma City made it all the more amazing.
If you're looking for Artest versus Ariza II, the next duel is scheduled for L.A.'s Staples Center 10 days from now -- where Ariza will get the championship ring his teammates received opening night. Somehow, I imagine those two will again be the story before the game … and that Kobe will again be the story afterward.
John Hollinger writes for ESPN Insider. To e-mail him, click here.

By Chris Sheridan | ESPN.com
EAST RUTHERFORD, N.J. -- Another 2.5 points dropped off Carmelo Anthony's scoring average Wednesday night, but if you think he cared much about it, you don't understand the new Carmelo Anthony.
Anthony made his first shot, missed his next 12, made six of his next eight and then finished his night with two airballs in the early part of the fourth quarter after the Nuggets had broken open what was a tight game at halftime and rolled over the hapless and winless New Jersey Nets 122-94.
Anthony shot just 8-for-24 and tallied 22 points as his average dropped from a league-leading 34.5 to 32.0 (good for second), and by the time he left the locker room afterward there was not yet a final tally on Kobe Bryant's points in the Lakers' game at Houston -- and thus no way to know whether Anthony would remain the NBA's scoring leader for another day.
To read Sheridan's entire column, click here
ESPN.com writers and TrueHoop Network bloggers chatted with fans and gave their in-game opinions throughout Wednesday night's slate of games -- all in Daily Dime Live.
By Maurice Brooks
ESPN.com

WEDNESDAY'S BEST
Chris Paul, Hornets
: His fingerprints were all over every big play the Hornets made in their overtime win against the Mavericks. He fired in 39 points to go with seven assists, five rebounds and two steals.
---

WEDNESDAY'S WORST
Grant Hill and Jason Richardson, Suns
: The two Phoenix starters went a combined 0-for-9 from the field, finishing with zero points in 40 minutes in the Suns' loss to the Magic.
---
QUOTE OF THE NIGHT
"That has to be the signature of our team, that regardless of what we're doing on the offensive end, we can always stop you on the defensive end."
-- Indiana forward Danny Granger after the Pacers held the Knicks without a field goal during the game's final nine minutes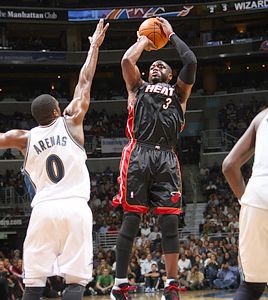 NBAE/Getty
Dwyane Wade tallied 40 points, four rebounds, five assists and two blocks, and drained the go-ahead jumper with 25 seconds left as the Heat burned the Wizards 93-89.
By Michael Schwartz
TrueHoop Network

OK, so 82-0 is out for the Phoenix Suns.
That much we know after they got drilled in Orlando on Wednesday 122-100. But what we have yet to find out is whether the Suns are for real after winning their first four games, including a gutty come-from-behind victory in Miami on Tuesday night.
It's no secret that this team boasts a superb offense, but it has yet to be determined if the Suns can defend and rebound when it counts.
Phoenix suffocated Miami into 23 percent shooting in the fourth quarter Tuesday, but Dwight Howard might not be so impressed with the Suns' D after he tore through it on his way to 17 points in the third quarter alone, when the Magic pulled away.
Rebounding also figures to be an issue all season, although thus far the Suns have actually outboarded their opponents, and Wednesday's game was not lost on the backboards.
Channing Frye has brought his lethal jumper to Phoenix's center position -- draining six 3-pointers in each of the team's two home games to surpass his previous season career high of 3s made in a season in one weekend -- but he has pulled down just 4.6 rebounds per game.
Still, there are plenty of reasons for Suns fans to believe their team is better than the borderline lottery squad they were last season.
The bench, a major weakness even during the glory days, has provided quality minutes every game, and Steve Nash has not played like any 35-year-old I know, willing this team to both of its road victories and averaging 10.8 assists and a shade under 20 points.
Most importantly, the Suns seem to be developing that special camaraderie -- "ubuntu," if you will -- that all good teams seem to have.
Stay tuned. Reports of the Suns' demise may yet be greatly exaggerated.
To read more, check out Schwartz's TrueHoop Network blog, ValleyoftheSuns.com.
Hornets Extend OT Win Streak
By Elias Sports Bureau

It took an extra period, but the Hornets defeated the Mavericks on Wednesday.
New Orleans has won its past 10 overtime games at home, dating back to 2006. That's the third-longest streak in NBA history. The Knicks won 14 straight home OT games from 1988-92, and the Rockets had an 11-game streak from 1976-80.
•
More from Elias Sports Bureau
By John Hollinger | ESPN.com

It's back to the future for the Hawks, who essentially went to a seven-man rotation -- much like they did for much of last season -- in beating the Blazers on the road 97-91. With no foul trouble -- the Hawks had only 15 personals as a team -- rookie Jeff Teague took home a DNP, and Joe Smith and Maurice Evans played only six minutes apiece.
The other similarity? A one-sided second quarter for Atlanta behind the two primary reserves. This time it was Jamal Crawford, rather than Flip Murray, teaming up with Zaza Pachulia to do the damage, but second quarters behind that bench duo were a major staple of the Hawks' 47-win 2008-09 season. So, too, was the short rotation employed by coach Mike Woodson, although last year it was more out of necessity than choice. We'll be watching to see whether either trend remains in play during the opening weeks of this season.
• To read Hollinger's PER Diem, click here