David Liam Kyle/NBAE via Getty Images
Early Survey Of The LeBron Landscape

Those of you who dread this topic will be thrilled with the NBA's scheduling computer.
Friday night's trip to New York is the only time that the Cleveland Cavaliers will be playing on the Knicks' floor this season … barring an unlikely reunion in the playoffs.
So maybe that'll cut down on the incessant chatter about LeBron James' future.
OK, OK. Maybe not.
I nonetheless tend to believe that the majority of you understand why so many NBA pundits go here so often and fully expected (and wanted) this to be the thrust of the latest Weekend Dime. Eleven days into the season can't be too soon to start digging into the LeBron Landscape if the league office is going to serve up Cavs-at-Knicks this quick.
We say so even though we've long endorsed the theory that LeBron genuinely can't know what he's going to do yet. Why would he? Why would he make the biggest decision of his professional life so many months before he needs to?
Yet you'll also note that LeBron said the following to reporters in Cleveland on Thursday night: "Every team in the NBA, I've thought about playing [for] at one time in my life."
See? It's an irresistible game.
And after close consultation with a handful of experts as close to the pulse of this madness as possible, here are the five teams most deserving of a spot in the discussion, as things stand exactly 237 days away from July 1, 2010:

CLEVELAND CAVALIERS
You could probably come up with at least 23 reasons to slam home the idea that the Cavs are still overwhelming favorites to find a way to re-sign the most anticipated free agent in the history of American sport.
You probably already know most of the main reasons, too.
The contract Cleveland can offer LeBron will be one year longer and nearly $30 million richer than any other suitor. Dan Gilbert's Cavs are on the short list of teams with a spare-no-expense owner who will keep spending until Gilbert puts a supporting cast around James that's championship-worthy. My own favorite take, which I've clung to for years, is that James is clearly proud of his roots in nearby Akron and thirsts to be the guy who beats all the supposed Cleveland curses.
The local hero who proves that you actually can win something on Lake Erie.
Yet the scary part for Clevelanders is that a list of 123 reasons wouldn't calm anyone's nerves. Not until LeBron actually re-signs. Not when they all know how antsy LeBron is in his seventh season, which you'll surely recall is when Michael Jordan broke through to win his first ring.
Doesn't matter how many times someone spouts the reminder that LeBron doesn't need to relocate to Madison Avenue to realize his dream of becoming a global icon because the world is already watching. Doesn't matter if you recite the stats about how few players at LeBron's level -- Shaquille O'Neal going from Orlando to the Lakers in 1996 is really the only one -- have ever switched teams in free agency. If the Cavs fail to win the title in June, having already quickly slipped to No. 3 on the list of the Eastern Conference title threats in the minds of many, everyone in Cavsland will be fearing that the resulting frustration/angst/bitterness becomes so great that James decides he needs a fresh start.
So …
This is quite simply going to be the longest season that the Cavs have ever endured. They can prove nothing in the regular season because of what happened in the playoffs. They have to deal with daily Delonte West uncertainty and the not-so-small matter of trying to get Shaq integrated and productive by April on top of all the LeBron-induced anxiety. Most worrisome of all? The declining salary cap has scuttled any reasonable hope that the Cavs would have the financial flexibility to pursue Chris Bosh or another marquee free agent to be James' new sidekick … when the world can also see that he definitely needs more long-term help.
Even if the Cavs do find a way to win it all this season, those who know James best say he's a virtual lock to at least go see what's out there. The assumption in circulation is that LeBron will make a small flurry of free-agent visits to soak up some major-league courting after emerging as a pro prospect at -- what? -- 12 and missing out on the whole collegiate recruiting experience.
"July 1 is right around the corner," LeBron told reporters in Cleveland on the eve of his trip to MSG, "so it's going to be really exciting."
Right around the corner? He might be the only Ohioan who feels that way.
---

NEW YORK KNICKS
There is no greater evidence to convey how far the Knicks have fallen than the fact that ESPN hasn't chosen to televise a single game from MSG in more than three years.
And we all know Knicks jokes have replaced Clippers jokes from coast to coast.
However …
Dismiss the lure of Madison Square Garden and the Mike D'Antoni-Donnie Walsh partnership at your own peril.
MSG will forever be a basketball mecca, with or without its forthcoming expensive renovation, because Jordan declared it so. The Knicks also happen to have a coach who has undeniably strong street cred; D'Antoni is admired by just about everyone he's worked with on Team USA. For all the valid questions about what the Knicks will be able to put around him, after stripping their roster all the way down to create maximum cap space, D'Antoni and Walsh are going to have a legit shot at LeBron.
Perhaps I'm a hopeless (and gullible) romantic, but I even believe that the prospect of being the guy who resurrects the Knicks and MSG appeals to LeBron almost as much as the aforementioned Cleveland-curse-lifter scenario.
What has to worry the Knicks -- even before they get to the obvious nightmare scenario of missing on LeBron, D-Wade and Bosh and then manufacturing a passable Plan D -- is how much and how quickly the landscape has changed.
The leaguewide consensus for much of last season, when you broached this subject with league executives, pegged this as a purely Cleveland-or-New York decision for James. Not any more.
The Knicks might quietly have the first seeds of a quality supporting cast in their possession if Danilo Gallinari keeps developing and they find a way to re-sign David Lee, but they legitimately can't even be sure that they're still the Cavs' biggest threat.
---

NEW JERSEY NETS
The Knicks can no longer even be sure that they're the biggest threat to the Cavs' in the greater New York area.
Not when the Nets have a hulking Russian worth nearly $10 billion coming in as their new owner.
Not when that hulking Russian billionaire will inherit LeBron's dear friend and the uber-influential Jay-Z as a minority partner, barring unlikely blockage of Mikhail Prokhorov's ownership bid by the NBA.
Not when a roster Prokhorov is paying some $700 million for the right to purchase might not be good enough now to deliver 25 wins this season … but nonetheless features quality youth at the two hardest-to-fill positions.
Devin Harris is a 26-year-old point guard coming off his first trip to the All-Star Game. And James, I'm told, has rated Harris highly since he began to develop in Dallas. Brook Lopez, meanwhile, is a 21-year-old center who -- no joke -- would conceivably be the No. 2 overall pick if we let teams redo the 2008 draft.
Factor in how the Nets are on course to have more cap space than anyone next summer to likely sign at least one quality helper along with LeBron, and you can see why no one's denying that the Nets have to be back in this conversation. Least of all the Knicks.
The issue, as we've heard for years with these guys, is location, location, location. For all the abuse Cleveland weathers about its image, New Jersey somehow has a worse rep, judging by the leaguewide rush to dismiss any hope the Nets have if they're forced to play in Newark for two years (or more) until their Brooklyn arena fantasy becomes reality.
---

MIAMI HEAT
Heard it from someone plugged into the Team USA scene this week. From a prominent player agent. From an Eastern Conference team official, too.
Move Miami up your list.
That's the advice I'm getting more and more. No doctorate required to understand the thinking, either: Miami's combination of Dwyane Wade, Pat Riley, sufficient cap space to sign one max player and the bonus attraction of South Beach adds up to an offer LeBron might not be able to refuse.
Did we mention D-Wade?
The long-held assumption around the league called for Riley -- forever married to the idea that you win nothing without a dominant big man -- to try to sign Bosh away from Toronto to partner with D-Wade, helped along by the fact that Bosh and Wade are both represented by Chicago-based agent Henry Thomas. Yet one source close to the situation told ESPN.com on Thursday night that the theory is outdated. The source is further convinced that Bosh isn't even looking at Miami and that Riley is definitely dreaming of a Wade-and-LeBron combo.
Michael Beasley might be the only other NBA-worthy starter besides Wade on the Heat's roster come July -- and Beasley obviously still has plenty to prove -- but surely James will be tempted. Think about it.
Let's not overstate the chance to work with Riley or the South Beach factor but instead focus solely on the opportunity to hook up with his fellow 2003 draftee and form what might be the most dynamic perimeter tag team of all-time. At worst? LeBron and Wade could sure put a modern/scary/spectacular spin on the Jordan-and-Scottie Pippen concept.
I'm starting to get the vibe that the Cavs know it, too.
---

DALLAS MAVERICKS
If you're looking for a long shot -- and we concede it's an extreme long shot -- we've got a more genuine nominee than the Clippers (LeBron isn't playing in Kobe Bryant's building or putting any faith in the stewardship of Donald Sterling no matter how good lining up next to Blake Griffin sounds) or the Bulls (since it's equally tough to imagine him driving past His Airness' statue on his way to every home game.)
We repeat: The host city for the 2010 All-Star Game is Long Shot City. That said, Dallas has more in its favor than you think.
Dirk Nowitzki would appear to be the best big man LeBron could conceivably hook up with next summer, which would also mean playing with the Mavs' lead recruiter and James' close friend Jason Kidd.
It doesn't hurt that LeBron is said to be fond of the area and undoubtedly loves the Cowboys as much as or more than he loves the Yankees. Or that Mark Cuban was the NBA's original spare-no-expense owner in the new millennium.
The glaring obstacle here, besides the inevitable suggestions that Big D is neither big enough nor sufficiently glamorous for James, is that the Mavs won't have any cap space to throw at him. Dallas would thus have to propose a sign-and-trade, presumably headlined by Josh Howard and perhaps Erick Dampier's cap-friendly contract for payroll relief, that the Cavs would naturally want no part of.
But here's the thing: Participating in a sign-and-trade has to be more palatable than seeing James walk without compensation. So if it ever gets to that point of darkness for Gilbert -- where participating in LeBron's exit is better than the alternative -- working with his kindred spirit among NBA owners (and sending LeBron to the Western Conference) likely would be the easiest set of circumstances for the Cavs to stomach.
Dimes past: Oct. 27 | 28 | 29 | 29-30 | November 1 | 2 | 3 | 4 | 5 | 6

While it is widely assumed (as noted in Box 1) that the Nets have to end up in Brooklyn to have any shot of keeping their hopes alive in the LeBron James Sweepstakes -- have to -- it was stressed to me this week by one plugged-in source that the same does not apply to would-be Russian billionaire owner Mikhail Prokhorov.
The early word is that Prokhorov, whose eventual approval by fellow NBA owners is also widely assumed, is determined to be the Nets' majority owner.
So determined that he apparently wants to take over even if the franchise can't extricate itself from New Jersey.
---
Numbers of note in the East this week:
• 60: Orlando made 60 3-pointers in its first five games, breaking the league record for any team in that span. The previous high was 53 triples in the first five games last season, set by last season's Knicks.
• 8.4: That's Mike Miller's rebounding averaging in Washington, after averaging 5.0 rebounds per game in his first nine seasons as a pro. Miller was closer to 10 rebounds per game before injuring his shoulder in Wednesday's loss to Cleveland.
• 4.6: That's how many shots per game Miller -- lifelong shooting guard -- is attempting this season through his first five games.
• 14: Dating to last season and including the first two weeks of this season, Dwyane Wade has 14 40-point games after he went for 40 against the Wizards on Wednesday night. Next in line? LeBron James with nine and Kobe Bryant with six.
Class of 2010: By The Numbers

When the Kings waived Desmond Mason and the Grizzlies waived Troy Gilder on Thursday, that took the league's total number of players under contract to 431, leaving 19 open roster spots.
Out of those 431 players, less than half are signed to guaranteed contracts for next season, which means that more than half of the league will be joining LeBron James in free agency next July.
The full breakdown:
• 227 players will become free agents, including players with conditional contracts
• 204 players possess guaranteed contracts for next season
• 129 players will become unrestricted free agents on July 1
• 30 players will become restricted free agents on July 1
• 16 players possess an early termination option in their contracts and thus the right to become a free agent
• 20 players possess player options in their contracts and thus the right to become a free agent
• 7 players have a team option in their contracts for next season
• 21 players have partially guaranteed contracts for next season
• 4 players have fully unguaranteed contracts for next season

Five questions with Grizzlies guard O.J. Mayo:
Q: What will we see from you this season that we didn't see last season?
A: All-around player. Trying to make people around me better. … As a rookie you don't really understand what's ahead of you. It's a long season. I'm a whole lot better prepared. Whole lot.
Q: What did you do to get ready?
A: I had a great offseason [working with Tim Grover in Chicago and at a training facility in San Antonio]. Worked on my weaknesses at the guard position, things I think I struggled with last year. Going left, throwing passes with both hands, ballhandling. Just trying to bring the total package for Year 2.
Q: What's your response when people say you and Rudy [Gay] can't work [as a tandem] or when people say the Iverson thing will never work?
A: Don't listen to it. Those are just the people that don't want to see the Memphis Grizzlies succeed, all these basketball gurus. … I think we've got an opportunity to make some noise in the West.
Q: So what's a realistic ceiling for this team this year?
A: We got a chance [at the playoffs]. I think so. I think that's very realistic. But what do you think, Mr. Stein? I've read some of your columns. You don't think we'll be too good.
Q: I thought that you wouldn't be calling me Mr. Stein any more because you're not a rookie any more.
A: Got to.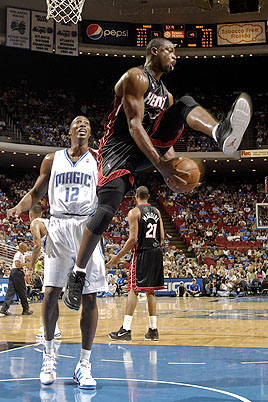 Fernando Medina/NBAE via Getty Images
Think Dwyane Wade could have somebody new to pass to next season? It wouldn't be just any somebody. (See Box 1)

Want more evidence that the cost of winning is higher than ever this season?
Nearly half of the NBA's 30 teams will be cutting luxury-tax checks next July.
Final tax bills are not computed until the league registers where each team's payroll lands on June 30, but the season began with 14 teams sitting at least $3.3 million past the NBA's $69.9 million luxury-tax threshold.
Last season? Only seven teams paid luxury tax: New York ($23.7 million), Dallas ($23.6 million), Cleveland ($13.7 million), Boston ($8.3 million), Los Angeles Lakers ($7.2 million), Portland ($5.9 million) and Phoenix ($4.9 million).
Teams with a payroll above $69.92 million in 2009-10 are required to pay one tax dollar for every dollar they go past that threshold. The 16 teams on course to stay under the luxury-tax line, in accordance with the league's collective bargaining agreement, would receive a payment of nearly $4.9 million if tax bills were calculated on Nov. 6.
(Millions) Over The Line

Taxpayers
Tax owed
LA Lakers
$21,430,778
Dallas
$17,891,715
Boston
$14,582,721
New York
$13,510,463
Cleveland
$12,740,994
Utah
$12,628,586
Orlando
$12,165,267
San Antonio
$10,180,880
Washington
$8,731,726
Phoenix
$5,622,091
Denver
$5,372,562
Miami
$3,947,172
Houston
$3,354,694
New Orleans
$3,331,809
Total
$145,491,457

There are few players I'd rather interview than Allen Iverson. He can't hold back the honesty even when he wants to.
Filling it up for hoop scribes, though, isn't going to help him with the front-office folks in Memphis who gambled on him or make what's already looking like an like an ill-conceived experiment any smoother. O.J. Mayo and Rudy Gay recently exchanged heated words during a road loss at Denver and pretty much all discussion since has focused on Iverson's voicing of immediate discontent about being asked to come off the bench.
Even if Iverson has it right when he complains that the media focuses only on the biggest headline-grabbing line or two from his postgame interviews, forever searching for the negative, any amount of complaining about being deployed as a reserve after missing nearly all of training camp and the first three regular-season games with a hamstring problem is an indefensible and costly idea.
Costly because the line of teams willing to sign Iverson last summer essentially went one deep: Memphis was the only team known to be willing to sign him. If he talks his way out of the Grizzlies now -- given that his presence is already a distraction not even two weeks into the season -- you have to ask: What next?
Except that you know the answer going in. Nothing.
What team in the NBA would give Iverson another chance, at 34, when he persists with this insistence about starting? For all his supposed drawing power, which is what prompted Grizz owner Michael Heisley to push for this signing no matter how many warnings came from his basketball people, Iverson is lucky that he wrangled a $3.1 million salary this season. The way this has started, Heisley's reluctance to eat that money might be the lone force that keeps Iverson in the NBA this season.
---
Some numbers of note in the West this week:
• 98: Kobe Bryant's 41 points Wednesday night at Houston in the Lakers' 103-102 overtime victory marked his 98th career 40-point game. Kobe is third all-time behind No. 2 Michael Jordan's 173 40-point games and runaway leader Wilt Chamberlain's 271.
• 8: Eight days into the season, Denver's remaining $7.4 million trade exception from last November's Iverson-for-Chauncey Billups deal expired. (Yet it should be noted that the draft-night steal of No. 18 overall pick Ty Lawson is quickly helping the Nuggets forget about their quiet summer on the personnel front.)
• 0: Andre Miller has zero starts in his first five games as a Blazer and is averaging just 25 minutes, only adding to the suspicion held by several rival executives that the Blazers signed Miller purely to make sure they acquired a tradable asset with their salary-cap space after failed free-agent bids for Hedo Turkoglu and Paul Millsap.
• 39: Miller becomes eligible to be traded in 39 days, on Dec. 15, along with the rest of the league's free agents who signed this past offseason.
• 15: Tim Duncan has scored more than 15 points in just one of San Antonio's four games so far. That undoubtedly has more to do with keeping as much in Duncan's tank as possible for the playoffs than any decline in his game, but it's still a jump-off-the-page number.
---
As part of Del Harris' new job with the incoming D-League franchise in suburban Dallas next season -- where he'll be serving as GM for the Mavs' affiliate as well as unofficial mentor to groundbreaking head coach Nancy Lieberman -- Harris has the contract freedom to return to the NBA for one last head coaching run if he gets that call.
Harris is 72 but would undoubtedly welcome one more opportunity to run an NBA bench after working for much of the decade as an assistant, first to Don Nelson for several years with the Mavericks and then last season in a mentoring role in Chicago to rookie head coach Vinny Del Negro.
Harris is 24th all-time among NBA coaches in victories with a record of 556-457 with the Rockets, Bucks and Lakers. He took Houston to the NBA Finals in 1980 and won NBA Coach of the Year honors in his first season in L.A. in 1994-95.

"If you ask me if I'm going to be an All-Star again in the next three or four years, I can guarantee you I will."
Heat center Jermaine O'Neal, insisting -- back in April when we last visited with him -- that he will make it all the way back from the knee trouble that has hampered him for the past two-plus seasons.
O'Neal's guarantee from our sit-down late last season didn't cause much of a stir at the time. In truth? It caused pretty much no stir.
But we decided to roll the quote back after O'Neal, who turned 31 in October, began the final season of his contract (at a tidy $23 million) by rumbling for two 20/10 games (22 points and 12 rebounds in both cases) in Miami's season-opening wins over New York and at Indiana.
Maintaining that momentum, however, hasn't been easy. In the Heat's last three games entering the weekend, O'Neal has managed just 26 points and 16 boards and finds himself playing with a broken nose and apparently struggling with his breathing as a result (although he still isn't sure how he broke it).
(Another) S-Jax Trade Update

It's been about a week since we had any certifiable chatter to pass along on the Stephen Jackson trade front. That's not because the Golden State Warriors have slowed the search for trade partners -- to the contrary -- but because the most interested parties (Cleveland and Denver) are generally high-payroll teams that can't easily absorb Jackson's long-term contract. The Cavs and the Nuggets, furthermore, just aren't teeming with tradable (or available) assets.
What we can confirm, though, is that Charlotte has to be mentioned more prominently on the list of interested suitors. We've briefly noted the Bobcats' interest in a couple of previous entries, but further checking reveals that they have seriously explored the prospect of trading for Jackson, apparently undaunted by the fact that they weren't mentioned when Jackson announced late in the summer that he wanted to be dealt to Cleveland, New York or one of the three Texas teams.
It remains to be seen how far the Bobcats are willing to go, since taking on Jackson's contract doesn't exactly sound like owner Bob Johnson's kind of move. You figure Charlotte, like Cleveland, would also be asking for Warriors big man Ronny Turiaf in exchange for their willingness to absorb Jackson's three-year extension, which is worth nearly $28 million when it kicks in next season.
But there is some hope here, even as we issue the reminder that Golden State is adamant about not trading Turiaf. Unlike Cleveland or Denver, Charlotte actually might have the resources to put a workable deal together before Dec. 15, when players signed as free agents during the summer become eligible to be traded.
Boris Diaw is close to Jackson's price range and has two years left on his contract after this season (worth $18 million) compared to Jackson's three. Could Johnson, whether he's ultimately selling or keeping this franchise, live with taking on only one extra season of salary depending on what else is in the trade? Presumably.
I've also heard from one source close to the situation that the Frenchman's ever-fickle coach, Larry Brown, is more frustrated than not with Diaw, even though Diaw's good work as a playmaking big man after arriving in Charlotte helped the Bobcats recover from a 7-18 start to win a franchise-record 35 games in Brown's first season.
Charlotte's first choice -- in any deal -- remains moving Nazr Mohammed first, Vladimir Radmanovic second and packaging them together if possible. The Bobcats have been trying to move Mohammed for months and could make a deal with Golden State work capwise by combining Mohammed and Radmanovic -- both of whom are earning $6.5 million this season and $6.9 million next season -- for Jackson and the smaller expiring contracts of Acie Law and Devean George.
To read Stein's entire blog post, click here.

Marc Stein and host Ryen Russillo will dissect Stein's weekly NBA Power Rankings and other pertinent topics around the league every Monday on the NBA Today podcast.
Listen to the podcast