Photo by Nick Laham/Getty Images
Carlos Boozer (23 points, 14 rebounds) helped struggling Utah earn a 95-93 win in New York.

AP Photo/Matt Slocum
Steve Nash had 21 points and 20 assists in the Suns' 119-115 win over the 76ers in Philadelphia.

Eric Gay/AP Photo
Spurs coach Gregg Popovich tells Manu Ginobili (36 points) to treat the Raptors like wayward bats.

AP Photo/Jeff Chiu
Warriors forward Kelenna Azubuike (31 points) helped slam the Wolves in a 146-105 win.
The Sky Was Falling, But Jazz Hold Off Knicks

NEW YORK -- It would have been understandable if coach Jerry Sloan was having a Chicken Little moment -- "The sky is falling! The sky is falling!" -- as the fourth quarter was winding down to its conclusion and what had once been a 21-point lead was down to one.
Sloan had seen the sky fall in Madison Square Garden before -- twice, in fact, a long, long time ago (but more on that later) -- and the Utah Jazz were on the verge of what would have been yet another disheartening, borderline devastating, loss in a season that has already had too many of them.
One game after being burned by rookie Tyreke Evans, it was another rookie, New York's Toney Douglas, who was leading an unlikely comeback and had the ball in his hands for the final shot of the game as the Knicks inbounded from near center court with six seconds remaining.
Douglas, who scored a team-high 21 points in perhaps the biggest breakout game by a Knicks rookie point guard since the days of Rod Strickland, got under Deron Williams with a head fake and got off a clean look from 9 feet away, but the ball bounced off the back rim and missed to allow Utah to escape with a 95-93 victory Monday night.
"At the end of the game, we got the stop when we had to, something we hadn't been doing," said Utah forward Carlos Boozer, whose 23 points and 14 rebounds helped the Jazz win at Madison Square Garden for the first time in six years. "In the fourth quarter we lost games the last couple of nights, so I'm proud of ourselves for winning tonight, but we still have a lot to improve on."
The win was a shaky one, as Utah allowed the Knicks to come back after they began the final stanza trailing by 14. New York played almost nothing but zone defense for the final 3½ quarters. After going 8-for-17 through three quarters from 3-point range, Utah missed all four of its attempts from behind the arc in the final 12 minutes.
"As long as we don't make shots on the perimeter, that's the way it's going to be," Sloan said. "Shot selection and movement against the zone has been kind of stagnant. We went over some of it again today and were a little better than what we were the other night, but not a lot. We're going to see a lot of that, I'm sure, if people know that we don't shoot the ball that well out on the perimeter. They'll take away your inside game, and that's how they'll play us."
As it was, the Jazz's eight 3-pointers represented an outside-shooting bonanza after they had made a total of just 21 over their first six games. Only the Chicago Bulls (19) had made fewer.
Andrei Kirilenko shot 5-for-8 on 3s among his 23 points, Mehmet Okur was 2-for-5 on 3s, and Ronnie Brewer 1-for-2. Deron Williams missed all five of his 3-point attempts and shot 2-for-10 but did have 16 assists.
"[Andrei] looked pretty comfortable shooting the ball, and playing against the zone you've got to be able to make some shots out there. We got the ball inside a couple times and missed layups, and I think that gave them a little confidence and we lost ours," said Sloan, whose team improved to 3-4 heading into a tough road game Wednesday at Boston.
A loss would have left the Jazz at 2-5, and that "sky is falling" feeling might have arisen.
Still, it would have been nothing like the times the sky was actually falling -- or at least stuff was falling from a skyward direction -- when Sloan visited MSG shortly after it opened in 1968.
Sloan recalled playing for the Chicago Bulls against the Boston Celtics in the first game of a doubleheader when a piece of metal suddenly dropped from the ceiling and landed on the Celtics' trainer's chair just after that trainer had stood up during a timeout.
"Metal pieces at the top of the building just came out. It wasn't a bolt, I don't know what exactly it was -- just look straight up, it's that same metal. [Bill] Russell and Sam Jones were standing back here in the tunnel, and a piece of metal hit the floor and bounced up."
Sloan also told another old sky-is-falling tale from the Garden's early days.
"We were here watching NYU play Notre Dame, [Tom] Boerwinkle and a couple of others, and one of the lights blew out, and kind of like a falling star it landed on a guy's shirt or sweater," Sloan said, remembering how the spectator's garment caught on fire. "We were on the opposite side. We felt safe."
On this night, even if Sloan didn't feel all that secure with the way his team had won, it was better than the alternative. Sort of like that night 40 years ago when that trainer got out of his seat just in time to avoid a falling metal-induced outcome too painful to ponder.
Chris Sheridan covers the NBA for ESPN Insider.
Dimes past: Oct. 27 | Oct. 28 | 29 | 30-31 | Nov. 1 | 2 | 3 | 4 | 5 | 6-7 | 8

Ariel (Albany, N.Y.): Right now, through 3 games, Ricky Rubio is averaging 6.3 points, 6.3 assists, 3.7 rebounds and 1.7 steals in 23 minutes per game. Is it a good thing he didn't come over this year?
Chris Sheridan: Euro stats aren't always a good measure of a player's worth because the game is played so differently over there (Exhibit A: Compare Brandon Jennings' stats with Milwaukee and with Roma). I think it is a bad thing for the NBA that he didn't come over because I think all the world's best players should play in the world's best league, and I've seen him play a lot, and he's worth the price of admission.
But I also think it's a good thing for the ACB, and I look forward to seeing how he blends with the national team next summer in Turkey. Spain is clearly the No. 1 threat to Team USA once again.
Freddy (Los Angeles): With Chris Bosh playing the best basketball of his life, shouldn't [GM Bryan] Colangelo try to capitalize and trade him sooner rather than later?
Chris Sheridan: The Raptors are going to trade him only if they are convinced he is going to leave them, and even if that is the case, it behooves both Bosh (who can get a six-year deal with 10.5 percent raises) and the Raptors (who would get something back) to wait until after July 1 and do a sign-and-trade. In the meantime, they're trying to get to the point where they can challenge the top three in a best-of-seven series. They're not as far off as people think (I had them and the Thunder as my preseason Most Improved teams), but they need a lot more out of their 2 guards right now, with DeMar DeRozan doing little and Antoine Wright not providing the scoring punch they often need.
To read the entire chat, click here
ESPN.com writers and TrueHoop Network bloggers chatted with fans and gave their in-game opinions throughout Monday night's slate of games -- all in Daily Dime Live.
A High-Scoring Night Around The League

By Elias Sports Bureau
• There were five NBA games played on Monday night with an average of 224.80 points scored in each of them. That was the highest average on a day with at least five non-overtime games since March 6, 1993, when six games produced 224.83 points per game.
• Manu Ginobili came off the bench and had 36 points and eight assists in San Antonio's victory against Toronto. He's the first nonstarter with at least 36 points and eight or more assists in one game in 18 years -- since Phoenix's Dan Majerle had 37 points and nine assists as a reserve against Charlotte on Nov. 29, 1991.
By Maurice Brooks
ESPN.com

MONDAY'S BEST
Golden State Warriors
: Steve Nash had 21 points and 20 assists, but it is hard to ignore the league-high 146 points the Warriors hung on the Wolves. Golden State shot 57 percent from the field.
---

MONDAY'S WORST
Minnesota Timberwolves
: In a battle of one-win teams, the Timberwolves let the Warriors score at least 33 points in each quarter of Minnesota's 41-point road loss.
---
QUOTE OF THE NIGHT
"All I'm saying is that winning is more important to me than money, at the end of the day."
-- Cavaliers forward LeBron James, clearing up a statement he made last week about a maximum contract
Bosh's Big Game Not Enough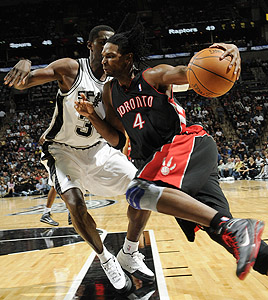 NBAE/Getty
Toronto's Chris Bosh had 32 points and 10 boards, but Manu Ginobili's 36 points led the Spurs, who won despite playing without Tim Duncan and Tony Parker.
Nobody Is Sleeping On Kaman
By Kevin Arnovitz
TrueHoop Network

As Los Angeles Clippers center Chris Kaman strolled into the locker room after pregame shootaround Monday night, teammates greeted him with congratulatory daps and salutations.
"Player of the week!" Baron Davis shouted, alluding to the award handed down to Kaman by the NBA on Monday -- Western Conference Player of the Week.
Kaman, who has long been the Clippers' leader in verbiage per minute, was uncharacteristically subdued about the whole thing. He sheepishly thanked the guys then stared down at the floor with a smile while removing his practice shoes.
It isn't as if Kaman hasn't won awards before. "For shooting stuff?" Clippers forward Steve Novak asked facetiously (Kaman is an avid outdoorsman).
"What are you talking about?!" Kaman snapped back. "I was college player of the year in [the Mid-American Conference]!"
Kaman then added, laughing, "In high school I got an award for being the best student in some computer class."
Log on to a computer these days, and Kaman's statistics over the season's first two weeks jump off the screen. The seven-year center is averaging 23 points, 9.9 rebounds, 1.9 blocks per game with a true shooting percentage of 62.3 percent.
The preceding couple of years had been tough for Kaman. He missed 77 games over the past two seasons with various injuries.
After returning at the end of last season flabby and out of sorts, Kaman went back home to Grand Rapids, Mich., and committed himself to getting in shape in the offseason.
"I built a full indoor basketball court and a weight room," Kaman said. "I spent three or four hours a day on shooting, weights and conditioning."
While Kaman is unquestionably more svelte, his approach on the court has a lot to do with his newfound success. The ambidextrous Kaman has always displayed graceful footwork and a nice touch, but the mental elements of the game were much harder to grasp.
"From day one, he's always been able to stroke the ball," Clippers coach Mike Dunleavy said. "But in the past, he'd get the ball, maybe put it on the floor, try to get closer to the hoop, then get in trouble."
That trouble translated into a load of turnovers and awkward shots. This season, Kaman has streamlined his game and has stopped futzing around on the block.
"It's clicked," Dunleavy said. "Less is more. When you're deep, catch it, go make your move, score it."
Score it he has -- at least 20 points in six of his past seven games.
"It's about being consistent with everything," Kaman said. "Coming in everyday. Being on time. Eating the right things. And getting good sleeping."
Judging from the double-teams Kaman has seen the past week, sleeping is something the rest of the Western Conference is no longer doing on him.
To read more, check out Arnovitz's TrueHoop Network blog, Clipperblog.
By Matt Moore
TrueHoop Network

Funny story. The Sixers have somehow made what should have been a relatively simple season incredibly complicated. Andre Iguodala is having his best overall season in years, matching or beating his previous highs in multiple categories and running the offense at times.
Lou Williams is somehow better than expected and still not good enough. They have the ability to score points with most teams, but can't seem to reproduce that ability in the fourth quarter, as was the case Monday when the Sixers melted into something resembling primordial ooze under the Suns' giant magnifying glass.
But the most perplexing development may be the contrast between big-money big man Elton Brand and second-year phenom Marreese Speights.
Through the admittedly young season, Speights is not only outscoring and outrebounding Brand, but he's doing it in six fewer minutes a game. Brand has looked sluggish, as if he has yet to even comparably bounce back from last year's injury.
Speights showed off not only the set of freakish tangibles that earned him his draft selection, but an impressive range of 15-to-18 footers. There's no stop button on his control panel, and he was a huge reason the Sixers managed to hold off the Suns in the fourth quarter for as long as they did before eventually falling to Phoenix's barrage.
Speights opened the fourth scoring 11 points in the first six minutes and snagging five boards. Brand did not play the entire fourth quarter, so at least he can't be tagged with even more responsibility for the Sixers falling to 16-20 with him in the lineup. One thing is for certain: If Iguodala is the assumed asset for the Sixers, it may be Speights, not Brand, that the Sixers need to turn to if they want to get this early season on track.
To read more, check out Moore's TrueHoop Network blog, Hardwood Paroxysm.