AP Photo/J Pat Carter
Dwyane Wade (41 points) helped the Heat to a 6-1 mark by leading them over the Wizards 90-76.

AP Photo/Charles Rex Arbogast
Ty Lawson and Denver can't bear to watch the officials review Brad Miller's last-second shot.

Streeter Lecka/Getty Images
Vince Carter returned to action, scoring 15 points off the bench in Orlando's 93-81 win over Charlotte.

Glenn James/NBAE via Getty Images
Shawn Marion and the hot-shooting Mavs (55.4 FG percentage) slammed the visiting Rockets 121-103.

Joe Murphy/NBAE via Getty Images
Hasheem Thabeet's broken jaw is treated after a collision with teammate Zach Randolph.
Breaking Down The Early MVP Candidates

Although we are only a few weeks into the season, a handful of players have established themselves as the favorites in the Most Valuable Player race.
LeBron James is always in the discussion because of the out-of-this-world numbers he puts up, even though Cleveland is only 4-3.
Kobe Bryant is playing as well as ever and has the Lakers off to a 6-1 start without a single minute played by Pau Gasol.
Carmelo Anthony is almost unstoppable, and Denver has won six of its eight games.
Dwyane Wade (41 points Tuesday night) is playing as well as he did last season.
The fifth player in that equation is a two-time winner of the MVP award: Steve Nash. He is averaging 18 points and 13 assists per game, and shooting 93 percent from the line, 49 percent on 3-pointers and 53 percent from the field.
He is completely energized by the fact that the Suns have taken off his shackles and he doesn't have to throw the ball into the low post every time up the court. You can't play point guard any better than he has been playing it. He is the best decision-maker in the NBA, and they are letting him go out there and orchestrate.
The Suns are 7-1, and Nash has two games with more than 20 assists so far. They have returned to their roots. He has been unbelievable, and Jason Richardson is out of his mind. Not a lot of people thought they could get back to this level. It shows you how much they have changed from when Shaquille O'Neal was in town.
Now, they have five guys on the floor who all can face the basket. There are four 3-point shooters out there at all times, and that helps to free up Amare Stoudemire. Last season, they had a lot of guys standing around and watching the ball get funneled into the post. That is not the case so far this season.
When Nash is running around with the ball in his hands, making decisions on the fly, it is fun to watch and good for the league. If he keeps playing at this level, there is no question the Suns can win 52 to 55 games, which probably makes them a top-four team in the West. This isn't a fluke. They will be up there with the Lakers, Spurs and Nuggets all season.
ESPN analyst Tim Legler is a regular contributor to the Daily Dime.
Dimes past: Oct. 27 | 28 | 29 | 30-31 | Nov. 1 | 2 | 3 | 4 | 5 | 6-7 | 8 | 9

By Chad Ford and John Hollinger | ESPN.com
The Future Power Rankings are ESPN Insider's projection of the on-court success expected for each team during the 2010-11, 2011-12 and 2012-13 seasons.
Consider this a convenient way to see in what direction your favorite team is headed.
Each of the NBA's 30 teams received an overall Future Power Rating of 0 to 1,000, based on how well we expected each team to perform in the three seasons following this season.
To determine the Future Power Rating, we rated each team in five categories.
As you can see, we determined that the most important category was a team's current players and the future potential of those players -- that category accounted for 40 percent of each team's overall Future Power Rating.
At the same time, we looked at many other factors, such as management, ownership, coaching, a team's spending habits, its cap situation, the reputation of the city and the franchise, and what kind of draft picks we expected the team to have in the future.
To read the entire Future Power Rankings, click here.
ESPN.com writers and TrueHoop Network bloggers chatted with fans and gave their in-game opinions throughout Tuesday night's slate of games -- all in Daily Dime Live.
Schedule Breaking Right For Portland

By Elias Sports Bureau
The Trail Blazers defeated the Grizzlies on Tuesday, extending their winning streak against Memphis to eight games. The only team Portland has a longer current winning streak against is its next opponent, Minnesota.
By Maurice Brooks
ESPN.com

TUESDAY'S BEST
Dwyane Wade, Heat
: He scored 29 of his game-high 41 points after halftime to help the Heat top the Wizards. Miami (6-1) tied its franchise mark for best seven-game start.
---

TUESDAY'S WORST
Gilbert Arenas, Wizards
: This is not how "Agent Zero" wanted to get in the Washington record book. He had seven turnovers in a six-minute period and finished with a franchise-high 12 giveaways against Miami.
---
QUOTE OF THE NIGHT
"Must have been the stroll back to the hotel -- in the rain. I just took my time, just walked back in the rain."
-- Magic's Vince Carter, who originally was ruled out of Tuesday's game with a hurt ankle but started feeling better after a walk before warmups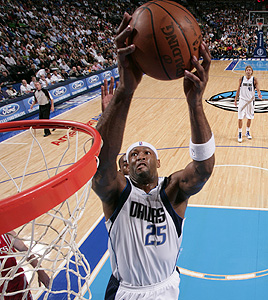 NBAE/Getty
Erick Dampier had 14 points and 20 rebounds as the Mavericks cruised past the Rockets, while Joakim Noah tallied 12 and 21 in the Bulls' loss to the Nuggets.
By Nick Friedell
ESPNChicago.com

As George Karl walked back to the Denver locker room, the veteran coach wore the type of mischievous grin a little boy might don when he knows he has gotten away with something.
He couldn't believe his team had just escaped with a 90-89 win over the Bulls. He couldn't believe the game ended the way it did.
Neither could anybody else.
The Bulls had .3 seconds left to make a play at the end of the game. They were down by one point. Kirk Hinrich threw a pass in to Brad Miller, who hit a prayer of a shot. The referees counted the basket. The Bulls thought they had won.
Ah, but it's never that easy at the end of NBA games anymore. The referees reviewed the play for more than 10 minutes before finally coming to a conclusion: The shot did not beat the buzzer.
Was it the right call? It depends whom you ask.
To read the entire story, click here.
Carlisle Provides Motivation
By Tim MacMahon
ESPNDallas.com

DALLAS -- For a guy whose team rolled to a 121-103 win, Rick Carlisle wasn't in a real good mood late Tuesday night.
Shoulda seen him at halftime.
After the Houston Rockets roared to 61 points in the first half, Carlisle unleashed a tirade that Dirk Nowitzki compared to some of Avery Johnson's antics in the home locker room at the American Airlines Center.
Carlisle booted a blue laundry bin -- "Almost broke his toe," Nowitzki said -- then tried to pick it up and toss it. The usually mild-mannered coach's dress shoe also made contact with the white grease board, on which he had scrawled "11," symbolizing how many consecutive possessions the Rockets scored against the Dallas Mavericks' despicable defense.
During Carlisle's postgame news conference, he used words such as poor, embarrassing, horrendous, terrible and abysmal to describe the Mavericks' performance for most of the first half. The words he used while battering the laundry bin are probably best left in the locker room.
To read the entire column, click here.