NBAE/Getty
Although he was in foul trouble, Shaquille O'Neal helped slow Magic center Dwight Howard.

NBAE/Getty Images
Luis Scola had 22 points and 15 rebounds as the Rockets routed the visiting Grizzlies.

NBAE/Getty
Al Horford tallied 25 points and 9 rebounds to help the Hawks dominate the second half against N.Y.
Heading In Opposite Directions

ORLANDO -- No, we can't call this one a litmus test. Not when key starters sat out on each side (Rashard Lewis, Delonte West), not when each side is still figuring out exactly what they've got after a choppy first two weeks, and not when a potential playoff meeting between the two Eastern Conference titans is still more than six months away.
What we can say is that Cleveland's 102-93 win in Orlando on Wednesday, in which the Cavs led by as many as 22 points in the fourth quarter, was indicative of two teams headed in very opposite directions at the moment. While the Cavs (5-3) used this game to show they may have overcome some of the early hurdles that plagued their offense, the Magic (6-3) demonstrated that their 5-1 start may have been something of a mirage.
Certainly, that's the belief of Magic coach Stan Van Gundy. Never one to shy from self-flagellation even at the best of times, he had harsh assessments for both himself and his players after Cleveland shredded Orlando's defense for 66 points on 57.5 percent shooting in the first half before coasting home.
"We're a bad basketball team right now," he said. "If your team isn't playing hard and not defending, that's an indictment of you as a coach."
Needless to say, he's unimpressed with his team's effort on D, and with reason. An Orlando squad that led the league in defensive efficiency last season finds itself in the bottom half of the league after the dissection at the hands of Cleveland.
"A broken record. No defense, no rebounding, not a whole lot of effort. We don't defend and we don't play hard enough.
"I'm not [surprised] anymore because every night I see a lack of effort. The defensive numbers don't lie. We won last year because of our defense. This group thinks we win with our offense, so we don't play any defense. We're one of the worst defensive teams in the league."
Van Gundy called out his roster 1 through 12 and then mentioned specific lethargic plays by both Vince Carter and Mickael Pietrus, but saved his harshest words for team captains Jameer Nelson and Dwight Howard.
"Dwight is having trouble having double-figure rebounding games, [and] he's blocked one shot in three games. Jameer -- look, people have big nights [against you], but it's [Oklahoma City's] Russell Westbrook, it's [Charlotte's Raymond] Felton, it's Mo Williams. Two returning guys, captains, that know your system [and] are supposed to be leaders. It's not all on them, but it's got to start with them."
Nelson indeed has been shredded the past three games -- Williams shot right over the top of him for several of his 28 points, including 22 in the first half on 9-of-9 shooting, and that follows big games by Westbrook (17 points, 10 assists) and Felton (18 points) at his expense.
Howard has struggled with fouls this season, picking up his second just 2:18 into Wednesday night's game and finishing with five in 31 minutes; he's picked up 37 personals in just eight games, and it has limited him to 31 minutes per game. Plus, he's averaging only 7.8 boards in his last six games and has blocked only three shots in his last five.
Nelson, taciturn before the press but a locker-room leader behind the scenes, bought in to the criticism.
"It's not a secret. We have to buckle down defensively and get tougher," said Nelson. "We're not as good as we thought we were, especially defensively."
"We just have to look in the mirror and see what kind of team we're going to be," said Howard.
Surprisingly, it wasn't Nelson or Howard but J.J. Redick who spoke up first in the locker room after the game. "He was absolutely right, he said we have to be honest with ourselves, we're not very good right now," said Van Gundy.
"I just said something that needed to be said," said Redick. "I think everybody in here is frustrated right now. We can be really good, but right now we're not very good."
For Cleveland, this game stood out as a marker that the offseason acquisition of Shaquille O'Neal could pay some positive dividends this spring. Shaq drew the two quick fouls on Howard to get him out of the game, while his ability to single-cover Orlando's big man for long stretches eliminated a lot of the easy 3-point looks that tore the Cavs apart last season. The Magic finished the night with just four triples. That left Orlando dependent mostly on pick-and-roll jumpers from Carter and Nelson, and once they cooled off after halftime, the Magic had no answer.
That may change, obviously, once Lewis -- the other matchup nightmare for Cleveland -- returns from his 10-game suspension. But the Cavs have to be ecstatic about earning such a one-sided win in Orlando's building, especially since the Magic went right at Shaq's Achilles' heel early. Orlando involved Shaq in pick-and-rolls on its first four possessions and kept going to it through much of the first quarter, but Shaq was able to hold his own -- including a flat-footed block of a Carter drive.
Nonetheless, things may change dramatically in the next meeting on Feb. 11 in Cleveland, when Orlando will have Lewis back and both teams will have half a season of basketball under their belts.
For Wednesday night, let's go with these two big takeaways: First, that the Cavs' offseason efforts to match up better against the Magic appear to have paid some dividends; and second, that it's unlikely to have much bearing on the Eastern Conference title chase unless Orlando's shockingly pliant defense improves dramatically.
John Hollinger writes for ESPN Insider. To e-mail him, click here.
Dimes past: Oct. 27 | 28 | 29 | 30-31 | Nov. 1 | 2 | 3 | 4 | 5 | 6-7 | 8 | 9 | 10
Nowitzki Can't Win It By Himself

By Tim MacMahon | ESPNDallas.com
SAN ANTONIO -- The Dirk Nowitzki bailout plan doesn't work every night.
When it's successful, it's spectacular. His franchise-record 29-point fourth quarter in last week's comeback win over the Utah Jazz was an epic performance.
But the Dallas Mavericks won't win often enough to be a legitimate Western Conference contender if they're a one-man offensive band. They weren't even good enough to beat the San Antonio Spurs with All-Stars Tim Duncan and Tony Parker sitting on the bench in street clothes with sore ankles.
To read the entire MacMahon column, click here.
ESPN.com writers and TrueHoop Network bloggers chatted with fans and gave their in-game opinions throughout Wednesday night's slate of games -- all in Daily Dime Live.
Detroit's Two Impressive Offseason Acquisitions

By Elias Sports Bureau
Charlie Villanueva scored 30 points in the Pistons' victory over the Bobcats, one week after Ben Gordon netted 30 in a loss at Toronto. Isiah Thomas and Kelly Tripucka each had 30-point games as rookies in 1981-82, but only four times since then have two players each had a 30-point game for the Pistons in their first season with the team. Jerry Stackhouse and Bison Dele did it in 1997-98, as did Chauncey Billups and Richard Hamilton in 2002-03, along with Allen Iverson and Will Bynum last season.
By Maurice Brooks
ESPN.com

WEDNESDAY'S BEST
Danny Granger, Pacers
: Playing with an injured heel, the forward scored 31 points and pulled down 16 rebounds as Indiana handled the Warriors.
---

WEDNESDAY'S WORST
New Jersey Nets
: They had their chances down the stretch, but couldn't make the plays they needed, dropping an 82-79 decision to the Sixers that extended their franchise-worst start to 0-8.
---
QUOTE OF THE NIGHT
"He's just so big and strong and he overpowers everybody on our team."
-- Timberwolves coach Kurt Rambis on Portland's Greg Oden, who had 18 points and 11 rebounds in the Blazers' win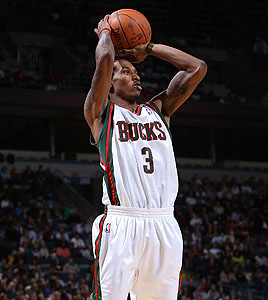 NBAE/Getty
Brandon Jennings, the favorite for Rookie of the Year, scored 32 points, grabbed four rebounds and gave out nine assists to help the surprising Bucks hold off the Nuggets.
Rasheed Raining 3-Pointers
By Zach Lowe
TrueHoop Network

Not even Antoine Walker jacked 3s at this rate. Earlier this decade, critics slammed 'Toine for desecrating the power forward position by attempting seven or eight 3s per game and making only about a third of them. And yet no one seems to mind that Rasheed Wallace, the C's new big man, is attempting the equivalent of about 10.5 3-pointers per 36 minutes and hitting just a third of them.
Fans aren't groaning with each attempt, and Paul Pierce and Doc Rivers both told the Boston Globe this week they support Wallace's early 3 spree. That's what he was brought here to do, they say -- stretch the floor, open up the lane and play defense.
If Wallace transformed into a perimeter-oriented player last season, that trend has accelerated to a shocking degree in Boston. Sheed has attempted 57 3-pointers in 195 minutes. He has made 19 of them, or just 33 percent. He is on pace to become just the second player in NBA history to play at least 500 minutes in a season and attempt 10 or more threes per 36 minutes, according to Basketball Reference; Dee Brown pulled it off with the Raptors in 1999-2000.
C's fans have to hope that we don't reach the tipping point at which Sheed's inaccuracy outweighs the positive value his presence creates.
It is undeniable that he opens up the floor for others. He brings opposing big men out of the paint on pick-and-pops and makes them choose between diving down to help defend the ballhandler or sticking on Wallace to prevent an open 3. When Wallace is on the weak side, his man takes a major risk if he sags down to help contain penetration. There's a reason some of the team's most effective offensive lineups include Sheed, according to 82games.com.
So far, so good. But can it last? Or will Sheed have to diversify his game?
To read more, check out Lowe's TrueHoop Network blog, Celtics Hub.
By J.A. Adande
ESPN.com

Forget the 55 percent shooting or the 40-point first quarter or the 13 3-pointers made in 26 attempts. Phoenix Suns coach Alvin Gentry has to love the 22:36 for Steve Nash's playing time, or the 25:34 for Amare Stoudemire. The 30:51 for Grant Hill wasn't bad either. And none of them played in the fourth quarter.
The Suns had the best possible scenario unfold Wednesday night, a 124-104 blowout of the New Orleans Hornets that allowed the starters to get plenty of rest for their showdown Thursday night against the Los Angeles Lakers. The Lakers have practically been on vacation; they haven't played since beating the Hornets on Sunday. So fatigue won't be a factor in what is an unexpected early test of Pacific Division supremacy.
No one could have imagined the Suns would have the better record -- as good as any team in the league -- for this meeting. But they have revived their offense, scoring 111 points per game, making more than half their shots, assisting on almost two-thirds of their field goals.
Steve Nash and Stoudemire are running the pick-and-roll to perfection -- when both of them are shooting about 55 percent, who are you going to leave? And with Pau Gasol still out with a hamstring injury, and coming off a cakewalk against the Hornets, the Suns are in as good a position as they could hope for in a back-to-back road game against the Lakers.
So far the Suns have proven that their offense is even good enough to beat the league's best defense. They're the only team to score more than 100 points against the Boston Celtics, handing the Celtics their lone home loss in the process.
J.A. Adande is an ESPN.com senior writer and the author of "The Best Los Angeles Sports Arguments." Click here to e-mail J.A.