NBAE/Getty
Kobe Bryant and Derek Fisher presented former teammate Trevor Ariza with his championship ring.

NBAE/Getty Images
Dirk Nowitzki tallied 25 points, six rebounds and five assists to steer the Mavericks past the Pistons.
Ariza Gets His Ring And The Rockets Get A W

On a night the Lakers handed out the last of their rings, the championship-level performances came from a bunch of guys who don't have one.
Kobe Bryant and Derek Fisher presented new Houston Rocket Trevor Ariza the ring he won with the Lakers last season before they squared off Sunday, accompanied by a standing ovation from an appreciative Lakers crowd. The rest of the Rockets lack NBA jewelry the way they lack All-Stars and height right now. But there's been very little to distinguish them from the acclaimed Lakers, against whom they're 1-1 this season, with an overtime loss on Nov. 4 and a convincing 101-91 victory Sunday night, and the teams hold comparable records (L.A. is 7-3, Houston is 6-4).
The easiest way to tell them apart: The Rockets are the ones hustling and grabbing every ball that isn't in the net. You don't need one of Rockets general manager Daryl Morey's advanced statistical formulas to figure out how they won this game. The Rockets outrebounded the Lakers, 60-38. They held a 16-6 advantage in second-chance points. They won by 10.
"It's cliché, but the sum of our parts is greater than any individual on our team," Shane Battier said.
Sum? That sounds like more math. I hate math. The only numbers I like are the big, gaudy ones that catch your attention, like the 33 points Aaron Brooks scored. He drove by the Lakers or shot over them (5-for-11 on 3-pointers).
"He was terrific," Rockets coach Rick Adelman said. "He made some long 3s. That's how we have to play. We have to take shots like that. We don't have the inside game that those guys do."
The Rockets know their formula: effort and quick shots before the defense has a chance to get entrenched. They take 22 3-pointers a game, among the most in the league, and fired 32 more Sunday.
If there's a star on this team, it has to be Adelman, who keeps figuring ways to get MacGyver-like results from whatever spare parts the Rockets have. Before the game he was talking about how his Rockets have exceeded expectations in the early part of the season, winning games without the injured Yao Ming and Tracy McGrady, and how it's already tougher than it was in the first couple of weeks.
"They're going to take [away] some of the things that we may surprise teams with the first time we play them," Adelman said. "Now our guys have to understand that. We have to go back to our half-court offense. They have to execute. They have to find out what can we do to combat what they're doing.
"A team like the Lakers can go to Andrew Bynum. They can go to Kobe. And that's what we used to do. We used to go to Yao and stabilize everything. Now we're trying to find out who's going to be that stabilizer for us."
Ariza is trying to fill that role. He's been a surprisingly effective scorer, going from an afterthought in the Lakers' offense to the Rockets leader with 19 points per game. But he's still learning.
"The most important thing for a guy that takes on that role is how consistent he can be night after night," Adelman said. "That's what separates the really great players. Those guys are always there. They might have a tough quarter or they might have a tough 15 minutes, but at the end of the night, they're there. That's the hardest thing for guys to understand. There's a lot of pressure on you. You have to bring it night after night."
Ariza couldn't do that Sunday. He was emotionally charged after getting his ring and was only 2-of-12 from the field, finishing with nine points. He's not to the stage of a Bryant, who can still get to double digits on the off nights through a combination of willpower and volume. Bryant had 18 points even though he shot only 25 percent and was bothered by a strained right groin.
Ariza's defense was a big reason Bryant missed 15 of his 20 shots. It was the same type of immeasurable work ethic that enabled the Rockets to prevail. In one sequence he blocked Bryant's jumper, and after Bryant retrieved the ball Ariza stole it from him, leading to a fast-break dunk for Chase Budinger.
It's rare that a player's main highlight plays come on defense, but the clips that drew the biggest cheers in the Ariza video tribute that played before the game were the inbounds passes he stole from the Denver Nuggets in the Western Conference finals. Sunday night was a reminder of how he got that ring. That's why he said he planned to wear it, even around his Rockets teammates.
"I don't see why not," Ariza said. "I earned this mug."
As long as he keeps helping beat the Lakers, the Rockets won't mind if he wears Lakers jewelry.
J.A. Adande is an ESPN.com senior writer and the author of "The Best Los Angeles Sports Arguments." Click here to e-mail J.A.
Dimes past: Nov. 1 | 2 | 3 | 4 | 5 | 6-7 | 8 | 9 | 10 | 11 | 12 | 13-14
TrueHoop: Bryant's Strained Right Groin Muscle

By J.A. Adande | ESPN.com
After Kobe Bryant missed 15 of 20 shots and came out with two minutes remaining in the Los Angeles Lakers' 101-91 loss to the Houston Rockets on Sunday night, Lakers coach Phil Jackson revealed that Bryant has a groin injury.
Officially, the Lakers are calling it a strained right groin muscle and list him as day-to-day. The best treatment for groin injuries is rest, but when I asked Bryant if he would sit out any games to speed the recovery he said, "Absolutely not." Well, he used some more colorful language before that, but the point was made clear.
"Not an option," he said, despite wincing as he pulled on a pair of workout shorts.
Bryant said he first injured it at the beginning of the game against New Orleans on Nov. 8, then tweaked it again Sunday night. He made 11 of 21 shots that game and 13 of 21 against Phoenix on Thursday, but was 7-for-17 in a loss at Denver on Friday.
To read the entire TrueHoop blog, click here
ESPN.com writers and TrueHoop Network bloggers chatted with fans and gave their in-game opinions throughout Sunday night's slate of games -- all in Daily Dime Live.
Gordon Shoots Blanks Against Mavs

By Elias Sports Bureau
Ben Gordon shot 1-for-16 from the field in the Pistons' 95-90 loss to the Mavericks. The only other player in franchise history to take as many 16 field goal attempts in one game and make only one (or none) was Isiah Thomas, who shot 1-for-17 against the Spurs in 1982.
By Maurice Brooks
ESPN.com

SUNDAY'S BEST
Aaron Brooks, Rockets
: The Lakers couldn't come up with a way to slow the pesky guard, who connected on 11-for-23 shooting from the field on the way to a career-high 33 points.
---

SUNDAY'S WORST
Ben Gordon, Pistons
: Playing without Tayshaun Prince and Richard Hamilton, Detroit needed a big game from Gordon, the team's leading scorer. Instead, he missed 15 of his 16 shot attempts and finished with just five points in a loss to Dallas.
---
QUOTE OF THE NIGHT
"The response has been really intense. I didn't expect it to play out this way, but it's been wonderful. I've got people's prayers and their support and they ask what they can do. People just want to connect and it's been beautiful."
-- Kareem Abdul-Jabbar on the support he has received since announcing he has been fighting chronic myeloid leukemia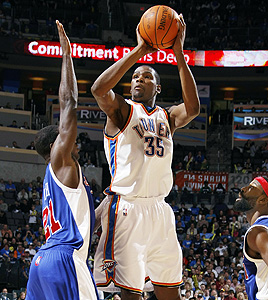 NBAE/Getty
Kevin Durant shook loose for 40 points on 14-for-25 shooting, but the Clippers outscored the Thunder by nine in the final quarter to hand Oklahoma City an eight-point loss.
Resilient Suns Rally Again
By Michael Schwartz
TrueHoop Network

Before Phoenix took on Toronto on Sunday night, Suns coach Alvin Gentry was asked what impresses him most about Phoenix's 8-2 start.
His answer: resiliency. He cited the Suns' comeback from 16 down to win in Philadelphia last week after already winning the first three of four on the trip, including a momentous victory in Boston.
As if on cue, the Suns then went out and played another resilient game, downing the Raptors 101-100 after trailing by as many as 10 in the contest and seven in the fourth quarter. It marked Phoenix's fourth victory when trailing by at least double figures, and it's only Nov. 15. They made such a comeback only seven times in the 2008-09 season.
The Suns have become the Comeback Kids by buckling down in the fourth quarter. Just as they stifled the Clippers, Heat and Sixers in the final period in previous comebacks, Phoenix held Toronto to 21 points on 39.1 percent shooting in Sunday night's fourth quarter. Most importantly, they got stops when it counted. After Steve Nash scored the eventual winning points on a three-point play with 39 seconds left, the Suns twice forced Hedo Turkoglu into misses.
His final shot, a contested 20-foot step-back jumper on Channing Frye after Phoenix's center switched out on him, rimmed out to seal a game the Suns likely would have found a way to lose last season.
Just like that, the resilient Suns reached nine wins before any other NBA team, and their captain sees plenty of reason for optimism.
"I like our toughness, our grittiness," Nash said. "Not physically, but mentally, we find a way to hang in there and we scrap and find a way to win close games. There's a lot to be proud of, but there's a lot to work for."
To read more, check out Schwartz's TrueHoop Network blog, Valley of the Suns.
Triano's Plan To Stop Phoenix
By Zarar Siddiqi
TrueHoop Network

Raptors coach Jay Triano adopted an interesting strategy in his attempt to slow down the pick-and-roll combination of Amare Stoudemire and Steve Nash. He switched on every screen set by Stoudemire for Nash and conceded the big-on-small mismatch, resulting in Jose Calderon being posted up by Stoudemire. Triano conceded the advantage and chose to send additional help for Calderon in an attempt to shut down Nash's penetration and Phoenix's 3-point shooting.
After the 101-100 Phoenix win, which ended after Hedo Turkoglu's shot at the buzzer rolled off the rim, Triano explained:
"[Phoenix] is a team that feeds off penetrating, picks you apart on screen-and-roll action and kicks it for 3s. We wanted to really restrict the number of 3s that they took; that meant two guys had to score for them -- Nash and Stoudemire -- and they had to be 2-pointers for the most part. We were going to switch and stay up on guys; we knew we were going to have some mismatches inside, but we had to come with some help. We didn't want to come off shooters."
How did it all work out in the end? Stoudemire finished with 30 points and eight rebounds, while Nash had 23 points and nine assists.
Phoenix made eight 3-pointers, five by Channing Frye, who was mysteriously left open by a wandering Andrea Bargnani. Perhaps the effect was most felt by Phoenix's wing quartet of Grant Hill, Jason Richardson, Leandro Barbosa and Jared Dudley, who were a combined 8-for-28 from the field and struggled to get clean looks.
Although the Raptors lost, Triano is sure to repeat the strategy in just two weeks when Phoenix visits Toronto on Nov. 29. Stay tuned.
To read more, check out Siddiqi's TrueHoop Network blog, Raptors Republic.