NBAE/Getty Images
Steve Nash had 16 assists to help the Suns become the first team with 10 victories this season.

NBAE/Getty Images
Danny Granger had 22 points and 7 boards and did the dirty work to help the Pacers get the W.

NBAE/Getty Images
Baron Davis scored 23, but David West dropped in 24 points to help the Hornets escape the Clippers.
Not Your Typical Phoenix Suns Victory

HOUSTON -- It would seem like a safe bet that a Phoenix Suns team that loses the fast break battle 19-8, gets a mere two field goals from Steve Nash, drains only six of 21 shots from beyond the arc and depends on Jarron Collins for a crucial bucket would be in for a long night against the scrappy Houston Rockets.
Not this Phoenix Suns team.
Their 111-105 win over the Rockets on Tuesday night in Houston made them the NBA's first 10-win squad this season, but the Suns didn't follow the usual blueprint.
The Rockets played a strong first quarter on both ends and did a particularly good job sniffing out Phoenix's bread-and-butter plays. Houston showed Nash & Co. a variety of defensive looks on the Suns' patented pick-and-rolls and ran out to a 15-point lead. That was when the Suns made an adjustment that paid dividends in the half court.
"[The Rockets] don't let you come down and do what you usually do -- running drags, screen-and-rolls, rolling to the basket," Suns coach Alvin Gentry said. "So you have to get into a position where you take advantage of a mismatch, and we thought we had an advantage with Amare [Stoudemire]."
The Suns exploited that advantage by isolating Stoudemire at the elbow, where he went to work one-on-one against the Rockets' big men, sending Chuck Hayes to the bench early in the third quarter with his fourth foul.
"We weren't getting our usual easy stuff," Nash said. "So we went to the isolation, and [Stoudemire] got going. He's a handful down there."
Stoudemire finished with 23 points on 8-for-14 shooting from the field and 7-for-10 from the stripe. When the Rockets swarmed him, he was able to make plays for his teammates. In the second quarter, he hit Grant Hill on a pretty baseline cut for an easy layup. Then, just after halftime, Stoudemire, double-teamed in the post, kicked it out to a wide-open Jason Richardson on the weak side for a 3-point bomb that gave the Suns their first lead since the game's opening minutes.
"Every night is different," Stoudemire said. "Some nights, you're up against guys who can defend well in the post and we can't get the iso down there. But tonight, we knew they were kind of small inside. And I think we did a pretty good job with that in the second half."
It wasn't easy for the Suns. Nash finished with a game-high 16 assists, but he couldn't buy a shot from the field, missing eight of his 10 attempts from the floor. Although the Rockets gave them a bunch of clean looks from beyond the arc, the Suns never really got it going from the outside.
Meanwhile, the Rockets got a huge contribution from Carl Landry, who picked up some extra minutes after Hayes went to the bench. Landry scored a game-high 27 points and gobbled up nine rebounds. He kept the pressure on the Suns' interior defense once the Rockets' outside shots, which were so potent in the first quarter, started to miss.
The Rockets and Suns traded baskets in an electrifying third quarter with 12 lead changes, during which both teams shot better than 60 percent. The period was a veritable "Greatest Hits" from both teams -- a slight-of-hand steal in the open court by Trevor Ariza, a vintage drag screen-and-roll orchestrated by Nash and Louis Amundson, and a series of Richardson theatrics coming off pin-downs and curls.
A 98-98 game with three minutes remaining tilted Phoenix's way when Richardson got all the way to the hoop to put the Suns on top by two. The Rockets then suffered through an excruciating possession during which they had three chances to score but came away empty.
What followed were two Phoenix daggers. The first was a 3-pointer from Channing Frye from up top on a blown rotation by the Rockets. Then, the coup de grace came on a layup by Collins, who squeezed beneath the rack and got an interior pass from ... you guessed it ... Stoudemire.
ESPN TrueHoop editor Kevin Arnovitz is a regular contributor to the Daily Dime.
Dimes past: Nov. 1 | 2 | 3 | 4 | 5 | 6-7 | 8 | 9 | 10 | 11 | 12 | 13-14 | 15 | 16
High Expectations For Kings' Thompson

By Zach Harper | TrueHoop Network
Ever since Kevin Martin broke his wrist against the Grizzlies, Jason Thompson has decided to play at an All-Star level in order to help carry his team.
During the Kings' 4-1 stretch from November 4th through the 13th, Thompson has been the player every Kings fan hopes he'll become. His numbers during this stretch were staggeringly impressive for the second-year power forward. In this stretch, he averaged 20.2 points and 11.6 rebounds with 50 percent shooting from the field and 86.7 percent from the line.
While Most Improved Player is certainly on his radar if he can sustain this effort, he should be eyeing a spot on the All-Star team out West. Here are his ranks amongst power forwards in the Western Conference heading into Tuesday's game with the Bulls:
He's sixth in points per game (14.9), third in rebounding (10.1), tied for first in offensive rebounding (4.8), 10th in field goal percentage (45.3), sixth in free throw shooting (82.7 percent), third in free throw attempts per game (6.4), third in assists (2.7), second in blocks (1.3) and third in double-doubles (five). He's also second amongst power forwards in the West in PER with a 21.67.
With Dirk Nowitzki and Amare Stoudemire being locks, Thompson's biggest competition becomes David West, Zach Randolph and Carlos Boozer for one of the big man spots in Dallas. The key for Thompson to make the leap to All-Star status is how well the Kings do.
Thompson is basically playing a numbers game as most All-Star hopefuls do. If he wants in, he'll have to lead Sacramento to victories. Maintaining this pace doesn't only give him a ticket to Dallas in February, it gives the Kings a cornerstone to build on.
To read more, check out Harper's TrueHoop Network blog, Cowbell Kingdom.
ESPN.com writers and TrueHoop Network bloggers chatted with fans and gave their in-game opinions throughout Tuesday night's slate of games -- all in Daily Dime Live.
Durant's Scoring Spree Continues

By Elias Sports Bureau
Kevin Durant scored 32 points to lead the Thunder to a victory over the Heat on Tuesday night. Durant now has scored 25 or more points in each of his past eight games. That is the longest current streak in the league and the longest such streak of Durant's career.
Over the past 20 years, only one other member of the Seattle/Oklahoma City franchise has scored 25 or more points in eight consecutive games: Ray Allen (10 straight in 2007).
By Maurice Brooks
ESPN.com

TUESDAY'S BEST
Kobe Bryant, Lakers
: So much for his strained groin muscle. He fired in 40 points -- the 100th time in his career he has scored at least 40 -- to power the Lakers past Detroit.
---

TUESDAY'S WORST
New Jersey Nets
: The Nets' losing streak to start the season is now at 11 games after they failed to keep up with the visiting Pacers in a 91-83 loss.
---
QUOTE OF THE NIGHT
"We've been through a lot here in the last couple of weeks, and we're just showing him that we're trying as a team, as an organization, to turn everything around and that we appreciate everything that [he's] done."
-- Hornets guard Devin Brown after New Orleans defeated the Clippers to earn Jeff Bower his first win as an NBA coach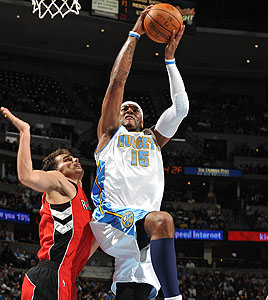 NBAE/Getty Images
Carmelo Anthony extended his streak of scoring at least 20 points to 11 as the Nuggets cruised past the Raptors 130-112.
Kobe's Groin Holds Up Fine
By J.A. Adande
ESPN.com
In the end, we'll look only at the numbers, not the circumstances, and this 40-point game, the 100th of Kobe Bryant's career, will start to blend in with the rest.
The Lakers are 69-31 when he goes for 40, but Tuesday wasn't a night when the Lakers needed each and every one of his points to beat the Pistons. Their lead, while diminished from its high of 28, was still a comfortable 10 when Bryant cast a 3-pointer with 20 seconds remaining. The shot will be remembered less for what it meant in the 106-93 victory over the Pistons and more for what it did for Bryant's résumé.
"It's a testament to hard work but also to luck," Bryant said of his 100th 40-point game -- the third most in NBA history. "Because I've been able to stay relatively healthy for that duration."
He was relatively healthy Tuesday, looking better than he did Sunday night when he aggravated a groin injury in a loss to the Houston Rockets. When he limped off the court in that game (the Lakers' second loss of the weekend), coach Phil Jackson thought Bryant might have to miss a game or two.
But Bryant passes up games at about the same rate as he passes up shots. He's badly wanted the ball this season, dropping down into the post and then lofting up fallaway jumpers. And when his strained right groin responded well to some moves early against Detroit, he gave the Pistons the full dosage. Bryant took off, and the Lakers took off; his 13 points on 6-for-7 shooting in the second quarter boosted them to a 57-42 lead at halftime.
Bryant went at rookie Jonas Jerebko as if he felt it was his mission to initiate Jerebko into the NBA. He posted up and abused Ben Gordon as if he felt offended that the Pistons had stuck a 6-foot-3 guard on him.
"My groin wasn't really hindering me," Bryant said. "I was able to bounce and move around like I normally do."
He just didn't reach the same altitude. He played the game below the rim, even on his highlight, back-to-the-basket, over-the-head flip shot over Kwame Brown.
Before the game, Jackson expressed his desire for Bryant to let the rest of his team get involved; you know, perhaps get Ron Artest accustomed to the full offense. It's been Bryant on one side, Andrew Bynum on the other side, and that's about it.
I can just imagine how that convo went ...
Phil: Kobe, how about we spread it around a little bit?
Kobe: Ummm, yeah. I'm going to have to get back to you on that.
And even a possible return of Pau Gasol from a hamstring injury Thursday night won't deter Bryant from occupying the post.
"Noooooo, not at all," Bryant said.
"When you talk to Pau, ask him who won our one-on-one post game. I'll give you a hint: It wasn't him."

Dick Vitale says that as an individual act, Allen Iverson was as good as there ever was and always played as hard as he could.
"Mike & Mike"